Singer is a sewing machine brand that needs no introduction. Its sewing and embroidery machines have been a top preference for many sewists globally for the longest time now. The legacy SE 300 is one of their stellar models. It represents a new era in sewing machines. It is packed with a wide array of features that make it a market leader in terms of versatility. A sewist would enjoy seamless creativity with the myriad features.
The Legacy SE 300 is an ideal machine for any sewist looking to pick up embroidery. Even advanced learners and seasoned sewists can make the most of it. It is well designed and has plenty of accessories, thus offers excellent value for money. Our Singer Legacy SE 300 review delves deeper into the features and benefits of the machine and why it is a worthy investment.
This product's also been included into these rankings:
Specifications
Type
Computerized sewing and embroidery machine
Speed
850 SPM (sewing), 700 SPM (embroidery)
Needle threader
automatic
Max. embroidery area
10 1/4 in. x 6 in
Dimensions
20.2 x 8 x 12.2 in.
Singer Legacy SE300 Review
The Singer Legacy SE 300 is not the most affordable sewing machine out there but it is the kind of machine you can grow with as a sewist. It was one of Singer's first attempts to enter the new digital era and it is everything you hope for in a computerized sewing machine.
All the features it is loaded with, from an LCD touchscreen, and easy to use software to a plethora of built-in stitches and embroidery designs offer every sewing enthusiast the opportunity to transform their sewing canvas into great artwork.
Overall performance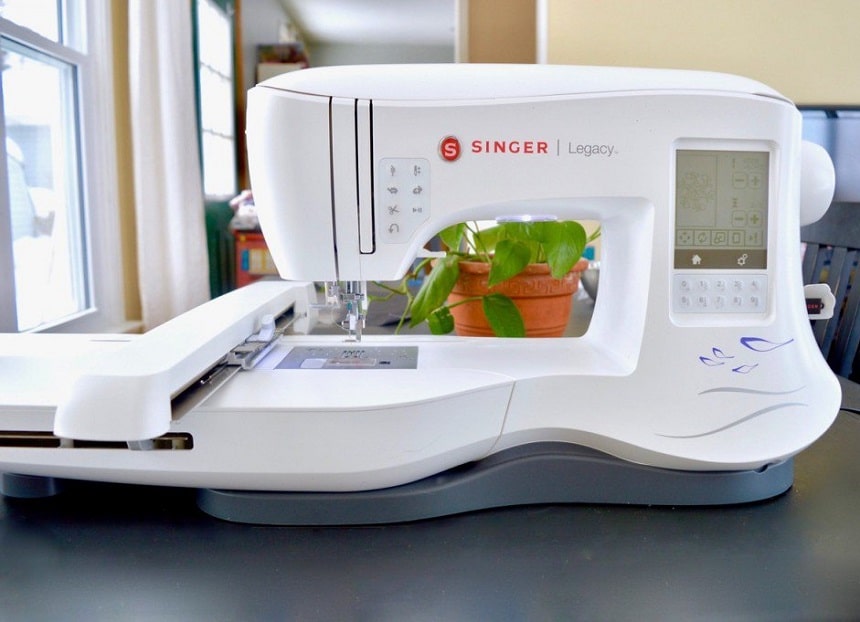 A single glance at the Singer Legacy SE 300 could mislead you to think it's a basic machine. It has a basic and subtly attractive design that could blind you. Its cost may also make you think it is not worth the trouble. In actuality the machine is special as it is packed with multiple features that make it one of the top performers in the market.
The machine comes in a medium-size rugged build. It is built to last without forgetting aesthetics. Its white and grey base with blue embellishments will look good in any space. Since it is not the most compact machine out there, you will need to create ample space for it.
The machine has a rear and front hub. The rear hub features the LCD touchscreen that allows you to choose stitches and maneuver the settings. The front hub features a drop-in bobbin and a stainless steel needle plate.
The main advantage of this machine is that it features all the accessories that you would spend hundreds of dollars buying, were it some other brand. These accessories combined with the 250 built-in stitches and an extra-large work area makes this machine one of the premium options in the new digital era of sewing machines.
Ease of Use
It is very intuitive, thus excellent for beginner sewists. However, novices with zero experience will have to use an instruction manual. Also, it comes with a bit of learning curve, but with patience and practice, you will wrap your head around it in no time.
What's more, the machine is packed with features that make it easy to use like a built-in needle threader. It makes threading, which is normally a challenge such a breeze. You don't have to strain your eye or spend hours on end trying to start your projects.
Another convenient feature that makes the machine easy to use is the built-in thread cutter. With a simple press of a button you can cut both the upper thread and bobbin then continue sewing without adjusting or removing anything.
The machine also offers easy embroidery design transfer. You have the ability of uploading any design from your PC to the machine using a USB stick.
Sewing speed
A machine with a slow sewing speed is such a deal breaker for seasoned sewists. The SE 300 strikes a balance with its impressive sewing speed. At 800 stitches per minute when sewing and 700 stitches per minute when embroidering, both a beginner and an advanced sewist can use the machine with satisfaction.
The speed is pretty decent and allows quick and efficient completion of projects.
Built-in stitches and embroidery designs
The SE 300 comes with 250 built-in stitches and 200 embroidery designs. These are enough to create just about any type of project or work in any type of fabric. Of the 250 stitches; there are 10 one-touch basic stitches, 7 stretch stitches and 8 basic stitches meant for beginners. It allows them to practice and excel at the craft.
For advanced learners and experienced sewists, there are; 23 elongation stitches, 18 satin stitches, 30 heirloom stitches, 22 quilting stitches and 14 fully automatic buttonholes. These stitches can help them adventure into more creative spectra of sewing.
Besides the 200 embroidery designs, there are 6 alphabet options that further allow any sewist to turn any project into a canvas for their craft. They take personalization to another level. Also featured are 2 Snap-On embroidery hoops; a large one measuring 10 ¼ by 6 inches and a small one measuring 4 by 4 inches. They allow the sewist to have a broader range of design selections in order to do large and small projects with ease and precision.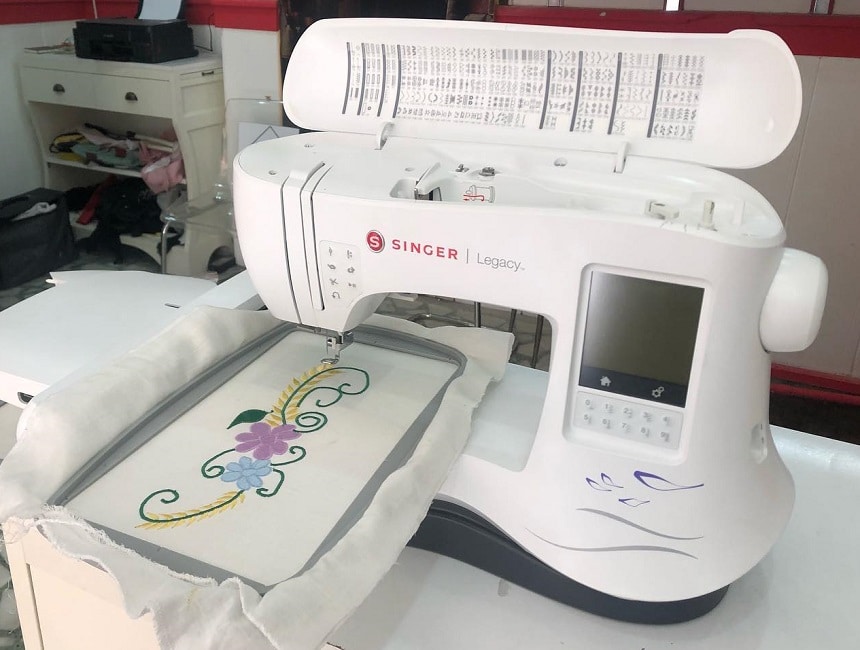 USB connectivity
The machine is USB compatible. If you are not satisfied with the pre-loaded designs, you can always upload more designs from your PC. You can connect a USB stick to your computer, transfer the designs then connect it to the sewing machine for a transfer. You can also save your favorite designs for later use.
Singer includes a USB embroidery stick in the SE 300 sewing machine package as an accessory. You won't have to dig into your pockets again.
Workspace and embroidery area
The sewing machine is brilliantly designed to offer ample workspace for all project sizes. You can comfortably work on a quilt project without straining. It has a generous 10 x6 hoop that offers more room for large embroidery designs.
The work area measures a whopping 7-7/8 inches. It features a wide needle-to-tower area that allows easy maneuvering of large projects.
Needle threader
This is one of the features that make using this machine super-easy and fun. It is a real timesaver, especially if you have issues with your eyes or hands. All you have to do is thread the bobbin then leave it in the compartment then place the thread through the tension bar and down the needle.
Next, draw the thread through the thread guide, then lower the presser foot before lowering the threader slowly to draw the thread through the guide. Push the lever to the furthest point then check to see if the thread is under the hook pin. At this point, the thread should be loose. Swing back the lever then pull it through the needle's eye.
LCD screen
The machine's LCD screen is large enough for ease of use. It allows easy maneuvering and selection of stitches and designs. It is pretty intuitive, even a novice will figure it out in not time. The screen also saves time as the use can go through the numerous amounts of stitches and designs with a simple touch on the screen.
Lighting
Imagine being able to continue working on your projects when there is a blackout. The machine features 3 LED light system that can sufficiently illuminate your project. It comes in hand id your workspace is poorly lit.
Dimensions and weight
The Legacy SE 300 is not the smallest sewing machine out there. This means it is the least portable as well. It measures 20.25 x 8 x 12.25 inches and weighs 18.6 pounds. You would have to find it a permanent ample space in your work area.
Warranty
Singer is known for its generous warranties because they produce top-quality machines. The SE-300 is a testament of their dedication to quality. It is covered by a warranty of 25 years which runs from the date of purchase. All its parts are guaranteed to be free of manufacturing defects for this period.
In case of any manufacturing defects within the stipulated period, Singer will provide replacement for the parts but you will have to pay for labor. If you discover any defects within the first year of purchase, they will pay for both the parts and the labor.
Accessories
This is where this sewing machine shines best. Unlike other machines that require you to spend hundreds of dollar on accessories the SE 300 comes ready to use. Some of the accessories it comes with include; USB embroidery stick, screwdrivers, auxiliary spool pin, buttonhole foot with under plate, thread spool net, a quilting bar, open toe foot, and thread spool caps.
Price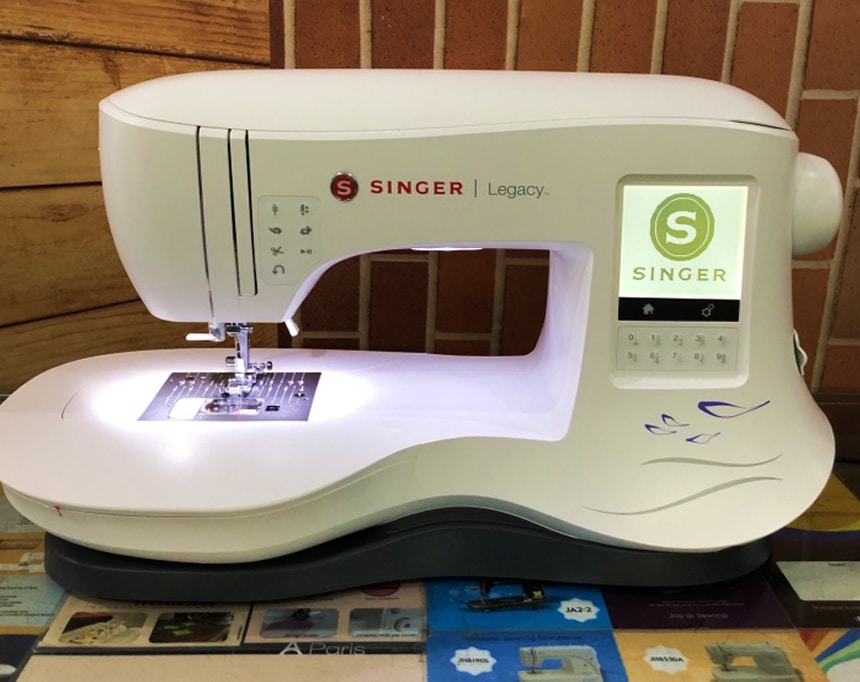 You will have to part with a pretty penny to get the Singer Legacy SE 300. It is not the most affordable out there. Its premium price tag is justifiable though, given it has multiple features and accessories that make it highly practical and functional.
Plus, the build quality and performance is out of this world hence its generous 25-year warranty cover.
Other Features
Bobbin winding during embroidery: This is a useful and rare feature. With it, the user doesn't have to stop sewing to rewind the bobbin when it runs out of thread unexpectedly. Instead, the machine handles the situation automatically without stopping to rewind and start over, saving you loads of time.
Software: Singer offers complimentary software that is downloadable and updatable. It allows users to add more options to the existing creative stitch designs. Since the software is updatable, it's impossible for a user to outgrow the machine.
Needle up/down: This feature allows the user to set the needle to stop in the up or down position. It can be achieved manually or with a simple touch of a button. Alternatively, a program can be set automatically to a preferred position once sewing stops.
Adjustable stitch width and length: This feature allows a sewist to adjust the width or length of a stitch to be wider or narrower and longer or shorter. It also allows setting of distance between the stitches as preferred. This offers more flexibility to handle the fabric while the machine retains the stitches' density.
Automatic thread tension and thread sensor: The machine calculates the level of thread tension needed for the fabric you are working on. This helps keep the stitches even and well-balanced. The thread sensor will give you a warning before the upper thread runs out.
Start/stop button: This is another feature that makes the machine incredibly easy to use. Instead of relying on foot control, you can simply press a button to start or stop sewing.
Mirror imaging: This is one of the unique features that set the Legacy SE 300 apart from others within its range. It allows the sewist to select a pattern of their liking then mirror it with a simple touch of a button. The pattern can then be mirrored vertically or horizontally without much hassle.
PROS
CONS

Attractive design
Excellent value for money
Easy to use
Great auto adjustment on tension
Offers smooth sewing
It runs quietly
Allows easy tackling of larger projects
LED lights and LCD screen make it effective and efficient
Remarkably easy to set up
The 250 built-in stitches and 200 embroidery designs make it highly practical and functional

Quilters may not make the most out of it because of its large throat
The hoops are somewhat flimsy
It requires going through various screens before beginning to embroider
It's a bit on the pricier end
Conclusion
From our singer legacy SE 300 review, it is pretty clear that it is a powerful sewing machine that caters to both beginners and experienced sewists. Its multiple functionalities, ease of use, and top-notch performance make it a worthy buy.