Owning an embroidery machine has become a popular choice among craft hobbyists because it allows you to obtain professional-looking designs at home. If you are in the market for an embroidery-only machine, you may have noticed that the choice is quite vast, and you may not be sure which model would work best for you. The Brother PE770 embroidery machine is one of the best choices out there for beginners and enthusiasts alike, according to countless reviews from those who tested it extensively. This review aims to offer you all the information you need to find out whether this machine is best suited to your needs.
Whether you are just starting with embroidery or are looking for ways to take your embroidery projects to the next level, the Brother PE770 machine is one of the best choices around. Some of the reasons that make this embroidery machine worthy of attention are the ease of operation and the existence of a quick bobbin setup that makes the entire embroidery process simple no matter your level. Read our review to determine whether the Brother PE770 embroidery machine would be a good choice for your style and needs.
This product's also been included into these rankings:
Specifications
Type
Computerized Embroidery Machine
Speed
650 Stitches Per Minute
Buttonhole styles
not applicable
Embroidery area
5 x 7 inches
Dimensions
21.2 x 16.9 x 17.3 inches
Brother PE770 Review
Manufactured by Brother, one of the best-known makers of sewing and embroidery machines in the world, the Brother PE770 embroidery machine is an innovative machine that comes with a selection of prime features that make the embroidery process as seamless as possible. Featuring over 130 built-in designs and six letter fonts, this machine is a suitable choice for embellishing anything from clothing to home décor. The machine is also highly customizable, which is often important for the avid embroiderer as it allows them to work with virtually unlimited design options.
Overall performance
The Brother PE770 is an embroidery-only machine, which means that you won't be able to do any sewing with it. Many users who are into embroidery are looking for a standalone machine that does the job great and has multiple functions that you might not be able to find on combo machines. The machine has lots of features that go well and beyond the basic ones, so you can get stitches that look professional. Many users mentioned that the embroidery machine performs as expected with a wide range of fabrics, ranging from cotton and silk to thicker fabrics such as denim.
The inbuilt LCD screen allows you to adapt your designs to the project at hand with ease – flip, rotate, and resize as necessary to get the image just right. Use the provided USB port to import your designs, or insert a Brother embroidery card for access to a huge range of available design options.
All in all, with a top speed of 650 stitches per minute, this machine works smoothly and quickly, and effortlessly embroiders any design you may come up with, this can be considered one of the best Brother sewing machines.
Ease of use
The Brother PE770 is very user-friendly and it doesn't take too long to get accustomed with all of its features. Because it has multiple features and functions that are helpful for beginners, the learning curve is not a steep one with tis machine. The embroidery machine comes complete with a comprehensive manual that will guide you through all the functions so you can get started on your embroidery projects straight away. Moreover, functions such as the automatic needle threader make it easy to sew any design you want without babysitting the machine too much.
Embroidery speed
With an embroidery speed of 650 stitches per minute, the Brother PE770 is better than the average machine and you can expect it to finish any designs you may think of in no time. You can also change the embroidery speed of the machine on the settings screen on the operation panel, so you can use the right number of stitches per minute required by the type of fabric or thread you use for your project.
Embroidery area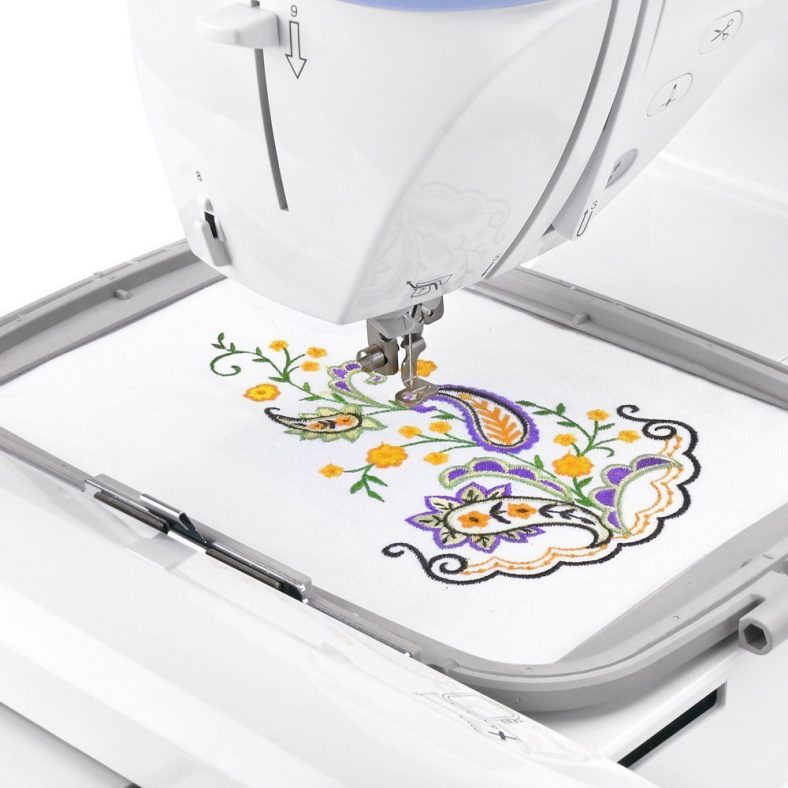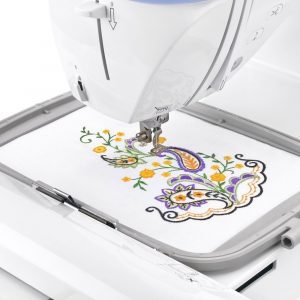 The 5 x 7-inch embroidery area of the Brother PE770 allows you to create large designs. Because of the generous embroidery space, you can combine designs without having to rehoop systematically, and there is a lot of room available for any type of design, no matter how basic or extensive. Some users mentioned that while the embroidery area is a large one, you may find yourself struggling when it comes to extra-large projects such as quilts or embroidering on a blanket.
The machine comes with 136 embroidery designs and you can choose from a selection of florals, scrollwork and quilt patterns. Moreover, you can use the USB port to import your own designs you created on your computer. The Brother PE770 is also compatible with the built-in embroidery cards available from Brother, which are available to buy separately if you wish to add more variety to your collection of designs. The six letter fonts make it easy to create an endless variety of monograms for all your projects.
LCD display
The Brother PE770 has a backlit LCD touch screen display that offers great visibility at 1.4 x 2.4 inches. The screen allows you to quickly navigate through the numerous features and settings of the machine, which improves your precision when embroidering. The large LCD display is touchscreen, so you don't have to fiddle with any knobs or button to navigate through the settings. The LCD screen also has backlighting to improve visibility.
Lighting
This embroidery machine features two LEDs to help you get better illumination no matter what time of day or night you decide to work on your projects. According to users, the two LEDs are enough to operate the machine at night even in very low light.
Dimensions and weight
The dimensions of the Brother PE770 are 16.77" (length) x 21.26" (width) x 17.28" (height). This means that the machine has a footprint that makes it suitable for just about any table or desk, as you don't need extra space to accommodate it. The weight of the machine is 26.9 pounds, so you can more it around relatively easy, which comes in handy when you need to store it or maybe take it to classes.
Extra accessories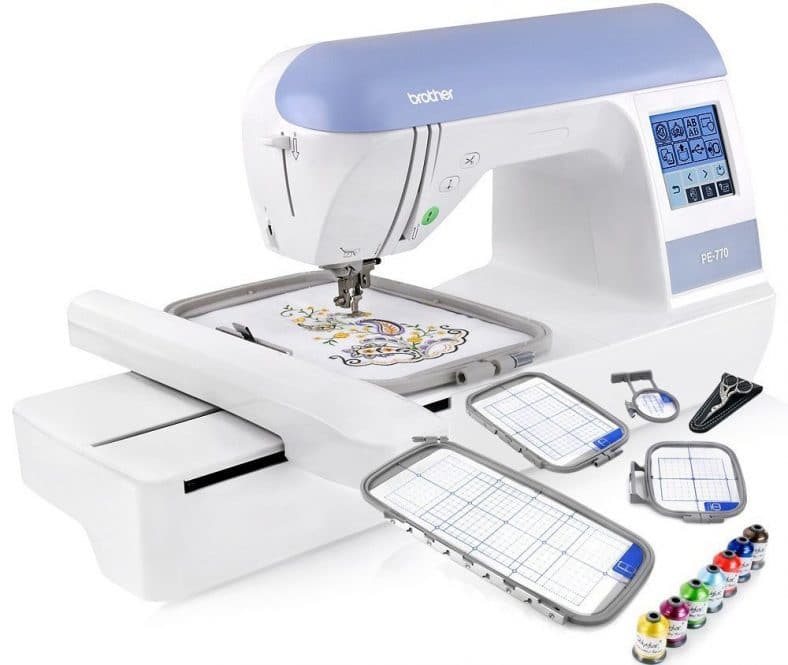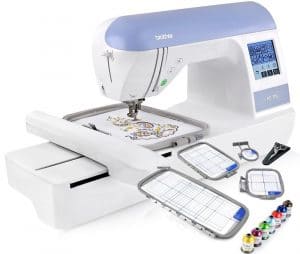 The Brother PE770 comes with a selection of extra accessories that can help you make the most of its functions and features. Some of the most important accessories that you can expect to receive with this embroidery machine include a 5 x 7-inch embroidery hoop, a dust cover, embroidery arm and an accessory bag that includes a needle set, seam ripper, two screwdrivers, a cleaning brush, three spool caps, three bobbins and a pair of scissors.
Price
This machine may be a bit expensive for someone who is only looking for a machine to test the waters when it comes to embroidery. However, it offers excellent value for money for hobbyists and enthusiasts who want to experience embroidery on one of the best machines on the market. Many reviewers mentioned that the features you get with this machine are generally expected to be found on higher-end models.
Key features
The Brother PE770 comes complete with a selection of intuitive key features, designed to enhance your embroidery experience. They include:
Auto Thread Trimmer
This is a function that really saves you time because you don't have to worry about when to cut the threads as you progress – the machine does it all for you at the right time. What's even better is that the auto thread trimmer is easy to operate and comes in very handy when juggling multiple projects.
Large Embroidery Field
The 5 x 7-inch embroidery field offers you all the space you need to tackle larger projects, which makes it an ideal choice for quilting. You can also expand on your embroidery techniques for tote bags, jackets, or other types of projects that require a larger working area than usual. While this is not the largest embroidery field you can find on the market, it's still great for those looking for a larger than average one.
Automatic Needle Threader
The auto head trimmer makes it easy to have both the lower and upper threads cut for you with a simple touch of the button. This reduces the time spent dealing with a large number of threads and eliminates the possibility of making thread mistakes as well.
Large Variety of Built-in Designs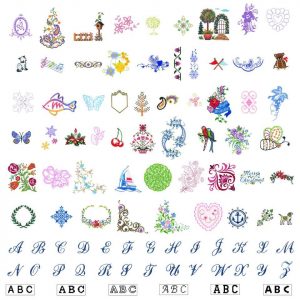 As it comes equipped with 136 pre-programmed design and six lettering fonts, the Brother PE770 offers a selection of both traditional and modern designs to suit all tastes. You can also choose from 12 border styles and 10 frame shapes, as well as upload your own designs.
Quick-Set Bobbin
A quick-set bobbin allows you to pull the thread through the slot immediately after dropping the bobbin so you can start embroidering right away. And due to the fact that the bobbin system of this machine features jam-resistant technology, you are sure to get consistent quality on your stitches.
iBroidery Compatible
This embroidery machine is compatible with all the downloadable embroidery designs available from iBroidery.com, which include a vast number of limited-edition designs created by Brother, together with a selection of licensed characters from Disney or Nickelodeon.
Built-in Memory
Thanks to this feature, you can import all the designs you purchase online or create yourself and store them into the machine for future use. A built-in embroidery card slot is also available if you want to experiment with designs from Brother embroidery cards.
Design of the Spools
One of the features that make the Brother PE770 stand out from the crowd is the double-snap design of the spools, which prevents the thread from unwinding. This is not something you can expect to find on many embroidery machines in this price range.
PROS
CONS

The Brother PE770 offers lots of creative freedom thanks to the large amount of design choice and possibility to add more.
The machine is straightforward and easy to use, allowing users to select their designs and start stitching them with no hassle.
The instructions provided by the manufacturer are on point and make the machine suitable for beginners and more experienced users alike.
The variable speed control option makes it easy to make adjustments for various projects.
The machine come with a 25-year limited warranty so you can expect it to serve well for the years to come.
The spool design that prevents unwinding is something really useful that you don't find on many machines in this price range.

The LCD screen is touchscreen, but black and white, and doesn't allow you to put in extra fonts.
Some users mentioned they experienced issues with the bobbin.
While the embroidery area is generous, it may be limiting for those interested in creating extra-large designs.
The thread can fray quickly while embroidering – however this is very easily solved by opting for high-quality threads