When you look at the features of the Singer 9960, you might assume that it's more machine than you can afford. Even though it has 600 built-in stitches, a LED work area, large LCD screen, and computerized controls, this machine still costs less than similar machines on the market. As you'll see in our Singer 9960 review, this machine can take on just about any project and is built to last a long time.
Singer is one of the most well-known brands when it comes to sewing machines and for good reason. They've been in the business since 1851, more than 160 years. Throughout their history, Singer had advanced the industry by creating the first zig-ag machine, the first electronic sewing machines, and the first sewing assistant app to really bring the company into the modern age. Check out our Singer 9960 review to see what state-of-the-art features it has to offer.
This product's also been included into these rankings:
Specifications
Speed
850 stitches per minute
LED work area
StayBright™ 2 lights
Dimensions
17.2'' x 8.2'' x 12''
Warranty
1-year limited on attachments, 5-year limited on mechanic parts, 25-year limited on machine's electronics
Review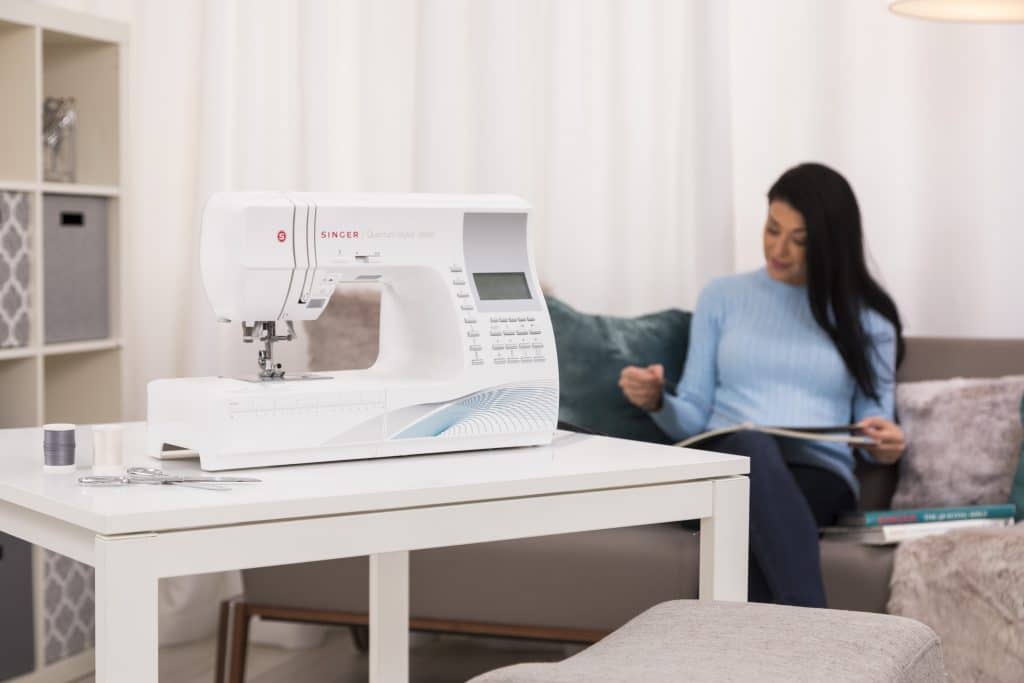 The Singer 9960 has a lot to offer. Not only can it handle a wide range of materials, it's also suitable for everything from making delicate seams to elaborate quilting designs. There is a nice amount of embroidery options, too, and with 600 built-in stitches, it really gives you a chance to stretch your creativity.
Overall performance
This machine definitely lives up to the Singer name. The strong motor powers through thick material like canvas, denim, and leather but it still gives you the control you need to slow it down for professional-looking hems and seams. It might look a little overwhelming for beginners but the intuitive design, large LCD screen, and easy to press buttons make it easy to learn with a little bit of practice. Plus, it's a great value for the price.
Detect its purpose
It isn't overstating to say that the Singer 9960 can do just about anything. The strong motor performs consistently and it's even adept at handling humps in the fabric when doing hems. It's a great choice for quilting, too, because it's designed to go through high loft batting and you can elongate stitches to create varying sizes of decorative frames around your quilt.
You can also use this machine to create professional seams for clothing and there are 13 automatic buttonhole styles to choose from as well. With the right settings and needle, you can easily sew thin and thick fabrics like silk, voile, leather, linen, velvet, knits, jersey, sweatshirts, corduroy, tweed, and denim.
This machine even does a decent amount of embroidery. While it's not on the level of high-end embroidery machines that can make large patches or logos, it comes with darning and an embroidery foot and does a great job adding decorative details to napkins, tablecloths, and jeans. Plus, you can drop the feed dogs and create your own designs using a satin stitch and free-handing sewing.
Beginner or pro?
A lot of machines with this number of features are overwhelming for beginners but this is not the case with the Singer 9960. Although it has a lot of advanced features, the design is pretty intuitive. It may take some time to learn but it's made to last a long time and will grow with you as you gain experience and skill.
There's also a lot here for experienced sewers. You can use it with a wide range of materials and the built-in stitches provide an opportunity to add intricate details and personalization that you won't find on just any machine.
In size comes convenience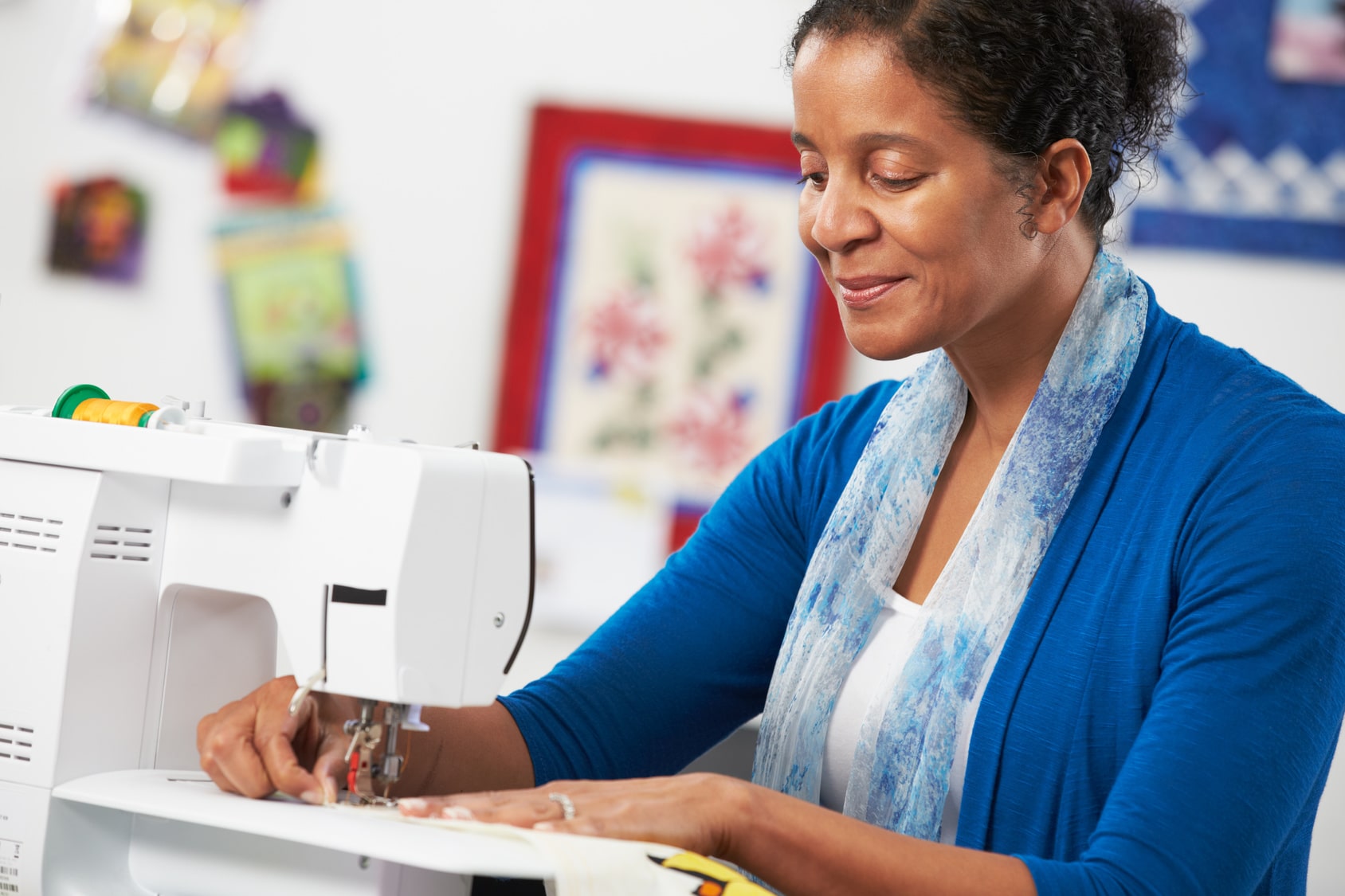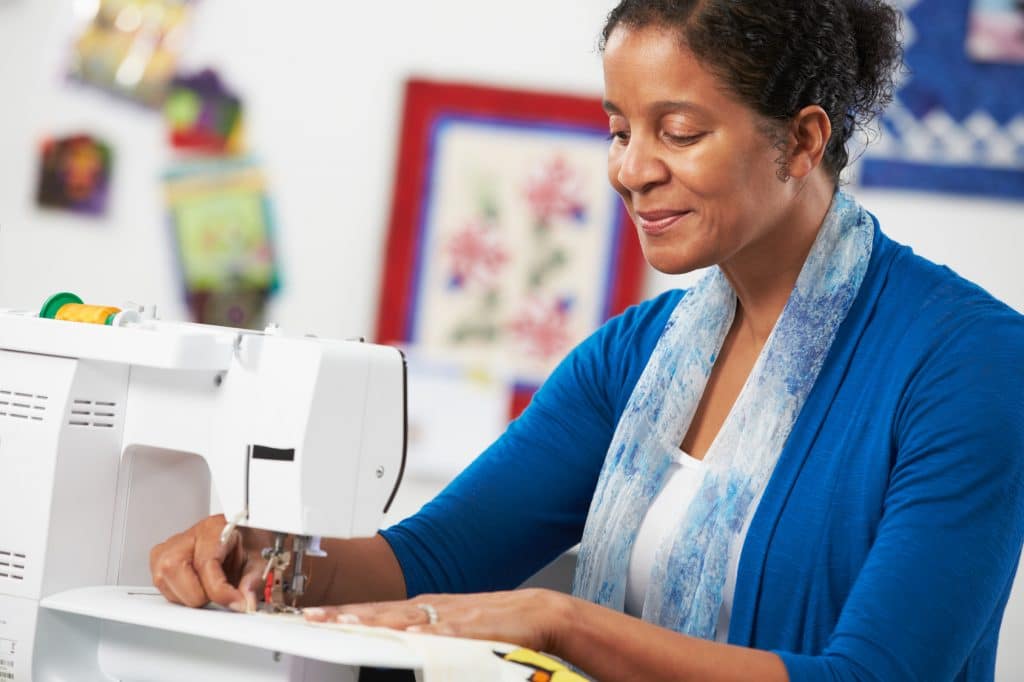 The 9960 is a good size and manages to have a strong presence without being overwhelming. It weighs just about 28 pounds so it's definitely not portable. While it's not so heavy that you can't move it when necessary, it comes with a hardcover so you can protect it from dust and debris when not in use.
Another convenient thing about it is the work area. It comes with an extension table so you can add more space when you need it to comfortably tackle larger projects. Plus, it features an LED light to illuminate your workspace, providing better visualization and precision as you work.
Stitches – all you need
With 600 built-in stitches, there isn't much you can't create with this machine.
First of all, there are five different font styles to choose from which makes personalizing gifts and other projects really easy. Choose from Gothic, Script, Italics, Outline, and Russian styling. One thing to note is that the letters are all the same size whether they're upper or lower case. Although they're styled appropriately, size adjustments have to be made if you want variety in sizing.
There are way too many options to list them all in this review but here's how they're broken down. There are 103 utility stitches including straight, hemming, piecing, scrolls, stretch, vines, and cross stitches. You also get 34 different decorative stitches to add birds, planes, flowers, or satin stitches to your work and 13 styles of buttonholes from which to choose.
It's easy to get overwhelmed with all these choices but the handy reference chart makes it easy to find what you're looking for without having to dig out the manual.
Keep in mind that some of these stitches have a lot of detail. Depending on the type of fabric you're using, you may need to add a stabilizer to get them looking their best.
Do you really need so many stitches? Maybe not but this isn't a simple machine and is meant to be used for much more than making simple projects that require only straight stitches. With this machine, you can add monograms to your dinner napkins, personalize pillowcases, and make one-of-a-kind gifts for friends and family. If you're looking for a way to stretch your sewing skills and expand your creativity, this machine is a great choice.
Electronics
The LCD screen makes it really easy to see what you're doing. Not only is it really big but it also has an adjustable backlight so you can see what you're doing even when lighting conditions are not ideal.
The sheer number of buttons surrounding it might be a bit overwhelming at first. It takes some time to get to know all the features of this machine and how to use them but with enough practice, it soon becomes second nature. The manual does a great job of explaining everything this machine can do and telling you how to do it.
As for ease of use, the buttons are large and comfortable to push making it less likely that you'll accidentally hit the wrong one.
There's a button for just about everything. For example, one button cuts both the top and bottom threads but you can use the manual cutter on the left-hand side of the machine if you prefer. There's also a Stop/Start button that can be used in conjunction with the foot pedal or you can remove the foot pedal entirely and rely solely on the button.
One of the best things about this machine is the utility stitch buttons. You can program them for the stitches that you use the most so you don't have to hunt through the menu every time. To browse the large library of pre-sets, use the button to scroll through them five at a time then press the button under the stitch that you want.
To control the speed, you have three different options. First, you can stick with the traditional foot pedal. Second, slide the Speed Control Slider left or right to make adjustments to the maximum speed. Finally, engage the Slot Sewing Speed option by pressing the Needle Up/Down button while you work. This slows the machine significantly so you can really focus on those intricate details.
Plenty of accessories to choose from
The Singer 9960 comes with a lot of free accessories so you have what you need to get started on a variety of projects right away.
It comes with 18 presser feet including an all-purpose foot, zipper foot, button sewing foot, buttonhole foot, blind hem foot, satin stitch foot, darning and embroidery foot, rolled hem foot, cording foot, quilting foot, and walking foot.
You also get a pack of needles, bobbins, a seam ripper, lint brush, spool pin, screwdrivers, spool caps, quilting bar, and seam guide.
Threading, bobbins and feed dogs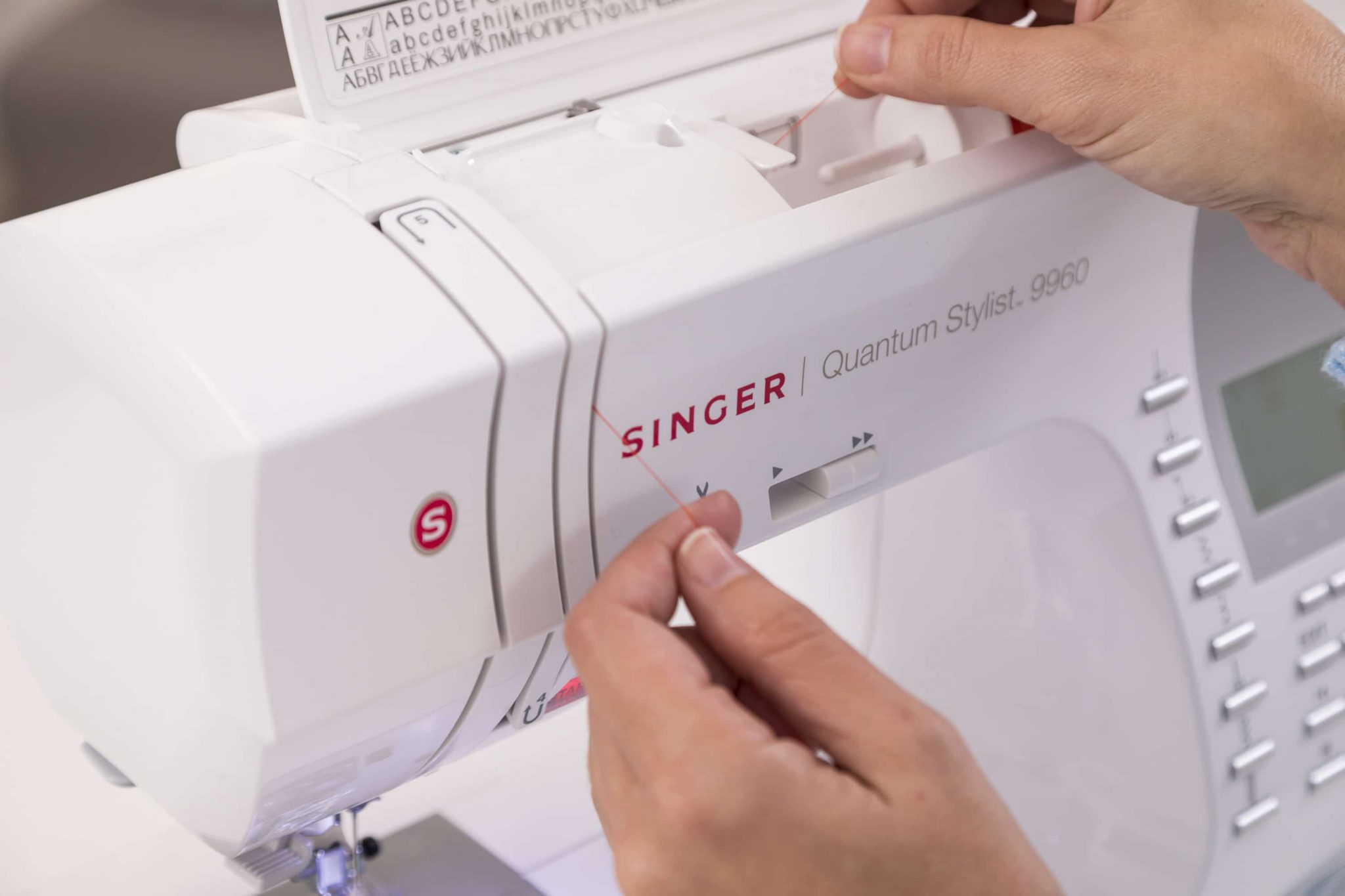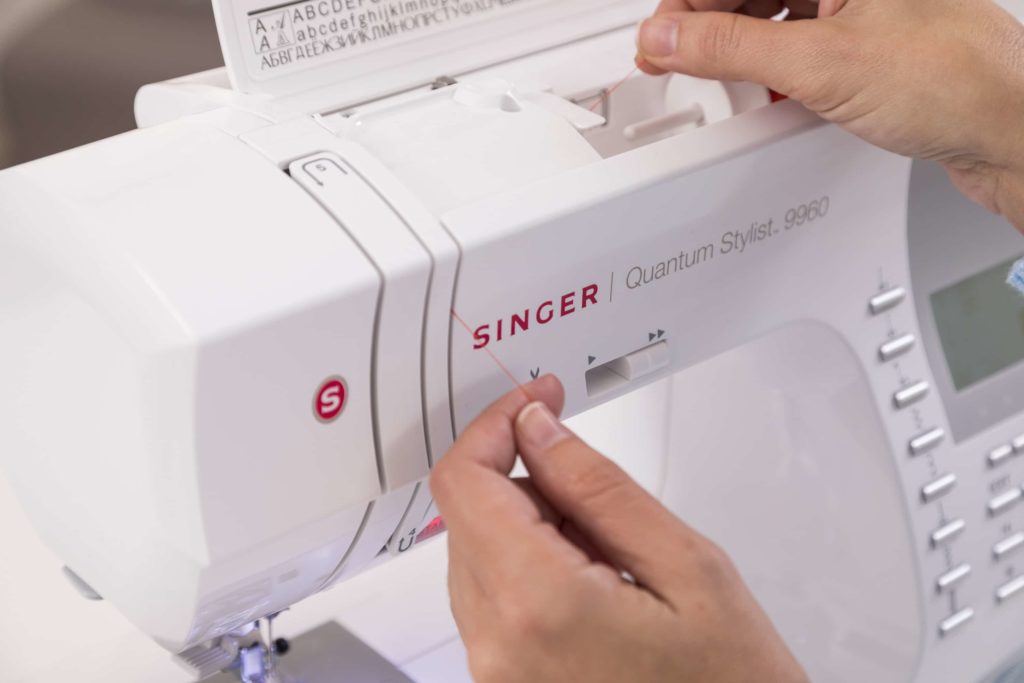 This machine uses horizontal threading which creates a smoother thread flow. Rather than sitting upright, the spool lays on its side when placed in the stand. A sensor alerts you when your top thread is empty and the machine stops automatically if the thread breaks so you don't keep working and have to go back and redo your work.
There are Class 15J bobbins included but this is a standard size and you can get replacements just about anywhere when you need them. That means you can find pre-wound bobbins pretty easily to save yourself the time it takes to wind them yourself. Not that winding a bobbin is difficult with this machine, it's actually pretty easy, especially if you use the Stop/Start button instead of the foot pedal. Just push the button and the machine winds the bobbin, stopping automatically when it's done.
The feed dogs are pretty impressive, too. These are the small feeds that pull the fabric through the machine under the needle. There are seven on them on the 9960 which gives you a lot more control than other machines with only three or five.
There's a button on the front that allows you to drop the feed dogs so you can move the material under the needle-free hand, a great option for darning and free-motion embroidery. A lot of machines have this button in the back but the front placement is much more convenient and makes the button easier to find.
As far as fabric, this machine can handle just about anything. The motor is strong enough for heavier materials and the presser foot has a hinge so you can lock it in place when using thick fabrics.
Warranty
The Singer 9960 comes with a pretty impressive warranty. The electronics are covered for 25 years while the other parts are covered for five. That's not all, the belts, bulbs, and other attachments are also covered for a year.
If anything goes wrong, all you have to do is contact Singer. Once they evaluate your claim, they replace or repair anything that the warranty covers. Just be sure to follow the instructions on the warranty card and make sure you perform proper maintenance on your machine.
Price tag
All things considered, the Singer 9960 is a great buy at just around $300. It can handle just about any task and the warranty coverage is decent so it's well worth the asking price.
PROS
CONS

Works with a wide range of fabrics
Capable of embroidery
Multiple fonts to choose from for personalization
Extension table included
600 built-in stitches including 34 decorative stitches
Large, backlit LCD screen
Programmable buttons
Large buttons
Can use with or without foot pedal
18 different presser feet included
Includes a variety of useful accessories
Reasonably priced

Buttons and multiple functions can be overwhelming for a beginner
Lettering all the same size whether upper or lower case