When the Singer Futura XL-400 debuted in 2011, it was the first of its kind. Unlike other computerized sewing machines, it came with an external embroidery software program to create designs and send them to the XL-400, much like a Word document and a printer.
Ten years down the line, the Singer Futura XL-400 still remains one of the most popular entry-level and professional sewing machines around. This Singer Futura XL-400 sewing and embroidery machine review will show you why, even with few upgrades, it remains the #1 choice from the same company that has pioneered many firsts in the sewing industry.
Specifications
Speed
750 Stitches Per Minute
Dimensions
14.5 x 7.5 x 12 inches
Review
Even though the Singer Futura XL-400 is a very capable sewing machine, most people buy it for its extensive embroidery functions. It is the most affordable sewing and embroidery machine that comes with multi-hoop support, over 250 embroidery designs (and room for custom ones), twin needle functionality, and many special features. Let's start at the beginning.
Overall Performance
The performance level of the Singer Futura XL-400 is great. We gave it an easy 9.7 because of its advanced capabilities and quality of embroidery. It can create large designs of up to 20"x 12", which is a big plus for many people. It also has loads of automatic features and can sew at a maximum speed of 600 stitches a minute, which is incredible.
As a plus, the heavy-duty build quality of this machine makes it perfect for sewing jeans, tapestries, and other heavy fabric. It remains steady and accurate even through large projects, which is a nod to Singer's famed quality construction.
Ease of Use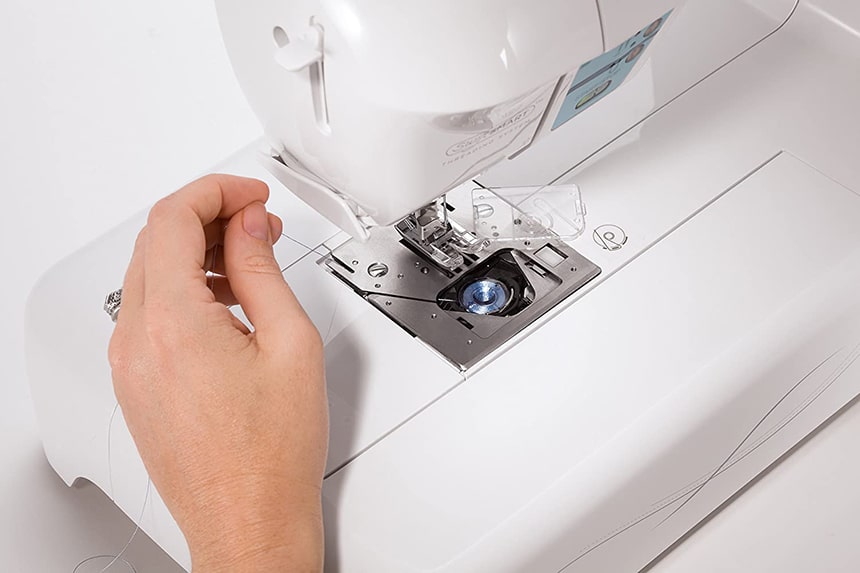 If you have basic experience with a sewing machine, knowledge of embroidery and are comfortable with using embroidery design software, then you can use the Futura XL-400. Complete beginners may find it a bit of a learning curve to understand all the various features and functions, but there are tons of videos and guides on the CD and online to help you get started.
Built-In Stitches and Embroidery Designs
The Singer Futura XL-400 comes with plenty of inbuilt features both for sewing and embroidery. These include 125 embroidery designs and five fonts for all your projects including monograms, cross-stitch, floral designs, and more. It also has 30 stitches with adjustable stitch length and width, giving it maximum versatility.
Embroidery Software
The Singer Futura XL-400 comes complete with an external software package that allows you to make your embroidery designs on your computer. While it is a pretty basic software, it allows editing of all your embroidery designs. The Futura XL-400 it also works with third-party software as well and is compatible with the file types FHE, XXX, JEF, CHE, HUS, PES, DST, SHV, PEC, EXP, VIP, PCS, PSW and SEW.
The software only works on Windows OS, which can be a disadvantage if you only have an Apple computer at home.
USB Connectivity
Since the machine requires the use of a separate computer to create and transfer designs, it comes with a USB cable included for this purpose. Older models used a printer cable for this connection, but modern USB connections make things much easier and faster.
Workspace and Embroidery area
Another big feature of the Singer Futura XL-400 is its generous working space also called the C-space. It features an arm length of 8 ½" and a width of 4 ½", which makes it perfect for large projects including quilting. If you add an extension table, you can work on extra-large projects such as tapestries more easily.

Needle Threader
The Futura XL-400 has an automatic threader called the SwiftSmart Threading System. You only need to guide the thread from the spool through a single groove and then push on the threading lever at the side to finish threading.
It also comes with a drop-and-sew bobbin system, which eliminates the need to pull up the thread manually.
LCD Screen
The Singer Futura XL-400 does not have an inbuilt LCD screen because it relies on an external computer to run. This is more convenient for you, and it also helps to keep its price down. To ease usage, its stitch functions are one-button select. The other advanced functions operated straight from software program.
Lighting
Lighting on the Futura XL-400 is generously provided, thanks to 6 bright LED lights flooding the working space. The panel with stitch options is also backlit, so you can get working even in low ambient light.
Dimensions and Weight
Despite its slim profile, the Singer Futura XL-400 is quite large. It measures 22 x 9.5 x 13 inches and weighs slightly over 23 pounds. You will need to have a separate table and plenty of space for it, but that shouldn't be a problem because of its dual sewing and embroidery functionality.
Warranty
Singer offers a 25-year limited warranty on the Futura XL-400. Translated, that means 25 years on the machine head, 5 years limited warranty on the electronics, and 1 year on other internal components such as belts and LEDs.
Accessories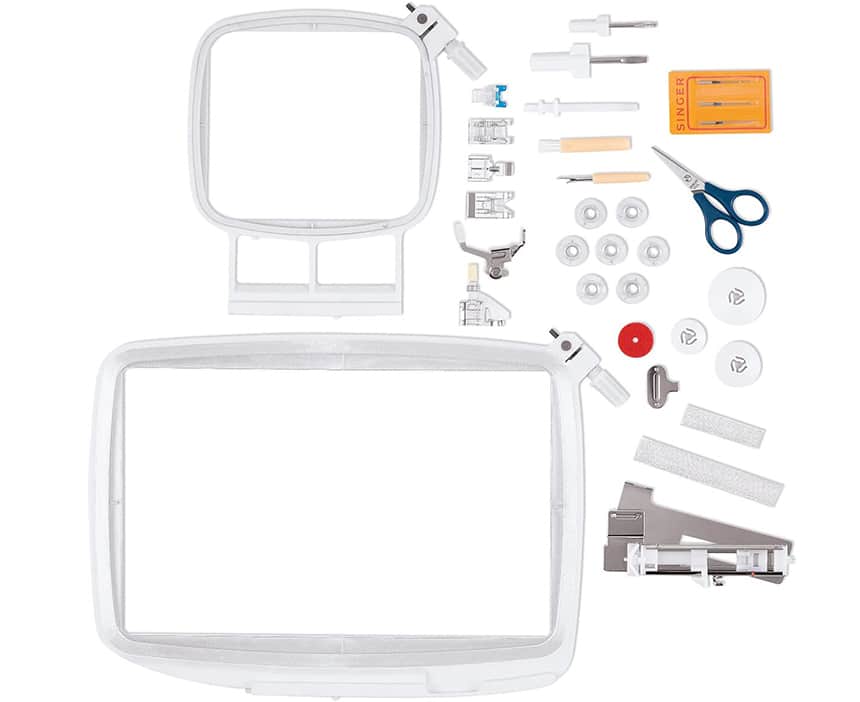 Like any other full-featured sewing and embroidery machine, the Singer Futura XL-400 comes ready with:
Two embroidery hoops, a large one (10" x 6") and a small one (4" x 4")
Several feet: embroidery foot, all-purpose foot, zipper foot, blind hem foot, buttonhole foot with its underplate, and a satin stitch foot
A USB cable
Scissors and screwdrivers
A pack of Singer Chrome needles
Class 15J bobbins
Thread spool caps
Auxiliary spool pin
Foot control
Power cord
Lint brush
Embroidery software and instructional guide
PROS
CONS

The Singer Futura XL-400 comes with 125 built-in embroidery designs and 30 different stitches to get you started
It features an extra-large sewing space fit for quilts and tapestries
The software it comes with allows you to create and load custom designs effortlessly
The ability to merge multiple hoops is a big advantage when working big designs
The pricing of this machine is very favorable given its features
Despite its sophisticated functionality, this is a beginner-friendly embroidery and sewing machine
the Futura XL-400 is rugged and durable, and it can work heavy fabrics such as denim and tapestries easily

Even with a corresponding PC software program, the lack of an inbuilt LCD screen is still glaring
the software is only compatible with Windows
The tension settings are a bit touchy, so you might need to keep an eye out for them
Conclusion
Once again, Singer has shown the world why it's the best brand when it comes to sewing machines. This Singer Futura XL-400 sewing and embroidery machine review shows that the trendsetter remains a top option despite competition from more advanced and expensive brands.