In today's world, embroidering has become quite easy and more advanced thanks to the advent of computerized embroidery machines. One of the products of this innovation is the Janome Memory Craft 500E Embroidery Machine. This machine is designed with several smart features to make life easy for designers.
Moreover, the Janome 500E embroidery machine features a full-color LCD touchscreen that allows you to edit designs on-screen. Besides that, the machine boasts more than 150 built-in designs. Read our Janome 500E review to find out more exciting facts about this reliable embroidery machine.
This product's also been included into these rankings:
Specifications
Built-in embroidery designs
160
Built-in embroidery fonts
6
Embroidery area
7.9 x 11 in
Needle threader
automatic
Dimensions
30 x 27 x 26 in
Review
As we mentioned at the beginning of this article, the Janome 500E embroidery machine boasts an array of exciting features, including an LCD touchscreen, on-screen editing functions, and 160 built-in designs. Find out more as we explore the world of this computerized embroidery machine.
Brand considerations
According to many buyers, trust is not an issue when it comes to Janome, the manufacturer of the embroidery machine. The company has been around since 1921 and is globally known for producing reliable sewing machines.
According to Wikipedia, the company's name which literally translates to "snake's eye" was inspired by the bobbin design at the time of establishment. Besides, Janome has expanded into more than 100 countries with a mission to provide machines that inspire creativity while maximizing users' sewing experience.
Pricing
One of the important things you expect from a top brand like Janome is reasonable pricing. Thankfully, this maker does not disappoint. Even though the Janome 500E is a professional embroidery machine with several smart features, you won't need to break the bank to have one for yourself. No doubt, the Janome 500e price is as fair as they come. Eventually, you'll get great value for your money.
Janome 400e vs 500e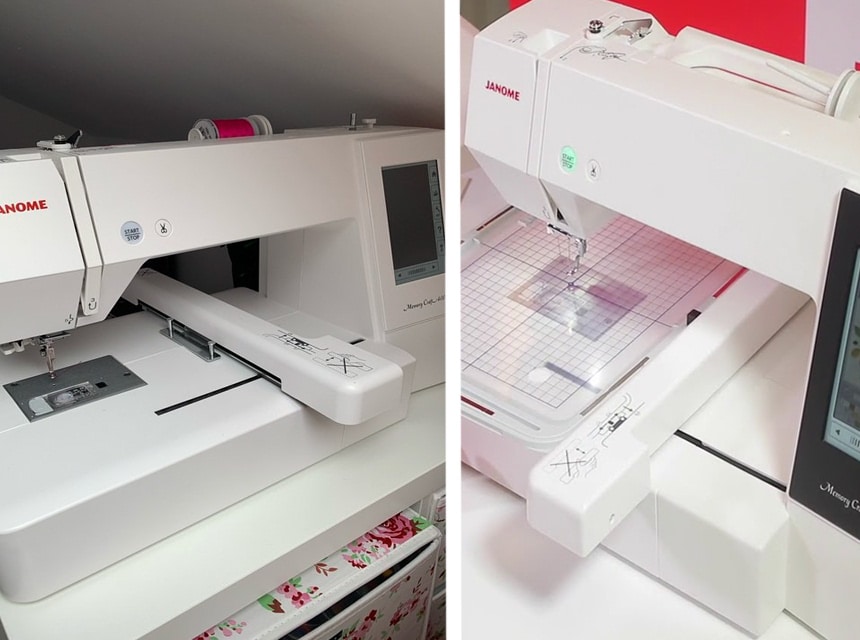 Putting up Janome 400e vs 500e is not something unusual because they're two different versions next to one another. While the Janome 400E came first, the Janome 500E came as an updated version of the former.
Of course, you'll expect changes between the two versions even though they have a lot in common. For instance, the Janome 400E's embroidery field is 7.9″ x 7.9″ while the Janome 500E's field is 7.9"x11", offering a more expansive workroom. Also, the Janome 400E comes with only one embroidery hoop with the Janome 500E boasting four different hoops.
Besides those two major differences, there's not much that separates the two versions of the Janome embroidery machine. They both feature an LCD touchscreen, 160 built-in designs, 400-860 SPM, and many more.
Overall performance
One thing that you can't take away from the Janome Memory Craft 500E Embroidery Machine is its top performance. It is the machine you go to when you want to embellish and monogram décor items and garments in the best way possible.
As we mentioned before, the machine comes with built-in embroidery designs that you can take advantage of. In a situation where you're not entirely satisfied with a chosen design, you can decide to edit it using the on-screen editing features or even import your preferred design via the machine's USB port.
With an embroidery field of 7.9"x11" and additional four embroidery hoops; SQ14b 5.5″ x 5.5", RE20b 5.5″ x 7.9″, SQ20b 7.9″ x 7.9″, and RE28b 7.9″ x 11″, you have an extra-wide table to do your embroidery works.
Besides, ease of use is another top feature of the Janome 500E. It uses a start/stop button on the machine head to operate while a menu icon on the screen enables you to access the built-in designs.
Embroidery area
As mentioned a few times before, the Janome 500E has a maximum embroidery area of 7.9 x 11 inches. This large area in turn allows you to make large designs without any need to rehoop. Since you'll be avoiding rehooping, you have a huge chance of enjoying a comfortable and smooth embroidering experience. The machine's embroidery area also accommodates many embroidery hoops.
Built-in designs
Janome 500E features an impressive 160 built-in embroidery designs, giving you the luxury to choose the best designs for your projects. The LCD touchscreen allows you to browse the designs by category or hoop size. It also displays the dimension of the design, number of threads, hoop size, required sewing time, and other information that can help you have a smooth designing experience
Built-in fonts and monogramming
You probably know what a monogram is. It is an embroidery technique that uses two or more letters, often overlapped, as logos or symbols. The Janome 500E comes with 6 fonts for 2 and 3-letter monogramming. By pressing the letter size key on the LCD screen, you get to change the size of the letters.
Embroidery speed
When using a computerized embroidery machine such as the Janome 500E, you expect efficiency and speed. Trust us, you won't be disappointed as this machine boasts an embroidery sewing speed of 400-860 stitches per minute. With this impressive speed, you have the luxury of finishing your projects quickly.
LCD screen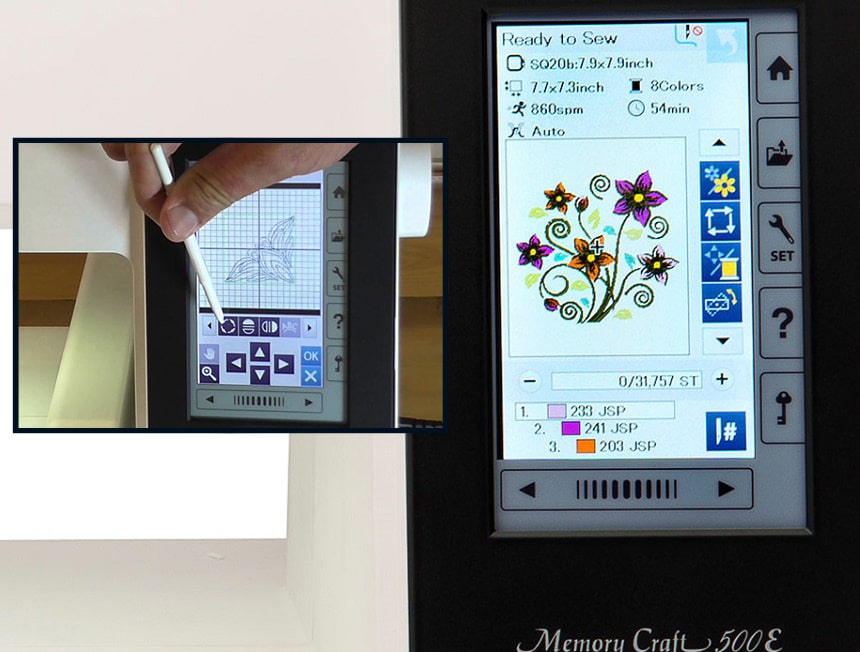 As we've said several times, the Janome 500E comes with a full-color LCD screen that is touch-sensitive. Through the screen, you can operate the machine by combining, creating, copying & pasting, resizing, and converting various designs. Essentially, the LCD screen allows you to fully expand your creativity as well as your sense of style.
Fabrics compatibility
Make no mistake about this; the Janome 500E is not compatible with all types of fabrics. While it is compatible with some, the same does not go for others. The embroidery machine can work on fabrics such as cotton, velvet, linen, suede, wool, leather, polyester, upholstery, taffeta, satin, silk, suede, rayon, and knits.
However, the Janome 500E shouldn't be used on fur, reptile skin, canvas, twill, rubber, plastic, and extra thick or multiple layers of fabric.
Hook type
A sewing/embroidery machine's hook system is a very important part that catches the thread as it goes out of the needle to produce a stitch. There are two major types of hook systems, rotary and oscillating. The Janome 500E uses the rotary hook system. Specifically, it features a Top Loading Full Rotary Hook Bobbin. This hook type is known to run smoother at higher speeds with lower noise and less frequent thread jams.
Besides, the rotary hook system is the standard option for industrial sewing machines and its presence in the Janome 500E further underlines the machine's top quality.
Needle threader and needle cutting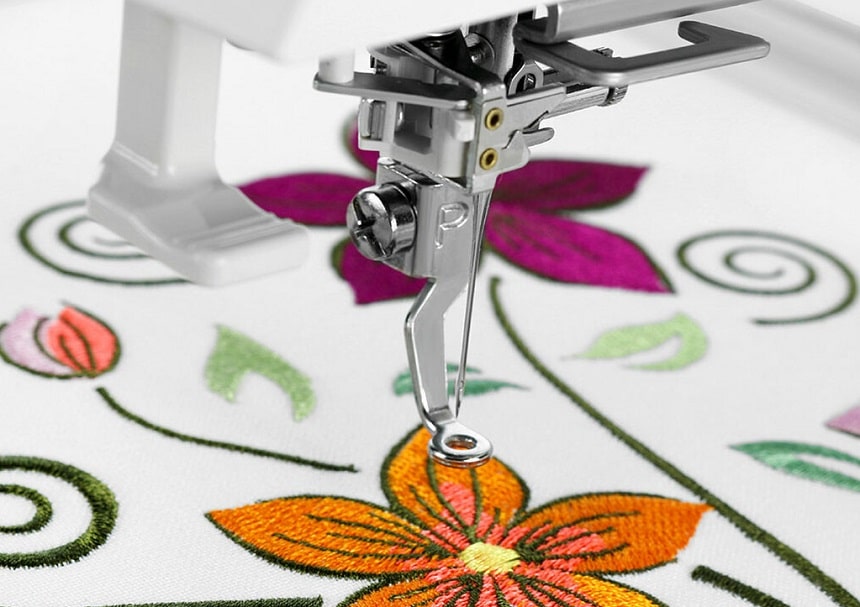 The Janome 500E features an advanced needle threader that makes the machine efficient and easy to use as well as a thread cutter that automatically lowers the needle into the fabric and then cuts the top and bottom thread with a push of a button. You can thread the machine's needle by following the numbered arrows down to the threader.
User interface
The Janome 500E user interface is more improved and user-friendly compared to previous versions. The machine supports the 'Emb' (Master Data) file type made up of object data, fill pattern, thread color, dimensions, and density. It also supports the 'Jef' (Stitch Data) file type which is its default format.
Also, the user interface allows you to do on-screen editing works such as enlarging or reducing the image by 20%, combining designs, 4-way mirror imaging, single color sewing, cornering layouts, and grouping.
Dimensions and weight
The Janome 500E's dimensions are 21.65 x 12.99 x 23.6 inches. This means the machine has enough workroom but still doesn't take much space in the room that can cause inconvenience. Besides, the embroidery machine weighs 24 pounds which is not too heavy for such a high-quality model.
Light
The Janome 500E boasts an LED light that is bright enough to light up the workspace at night. So, you can use the machine at night without the need for extra lighting.
Warranty
The Janome 500E comes with a 25-year warranty against defective materials and workmanship like other Janome products. There's also a 5-year warranty on the electrical components and one-year labor from the date of purchase free of charge. However, the warranty is only valid if you buy from authorized Janome dealers within the United States.
Accessories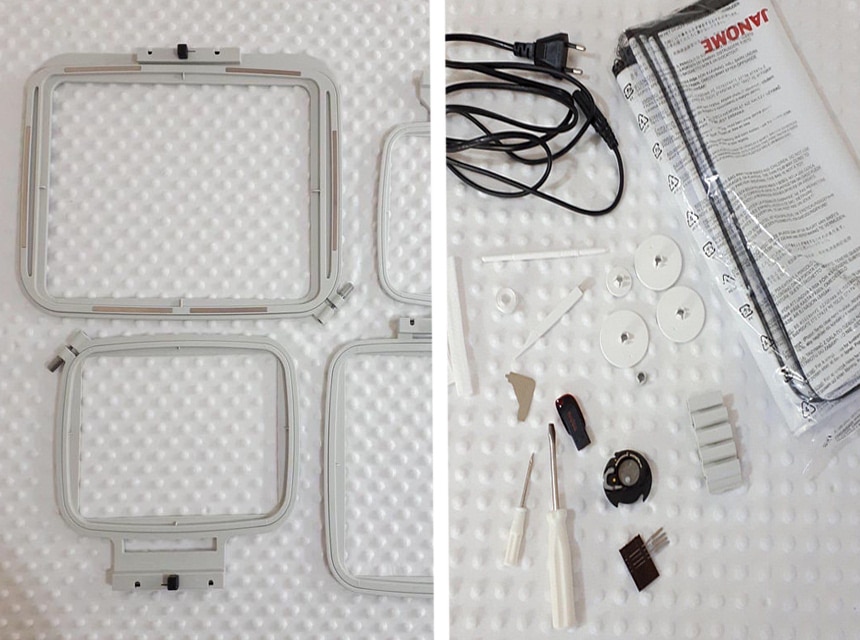 The Janome 500E embroidery machine comes with several standard accessories that make it deliver excellent performance. Some of them include bobbin x 5, screwdriver (large), lint brush, scissors, needle set, spool holders, instruction book, USB cable, power cable, four hoops, etc.
There are also optional accessories for the Janome 500E. Some of them include the Janome MC500E Embroidery Hoop RE20B and the Janome Hat Hoop Insert which provides support to stitch on caps.
PROS

CONS

Colored LCD screen
On-screen editing of designs
160 built-in designs
Ease of use
Automatic needle cutter
USB connectivity
25-year warranty

Lack of foot pressure adjustment
Conclusion
No doubt, embroidery machines such as the Janome 500E have vastly improved the ways embroidery designs are done today. Not like they threaten cultural embroidery works such as the intricate handmade Indian embroidery, they only offer more designs and help you complete projects faster. Our Janome 500E review contains everything you need to know about the machine, including how its many features can enhance your embroidering experience.