Isn't it exciting to see how modern technology changes all aspects of our lives? This also happens for those who love sewing, with machines like the Brother SE400. Do a quick scan of its features and you'll realize the brand incorporated advanced tech to make sewing more fun and empower users to do so much more. You're bound to love it whether you enjoy sewing or embroidery.
We took the liberty of doing a full Brother SE400 sewing and embroidery machine review. If you're still new to this niche, keep on reading because you'll quickly see how sewing can be fun and realize how many impressive projects you can take on, no matter your skill level. And pros—this Brother S400 is for you too!
Specifications
Type
Computerized Sewing and Embroidery Machine
Speed
710 Stitches Per Minute
Built-in embroidery designs
70
Embroidery area
4 x 4 inches
Dimensions
10.9 x 6.9 x 15.5 inches
Brother SE400 Review
So, is the Brother SE400 the sewing machine your craft room needs? We made a short summary of all necessary features when it comes to vetting sewing machines. We'll explain each aspect, so you can make an informed decision about whether this is the investment you should make at the moment.
Overall performance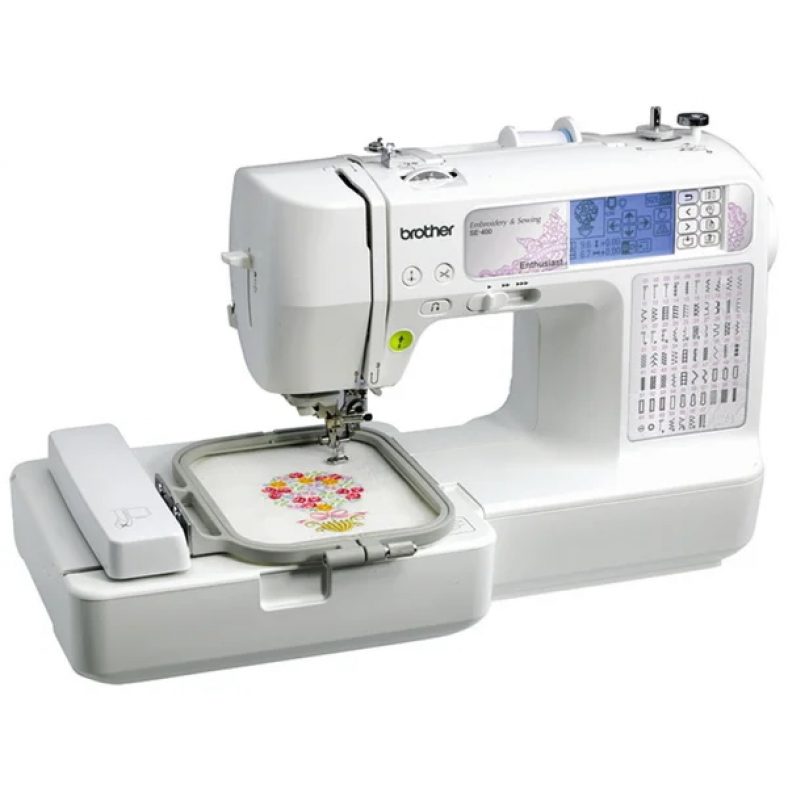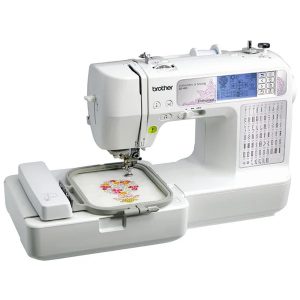 The brand certainly put a lot of thought into creating a machine that impresses, with innovative features all round. From automated features to giving you customization options by importing embroidery images, this machine is an alluring one on Brother's list of models.
Also, thanks to the quality of Brother we're all accustomed to, you know you're making a long term investment. Worth noting in any Brother SE400 embroidery sewing machine review is that you get a 25-year warranty when you purchase from this brand. So you'll have many years of using the machine while having peace of mind that the brand will assist if certain things go wrong.
We appreciated the detail the brand put into certain sections of the machine, such as the impressive feed dog area. It's a seven point feed dog layout which ensures your fabric will be fed smoothly, preventing many mishaps.
One area of concern you need to prepare for—and budget—is the fact that you may experience a lot of broken needles, especially at the beginning. You can try and manage this by changing needles after every few hours of work, to prevent them breaking while you're working. And over time you'll also learn how not to put them under too much tension. But we suggest you buy needles in bulk and always keep a few on hand so this doesn't affect how soon you can finish your next project.
With so many features the Brother SE400 provides, you can't expect it to run quietly all the time. It takes a lot of work to create fabulous embroidered pieces. So, you'll have to prepare yourself for some noise in your work room. Others in the house may be kept awake if you work while they're trying to sleep.
Now, let's discuss some other winning features.
Ease of use
Even though this is quite an advanced machine in Brother's range you don't have to be afraid of it being too difficult to handle. For one thing, there's an automatic threading feature which means even newbies can be ready to work within minutes.
You can also wind your bobbins in record time, thanks to the bobbin winding system. The Brother SE400 is definitely designed with the focus on taking the effort out of sewing so you can simply get to work and stay creative, without time consuming tasks ruining your workflow.
One of the reasons people find this machine attractive is the LCD screen where you can view options and pick embroidery designs. This is definitely a winning feature, but we do wish the brand changed the screen layout somewhat. You need to scroll through all the options to find what you're looking for and you can only view six options at a time. Some may find this a bit time consuming. The screen is back lit, so you'll be able to view your options, even in low light conditions.
What makes it very user friendly is the large platform you have to work on. At 4" x 4" it's much larger than you'll find on many sewing machines, making it comfortable to work with. And you know you deliver better quality work if you're comfortable, right? This large area is also lit by a fairly sufficient light.
Ease of use also relates to how quick you can make changes and we were very impressed during our Brother SE400 computerized embroidery and sewing machine review with how little time it takes to exchange feet. There's no need to loosen screws, because they connect quite easily. That saves you time and effort.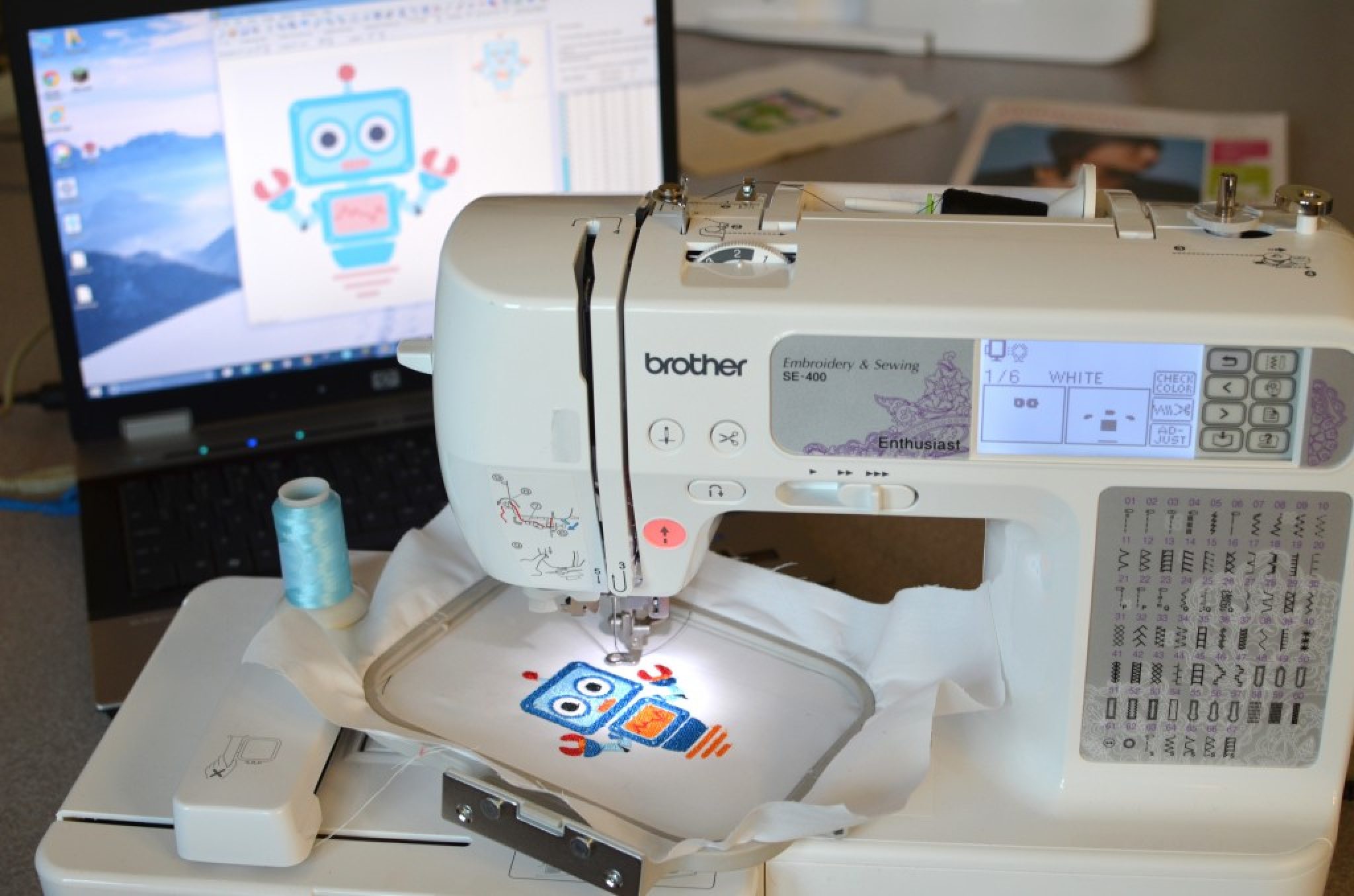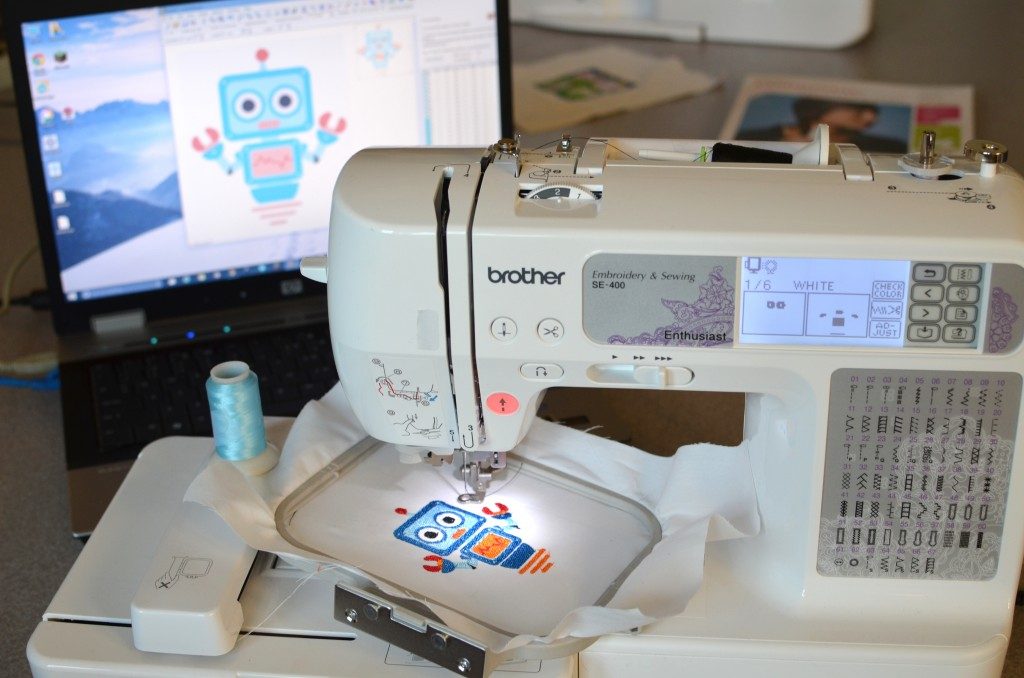 The brand gives you all the connections and cords you need to make it easy to set up your unit and access more images. This includes your power cord and a USB cable with which you can connect your computer with your machine. Just note that this USB cable isn't excessively long, so your devices must be close to each other for ease of use.
Be prepared in advance: although you get screwdrivers to work with, some of the screws on the Brother SE400 are difficult to reach and properly tighten or loosen. Hopefully the brand will amend this in future models.
If you're unsure how to get started using your unit after this Brother SE400 review, rest assured that the brand thought of everything: an instructional DVD is available that will show you all there is to know and their instruction manuals—available in more than one language—are fairly well laid out & easy to understand.
Sewing and embroidery speed
When you're working on a project, for most users it's the quality outcome that's more important than the speed. With our Brother SE400 embroidery sewing machine review we found that this isn't the fastest model on the market, because it can only deliver up to 710 stitches per minute when sewing. That's much slower than some other sewing machines on the market. But think of the intricate work it does and you'll realize it's actually impressive that you can get so much done in so little time.
When you switch to embroidering you can expect up to 400 stitches per minute; once again, sufficient when compared to similar types of machines.
You'll appreciate that you can adjust the speed, so you if you're a beginner you can start off slowly instead of ruining a project because you lose control. As with many other features you'll read about on this Brother SE400 sewing machine review, the brand allows for customizing the machine to your specific needs.
Built-in stitches, stitch length and width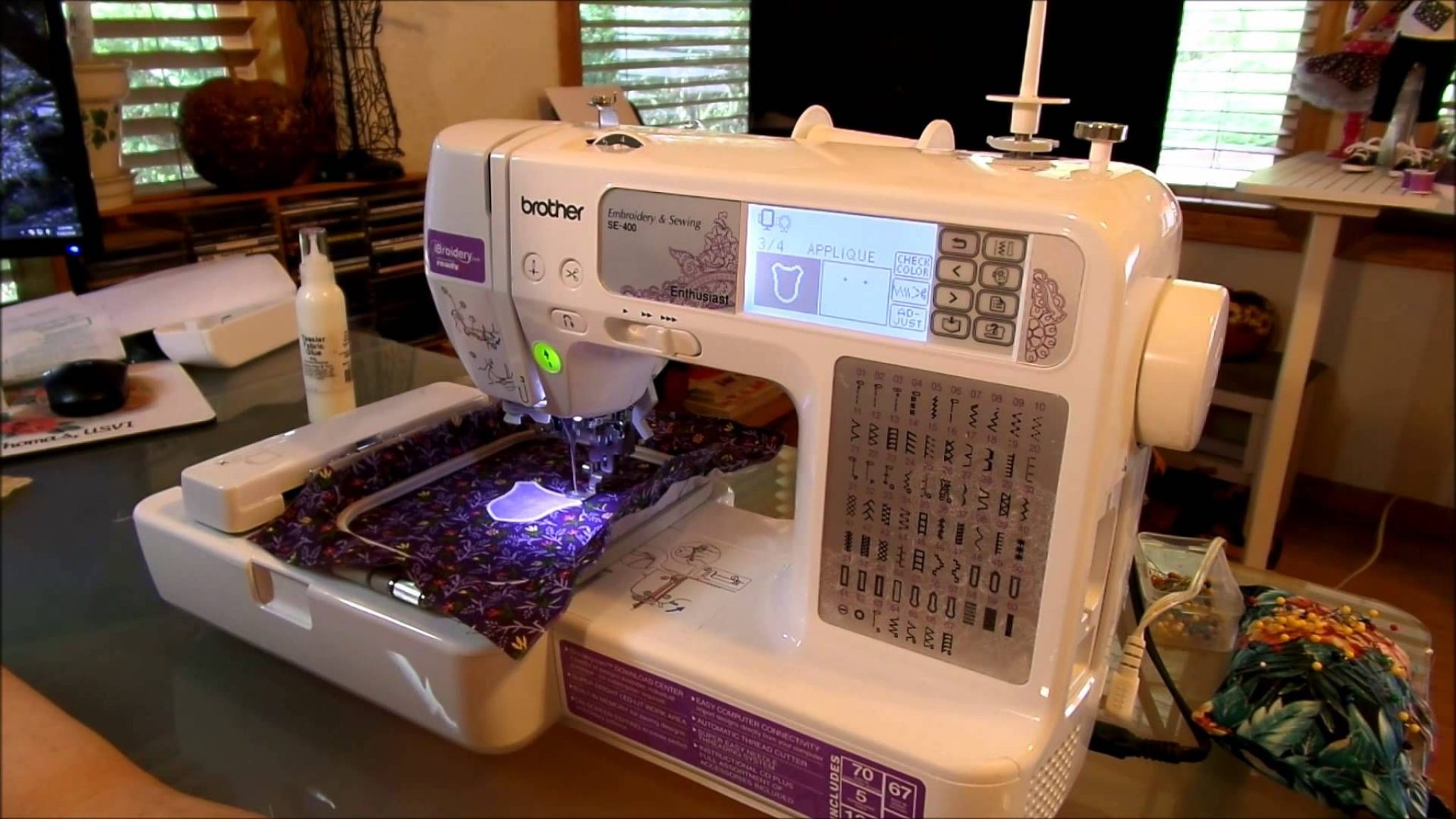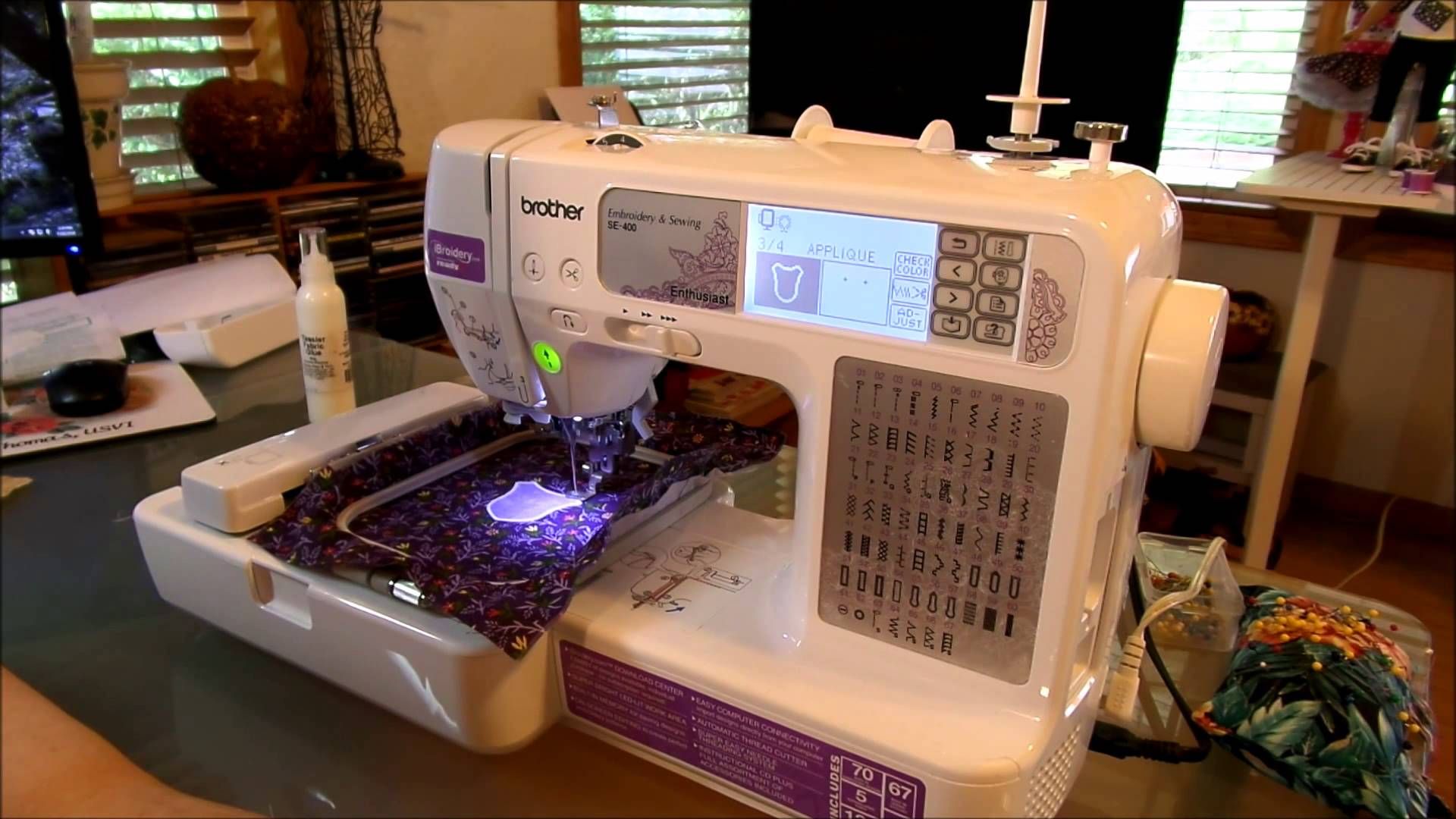 The machine is designed to create remarkable embroidery pieces, but know that even for simple sewing you'll be impressed. That's thanks to a total of 67 sewing stitches that are built in. Added to this you get 98 stitch functions, so your list of options is long, giving creative seamstresses freedom to create whatever they can imagine in their minds.
You also get some customizing options in terms of aligning your stitch types with your needs. Your stitches can be as long as 5mm and the Brother SE400 can handle stitch width of up to 7mm.
Note that you can either use twin or single needles, whichever you prefer and as would be appropriate for your specific project.
Built-in embroidery designs and fonts
With combining a sewing machine and an embroidery machine, you're not limited to only using stitches because you can pick from the built-in designs Brother added to the menu list. If you want to create a frame around your design, there are 120 to pick from. Want to add an image? 70 pictures are waiting for you to add them to fabric items you want to turn into unique gifts. Or add someone's initials and pick one of the five provided font styles to give it a personal touch.
The range of options is diverse and we think most users will find appropriate designs whether you're decorating clothing, turning towels into personalized gifts or creating unique items for the festive season. But your satisfaction is based on personal preference and whether the themes Brother already loaded on the device suit your taste. Some users find it a bit limited, but we think it's a sufficient range for the price you pay. And don't forget that you can also connect your system to the internet and use designs you find on iBroidery.
LCD display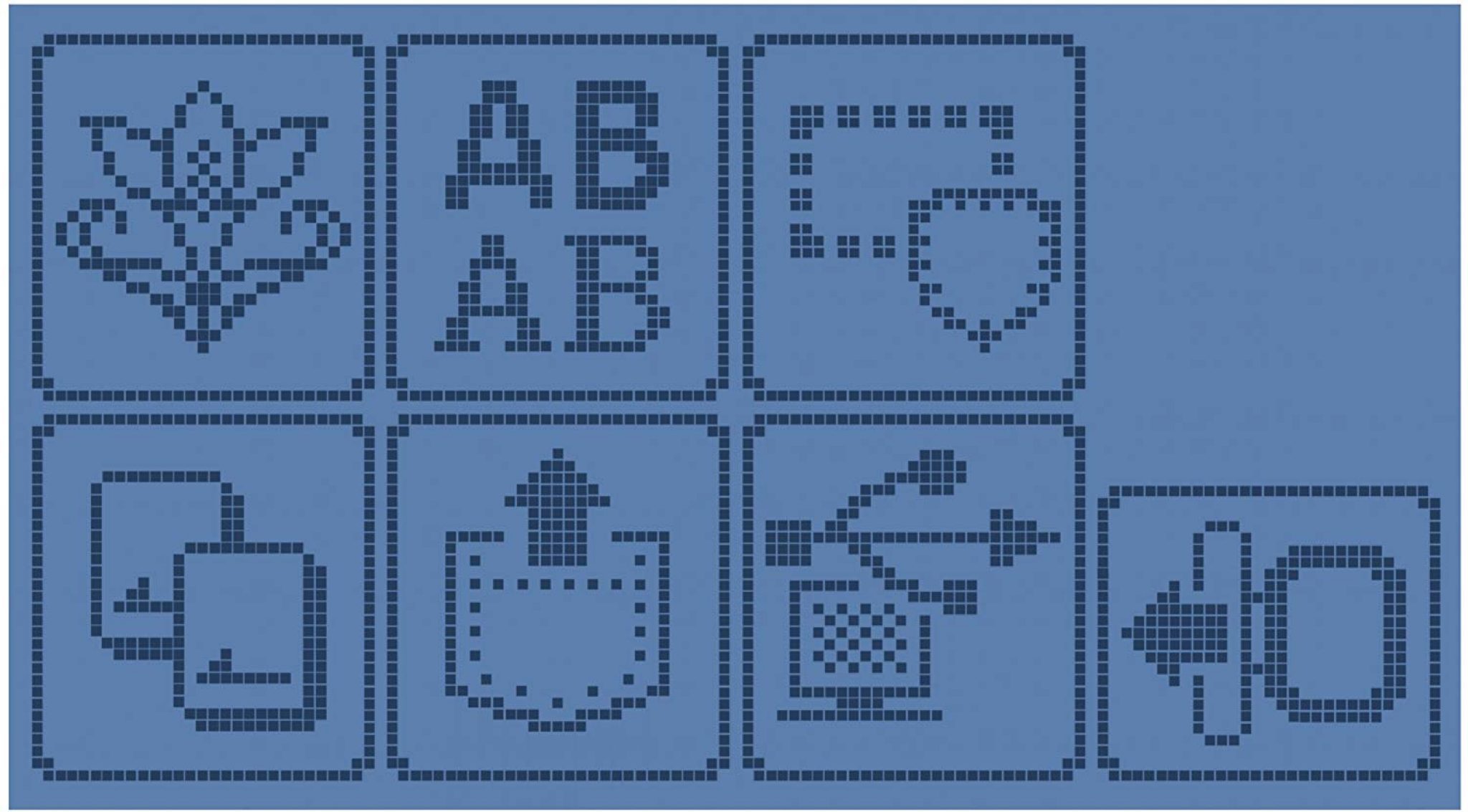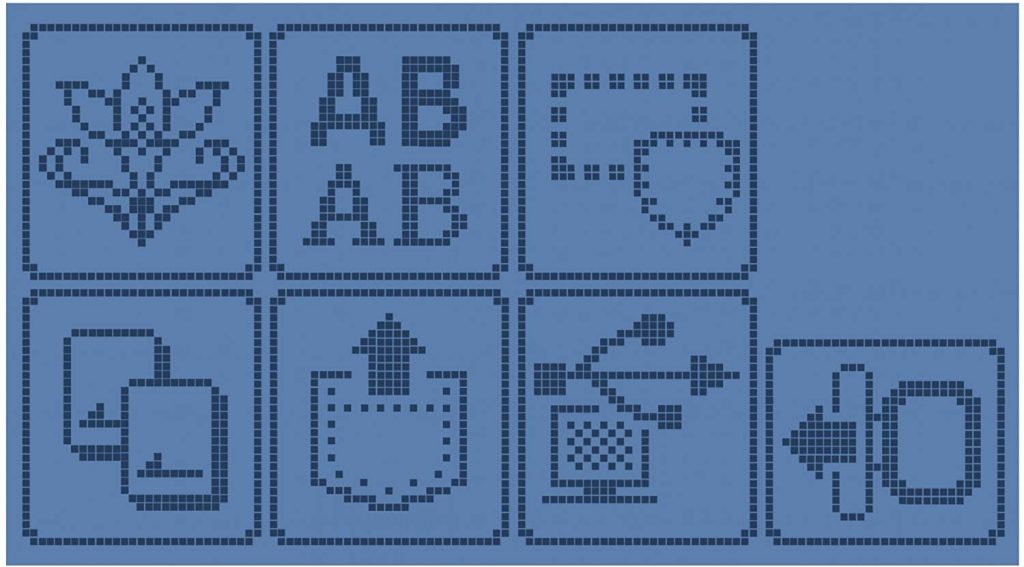 The LCD display is one of the most attractive features to mention in this Brother computerized sewing and embroidery machine SE400 review. It makes it so easy for sewers to pick a design and get it done. You simply scroll through your options, pick what you want to create with the provided touch pen and get started.
Apart from accessing myriads of design options via the LCD screen, you can also view tutorials and other information to make it easier to get to know your new machine.
The LCD screen is back lit, making for easy viewing even if the room itself isn't lit properly. Just note that this is only a black and white LCD panel, not a colored one. Some users prefer the more advanced screens that make for even easier reading. And of course, you won't see your chosen designs in full color so you'll have to use some imagination to gauge what it will really look like once you're finished.
Free arm
The brand provides you with a free embroidery arm to make your intricate work happen. The 4" x 4" embroidery hoop fits perfectly onto the arm. Some people may prefer and even larger hoop when they work, but know that this won't fit onto the available work area.
The free arm contains an accessory compartment which is a huge asset and something professional seamstresses appreciate: when you can keep all your small components on hand it streamlines your workflow and saves you a lot of time.
Lighting
The brand added a light that's situated well, close to the needle and work area. You'll have a well lit work space around the foot of the machine where it matters most. Some users may find the light insufficient and prefer to add a work light to their work stations, but to see what's happening around the feet, the provided light suffices.
Dimensions and weight
This is a surprisingly light machine when you see all the features it comes with. It's both a sewing machine and an embroidery unit, but it only weighs just over 13.5lb. That makes it easy to carry around to the worktable where you want to use it.
At 10.9" x 6.9" x 15.5" it's also reasonably compact, not taking up too much space on your work area. Store it in the cupboard if you want—you'll easily fit this into most storage areas. If you do have the counter space to leave it out all the time, you'll appreciate the provided cover that will prevent it from gathering dust when not in use.
Price
This is not a cheap machine, but very reasonably priced for a device from this brand. And remember that you get two types of machines in one.
You should consider additional costs when you budget, because you'll pay for each design you want to use from iBroidery. They are affordably priced though and remember the exclusivity you get: many of these designs are exclusive to Brother customers.
Key features
Many stitch and design options, possible to use the designs on iBroidery.com's database
Long list of accessories
Touch pen to use on the LCD screen
Set of seven accessory feet
Drop-in bobbin system
4" x 4" embroidery area
PROS
CONS

Automatic threading
Import designs from computer
Large work area
Can control sewing speed
Long warranty

Black and white screen—not colored
Easy needle breaking
Foot pressure can't adjust
Must pay for additional designs