Typically crafters tend to buy one machine for sewing and a different one for embroidery. There are some machines that offer both, but more often than not, either the embroidery or the sewing capabilities are limited. For this reason, such hybrid machines are rarely ever worth the money and time you put into them. However, there are a few exceptions. In this Brother SE1900 sewing and embroidery machine review, we tell you how the device is one such exception.
It works well for advanced embroidery, crafting, and sewing. However, it would work just as well in the hands of an amateur or novice. Also, for the beginner, it eliminates the need for an upgrade after the first few years of use. That said, it seems the sewing and embroidery machine doesn't come cheap, so you might need to be prepared with a sizeable budget.
Another thing worth some of your attention is the name of the brand. Brand matters just as much as the features, and in the sewing/embroidery machine business, few brands garner as much trust as Brother. Since Brother is well known for high-quality, well-built, long-lasting, reliable sewing/embroidery machines, even first-time buyers get to have that all-important peace of mind when making this purchase. Read the Brother SE1900 sewing and embroidery machine review below for more details on the benefits of the crafting device and to determine if it is worth your money.
This product's also been included into these rankings:
Specifications
Type
computerized sewing and embroidery machine
Built-in stitches
240 + 10 buttonhole styles
Embroidery designs
138 + 7 fonts
Needle threader
automatic
Max. embroidery area
5 x 7 in.
LCD display
3.2" touchscreen
Dimensions
13.43" x 23.19" x 11.54"
Review
Anytime Brother announces a new sewing or embroidery machine, the crafting and apparel world gets excited. This is because the company has proven countless times that they can produce quality offerings on a consistent basis. It's no different with the Brother SE1900, as you'll come to learn as you read the entire review below.
Overall Performance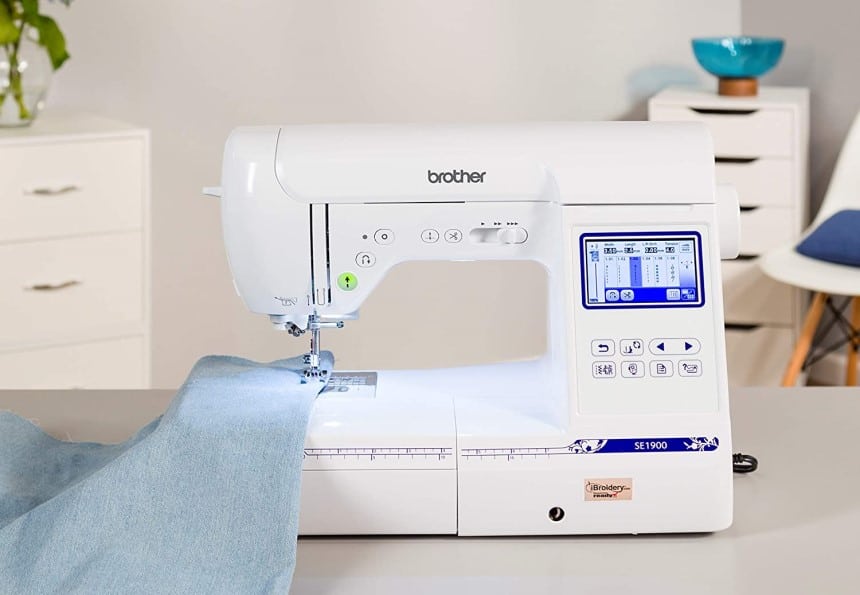 If you were to pick the Brother SE1900 mainly for sewing projects, you would be surprised at how little is left to be desired in terms of performance. For one, the stitches, both in terms of stitch patterns available and the top working speed, rival what you find in top-of-the-line sewing machines. There is even the inclusion of buttonhole stitches in the machine. As such, being combined with an embroidery component has taken nothing away from the sewing capabilities of the tool.
Also, it seems the customizability of the device is top tier. After all, you can customize some of your own sewing stitches and even save them on the Brother SE1900 for later use. This might not be a feature that most people need, but for the true creative, there are bound to be some uses for it. With the eight feet provided with the purchase, it seems that buyers can take on quite a number of projects using the built-in stitches. However, this is also expandable if the owner is willing to buy more sewing feet available in the market.
The Brother SE1900 shines in the embroidery section as well. The designs included, their customizability, the ability to add more, and the easy-use LCD touchscreen are a few exciting features. Not many people can complain about not being able to embroider their unique designs onto fabrics if they have this machine.
All in all, switching between sewing and embroidery will be easy for anyone with this tool in their corner. As such, it's one of the few that make a hybrid machine worth consideration and purchase.
Speed
At speeds of 850 SPM, you're unlikely to hear anybody complaining of the Brother SE1900 being a slow machine. However, this speed can be reduced as some projects need extra care. That said, the mechanism for reducing or increasing speed depends on how you're using the machine.
If you're using the start/stop button, there is a speed control slider on the machine as well. You can push this slider to the left to lower the speed or to the right to increase it. For more traditional sewists and embroiderers who prefer using a foot pedal, adding more pressure increases the speed while reducing it does the opposite.
Built-In Stitches and Embroidery Designs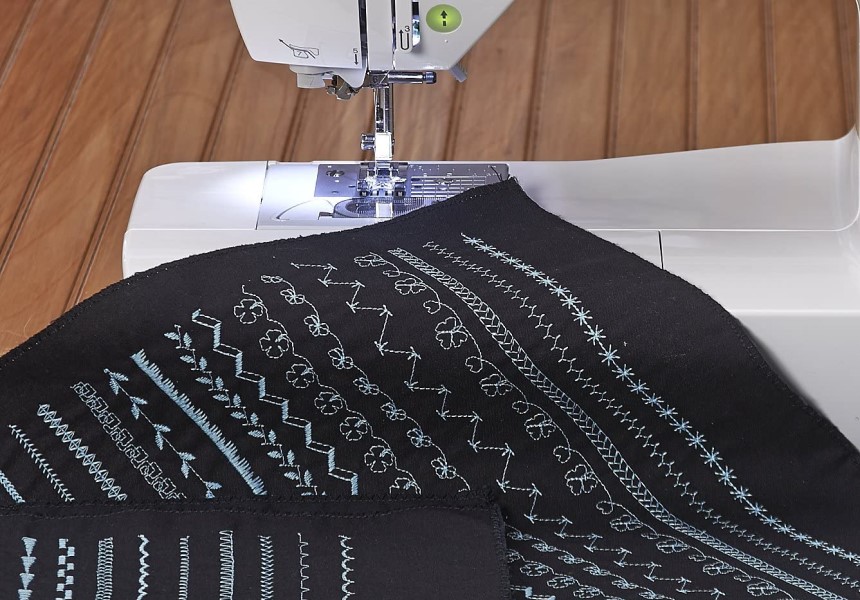 The Brother SE1900 is one of the more exceptional Brother machines available when it comes to built-in stitches. The 240 decorative and non-decorative stitches should be more than enough for any sewist's needs. Notably, you can access and use many of these stitches by attaching one of the eight sewing feet included in the purchase. That said, there are other sewing feet in the market that should expand the device's capabilities.
Also, of these 240 stitches, 10 are buttonhole style options. The built-in embroidery designs are another positive aspect of the machine. There are 138 of them in addition to 11 fonts, and while this is impressive enough, the manufacturer improves this by making them customizable. You can change the size, flip them, and combine them with fonts and other embroidery designs. This is bound to tickle the fancy of every embroiderer in search of a machine.
USB Connectivity
Having USB connectivity also means the user is not limited to the built-in designs. They can make their own, purchase new ones, load them onto a USB stick and transfer them right onto the fabric.

Workspace and Embroidery Area
This machine comes with a 5 x 7 in embroidery area, which is fairly large for such a machine. This allows you a bit of leeway with the size of your embroidery projects, and you can take on both large and smaller projects without a care in the world.
Needle Threader
The machine features an additional element that makes needle threading as easy as pulling a lever. This threader might seem like a complicated addition, but it gets easier to use with time. Also, it certainly beats having to thread the needle with your bare hands.
LCD Screen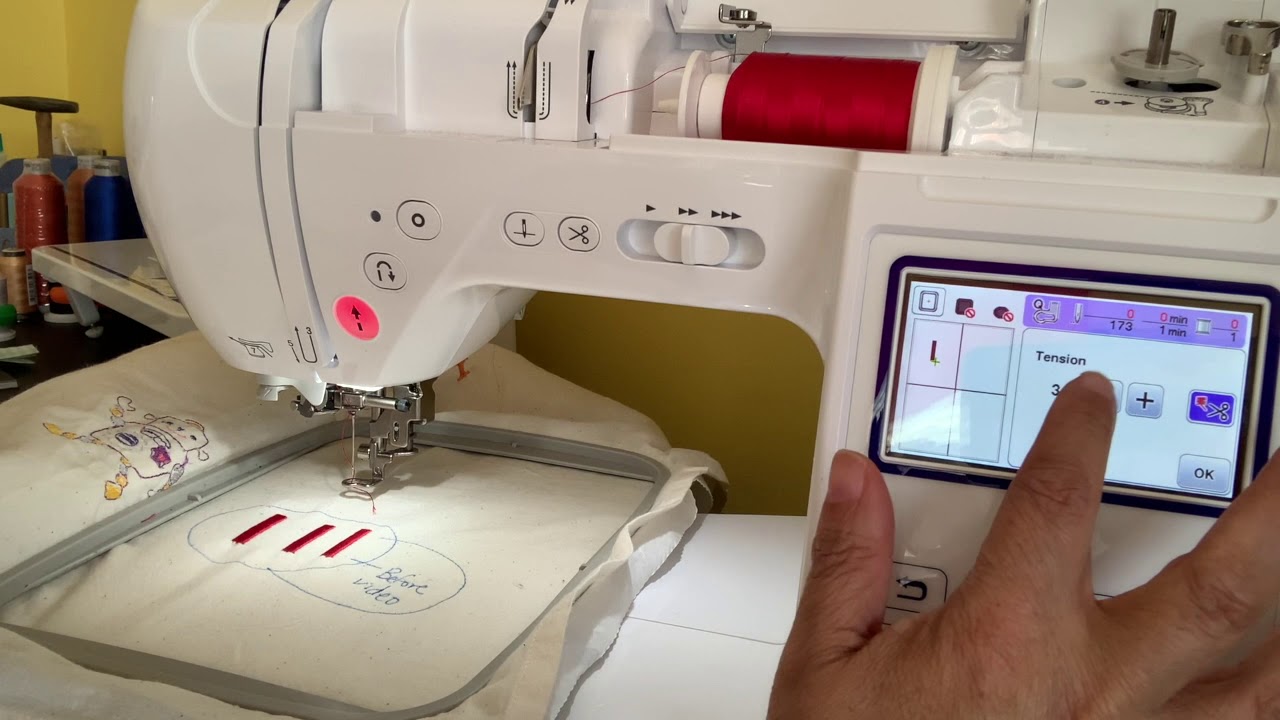 The Brother SE1900's LCD screen is where a lot of the magic happens. It comes with adjustable brightness and helps you select most of the settings for your projects. This includes the stitch type and the embroidery design to use. Also, the touchscreen capabilities allow you to make all types of adjustments including, resizing, rotating, flipping, and recoloring your designs.
Lastly, if you get stuck in your use of the device, you can access and view the instructions provided on the LCD screen for guidance.
Lighting
As for lighting, you don't need to worry about sewing or embroidering in the dark. The machine features LEDs to illuminate the areas directly under the needle where visibility is most important. As such, the exterior lighting conditions don't matter as much since users can clearly see their stitches, embroidery progress, and the workpiece.
Ease of Use
Having the touchscreen does make use a lot easier on buyers. They can use it to change settings, choose a stitch type or pattern, customize or manipulate the embroidery designs, and more. Also, with the needle threader included, it eliminates one of the more complex components of setting up your device for a project.
Experienced sewists and embroiderers will undoubtedly appreciate how easy it is to operate and use the Brother SE1900 sewing machine. That said, it's clear that novices and newbies were put in the manufacturer's considerations as well. This is why the instructions can be accessed not only in the manual but also on the LCD screen.
Portability
Seeing as though it is both a sewing and embroidery machine, it may come as a surprise that it isn't bulky or heavy. It measures 13.43″ x 23.19″ x 11.54″ and weighs 22.05 lbs. This means that if push comes to shove, you can easily take it with you to embroidery or sewing classes. However, you may need to get a sewing machine carry case or tote bag.
Warranty
The Brother warranty is another reason why their machines are so popular. This particular SE1900 model comes with 25-year coverage, guaranteeing buyers that their investment in the product is safe.
Accessories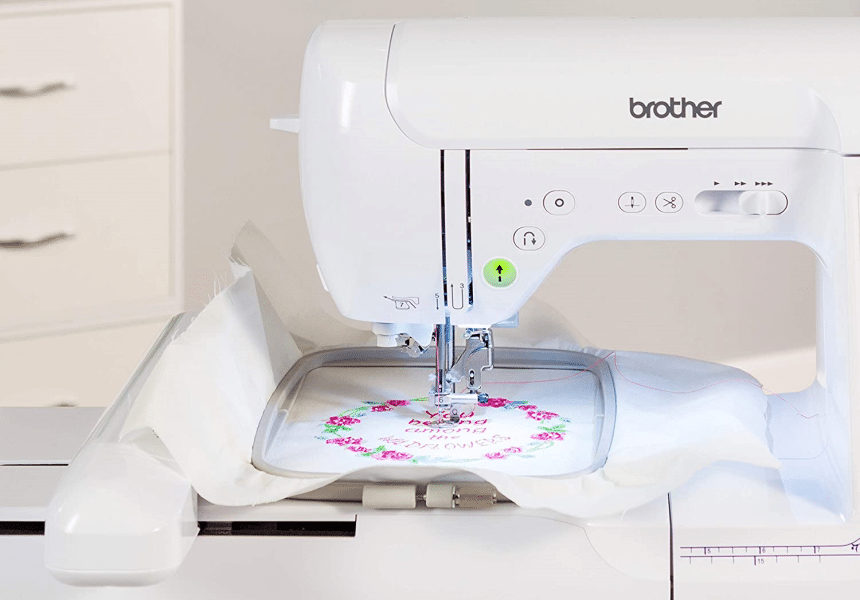 At the top of the list for accessories included in the Brother SE1900 purchase are eight varieties of sewing feet. In addition to that, you have a knee lifter, thread bobbin case, a grid sheet set, needles, bobbins, seam ripper, and more.
Key Features
LCD touchscreen
LED lights
25-year warranty
138 inbuilt but customizable embroidery designs
11 fonts
240 built-in stitches
5" x 7" hoop area
Multiple accessories
Computerized use
Needle threader
USB support
PROS
CONS

Easy to use
You can add more embroidery designs via USB
Works well both as sewing and as an embroidery machine
Comes with a 25-year warranty
Easy to thread
The use instructions on the LCD screen are a nice touch

The machine is relatively expensive
Changing the threads during embroidery sessions may be a hassle
Conclusion
As shown by this Brother SE1900 sewing and embroidery machine review, the purchase doesn't have many downsides as a sewing or embroidery device. It seems suited to the needs of enthusiast-level crafters who appreciate being able to switch from embroidery to sewing and back at a moment's notice. However, a beginner who isn't sure whether to pick embroidery or sewing will be pretty happy with the machine as well. That said, there is a significant cost associated with getting the device that might hinder many admirers from getting it. However, if you have more freedom in your budget, this purchase would work for many of your projects.