There is nothing more satisfying than stitching your own clothes, which is why you need to have the best sewing machine to achieve the best possible results.
When it comes to sewing machines, Singer is one company that has made a name for itself. Providing a range of sewing machines, Singer keeps revolutionizing each product. The Singer 14SH654 is one such sewing machine that is making waves in the stitching world.
Today we give you the Singer 14SH654 review. It comes with different features to meet all your stitching needs. This new and improved sewing machine is also color-coded which makes it simple and easy to use. This article will review all the features that come with the Singer 14SH654 so you can make an informed decision when buying this machine.
Specifications
Functions
Serger/overlock
Dimensions
14 x 11 x 11.5 inches
Singer 14SH654 Serger Review
When it comes to speed, efficiency, and reliability, the Singer 14SH654 ticks all the boxes. This machine is one of a kind as it offers numerous creative possibilities. It lets you work on your clothes while making sure that the stitching is efficient and professional. Singer 14SH654 is an easy-to-use machine and it can help you stitch all kinds of fabric.
So, let's review these features:
Overall Serger Performance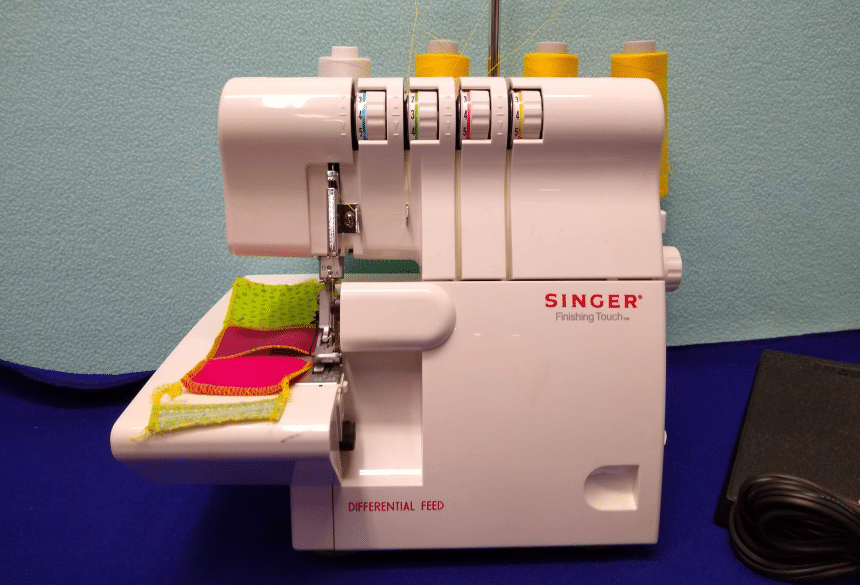 The Singer 14SH654 is a sewing machine that is one of a kind. The machine offers different unique features that allows it to stand out from others sergers. When it comes to performance, it is extremely reliable, working efficiently to produce professional stitches. With automatic adjustment features, the Singer 14SH654 is also easy to control and maintain.
The Number of Threads
With the Singer 14SH654, you don't just work with one thread, but you can work with 3 to 4 threads at a time. This machine also allows a four-thread stitch that comes in handy when you are working with multicolored fabric.
Stitch Length and Overlocking Width
When searching for a good sewing machine, you always look for a wide range of stitching lengths and overlocking widths. This is exactly what the Singer 14SH654 offers. It is able to work with a stitch length in the range of 1.0mm to 4.0mm, while it offers an overlocking width from 3.0 mm to 7.0 mm.
Sewing Speed
The Singer 14SH654 offers one of the best sewing speeds. It can go up to 1300 stitches per minute, saving you plenty of time while stitching. The machine also has an electronic speed control to help you pick your desired speed. This control also allows you to maintain a consistent speed throughout the process while making sure that there are no abrupt starts or pauses in between.
Stitch Controls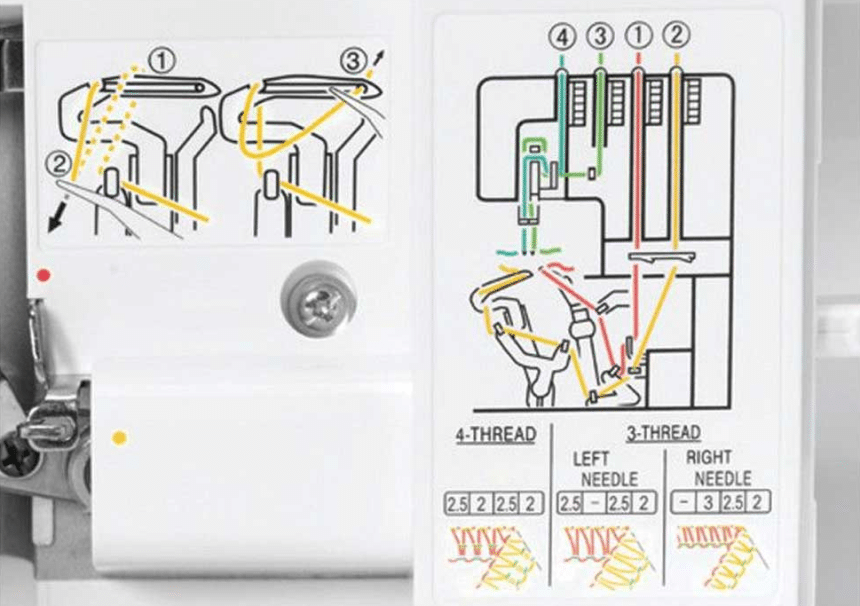 Featuring 2 needles and 4 threads, the Singer 14SH654 offers 6 different types of stitches. You can perform versatile stitch functions with this machine. These functions include overcasting, trimming, rolling hem, blinding hem, flat-locking, mock-safety stitch, and so much more. You can easily change the controls on the switch to opt for your required stitch style.
Ease of Use
The Singer 14SH654 is extremely easy to use. Even if you are a beginner who is not that knowledgeable about the working of sewing machines, you will be able to manage this machine with ease. If you find yourself struggling, you can refer to the guidebook that comes with the machine. The guidebook features step-by-step guidance along with diagrams that are easy to follow.
For the ease of use, it also has an automatic reverse feature that helps with applying pressure on the foot lifter, making the machine easy to work with.
Although this serger is quite straightforward to use, you might need to do some additional reading in case you are a complete beginner. This brief guide Trusted Source NMSU: Sewing Techniques with an Overlock Machine Sewing with an overlock machine is a bit different from sewing with a conventional sewing machine. Some of the sewing techniques used will require practice to become proficient. aces.nmsu.edu , for example, explains how to adjust a serger properly and gives some tips on sewing with a serger in general.
Durability and Warranty
Built with high-quality material, the Singer 14SH654 is highly durable and long-lasting. This sewing machine has a solidly built structure allowing it to survive all kinds of wear and tear while remaining fully functional. Singer also offers a 25-year warranty. This means even if your machine gets damaged during these 25 years, you can get a free repair from the company.
Key Features
Following are the standout features of the Singer 14SH654:
Free Arm: The machine comes with a free arm enabling it to work with stitching that would otherwise be hard to reach. With this feature, you can easily work on small sized items.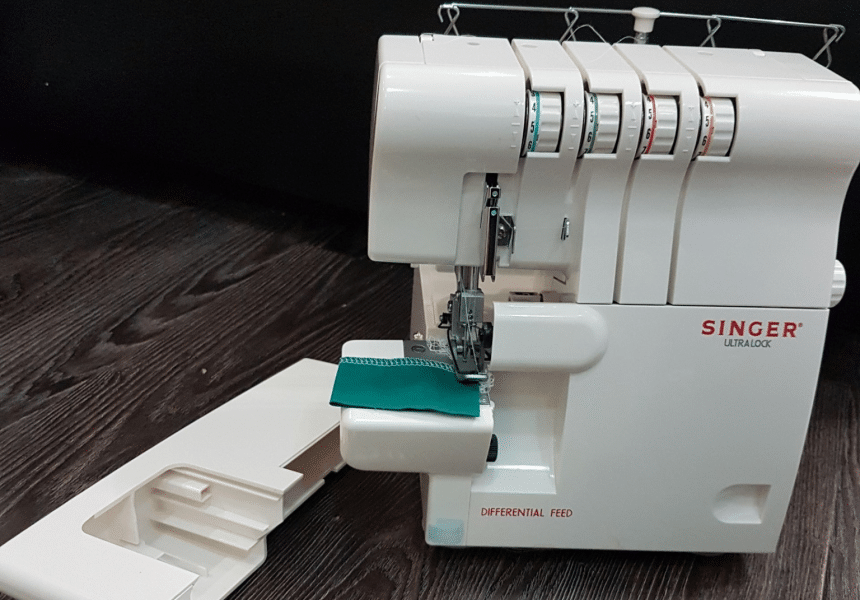 Feed: The Singer 14SH654 comes with a differential feed that can easily make any necessary adjustments. The differential feed makes sure that the stitching is flawless while preventing any snapping or loosening of the fabric that is being stitched.
Portability: Due to its lightweight structure, the machine is extremely portable. Since the machine is easy to carry, you can easily take it along anywhere you want.
Upper Knife: The machine features an upper knife, which is also moveable. This particular feature allows you to make more space while working. It is also important in the sense that the upper knife prevents the fabric from being ruined while the machine is being used.
Rolled Hems: With built-in rolled hems, the machine is able to work on delicate fabrics such as silk, linen, and others. The hem mode allows for easy access to the lever.
| | |
| --- | --- |
| PROS | CONS |
| Highly efficient sewing machine | The machine is very lightweight which can often make it difficult for it to remain in one place while stitching |
| Helps save time due to its high speed stitching | |
| Easy to handle and carry around | |
| Comes with built-in rolled hems | |
Conclusion
If you are looking for a sewing machine that is fast but also reliable, then the Singer 14SH654 is something you should consider. This machine offers automatic features making it easy to use. Although the machine can have trouble staying in place, it still offers one of a kind, professional stitching!
References
1.
NMSU: Sewing Techniques with an Overlock Machine
Sewing with an overlock machine is a bit different from sewing with a conventional sewing machine. Some of the sewing techniques used will require practice to become proficient.