Juki is a world-famous sewing machine brand famous for their high-performance machines. The Juki-Mo-1000 is no exception. Its sturdiness and myriad features make it one of the best serging machines out there. Even if you don't have any serging experience, the Juki-Mo-1000 will make you feel like a pro. It's a favorite go-to for many sewists because it's incredibly affordable, easy to use and super-sturdy.
The well-designed machine offers more than what most expensive machines offer; from multiple stitch variations to its long cutting knife that makes flawless cuts every time you sew. Once you get used to its amazing features you will never be able to go back to using a regular serger. There's so much to love about this serger and we have it all covered in this in-depth Juki-Mo-1000 review.
This product's also been included into these rankings:
Specifications
Stitch length
1 mm - 4 mm
Adjustable foot pressure
yes
Dimensions
13" x 11" x 12.25"
Review
The Juki-Mo-1000 is an incredibly lightweight serging machine, coming in at 23 pounds. It has the standard serger machine size and there's nothing really fancy about its design. The first glance at it is enough to tell you that the machine only means business, which pretty much all you need in a serger.
The machine distinguishes itself from other within its range with an automatic needle threader and jet air loopers which work together to make threading absolutely effortless. It uses the power of air to loop the thread. You don't have to follow any diagrams or get frustrated fussing with threads. Besides easy threading, the machine sews and cuts smoothly through different types of fabrics. Its tension quality is also out of this world. It also offers stitch variations similar to those of a 3/4 serger.
Design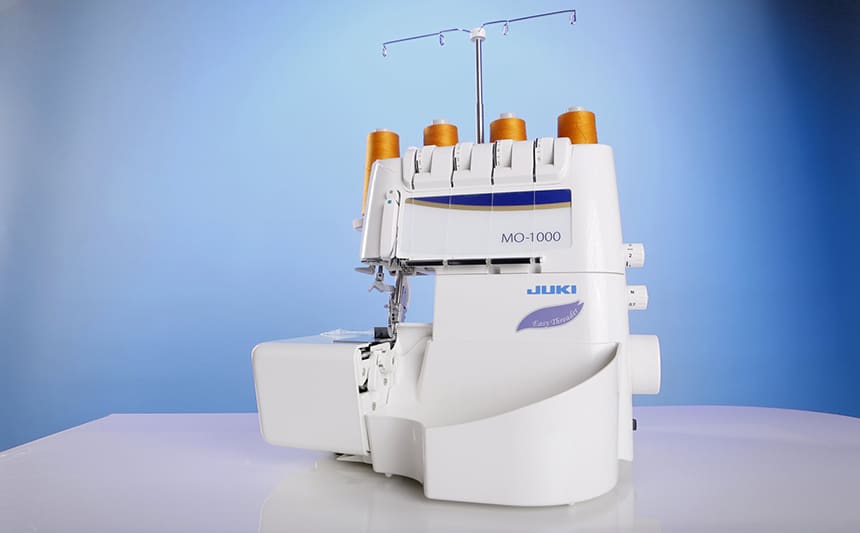 There's nothing really cutesy about the Juki-Mo-1000's design. Like all other Juki machines its build is more functional than aesthetic. Its clever design makes it one of the most desirable serging machines in the market.
It has a wide throat area that measures 72.4mm which increases the usability of your workspace. It also has a waste collector that collects all the fabric that has been cut-off. This helps you maintain a neat work space.
Another feature that makes the machine's design unique is its elegant sharp curve. The sharp curve is the distance between the knife and the needle. Its length allows easy sewing inside the curves.
Ease of use
Juki-Mo 1000 comes with an instructional DVD that will help you wrap your head around its functionality. There's also a user manual that has more information about the machine. Though you will hardly ever need the manufacturer's guidelines for threading because it is such a breeze.
Overall Performance
The Juki-Mo-1000 has a plethora of features that offer solutions to all the sewing problems any sewist would face. Its threading system is second to none. It makes the machine super-easy to use. A sewing or serging beginner needn't worry about going through the dreaded hassle of threading a serger.
Besides the premium threading technology of the Juki-Mo-1000, it also has other cool features that make it such a market leader when it comes to top-notch performance. These include a powerful motor that offers fast stitching speed of 1500spm, an adjustable differential feed that you can adjust while sewing and a disengageable knife that allows you to serge without cutting fabric.
Further, Juki designed the machine with the customer's comfort and safety in mind. If its front cover door is open or the presser foot is in the 'up' position, the machine stops working. The Juki-Mo-1000 is a worthy buy when it comes to performance. Its few cons can be overlooked, given it has an attractive price point.
Speed
Juki Mo sews at a flash speed of 1500 stitches per minute. With this kind of speed, you have no excuse to not meet project deadlines. The speed may be too high for beginners but with speed control anyone can catch on fast.
Built-In Stitches
The machine offers 7 different stitch options including; a 2, 3, or 4-thread overlock, a 3-thread flat lock stitch, a 3-thread narrow overlock stitch, a 3-thread rolled hem stitch and a 3-thread lettuce edge rolled hem stitch. You can be creative with the stitches to add style and interest to your projects.
All the stitches are tight, secure and perfectly formed. Their quality is impressive on different types of fabrics, both lightweight and thick.
Stitch Length and Overlock Seam Width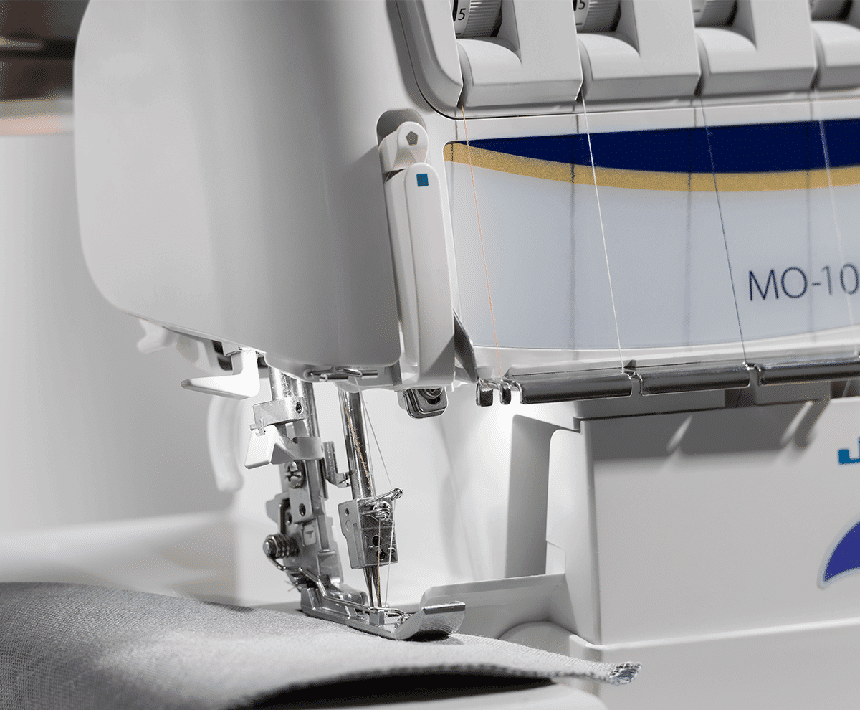 The machine's stitch length can be adjusted between 1mm and 4mm. The widths include; a 2mm rolled hem stitch, a left needle width adjustable between 5mm and 9mm, and a right needle width adjustable between 3mm and 7mm.
Presser Feet
The machine uses 7 snap on presser feet that you can purchase separately. They include; an Elasticator presser foot, piping, coding, gathering, beading, blind stitch and a standard presser foot.
Threading
This is where this Juki machine shines. It features an automatic needle threader and jet air loopers that make the entire process of threading a breeze. Threading the needle is as simple as lowering the threading lever, hooking the thread, and then returning the lever to finish threading.
The machine uses the power of air to loop the thread for you, making your work a tad easier. All you have to do is press the air-control pushbutton once you have inserted 1 or 2cm of thread.
Thread Tension
You will enjoy the easy thread tension adjustment offered by the machine. You can make infinitely variable adjustments from 1 to 9 by turning the dial downwards for less tension and upwards for more tension.
Lighting
The machine features LED lighting that brightly illuminates the needle area. The sewing light is eco-friendly, energy efficient and long-lasting. It doesn't heat up even after continuous use like other LED lights.
Dimensions and weight
The Juki-Mo-1000 is a remarkably lightweight machine. It weighs a mere 23 pounds. Its size is pretty standard; 15.4'' x 15.2'' x 16.3. If you wanted to move around with the machine it wouldn't be much of a hassle. It's fairly portable.
Warranty
Juki is famous for generous warranties. The Juki-Mo-1000 has a total of 25years warranty. The wiring, speed control, motors, switches, light assembly and circuit board have a 2-year warranty. All the other parts, excluding consumable ones like needles, lamps and blades have a 5-year mechanical warranty.
You also get a 90-day labor period in case you need any adjustments through a Juki dealer. Do note that the warranty is only provided for household use. It does not apply to commercial usage.
Key features
Here is a rundown for Juki-Mo-1000's most impressive features;
Air-supported threading
Adjustable presser foot pressure
Wide throat area
LED sewing light
Quiet operation
Waste collector for fabric that has been cut off
2-/3 thread version
Rolled hem, plus 2, 3 and 4-thread overlock stitches
Adjustable differential feed
PROS

CONS

Easy to use
Sturdy build
Quiet operation
Excellent stitch quality
Simple threading
Multiple accessories
Great value for money
Fast sewing speed
Safety features

The fabric catcher doesn't sit snug on the machine
Conclusion
The Juki-Mo-1000 is the serger you want to buy if you want an easy time serging. Threading a regular serger can be a real hassle and it frustrates so many people. The Juki-Mo-1000 is the ideal solution for both beginners and pros looking for convenience and comfort in a serger.