While it's technically possible to finish sewing projects with a regular sewing machine, a serger makes the work easier, is faster, and is even likely to produce more professional results. As such, sergers are a reasonable purchase for those who want the added convenience provided by these machines.
As a serger, the Singer 14CG754 comes with an easy-to-use design, up to six different finishing stitches, a free arm, and more features for the advanced sewer. For those interested in finding out about all the features and benefits the machine has to offer, the Singer 14CG754 Review below should fulfill that need.
This product's also been included into these rankings:
Specifications
Dimensions
14 x 11 x 11.5 in.
Singer 14CG754 Review
The Singer 14CG754 is a serger/overlocking machine, and as such, it's designed for the finishing touches of your sewing projects. Consequently, the features should be a reflection of that. Below we break down and take an in-depth look at these features to determine whether they're capable of fulfilling their mandate.
Overall performance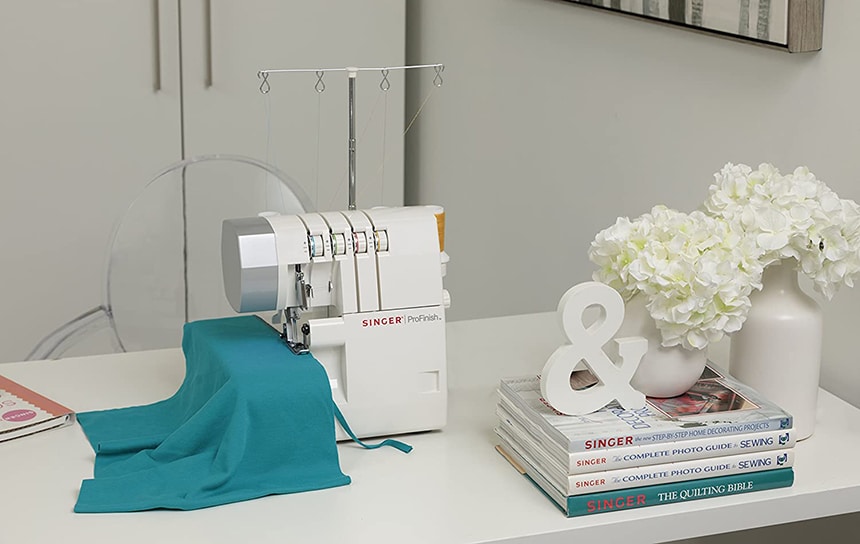 The Singer 14CG754 is a fast and effective finishing machine and makes light work of raw edges, sleeves, cuffs, and more. With the adjustments and settings available, the machine breezes through different kinds of fabrics, no matter whether they're thin and stretchy or thick and stiff. Users also don't need any specialized skill sets or knowledge to set everything up or use the machine. The controls are straightforward, and the instructions in the manual easy to understand. Overall, there's not much to complain about if you have this serger in your workshop, and you're also guaranteed professional-level finishing results.
The number of threads
The machine can hold a maximum of four threads, although whether you use the full four-thread setup is up to you. Notably, this can also be dictated by the type of fabric you're using or the type of finish you want. For instance, the full four-thread is ideal for knit fabrics with examples such as warp-knit fabric, interlock stitch knit fabric, and more.
Alternatively, you have a two-thread setup which is likely the main option for most users. It's useful for providing an overlock stitch which adds a lightweight but strong seam finish.
Lastly, there's the three-thread setup that can produce embellished overlock stitches in addition to two other types of stitches. Consequently, you have 2-3-4 thread options whenever you use the machine.
Stitch types available
There's also the aspect of the stitch types available in this overlocking machine Trusted Source NMSU: Sewing Techniques with an Overlock Machine Sewing with an overlock machine is a bit different from sewing with a conventional sewing machine. Some of the sewing techniques used will require practice to become proficient. aces.nmsu.edu since they work in tandem with the threads and needles to dictate the kinds of projects you can take on. There are six built-in stitch types in the machine. The first one is the four-thread mock stretch mock safety stitch. As we mentioned before, this four-thread stitch is ideal for sewing on knit fabrics which are often much thicker and heavier than other fabrics.
Stitch number two is the three-thread overlock stitch. This is a highly decorative finishing stitch. Additionally, the three-thread wrapped edge overlock stitch is also very decorative. You can also use the three-thread flatlock stitch. Ideally, this stitch works best either for fine or any highly stretchable fabrics you come across.
Another stitch option is one we touched on above, namely the two-thread wrapped edge overlock stitch. Finally, there are the different variations of rolled hem stitches available. These can be incredibly useful if you're trying to hide the finished edges on the inside of a fabric.
Adjustable stitch width and length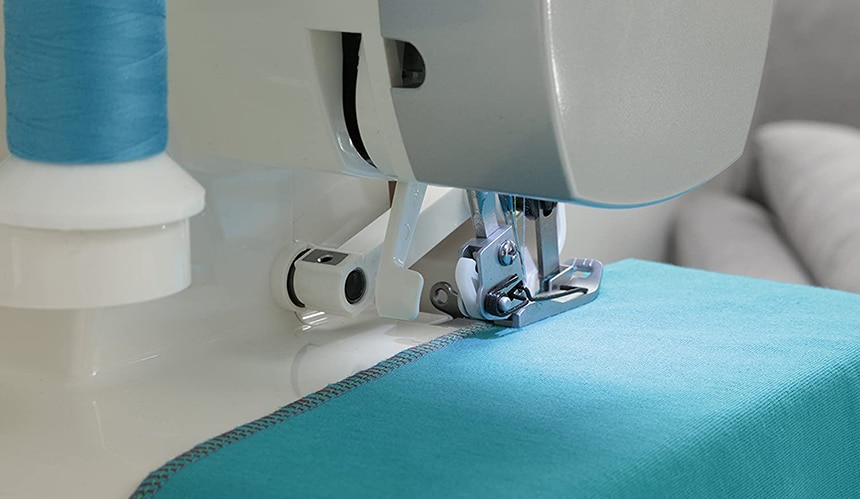 The stitch width and length on the machine can also be adjusted using the included knobs. Depending on the project, small and thin stitches may be more appropriate, for instance, when you're finishing thinner fabrics. On the other hand, thicker fabrics, by default, tend to require broader and longer stitches. The controls for changing or adjusting these parameters are easily visible on the machine, and as such, you can change them whenever it's convenient.
Notably, it might take a few tries to get these settings right, so it's always best to try working on scrap fabric if possible. If not, you may have to remove some of your trial stitches once you've figured out the right combination.
Sewing speed
The speed of the overlocking machine is another feature that potential buyers can get excited about. The machine maxes out at around 1300 SPM, and since it's only used for finishing, it makes light work of most projects. You can even use it in a commercial setting with no issues, especially if you've figured out how to pick the right length, width, and tension settings. Also, depending on the project's complexity, you could be done using the machine in as little as two minutes. That said, for larger, more complicated projects, it might take a bit longer.
Ease of use and user-friendly features
In our opinion, this serger seems intuitive and easy to use. Unlike general sewing machines, there aren't hundreds of stitches to choose from, as we mentioned above. There are only six, and the controls for them are pretty accessible.
Also, the fact that you can incorporate up to four threads may seem a bit intimidating, especially if you're graduating to this model after using a regular sewing machine. However, most people don't have a problem with that. You get instructions for the threading that are rather simple to follow. Some are included in the manual, although you can also use the ones printed on the machine. You only need to open the looper cover to expose them.
Additionally, the differential feed design of the machine features color-coded markings that should make understanding the instructions and threading a bit easier.
Another aspect of the machine that makes it easy to use is the optional free arm. If you choose to get it, finishing items like cuffs and sleeves will be a cinch.
Also, there's the easy access lever that helps users change from regular finishing to rolled hems. Finally, the machine comes with a blade to trim fabrics as you're cutting them that could also be moved up at a moment's notice if you don't want it cutting your materials.
Durability and warranty
The durability is another one of the machine's upsides. Notably, the machine's exterior features heavy-duty metal construction, which means it can take a few beatings and still retain its shape and functionality. As for the warranty, it would be simpler to say you get a 25-year limited one for the purchase, but it's much more complicated than that.
First, you get a limited 90-day warranty. This covers things like belts, rings, bulbs, adjustments, and attachments. There's also the two-year guarantee for electrical components with examples such as the motor, lights, switches, wiring, and speed control.
The only component that's covered for the entire 25 years is the sewing machine head.
Portability
Notably, the Singer 14CG754 is also fairly portable and can be carried to class and back home if necessary. This is because the design features a carry handle. That said, it does weigh 13 lbs. As such, if you carry it over long distances, it could get very tiring. Also worth mentioning is you'll need an extra bag to carry accessories such as needles, threads, and the likes as the device doesn't have built-in storage.
Extra features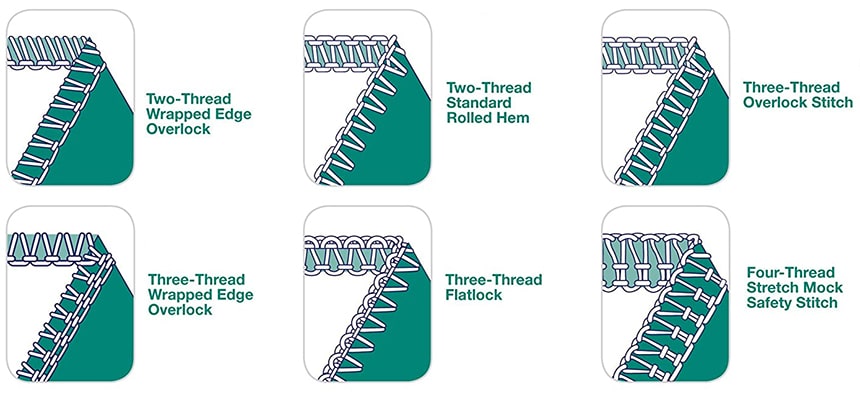 Although we mentioned rolled hems above, we didn't include all the details. Notably, there are multiple variations of the rolled hem, including the 3-thread standard rolled hem, 2-thread standard rolled hem, and finally, a 3-thread Wrapped Rolled Hem with an upper looper thread.
Price tag
The price tag is always a significant consideration whenever you set out to buy anything, including this Singer 14CG754 machine. It costs about $350, give or take, depending on the vendor. As such, it is in the median price range as there are lots of cheaper and even more expensive alternatives in the market. That said, it does constitute good value for money, especially if you already have a regular machine for everyday sewing.
PROS

CONS

Fast stitching speed
Easy to use
Clear instructions and color-coded thread lay-ins
Features a carry handle
Durable construction
Adjustable stitch length and width
LED lighting
Multiple stitches included

The 25-year warranty is only for the sewing machine head, while other components are covered for less than two years
It's a bit noisier than some alternatives
It comes with suction cups that aren't very effective at attaching the machine to a work table
FAQs
Does this serger come with accessories?
As we mentioned before, there are a few accessories included in the initial purchase that should prove useful as you learn to use the device. They include a needle set, a power cord, the instruction manual, a small screwdriver, tweezers, a spreader, and an all-purpose foot.
How do I set the tension?
Notably, setting the tension on a Singer 14CG754 is fairly complicated. If you look at the manual, there should be some suggestions on what number you should set the tension at for different fabrics. However, these aren't based on science, and the suggestions won't guarantee you good results. Consequently, it may take some trial and error to figure out setting the tension.
Our advice is you should always have some pieces of scrap fabric lying around, so you use them as you try out the different tension settings. Once you have it nailed down, you can switch to the fabric that you're using. Notably, both the test fabric and the one you're using for the project should be the same.
Does the serger automatically cut the hem as it sews?
In its most basic configuration, it does cut through the hem as it sews. However, this doesn't have to be the case. We mentioned above that it comes with a blade that can be moved up to keep it from cutting fabric.
Conclusion
The Singer 14CG754 review above has further proved the device to be a sensible purchase for anyone looking for an easier way to finish their sewing projects. It seems suited to sewers at all skill levels, and the price is reasonable. It's also somewhat portable for anyone who needs to move around with the machine. All in all, we don't have much to complain about with regards to the quality and the features of the device.
References
1.
NMSU: Sewing Techniques with an Overlock Machine
Sewing with an overlock machine is a bit different from sewing with a conventional sewing machine. Some of the sewing techniques used will require practice to become proficient.