Today, sergers range between those used commercially and models designed for domestic use. Companies have started making models that are created with hobbyists and beginners in mind. The Janome 7933 is one of such models. In this Janome 7933 review, we consider whether it is the right fit for you.
This model comes with several features and benefits, including being one of the easiest models to use right now. While it is a relatively affordable and basic serger machine, the unit will serve you for several years without any significant issues. Other features that make this an excellent choice include a retractable upper knife, improved accessibility, and lay-in tension threading.
We will consider the effects these and other features have on the product.
This product's also been included into these rankings:
Specifications
Cutting width
3.1mm to 7.3mm
Dimensions
20 x 20 x 16 inches
Overall Serger Performance
Surely at first glance, the Janome 7933 seems like a basic serger. However, even on this basic model, Janome has stuck to what makes it one of the top manufacturers on the market. This simple machine continues the manufacturers' culture of creating top-notch machines.
We love this model's performance. It is a compact workhorse that will do plenty of work for you without plenty of fuss. But apart from being a compact workhorse, this unit is easy to use and comes with several features that make it a perfect companion for anyone that is just starting out or looking to enhance their sewing skills.
It is lightweight and will create some of the best stitches that you can imagine.
The adjustable and retractable cutting knife function delivers even cuts whenever it is used. For the low price, you'll be hard-pressed to find a better serger than the Janome 7933.
The Janome 7933 offers precision and strong performance. If you want to feel confident about the work you do, then we expect that you'll have a great time using this machine. With the overlock stitches feature and differential feed, you have a machine that will work on your fabric without you having to worry about stretching of the material.
Overall, this is a quiet, well-made serger that has some of the best features that you will find in machines at this price range. It is pretty easy to use and offers a wide range of accessories. It is affordable, simple, and one of the best performers at this price.
The Number of Threads
The number of threads that your serger machine has will determine the type of material that you can work on.
Well, Janome 7933 comes with four threads. What this means for you is that you can work on light to medium materials. This makes for a rather versatile machine.
Stitch Types Available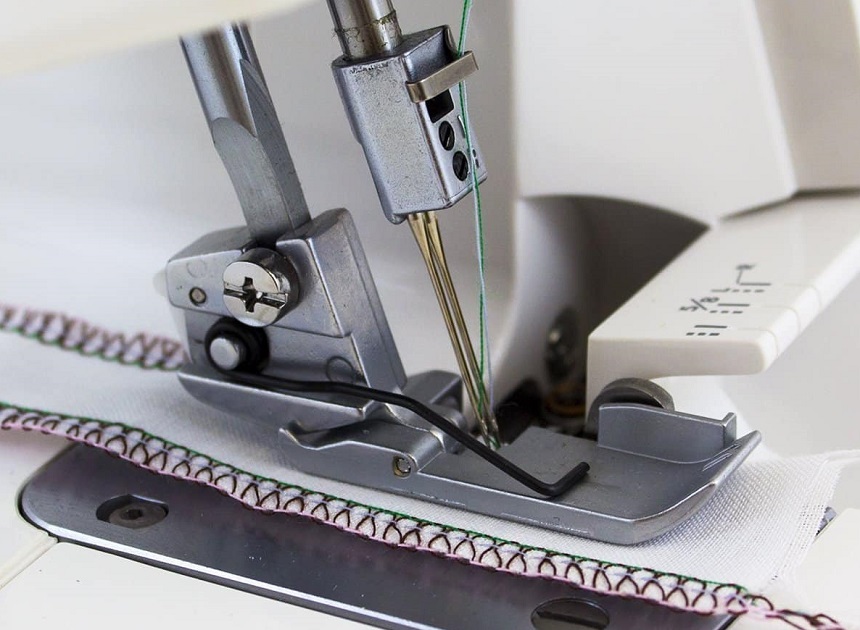 There are several things that make the Janome 7933 appealing. One of the features that most people have commented about is the stitch ability of the machine. This model comes with 3 and 4 thread stitch options. Therefore, you can choose the setting that you desire depending on the fabric that you use.
Some of the options that you have when it comes to the stitch types include the 3 and 4 thread overlock stitches, the pintuck stitch, rolled hem stitches, and narrow hem stitches. With such versatility, you will certainly have the ability to work on whatever material you want.
In addition, there is a variety of stitch width adjustments you can make. We discovered that these widths include 3mm, 7mm, and 2mm rolled hemstitch. In addition, you have a left needle width of 5 mm to 9 mm. As if that weren't enough, you also have the ability to adjust the length of stitching.
These factors combine to ensure plenty of versatility from this machine.
Sewing Speed
The Janome 7933 prides itself as being the 'World's Easiest Sewing Machine.' When you consider the features that it comes with, especially at its price, it is worth the moniker. This unit comes with a sewing speed of 1300 stitches per minute. While that is excellent, perhaps the best thing about the feature is that it is an adjustable speed. To that end, you can change the speed to suit the material or process you are using.
Differential Feed
Many machines come with differential feed. However, for this price, you will be hard-pressed to find a machine that works really well in this regard as the Janome 7933.
The differential feed here is good because it stops stretching on your material. What is more, this differential feed is pretty flexible. Therefore, you can decide the setting that you want.
The machine features feed dogs that combine to improve the smooth movement of your fabric beneath your needle and lower the chances of making mistakes.
Part of the feed feature is the adjustable ratio.
Stitch Controls
The stitch controls offered by this model make it an impressive offering. The model comes with the ability to control the four spools of thread. There are threading discs that control the threading process and make it even easier.
One other feature that we enjoyed about the stitch controls is how you don't need to change the plates when you want to change between a basic overlock stitch and a rolled hem stitch.
Lay-in Thread Threading
Many people complained about how difficult it usually is to thread the lower looper. The Janome 7933 has made this easier for you. As the side of the machine can be opened as you sew, you can see whatever is happening in the machine. And, of course, this feature allows you to lay in the thread easier.
In addition to the improved accessibility, there is a control that lets you thread the lower looper in a couple of seconds.
User-friendly Features and Overall Ease of Use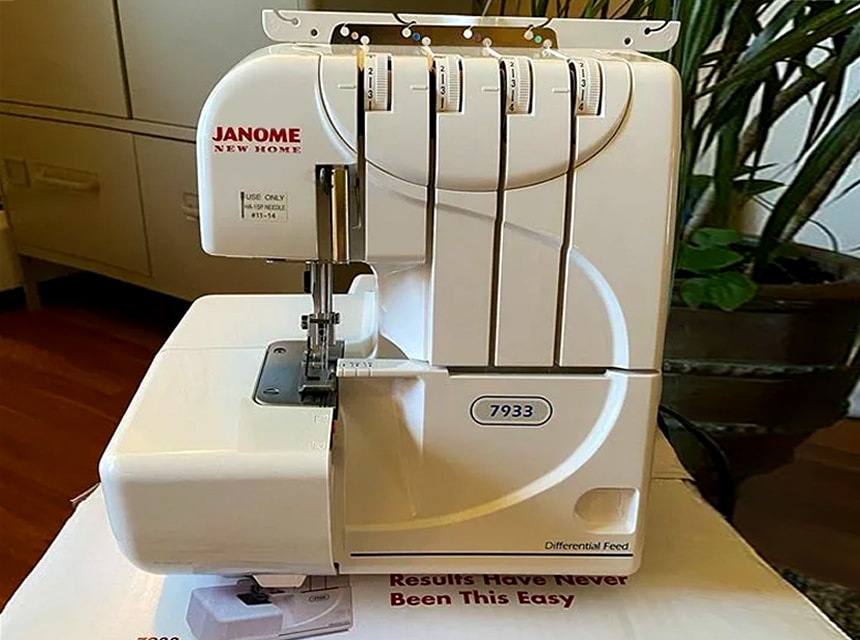 When it comes to ease of use, there is almost no beating this product. The manufacturer has listened to the complaints of many users who grew frustrated with threading the lower looper. With this new model, there is lay-in tension threading that makes it easier for you to thread the lower looper.
Associated with this feature is improved accessibility. The unit can be opened while you thread and make everything easier. Furthermore, there is a slider control that lets you thread in a jiffy.
Another advantage that the Janome 7933 has over other units in the price range is that it comes with an adjustable differential feed. What is the benefit of this feature? Well, this feature stops the unit from puckering or stretching your material. With a turn of the control dial, you can choose the settings that you want.
In addition, this feature ensures your fabric glides under the needles – thus reducing the chances of making mistakes while you work.
You certainly do not want a frustrating machine to work with. While there is a learning curve on this machine, you should be able to figure out how it works after a couple of tries. The Janome 7933 fits the bill as an easy-to-use machine. Apart from the features we have discussed, this unit has color-coded diagrams that make it easy for you to work on it.
There are several other excellent features that make this easy to use, but another that we will consider is the retractable upper knife. This feature is excellent because it lets you serge material that doesn't need trimming around the edges.
Apart from that benefit, the retractable upper knife also ensures that you can thread safer. It is, therefore, one of the reasons why the Janome 7933 is highly recommended for beginners. Easy to adjust, safe, and controllable, you will certainly have a great time serging with the Janome 7933.
Durability and Warranty
When it comes to the warranty, it is good to see that this comes with a lengthy warranty. We discovered that the Janome 7933 comes with a 25-year warranty on mechanical parts, two-year warranty on electrical parts, and a year of coverage on labor. Therefore, you can rest assured that this machine will last well down the years. You will likely not have any problems with replacing and repairing any damaged or faulty parts at no additional cost.
Portability
When choosing your serger machine, you certainly look out for the dimensions. After all, you don't want to buy a machine that is bigger than the workspace available. If you are somewhat short on space, we believe that you will enjoy the Janome 7933. This unit is compact and will not block out parts of your workshop.
If you don't have enough space, this can be stored out of reach in a cupboard or somewhere tight.
The Janome 7933 is a compact model that, as we pointed out earlier, is made with beginners in mind. Therefore, it is portable and easy to move whenever the need arises. Due to its portable nature, people that are into sewing and want to try serger machines will find this a great pick.
It offers some of the best precision for a machine of this size. As some of the features that we've considered above show, you will find this very friendly to use and simple.
Key features
Here are some of the key features of this unit:

Stitch Ability – This model offers you up to four different stitch choices.
Lay-in Thread – you get the ability to thread lower loopers in seconds
Differential feed – the feed dogs make your fabric move smoothly under the needle and helps to reduce errors during sewing
Color-coded Threading Diagram – this serger machine is pretty easy to use, and the color-coded threaded diagram on the serger allows you to thread the serger in a few seconds.
Open Threading –another great feature about this machine is that it offers wide-open threading that lets you see as you thread.
Price tag
The Janome 7933 is a relatively affordable unit that offers nice features that belie the lower price. You can get it for around $300. This, coupled with the great basic features included, as well as the accessories, makes this a good option.
Features to Consider When Choosing a Janome Serger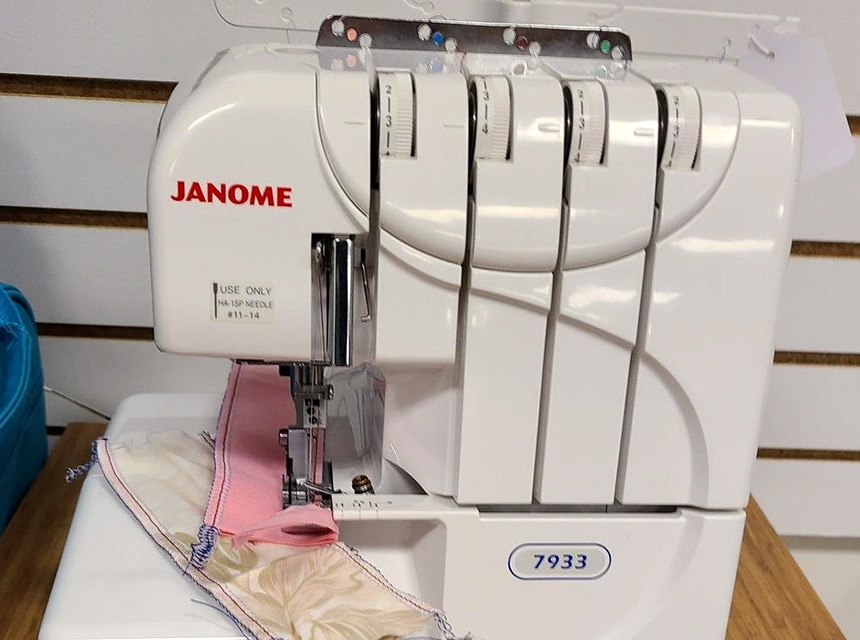 Since there are several models of sergers from the manufacturer, you should note some of the most important features to consider when choosing one. Knowing these requirements will make it easier for you to decide whether this machine is the right one for you.
Thread Number
One of the best things about sergers is the ability to use different threads at a go. The Janome 7933 offers you the ability to use up to four threads at a go. Some other models will let you use up to eight threads. However, this doesn't necessarily make them better than the Janome 7933.
If you go for models that have a large number of threads, then it is likely that you are working on heavy fabrics, or you usually use chain and cover stitches on your work.
The Janome 7933 is best for lightweight fabrics. In most cases, lightweight fabrics will need just two threads. If you are working on medium fabrics, then you might need up to four threads – which makes the Janome 7933 an excellent choice.
If you are just choosing your first serger machine, then we recommend that you go for a model that offers four threads. Why? Because four threads will come in useful as you expand the projects that you work on. If you fit this profile, then you should certainly consider the Janome 7933.
Stitching Speed
The speed of stitching is often a function of how skilled you are at sewing. Whether you are just starting or have been sewing for some time, adjustable stitching speed is one of the best things that you can find in a serger machine.
Janome offers several models that come with adjustable stitching speed, and of course, the Janome 7933 is among these. With this model, you can work on different fabrics as there are different speeds. Therefore, if you are working on delicate fabrics, you can choose to go slow, while you can go even faster with heavier or medium fabrics.
The bottom line is that the serger machine should allow you to adjust quickly and without stress. Loads of models on the market offer speeds of 600 stitches per minute. Remarkably, the Janome 7933 offers you stitching speeds of up to 1300 stitches per minute.
Stitch Length
As you sew, you'll likely need to adjust the length of your stitch. Having the ability to change lengths is an underrated feature that you never know how much you need it until you work with a machine that doesn't have it.
You might need short stitches to keep parts together and longer stitches for something else – all depending on what you are sewing.
However, this feature is only usually found in medium to high-level serger machines. It is therefore really cool that it is available on the Janome 7933. Not only does this machine come with this option, it also makes it quite easy for you to change between the options available.
Warranty
When picking a product, whether a sewing machine or a serging machine, the warranty is one of the things that you need to consider. With a good warranty period, you can be sure that you are buying a good quality product.
Janome offers decent warranties on its machines. Most of them, including the Janome 7933, comes with up to five years of warranty on the mechanical parts. This certainly shows that the manufacturer is sure of the quality of the unit.
As if that weren't enough, Janome also comes with a whopping 25-year warranty on the machine. Thus, you have a machine that is certainly worth the cost.
Frequently Asked Questions
Where Are Janome Machines Made?
Janome is a Japanese brand that operates out of parts of Asia like Taiwan, Japan, and Thailand. It also has offices in the United States.
Does Janome 7933 Come with Accessories?
Yes, it does. It comes with most of all you require to begin sewing. Some of the accessories include a power cord, thread spools, needles, foot controller, and presser feet. Additionally, you will find that it has screwdrivers and tweezers. You will also get a manual on how to run the machine safely.
Can I Use a Serger Machine Instead of a Sewing Machine?
The serger machine can do several of the things that a sewing machine does. An advantage is that it uses fewer threads and gives an excellent material. However, if you want straight stitching that is neat, it is still recommended that you use a regular sewing machine.
How Do I Maintain My Janome 7933?
Oiling and cleaning are important facets of maintenance. To maintain this machine, add some drops of sewing machine oil to the moving parts of the machine. To clean the machine, take a small lint brush and brush any lint away from the machine. Tweezers are included to help you reach difficult-to-reach parts of the machine. Clean beneath the needle plate as well.
How Often Should I Oil My Serger?
If you use the machine often, it is recommended that you oil the moving parts once weekly. To add the oil, open the side and looper cover, then apply some drops of oil.
How Much Is Janome 7933?
The Janome 7933 is a relatively affordable model that is available for around $300.
PROS

CONS

Compact and easy to store
Retractable upper knife is very useful
Wide-open threading
Easy to use
Quiet and low-vibration unit

Not a self-threading machine
Lower cutting width
Lacks a free arm
Conclusion
Overall, we are impressed by the Janome 7933 performance. From this Janome 7933 review, we have seen that this is a reliable, powerful, and easy-to-use machine. It is versatile and can handle your seaming and hemming works without breaking a sweat.
In this product, you get a machine that is great for starters while impressing more advanced users with some of its features. You can therefore create clothing that looks great and is comfortable. Happy sewing!