A serger is possibly the second most important piece of equipment for every serious embroiderer due to its versatility and beautiful seam finishing. And yet, many people fear getting a serger (also called an overlock machine) because they feel it is difficult to use; perhaps you're one of them.
The Janome MyLock 634D solves this problem by being incredibly simple to use. Thanks to its incredibly user-friendly design, you can use the MyLock 634D even if you have never touched a sewing machine before. Before you dismiss the possibility of investing in a serger, read this Janome MyLock 634D review.  Once you understand what you're missing out on, you will only regret not having bought one earlier.
This product's also been included into these rankings:
Specifications
Stitch length
1 mm - 5 mm
Cutting width
3.1 mm to 7.3 mm
Adjustable foot pressure
yes
Dimensions
13" x 16" x 15"
Review
There are sergers out there with a community as robust as the Janome 634D. That's because of its popularity with both professional and beginner seamstresses who love the simplicity and robustness of this serger.
All these features are meant to make the Janome 634D serger very beginner-friendly. It works great for basic overlocking tasks knitting, finishing seams, and sewing delicate fabrics.
Design
The basic design of the serger has not changed since its inception in 1965, so the Janome 634D has no surprises. It is a four-thread machine with loopers and 2 needles that allow it to serge, bind, and even trim seams in a knitting motion. The latter function is made possible by the retractable upper and lower knives.
Like most sergers, Janome also has opening doors for access to the loopers and the left side of the machine. These facilitate cleaning and maintenance. The control buttons on the Janome 634D are also conveniently located – you will find the dials that control the stitch length and differential feed on the right side of the machine, just above the power switch.
Overall, the simplified design of the Janome 634D makes it a very easy overlocker to use and maintain. More importantly, it is a machine very robust and durable machine.
Overall Performance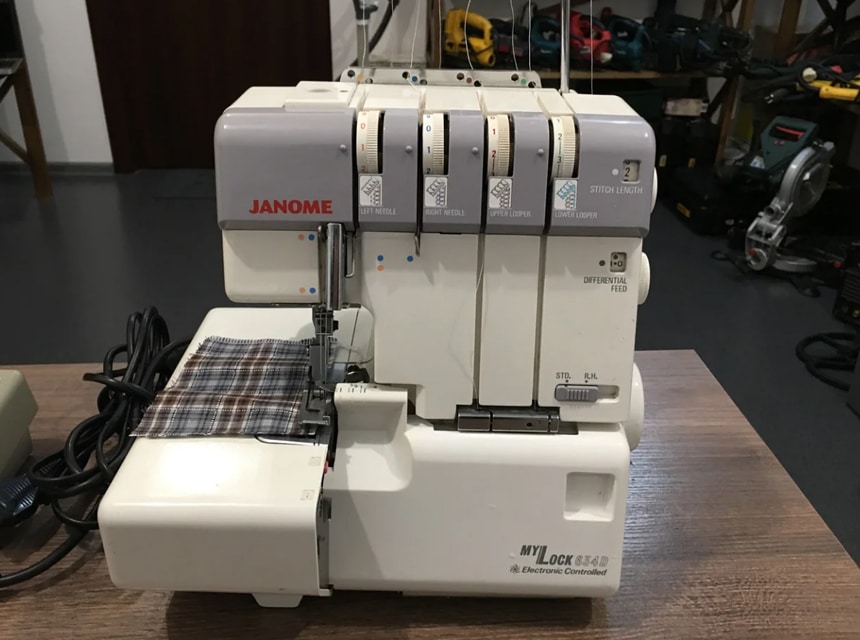 The Janome 634D serger supports 1 or 2-needle serging with 2,3, or 4 threads. There are sophisticated 8-thread sergers out there, but the Janome 634D is all you need for most home-based projects and many commercial applications.
This serger also has retractable upper and lower blades to trim excess seam material away, thus leaving a very neat finish. For normal sewing, two levers are available to retract either or both of the threads.
The 634D works very well with different types of fabrics such as knits, natural fibers such as linen and cotton, knits, synthetic fabrics such as rayon and polyester, and even denim. However, it is not suitable for tougher or thicker fabrics such as leather or canvas.
Speed
The Janome 634D reaches a maximum serging speed of 1,300 stitches a minute. This makes it one of the faster models despite its simplicity, even though you are unlikely to go so fast in most cases. When you have larger projects to complete, this serger will make it snappy, smooth, and quiet even at top speed.
Additionally, the Janome 634D is equipped with differential speed settings for its feed dogs. This setting ranges from 0.5 to 2.25 to help you deal with wavy fabrics, and you can also use it to create gathers or scalloped edge finishes.
Number of Threads and Needles
Janome designed the 634D to work with either 2,3, or 4 threads and 1 or 2 needles. There are many advanced sergers out there capable of much more, but this serger is more than enough for most serging projects at home.
Built-In Stitches
The 634D comes with 12 built-in stitches including thread overedge stitches, a narrow hem stitch, and a picot edge stitch. More importantly, it comes with a two-thread rolled hem feature as standard. With all these comes a fantastic sewing speed of 1300 stitches a minute.
Stitch Length and Cutting Width
The Janome 634D has perfect control over stitch length and cutting width settings. You can vary the stitch length between 1mm and 5mm, while the cutting width varies from 3.1mm to a generous 7.3mm.
Threading
One thing that you might be confused about is the threading function on this serger. While it is not self-threading like advanced Babylock overlockers, the Janome 634D is very easy to thread. It has color-coded thread guides, and the lower looper also disengages to make the process easier.
This simplicity is what makes some people call the Janome 634D self-threading, but it is not fully automated unlike the more sophisticated and ultra-expensive models out there.
If don't like using the super-clear, illustrated threading guide on the user manual, there are also tonnes of video tutorials online to take you through every step. It might seem cumbersome at first, but it becomes second nature after some practice. You can also refer to the user guide for more help.
Thread Tension
The Janome 634D features a lay-in system of dials to control thread tension. It also has a telescoping metal wand that helps to stabilize the threads and prevent entanglement when using the machine. The snap-on presser feet release thread tension upon raising, which helps to draw thread more easily.
It is also worth noting that the lay-in tension dial is an illustration of how your stitches should look like if you are using the correct stitch setting.
Presser Feet
Talking of presser feet, another unique feature of the Janome 634D is its uniquely high snap-on presser foot lifter. This allows you to have more clearance for layered fabrics and thick layers. You also have a variety of presser feet including a blind-stitch foot, a piping foot, a taping foot with a reel, and a beading attachment. Other accessories include a cloth guide and a gathering attachment.
Lighting
This Janome 634D overlocking machine is lighted with a conventional 15-Watt, turn-and-lock light bult. However, you will want to have lots of ambient lighting to complement the feeble lighting and help you see your work clearly.
Ease of Use
One of the strongest features of the Janome 634D is its ease of use. It's not a 5-star, fully automated serger, but it has been simplified to make it very beginner-friendly. You don't even need to switch plates when moving from serging to rolled hemming, and the snap-on presser feet are just that. Threading is also very easy to learn, thanks to the ingenious lower looping system and the color-coded thread guides.
Dimensions and Weight
The Janome 634D a compact machine, measuring only 13" x 16" x 15" inches. It is also not very heavy, weighing at 20 pounds (9kg). These dimensions make it easy to carry around to school or when traveling, and it also fits easily on a small table or tight corner.
Warranty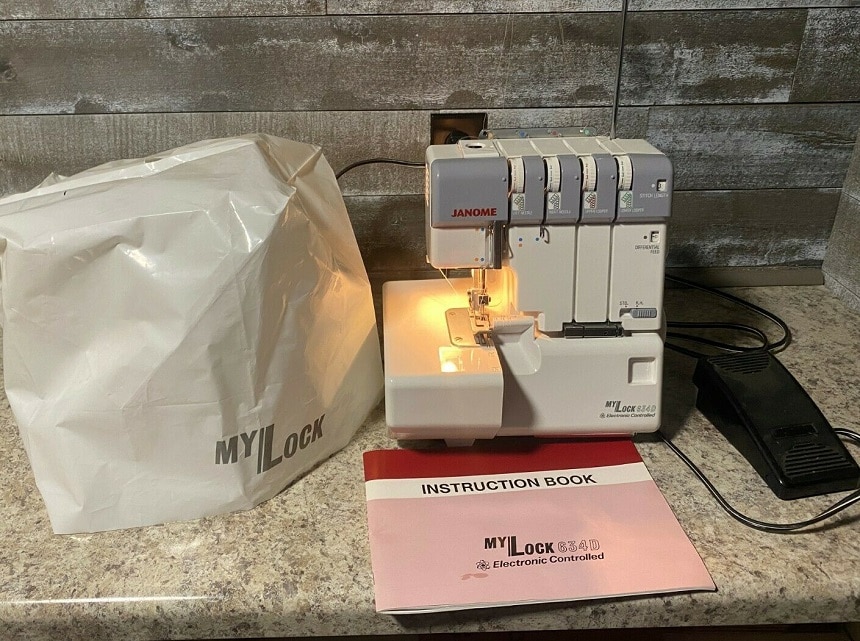 Buying a serger such as the Janome 634D is a sizable investment, but you will be glad to kow that Janome offers it with a sizable warranty as well. It comes with a limited 5-year warranty from Janome America covering defects in workmanship and parts.
The electrical and electronic components have a 2-year warranty, but any costs involving labor, postage, and transportation are yours in case anything happens. Please note the the Janome 634D is only warranted when used in residential applications, just as it was designed.
Key Features
2,3, or 4-thread serger with 1 or 2 needles
Differential feed with adjustment from 0.5mm to 2.25mm
Lay-in, color coded threading
Adjustable stitch length between 1mm and 5mm, cutting width between 3.1mm and 7.3mm
Rolled-hem serging with quick-change capability
Maximum speed: 1300 spm
Retractable upper and lower blades
Snap-on presser feet with tension-release device
Easy-access lower hoop guides with pre-tension slider
PROS

CONS

Compact and lightweight serger perfect for carrying around
It comes with a built-in rolled hem. It doesn't even require you to change the plates to use
Fast and quiet, reaching up to 1,300 stitches a minute
One of the most beginner-friendly sergers out there
4-thread and 2-needle overlock capability is more than enough for most home uses
Snap-on presser feet

It lacks onboard storage space
It lacks a built-in automatic threader
The Janome 634D is a more expensive entry-level serger
Conclusion
That the Janome 634D is a fantastic serger is not in doubt. It is smooth, easy to use, and will likely last a lifetime with good care. However, you should know what it is capable of before you purchase one.