Juki is one of the world's leading manufacturers of industrial machinery. Thanks to their experience, Juki sergers have become popular with a large number of seamstresses and the Juki MO654DE is no exception.
Selling for less than $400 and with a speed of 1,500 stitches per minute, it's no wonder it is a perfect choice of serging machines from Juki.
To help you discover its strength and also its downsides, in this JUKI MO654DE review, we'll see the specs, features, advantages, and disadvantages of the Juki serger.
This product's also been included into these rankings:
Specifications
Stitch length
2.5mm to 4mm
Dimensions
10.6 x 13.6 x 11.6 in
Warranty
2 years electrical, 5 years mechanical
JUKI MO654DE Serger Review
The Juki MO654DE serger is quite simply one of our favorite overlockers. Thanks to its ease of use, versatility, the quality of its stitches, and its wide range of functionality, this serger will allow you to obtain an impeccable result whatever your desires are. In this section, we will review the features and performance of the JUKI MO654DE serger machine.
Overall Serger Performance
The Juki MO654DE is an ergonomic and robust serger that will allow you to assemble and overcast all types of fabrics.
It can overlock both thin and thicker such as jersey, satin, cotton, or even stretch knits using one of the seven stitches available (overlock stitch 2 and 4, rolled hem 2 and 3, overlock stitch 3 and 4, flatlock 3).
With reasonable dimensions, this serger is a compact model, which, despite relatively low weight, will remain perfectly stable and quiet during sewing even at full speed (1,500 stitches per minute). Its engine is an example of discretion compared to other models within its range.
Although some sergers seem complicated to use on a daily basis, the Juki MO654DE has been designed to make your sewing sessions as comfortable as possible, without compromising on its performance.
However, one of the downsides of this machine is the absence of a free arm. Also, the space of the work surface around the needle is a little limited to work with.  No worries, this is nothing bothersome even for everyday use.
Finally, this serger comes with many accessories to allow you to start sewing serenely, even without a lot of materials. You will find in particular an additional lower knife as well as a 2/3 thread converter. Two elements that are rarely found in other models.
The Number of Threads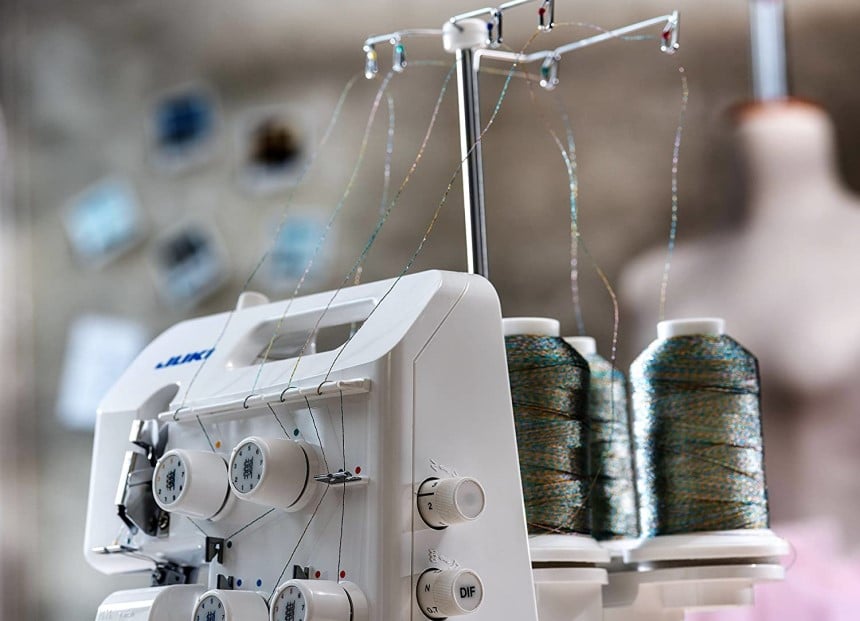 The MO654DE serger is a 2, 3, and 4 thread overlock machine that will suit both beginner and more experienced seamstresses.
This model offers just about all the functionality one could want from an overlock machine of this quality to take your sewing projects to an almost professional level. This machine is versatile and at the same time powerful and easy to use. It will allow you to improve your creations with disconcerting ease.
Also, with the looper and fabric tray cover easily accessible, you will have no problem cleaning your serger properly by accessing the internal mechanisms.
Stitch Width and Length
The stitch width and length can be adjusted up to 4mm and 6mm respectively to best suit your needs. It has a stitch length of 2.5mm up to 4mm. The cutting width can reach 2mm up to 6mm
Depending on the thickness of your fabric, you will also have the option of increasing or decreasing the presser foot pressure up to 5mm.
Finally, to facilitate identification and achieve ever cleaner finishes, there are width indicators conveniently located on the protective cover. To make a 2 or 3 thread rolled hem, you don't have to change the needle plate or the presser foot since it will be enough to operate a simple switch to put it in place in a few seconds. It will be used mainly to achieve clean finishes on the edge of fine, light, or flexible fabrics using very little fabric.
Sewing Speed
The Juki Serger MO654DE has a maximum speed of up to 1500 stitches per minute.
The differential drive adjustment, accessible on the right side of the machine, will allow you to vary the drive speed of the front claw and the rear claw to stretch or gather your fabrics according to the desired result.
Stitch Controls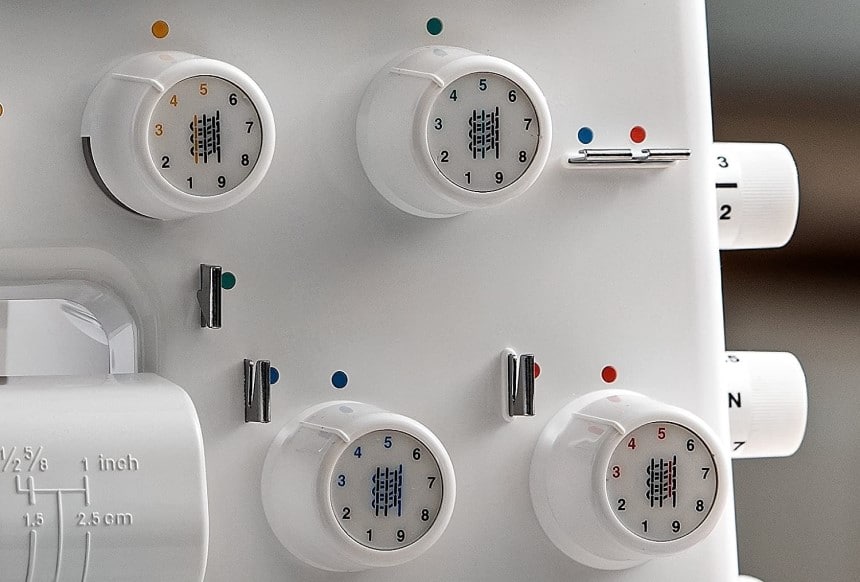 For more variable speed, the machine comes with speed control which is very precise and offers allowance markers to the seam.
All the adjustment buttons of the Juki MO654DE have been ideally positioned to be easily accessible.
The thread tension is adjustable using the four graduated knobs located on the front of the machine. They allow the tension of each of the threads to be precisely adjusted independently of each other.
The different thread guides keep the thread perfectly in place to ensure correct tension throughout the seam.
User-friendly Features and Overall Ease of Use
Threading a serger is never easy, especially when you are just starting. On the Juki MO654DE, putting the thread has been made as easy as possible. Thanks to the color-coded thread guides, the path is marked to avoid confusion.
The lower looper disengages easily for quick and easy threading. The machine is also supplied with several accessories which will be useful for this operation (tweezers, loopers threader, and needle threader).
Threading the Juki MO654DE is carried out first by threading the upper looper thread (blue) and the lower looper thread (red) before ending with the threading of the right needle thread (green) then the needle thread left (yellow).
At first, you may be worried about the lack of a free arm, but you will have no problems even when overcasting narrow, round openings.
One of our favorite features of this Juki MO654DE serger is its ease of cleaning. The front and side swivel outward, so it's super easy to get in with a lint brush. Since the motor itself is concealed, you can even safely use a blowgun, since there is no way to blow lint into the guts of the machine.
This is ideal for those who hate cleaning sewing machines that require taking the whole machine apart with a screwdriver. With this, it's really easy to clean. And you don't have to get lint into the sensitive parts.
Durability and Warranty
Sturdily and reliably built, the Juki serger is a high-quality and durable machine that will guarantee several years or even decades of use. Looking at its high speed, durable construction, high performance, it is built for semi-industrial use. It is a powerhouse machine that runs quite smoothly and is easy to thread.
Like all Juki sewing machines, the Juki MO654DE serger comes with a 5-year limited warranty. This means all parts of the machine are guaranteed to be free from factory defects.
The electronic parts such as the motors, wiring, light assembly, speed control, and switches are also covered by a two-year warranty. Juki will repair the machine or replace other defective components in case you have any problem with them. This however excludes the labor charges; it will be taken care of by the purchaser.
Nonetheless, this is warranty coverage is not as extensive as it should be as a serger is supposed to be used for several years. In comparison, Juki competitors such as Janome and Brothers have warranty coverage that reaches up to 25 years.
Portability
Another reason we love the serger machine is its portability. Added with its sturdy construction, it has a small size and light weight that makes it easy to carry about – to your classes, sewing workshop, or wherever you want.
The MO654DE is an improvement over the Juki 644D, although they look very similar. The machines are surprisingly small and compact; the 644D is recommended for light to medium weight fabrics, while the MO654DE can easily handle multiple layers of heavy fabric.
The serger weighs just 15.18 pounds and measures 10.6 x 13.6 x 11.6 inches when packed.
Key features
Some of the key features of the serger are reviewed below:
Multifunctional presser foot
This Juki serger is supplied with a multifunction presser foot equipped with a guide for applying elastic or tape. Thanks to the snap-on presser foot system, switching from one foot to the other is done in seconds.
This model also has worktop lighting that will ensure you have an optimal view of the needle and fabric during the day and night, the retractable upper knife, and an automatically adjustable lower knife for a uniform cut.
The Juki serger is well accessorized. It includes accessories that facilitate its use and maintenance. Accessories that come with it include the rheostat pedal, a lower knife, 2/3 thread converter, thread, spool retaining washers, tweezers, cleaning brush, needle grommet, needle set, oil can, accessory pouch, protective cover, thread hook, small and large screwdriver.
Price tag
Part of the reason the Juki serger machine is so popular among beginners and professionals is its price. The machine is sold for an under $400 price and dwarfs the price of other models from Juki's competitors. It's considerably cheaper than many models within Juki's serger range. When you compare the Juki MO654 with its senior upgrade, the Juki MO1000 Serger which also has a speed capacity of up to 1500 SPM, the former is more than thrice cheaper than the MO1000.
For the accessories, speed, and functions that come with this serger, it is an inexpensive model with little to no downside that may be of concern.
PROS

CONS

Portable size and can be stored easily
1500 SPM powerful engine
For semi-industrial use
Ideal for professionals
Inexpensive but functional
User-friendly features that are easy to use
Includes a safety switch
Variable speed and stitch controls

Doesn't remain threaded in some situations
No free arm
Conclusion
Many seamstresses are reluctant to buy a serger because of cost or because they seem too complex to use. Our Juki MO654DE review shows the serger is an excellent machine for anyone who needs to make impeccable and more professional finishes without any difficulty. This serger will be the ideal complement to your sewing machine to achieve quality finishes without the hassle.