The Juki MO644D offers all users almost limitless design opportunities. It comes from one of the biggest names in the industry and allows you to get fancy designs quickly. This Juki MO644D review considers some of the best features of the machine.
One of the best things about this model is how it quickly lets you create ruffles, gather, and frills without making them before you sew. Furthermore, the design accommodates thick layers and fabrics, ensuring that you can sew up several ruffle layers in one swoop.
As an overlocker, the Juki MO644D finally allows you to create more than ever before. It is a good investment that will offer rich returns as the years roll by.
This product's also been included into these rankings:
Specifications
Dimensions
10.6 x 13.4 x 11.6 in
Warranty
2 years electrical, 5 years mechanical
Overall Serger Performance
Overall, we cannot but be impressed with the performance of this unit. When working on several projects, it is imperative that the sewer have the freedom to make adjustments to the differential feed, stitch width, and thread tension. Well, that is what you get here.
The machine is designed with a dial in the front panel that lets you determine the width of fabric – all without removing the threadings.
As you use the machine, all you need to do is to rotate the dial and watch as it makes the right fabric width adjustments. The result is a professional finish on your work.
In our real-life test, we found that the Juki MO644D lives up to the billing. We didn't have any serious issues throughout three hours of stitching. One thing that really helped, particularly when installing elastic in the material, was the multi-pressure foot. Not only did it help with sewing the elastic, but it also did not jam throughout the process.
The Juki MO644D is a compact model, but that does not mean that it lacks features. Despite the relatively small size, this unit offers you plenty of options. It is one of the more versatile sergers that we have tried. Not only is it great for light and medium weight fabrics, but we have also had instances where it has worked impeccably when roll hemming heavier material like denim.
It also can sew with three of four threads, which is excellent if you are sewing light or medium weight fabrics.
Stitch Types Available
This impressive model is designed to give you a 2-3-4 thread system. Apart from this, it is fitted with an automatic rolled hem and several stitch options. These range from the four thread overlock to the two-thread rolled hem. There are still other options in this range.
This versatility means you have room to work and play on the material without sacrificing the quality.
Customization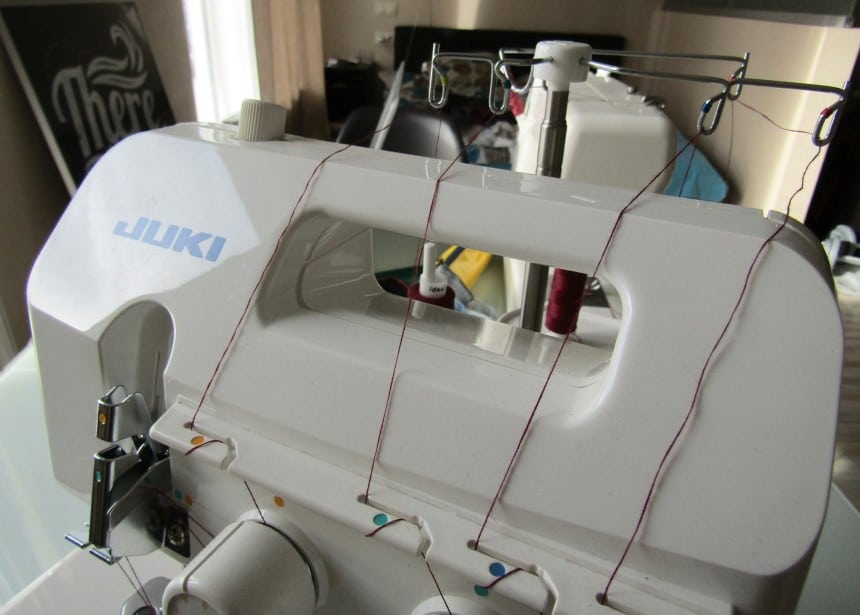 Another great thing about the Juki MO644D is the customization options available to you. Many aspects of the unit can be determined using dials and other controls. For example, you can change the tension to get the thread in the right spot on the fabric.
Even the stitch length and cutting width can be adjusted via a dial.
Another impressive feature is the differential feed. This function allows for change so that you can feed the fabric through without any gathering. This makes for professional finishes across different types of materials. In addition, this function stops stretching in knit fabrics.
Sewing Speed
The sewing speed is important to many users, and if you are concerned about how fast the Juki MO644D is, you don't need to be bothered. Why? Because this machine comes with one of the quickest serging speeds on the market today.
While several other options have serging speeds of 400 stitches per minute, the Juki MO644D is much faster and will move at up to 1500 stitches per minute. Thus, if speed is your thing, then you will be pleased with the Juki MO644D.
All that speed in a machine tends to cause issues, but this is not so with this model. In fact, one of the best things about the machine is that you can fine-tune all the stitch selections. The tension adjusts so that the machine's speed does not affect the placement of the thread.
In addition, the cutting width and stitch length shift quickly with a simple turn of the dial. Therefore, you will get seams that are just perfect for whatever you might be looking to create.
Stitch Controls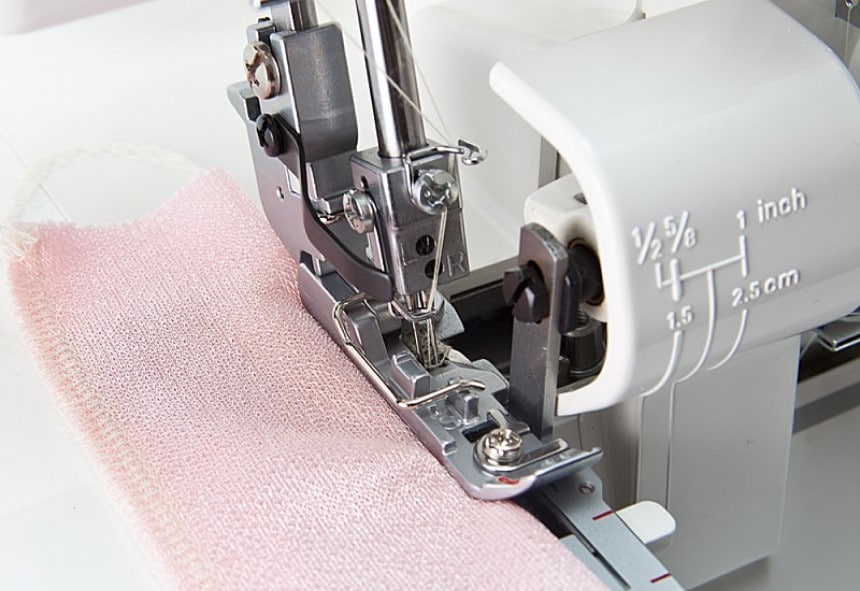 If this is your first serger, then we believe that you will find it relatively easy to work on this machine. The model comes with the stitch length and differential feed controls on the left-hand side of the unit. Most products come with the controls located on the right-hand side, so if you are coming from that, you might find the machine a tad tricky.
However, if that doesn't bother you, you shouldn't have a hard time working on this machine.
User-friendly Features and Overall Ease of Use
While the Juki MO644D comes as a unit with a fair number of features, these are not overwhelming and ultimately work to the advantage of the user. It is a perfect machine for sewing your light and medium weight material.
It is pretty easy to use. A challenge that beginners face is threading the machine. Fortunately, this machine has been designed to be easy to use. The threading process is clear on the decal in the looper door. These instructions are pretty straightforward, and you should be able to get threading done in a short time.
Additionally, this machine has a color-coded threading system. One benefit that you get from this feature is that it allows you to use different stitch lengths whenever you are stitching. Additionally, the thread paths here are marked on the dials and make it easy for you to thread without confusion.
It is easy to get lost without a guide, which is why it is great that this unit is designed with an operating manual. This manual guides you on stitching and will show you just how to use the stitch functions on the machine. Although the instruction manual is primarily geared toward starters, it can also come in useful for advanced users.
The automatic rolled hemming is another user-friendly feature that makes this machine a breeze to use. With the flip of a switch, you can roll the hem without changing needle plates or other stuff like that.
Durability and Design
The Juki MO644D is a white, classy machine. It looks more expensive than it really is. The design is compact and portable. This results in a machine that is easy to handle and move when required. The all-white appearance is accented by the color-coded tension dials, thus giving it a rather sleek appearance.
This machine is made of high-quality parts, and while this isn't the most expensive machine on the market, the body is strong enough to survive the effect of bumps and impacts. The strong build of the unit means it will handle fabrics of all kinds, whether lightweight or thick. It also has a powerful drive cutting system that makes it a must-have for most sewers.
One of our favorite design features is the addition of a retractable cutting knife. This feature is great because it allows you to jettison trimming seam allowances. To retract the blade, all you need to do is to open the looper cover, move the blade holder, and adjust it until it fixes in position. And when you need the knife, you can rest assured that it will consistently cut the fabrics.
Portability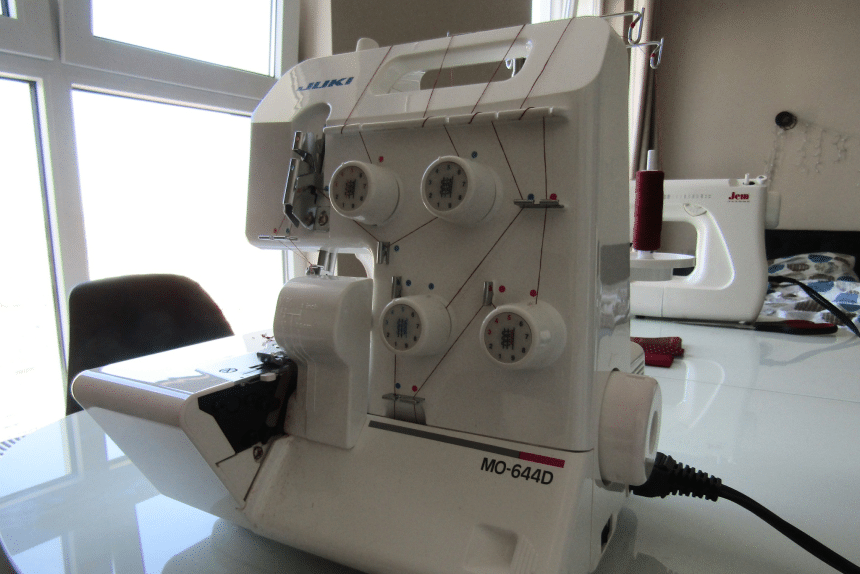 The Juki MO644D weighs around eighteen pounds, which is relatively lightweight. Therefore, if you ever need to move this machine from one spot to the other, you will likely not have any issues.
Warranty
The warranty on any product you buy is important. This is because it ensures that you have cover in cases of repair or replacement.
Many brands offer good warranties, and this brand is not an exception. It offers you two years of electrical warranty and five years of mechanical warranty. You can therefore have the rest of mind that you can fix any issues in your machine at no additional cost.
Key features
Here are the features that make the Juki MO644D stand out from the other options on the market:

Cutting System – the Juki MO644D boasts of an impressive cutting system that proves to be effective and efficient. It helps you to achieve smooth, perfectly trimmed edges for your material.
Adjustments – there are plenty of adjustment options here that grant you plenty of control over several aspects of the serging process.
Color-coded threading – ease of use is important, especially if you are a beginner, and the color-coded threading here makes it easy to follow.
Differential feed – you get loads of alternatives when it comes to the differential feed feature of this model. This feature allows you to work on several types of fabrics.
Rolled Hem – the feature is convenient and ensures that you get a uniform rolled hem very quickly.
Multi-function Presser foot – The presser foot allows users to add tape, sequins, and several other things. With the feet, you can get the most from this machine.
Price tag
The Juki MO644D is a mid-range serger that is available at a good price. You can get it for around $300 depending on where you buy it from. Nevertheless, it justifies its price with its good overall performance and solid build.
PROS

CONS

Fast sewing performance
Multi-function foot presser
Dials offer nice adjustment options
Lightweight and portable
Versatile serger
Cost-effective

Relatively tricky to thread
It does not have a free arm
It lacks onboard accessory compartment