The JUKI MO-623 serger machine is the perfect complement to a sewing machine. It overcasts the fabric edges, sews them up at the same time, and also cuts off the excess edge with a knife at the same time. The mid-range overlock sewing machine is, therefore, suitable for both hobby and professional sewers.
In this JUKI MO-623 review, we will take a look at the overall serger performance, durability, and warranty, sewing speed, ease of use of the machine, the number of threads, stitch length, and overlocking width of the machine.
This product's also been included into these rankings:
Specifications
Functions
Serger/overlock
Overlocking width
1mm to 1.5mm, 4mm standard
Dimensions
10.6 x 10.2 x 7.7 inches
Warranty
2 years electrical, 5 years mechanical
JUKI MO-623 Serger Review
The JUKI MO-623 is a mechanical serger/overlock machine with a stitching speed of 1500 SPM. In this section, we'll see the overall performance, ease of use, application for use, among other features of the machine.
Overall serger performance
The JUKI MO-623 serger machine replaces the laborious process of stitching by hand and has, among other things, some great features that make it high performing.
This works by closing the upper thread with the bobbin thread. Therefore, the overlock sewing machine is suitable for the neat processing of fabric edges. It is a perfect complement to a normal sewing machine. The machine is durable, powerful, and fast – making up to 1,500 stitches per minute.
It is particularly practical when sewing overlocks. Not only the edges are overcast, but the rest of the fabric is simply cut off at the same time. As the model has a disengageable knife, the knife can often be switched off. With this serger, two work functionalities are merged into one, which is why working with such an industrial sewing machine is much faster than with a hand sewing machine.
The serger is a complementary material to the use of a sewing machine.
The number of threads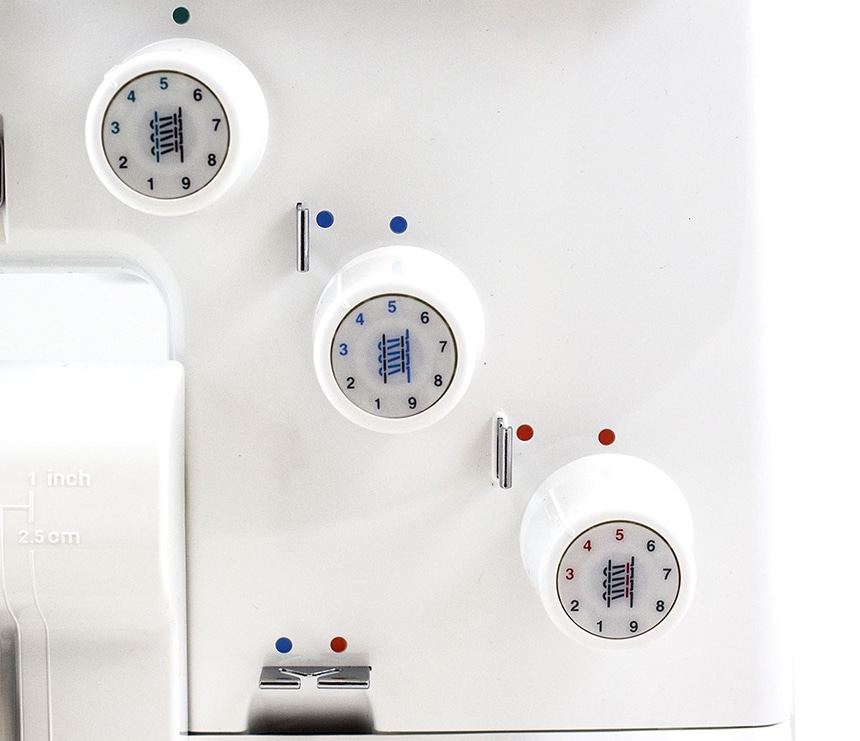 The machine will come out of your box with three threads pre-threaded. With this serger model, you can easily sew under different stitches. That said, you can create multiple decorative stitches while using multiple techniques for your sewing. Thus, making a 3-thread rolled hem should be relatively easy. You can also do a 3-thread overlock or a 3-thread flat hem without worry.
Stitch length and overlocking width
This serger has multiple settings that allow you to adjust the stitches according to the user's needs. It incorporates a width indicator which translates into a button, placed at the level of the adjustment cover. It is then possible to regulate the stitch lengths over a range of 1 mm to 4 mm. The overlocking width is 1mm to 1.5mm and 4mm standard width.
Sewing speed
The Juki MO 623 has a capacity that offers it a sewing speed of 1500 stitches per minute. It is aimed at seamstresses who want impeccable finishes, especially on fabrics that a sewing machine can toil on, such as stretch fabrics.
Seamstresses who have already worked on an overlock machine can choose the Juki MO-623. Fast, powerful, reliable, and functional, this complete model is perfect for an experienced seamstress.
The reliability of the brand and the large number of sergers of this reference in circulation make it a safe bet for a beginner. You will easily find tutorials and other aids to use, after-sales service, spare parts, and will not be confronted with other difficulties sometimes encountered on other machines.
Stitch controls
Thanks to the lever next to the needle plate, you can make a rolled hem automatically by pressing down on it. This will help you perfect your seam without having to change the foot or the plate. The dial on the right of the machine also adjusts the stitch length. It can vary from 1mm to 4mm.
Ease of use and user-friendly features
It's worthy of note to state that the serger doesn't feature the automatic needle threader. However, threading is relatively easy, especially for beginners.
The color code displayed on the entire structure helps you when threading the serger.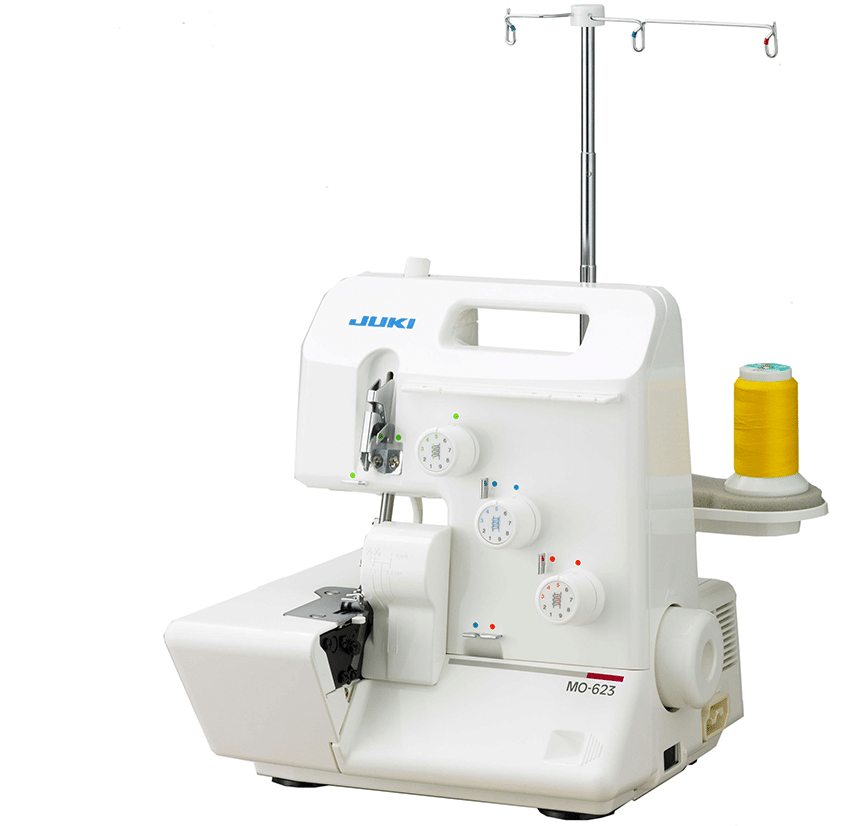 The machine also has a classic and basic setting. Anyone can use this machine because its mechanism is easy to understand. Its handling does not require a lot of effort. For example, we can take the case of adjusting the knife which is very easy. By using the adjustment dial, you can switch to an automatic upper knife setup.
Durability and warranty
The Juki MO-623 serger is made of a metal structure. This is an advantage when you consider that most competitive sergers are made from plastic. This ensures the longevity of the device.
Like most sergers from Juki, this model comes with a 5-year warranty on the mechanical part and 2 years warranty on the electrical. Before the expiration of these windows, you should have had almost all your money's worth and be able to troubleshoot all forthcoming problems.
Key features
Some of the key features of the Juki MO 623 sewing machine are explained below:
Disengageable knife cutting mechanism:
Especially if you are looking for a sewing machine for beginners, it is advisable to choose a model with a knife that can be switched off. Switching off the knife can be quite practical. On the one hand, the fabric should not always be cut off, and, especially in the case of (beginner-typical) failed attempts, cutting off can quickly become frustrating if the fabric is too small for the intended sewing project. A good sewing machine for beginners with a disconnectable upper blade can also be used as a children's sewing machine.
The MO-623 has a thread guide in different colors for easy threading. You just need to follow the colors of each guide to proceed with the threading of the serger without difficulty. For even greater convenience and to save you time, you can open the looper valve.
Your serger will come with several accessories, such as those that will help you with its maintenance. Thus, you will find a screwdriver, tweezers, an oil can, and a hexagon wrench for the needle. You can also benefit from accessories for cleaning like a brush.
Easy to lift presser foot
If you need to change the presser foot, you can do this easily by using a button on the machine to raise it. In addition, you can sew thick fabrics or multiple layers of fabric with the double presser foot lift.
Price tag
Part of the big family of the JUKI brand, the MO-623 is one of the most efficient for a small budget. Indeed, overlockers have always been considered to be reserved for professionals with their complexity, but it depends on the functionality of the machine. Regarding the serger, in particular, it is known for its quality and its medium-range price which is accessible to all. It is sold for an under $350 price.
PROS

CONS

Can do a finished rolled hen
Fast speed
Ideal for professional and industrial use
Mid-range price
Easy to thread

High weight
Low sewing programs
Conclusion
Although the JUKI MO-623 overlock sewing machine generally has fewer special functions or limited options for professional use, it is particularly suitable for consumers who do not want to or cannot spend much money.
We told you in the JUKI MO-623 review it's an overlooking machine with up to 1500 stitches per minute setting. This, therefore, makes it one of the best sergers from Juki for professionals.