Gone are the days when a serger was what you needed to handle cover stitching on all your fabrics. Now you have the Coverpro series from Janome that is just as capable, although it might not share in all the attributes of a serger. The 900CPX is one of the most dependable offerings in the series and can be used for hemming, necklines, cuffs and collars. It can also be used to add a decorative stitch to fabrics. As such, with a Janome CoverPro 900CPX review, you can decide whether the machine is the right fit for your needs or not.
Notably, some of you think the cover stitch machine is unnecessary if you already have other sewing machines and a serger. However, the convenience of this option, ease of use, and a few of the other top features buyers get might be enough to change your mind.
This product's also been included into these rankings:
Specifications
Max. speed
1300 Stitches Per Minute
Differential feed ratio
yes
Dimensions
11.73 x 10.98 x 13.19 inches
Review
The name Janome is these days synonymous with sewing machine excellence. Aside from traditional sewing machines, the brand produces sergers, embroidery machines as well as hybrids that incorporate both sewing and embroidery capabilities. Their Coverpro series, on the other hand, are home machines meant to make cover-stitching a breeze. As such, they are bound to have some interesting features that may prove useful. We review the CoverPro 900CPX below on various metrics, including performance, threading, use and more. Find out if the machine is worth your time and money by reading more.
Overall Performance
Overall the Janome CoverPro 900CPX does what it's supposed to do exceptionally well. It is meant to be a cover-stitching machine, although it does offer an additional one needle, two thread chain stitch as well. Seemingly only handling two stitch types has allowed the 900CPX to be a high-speed machine, and the result is quicker project completion.
The full-size sewing bed and the free arm feature allows users to handle both tubular and flat projects with relative ease. Also, if you know how to use the machine properly, stretch fiber is a breeze to handle. Lastly, with the quick reference chart on the body of the device, it seems use is easy as well.

Speed
Compared to regular sewing machines, the Janome CoverPro 900CPX is quite fast. After all, it does reach 1000 stitches per minute if you put your foot down on the pedal, while sewing machines tend to max out at about 850. While it's not as fast as most sergers, you'll find that the functionality is different and that the speed is more than enough for most cover-stitching needs. Of course, if you intend to slow down, you just need to reduce the pressure on the foot pedal.
Number of Threads and Needles
The machine is built to work with three threads and two needles. That said, this might change depending on the stitch type selected. Remember, there are two stitch types to choose from. One is the cover stitch that is the main reason you get the machine, while the other is the chain stitch. The latter uses one needle and two threads.
Stitch options
As mentioned above, there are two stitch types incorporated in the machine. Since the device is a cover stitch specialist, machine users should expect cover-stitching capabilities. However, the chain stitch might also prove handy for decorative purposes in a few scenarios.
Stitch Length and Width
This cover-stitching machine allows for stitches between 1-4mm long and between 0-5mm wide. Remember that a cover stitch consists of two or more straight stitches as well as one that zigzags on one side of the fabric. The stitch length dictates the size of the two straight stitches, while the width settings affect the space between them.
Threading
Threading this machine is a little less complicated than threading a serger since you have fewer threads to work with. In addition to that, you're given a threader, albeit not an automatic one. It might make it easier, although users will still be heavily reliant on their eyesight as they aim for the eye of the needle.
Lighting
Users should be fine using this cover stitch machine without having to worry about external lighting. After all, it does provide some light below the needles. As such, you can see your fabric/workpiece at all times and determine if you need to make any changes to your stitching settings.
Thread Tension
You might have to do a bit of the heavy lifting when setting up the thread tension. However, the machine provides helpful tips about the right tension for the threads making things a lot easier. Also, the inbuilt seam tightening system ensures there is as little slack as possible in the looper thread.
Ease of use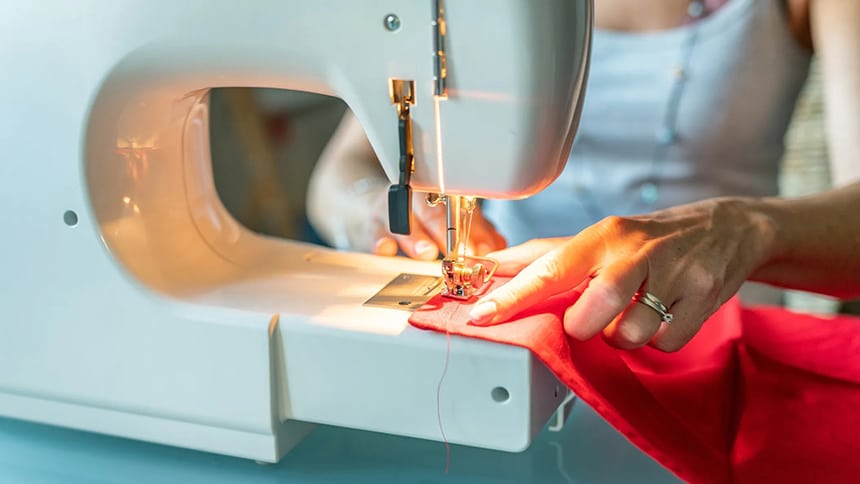 With only two stitch settings, it doesn't seem like there is much to learn regarding the use of the machine. Users can reference how to change these settings by looking at the chart on the side of the device. Aside from that, the device provides tension suggestions, as mentioned above. Users just need to take that information and make the necessary adjustments. Lastly, there are a few well-labelled knobs for the other functions and settings. These are easy to figure out, even for newbies.
Dimensions and weight
The manufacturer is proud of the extra-large bed space provided to users. Additionally, it comes in a serger-like orientation. This means that it is relatively big as compared to other sewing machines. However, the weight tells a different story making it easier to carry. That said, if you plan on moving this cover-stitching machine to and from your workshop, you need to invest in a bag.
Warranty
With about 25 years of warranty coverage for the Janome CoverPro 900CPX, there is little more you could ask for in terms of a guarantee for a cover stitch machine. However, if you look at the rest of Janome's lineup, this kind of guarantee is fairly standard.
Accessories
Buyers won't be disappointed with the included accessories either. They include screwdrivers, tweezers, nets, spool holder caps, attachment screws, an accessory box, lint brush, needles, threads and a needle threader. That said, you can always get additional accessories in the market to boost machine functionality.
Key features
1000 SPM stitching speeds allowed by the fact that the machine only has two stitches.
25-year guarantee to protect your purchase.
The machine comes with a wide bed space to work on large projects.
Free-arm capabilities for tubes.
Seam tightening system to make sure the stitches are flat.
There's a quick reference chart on the machine's body to make changing settings easier.
PROS
CONS

Easy to use
25-year warranty
Wide bed space
Capable of free-arm sewing
Fast stitching
Multiple accessories provided
Works easily with stretch fabrics
Conclusion
The Janome CoverPro 900CPX perfectly carries out the jobs it's supposed to do in a fast, timely manner. It is easy to use, and if you need an efficient cover stitch machine, it seems like a worthy purchase. Also, compared to other cover-stitching machines, this is one of the cheaper models. The CoverPro 900CPX review above should give you clarity on whether to make that investment in the device or not.