The Janome brand is known worldwide for its high-value and top-quality sewing machines, embroidery machines, sergers, and cover stitch machines. But the Janome Cover Pro 1000 CPX is without a doubt Janome's most popular cover stitch machine. It is a step up from its predecessor, the Janome Cover Pro 900CPX, and precedes the Cover Pro 2000.
One of the exciting features of the 1000 CPX model is that it offers 2-3-4 thread capacity instead of 2-3 thread capacity like its predecessor. In this Janome Cover Pro 1000 CPX review, we will bring to you all the key specs, features, and benefits of the cover stitch machine. We'll also tell you what you should be concerned about the device so you can make an informed decision.
This product's also been included into these rankings:
Specifications
Workspace area
4 x 5.5 inches
Dimensions
19.5 x 16.5 x 14.5 inches
Janome Cover Pro 1000 CPX Review
The Janome Cover Pro 1000 CPX can make a three-thread cover stitch as well as a triple four-thread cover stitch as it has a sewing thread capacity of 2-3-4. It can make up to 1,000 stitches per minute. It also has the chain stitch, the presser foot, among other features. In this section, we'll give you in detail all the critical features of the cover stitch machine.
Overall Cover Stitching Performance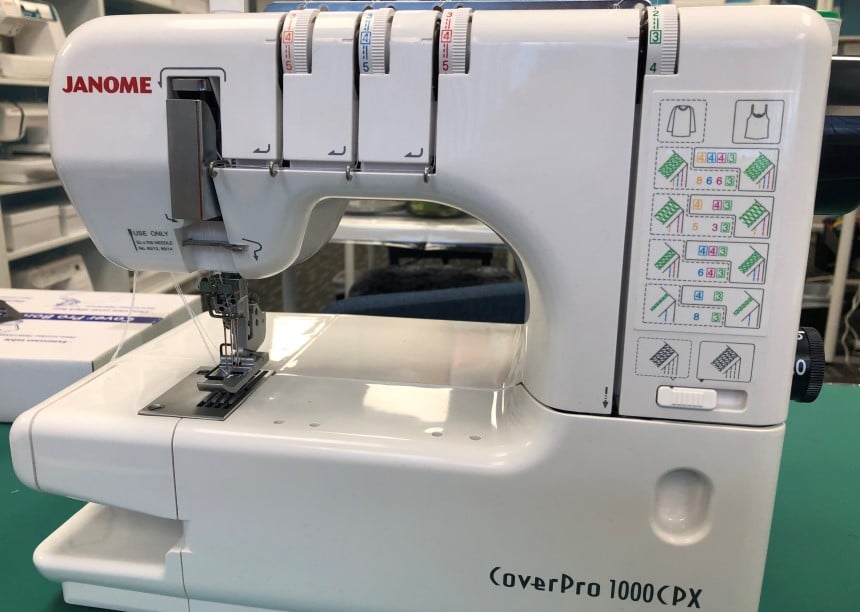 The Cover Pro 1000 CPX is designed for heavy-duty seam finishing projects, both for beginners at home, in classes, and in a DIY situation, as well as for professionals in a sewing workshop, industry, or any commercial setup. It is designed to do three different stitches: the triple-needle cover stitch, the double-needle cover stitch, and the single chain stitch.
One downside of the cover stitch machine from Janome is that it does not sew well with all threads. In many reviews, some seamstresses claim that it often skips stitches and penetrates several layers of thick fabrics.
With high-quality threads, these problems, however, do not exist. The quality of the stitching is great, and that is why the machine is one of the most popular choices for both professionals and beginners.
It's great especially for stretchy fabrics like knits because you can stretch out those stitches and they won't break.
It's more for hemming decorative top stitching. It can do double and triple rows of stitching. So, say you have a pair of jeans and you want to have a nice double decorative stitching or something like that; this is what the Janome machine is suitable for.
You can fold your hem to one side, top stitch it on one side and you see a neat row of stitches on the underside. It also produces a network of threading that looks like the serger.
For the best user experience and ease of maintenance, the cover stitching machine is also sold with a large number of accessories that complement it well.
There's no need to buy other tools: you have everything with it to make it work at its best! In addition to its instructions for use, it has a set of needles, screwdrivers of different sizes, pliers to better grip and move the threads, a cap for the spool holder, a needle threader as well as a lint brush for maintenance.
Very practical, a storage box is also provided to store all these accessories, as well as a protective and transport cover for the machine.
The Number of Needles and Threads
This machine is a four-thread, three-needle setup so you can have as many of four spools of thread. You can have as many as three needles for a triple stitch.
Stitch Types Available
The stitches of the JANOME Cover Pro 1000 CPX can be adapted to the respective project. The double cover stitch can be sewn three or six millimeters wide.
The triple cover stitch is exceptionally stable. The chain stitch is suitable for a variety of purposes. Depending on the setting, it can be sewn in a flexible or stable manner and is created with each of the three needles. The chain stitch can be used in place of a sewing machine.
All stitches can be used from the left or right, depending on whether a straight stitch or the looper seam is desired.
Stitch Width and Length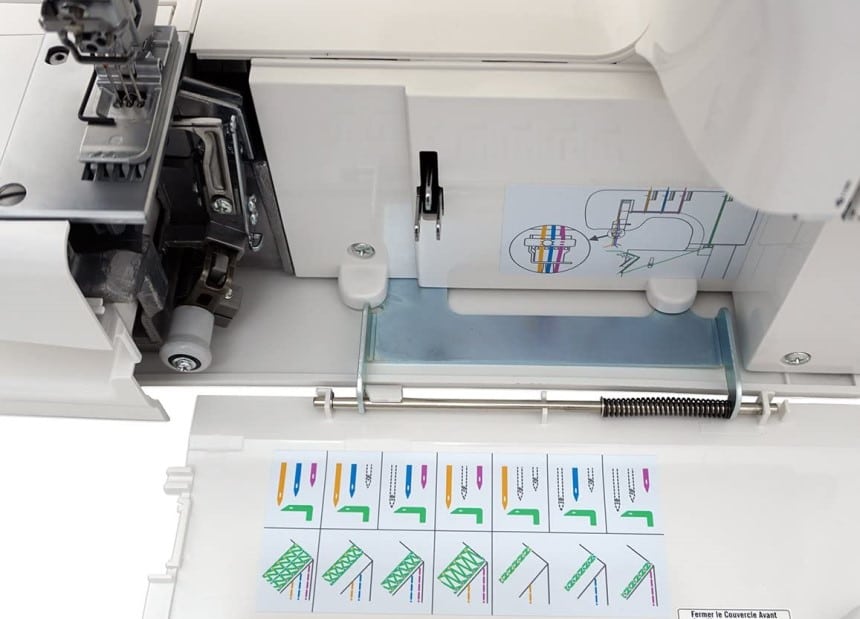 The stitch length varies from 1mm to 4mm, and the stitch width varies from 3mm to 6mm. The unit offers a generous workspace that is suitable for larger projects. Thanks to its long free arm, the device is particularly useful for finishing cuffs, belts, and sleeves.
The Janome Cover Pro 1000 CPX, working with 2, 3, or 4 needles, will be very useful for your various cover stitches, hems of all kinds, as well as your double seams. This makes it particularly suitable for working on sportswear outfits – for dance, fitness outfits, and even swimsuits!
The stitch length and width are fully adjustable, as is the presser foot tension.
Sewing Speed
The mechanical cover stitch machine operates at 1000 stitches per minute. This is the fastest cover stitch machine in Janome's range of the Cover Pros, that is, the cover stitch machines. According to reviews, some users think it is not fast enough. Others are however very satisfied and have nothing to complain about.
However, you have to be aware that the speed of the machine has been upgraded from the last one. In comparison, the preceding edition, the Janome Cover Pro 900 CPX, makes an average of 900 stitches per minute.
Its upgrade, the Janome Cover Pro 2000 CPX, also has the same speed level as the 1000 CPX. The only new addition to the Cover Pro 2000 CPX is the switching lever for the looper tension that you can find in front of the machine and next to the looper tension disc.
This shows there are not much faster cover stitch machines on the market than this Janome product. Meanwhile, if you want a faster cover stitch machine that is available for the same price range or less, you may want to cross over to Brother and check out the Brother cover stitch Serger 2340CV, which can make up to 1,100 stitches per minute.
Stitch Controls
This machine is not computerized but mechanical. So, you have to take manual control of the thread tension. This is considered a downside by many users as it reduces the ease of use and the speed of finishing your seam projects.
However, unlike the 2000 CPX, the Janome 1000 CPX doesn't have the tension lever control feature and LED lights.
Working Area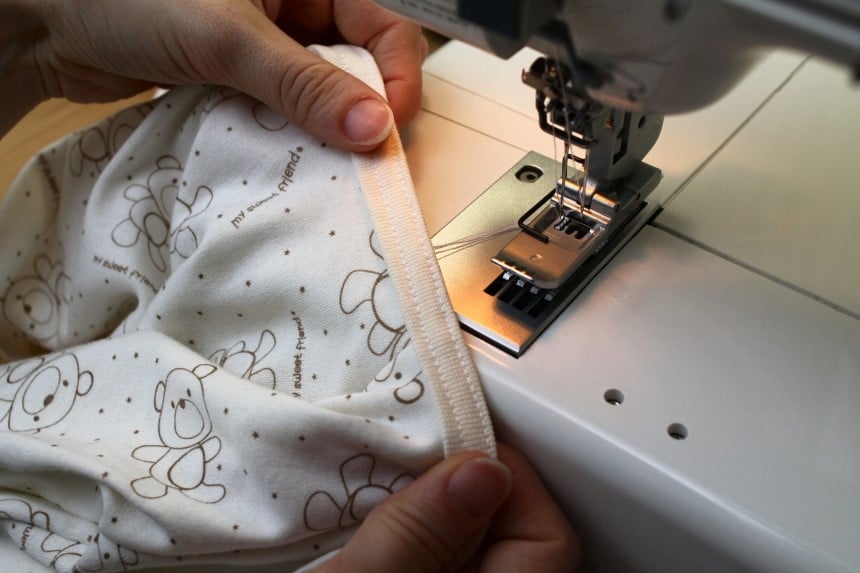 You can work with the machine while being very comfortable thanks to its convertible free arm and extra-large work surface. The working area measures 4 by 55 inches. However, the downside is that it doesn't have an LED lighting which could allow you to see at best what you are doing and to have a precise vision of your finishes.
The large working area makes it very easy to use and suitable for commercial uses. It is also provided with a color code to help you with the threading of the threads. There's also the "click-to-go" gripper arm system which means you don't have to convert as with a simple serger to thread them. So this is done very quickly and without any effort on your part!
User-friendly Features and Overall Ease of Use
This Janome Cover Pro does wonders and is the perfect machine to own to complete your serger! Easy to use, it is specialized in the cover stitching that traditional overlockers do not do and guarantees you quality finishes.
Easy to use and user-friendly, the threading paths of the Janome Cover Pro 1000 CPX are marked on the cover stitch machine. Information on the different stitch types can be found on the housing and in the flap. The gripper of the JANOME Cover Pro 1000 CPX can be loosened with a handle for convenient and easy threading. A manual threading aid for the needles is also included.
Thread tension and stitch length can be comfortably set using adjusting wheels. The differential can be changed over a wide range so that the JANOME Cover Pro 1000 CPX can be adapted to any fabric.
When covering thick fabrics, it is usually sufficient to adjust the slider for the STS system accordingly. Changing the thread tension is no longer necessary.
Durability and Warranty
The cover stitch machine is a lightweight machine, weighing just 15 pounds, that can go anywhere you want. However, it's also very reliable and sturdily built that it can be used on thick fabrics. Meanwhile, we found reports of broken thread needles from a few users when they made use of low-strength threads. Also, there are reports of skipped stitches, but this isn't due to its construction.
Nonetheless, to assure users of its reliability, Janome offers users of the machine a 25-year limited warranty, just like it does with most of its sewing machines. Known for its generous warranty and fast customer service, which provides quick response to user inquires, the manufacturer also provides users a two-year warranty on the electrical components and one year on labor.
Key Features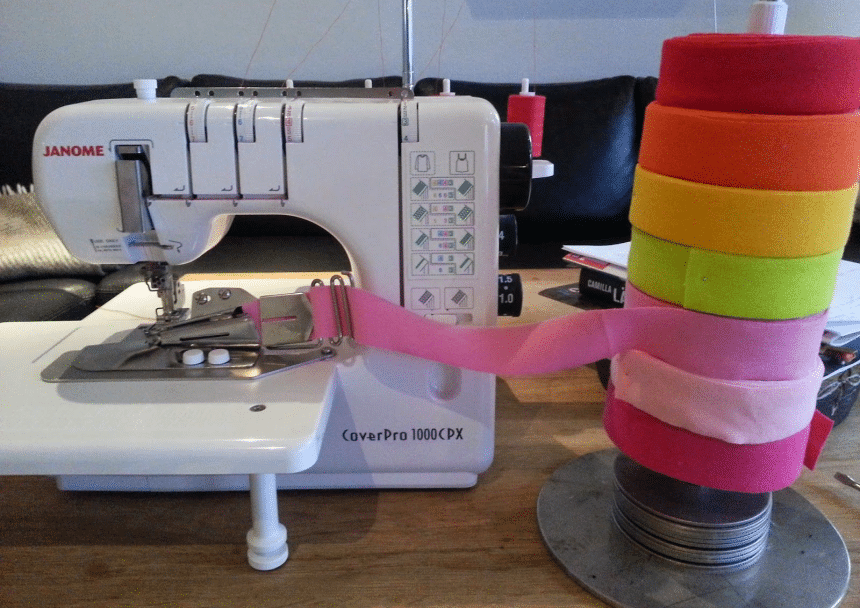 The mechanized cover stitch machine offers a lot in a frame that weighs just 15 lbs. Some of the most important features included in the device are:
Speed of 1,000 stitches per minute
The cover stitch can work on all types of fabrics quickly, thanks to its very powerful engine, which allows it to reach up to 1000 stitches per minute. With the Cover Pro 2000 CPX, it's the fastest cover stitch machine from Janome.
Seam tightening system (STS)
The machine is designed to ensure the lower covers for your clothes are of optimal quality. This is made possible thanks to its lower stitch tightening system, the so-called Seam Tightening System (STS), which is an exclusive innovation by the Japanese brand.
Another praiseworthy feature is the adjustable presser foot which allows even very heavy materials to pass through.
The Janome Cover Pro is well accessorized and includes almost everything you need for using and maintaining the machine. The package consists of standard accessories like a dust cover, foot control, operation manual, accessory box, a needle set, a screwdriver, tweezers, thread withdrawal disks, a cleaning brush, a needle threader, and mounting screws.
Price Tag
The Janome Cover Pro 1000 CPX isn't the least expensive in the range of the brand's cover stitch machines. It's sold for an under $700 price. That may seem too much for a mechanical device with no LED and lever control; however, it's still about $200 cheaper than the Cover Pro 2000 CPX.
Still, the more versatile and faster competition model from Brother, the 2340 CV cover stitch Serger machine, is a lot cheaper than the 1000 CPX from Janome. However, where the Cover Pro 1000 CPX seems to cover its extra cost is in the number of accessories that come with it.
The machine comes with needles, screwdrivers, pliers to better grip and move the threads, a cap for the spool holder, a needle threader as well as a lint brush for maintenance. So, you may not be needing many other supportive tools after acquiring the machine.
PROS
CONS

Excellent sewing quality and affordable price
Good for heavy projects
Adjustable presser foot pressure
Easy to thread
Lots of space to the right of the needle
Quick setting for thick fabrics
1000 stitches per minute

Not good with cheap thread
No LED lighting
No tension lever control
Conclusion
This Janome Cover Pro 1000 CPX cover stitch machine is a top-of-the-range model from the famous Janome brand. With 3 and 4-thread operation, it has a simple design suitable for beginners and professionals who want to save time and have a perfect finish.
As we've stressed in the JANOME CoverPro 1000 CPX review, hems and decorative seams can be achieved next to no time! Professional dressmakers appreciate the precision of the stitching, and beginners are happy with the user-friendly design.