In a market rife with options it's important to find products that are relevant to your specific needs. It's no different when you're shopping for new sewing equipment and the Janome 8002D is a favorite, especially for beginners. Experts appreciate it for its physical design as well as functionality. Even though it's not one of the most high end, advanced models, all Janome serger 8002D reviews are filled with compliments for this model from the well-known brand.
You need to know if a sewing machine is powerful enough to handle the projects you do, but you don't want to waste time on a complicated setup, right? We completed a focused Janome 8002D serger review so you can see how it impresses when it comes to compact design as well as ease of use, as with most Janome models. We also discuss aspects such as performance.
Keep reading to find out if the Janome 8002D is the serger you need.
This product's also been included into these rankings:
Specifications
Speed
1300 Stitches Per Minute
Differential feed adjustment
0.5-2.25 mm
Dimensions
15 x 13.5 x 14.5 inches
Janome 80002D Review
Let's find out if the Janome 8002D is the sewing machine for you. Our Janome 8002D review covers all vital aspects of sewing machine shopping, empowering you to identify the best one around. We discuss this specific model in detail so you know exactly what value you'll get from it.
Overall performance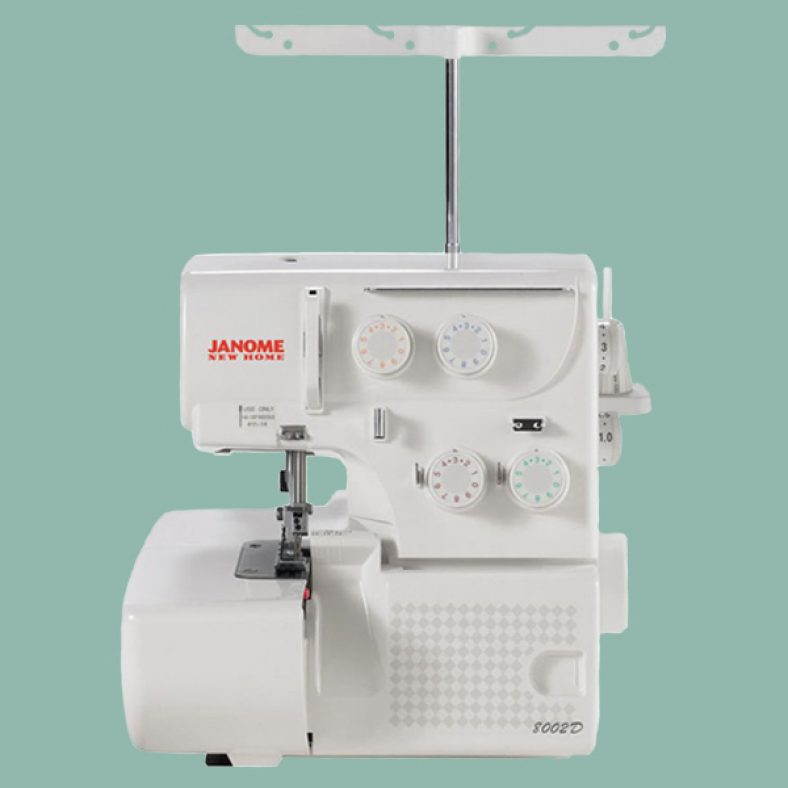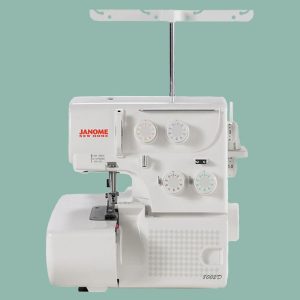 There's no doubt that, in general, the Janome overlocker 8002D is value for money. But it's not the most powerful model in the brand's range, so you need to make sure it will work for the type of work you do.
For a small device it's packed with features though, giving newbies a good idea of what a serger can add to their sewing projects. For experts it's the ideal portable design that they can take with them or store easily. So, it's perfect for beginners, but with its high quality stitching it serves many experienced sewers equally well without costing them a fortune.
As can be expected from a market leader, this model by Janome doesn't produce a lot of noise when you work. You won't be distracted by sounds and it though it may not be ideal to work on while others want to sleep, during the daytime you won't disturb the household too much.
Ease of use
User friendliness is one of the biggest reasons consumers love this model. For the most part it is super easy to operate, making it appropriate for beginners and those who want to see if they would enjoy sewing, before they invest in more complicated, expensive equipment.
The one area you may get a little frustrated with is learning to thread it, but it's usually only the first time you do it that you experience problems. It's much easier the second time around and you'll soon get the hang of it and streamline your workflow. The brand also provides guidance in the form of diagrams, guidelines and videos, so you have some help in figuring it out. We do hope the instructions improve in future models though.
Apart from that, you have a machine without too many frills and features, making it easy to understand & maintain. The layout is simple and all the dials are within easy reach; they also have easy to understand printed details and numbering that even newbies won't find too daunting.
One extra we do like is the thread cutter—workflow is so much smoother when you don't have to waste time taking out your scissors.
Note: although this isn't a deal breaker, we do wish the brand added a compartment to store accessories such as the provided tweezers and screw drivers. This ensures a work area doesn't become cluttered and it's so much easier to work if you can keep all important components on hand. But this is a compact model where you can't expect the same practical layout as on larger units.
Sewing speed
First of all, know that you can work at various speeds with this serger, which means it's safe to work on different fabrics and you can try it no matter your skill level. Simply work at the speed you feel comfortable with.
The maximum speed of 1 300 stitches per minute is impressive. If your sewing is your profession you can get a lot done in a day at this speed.
Stitch length, cutting width, thread, differential feed adjustment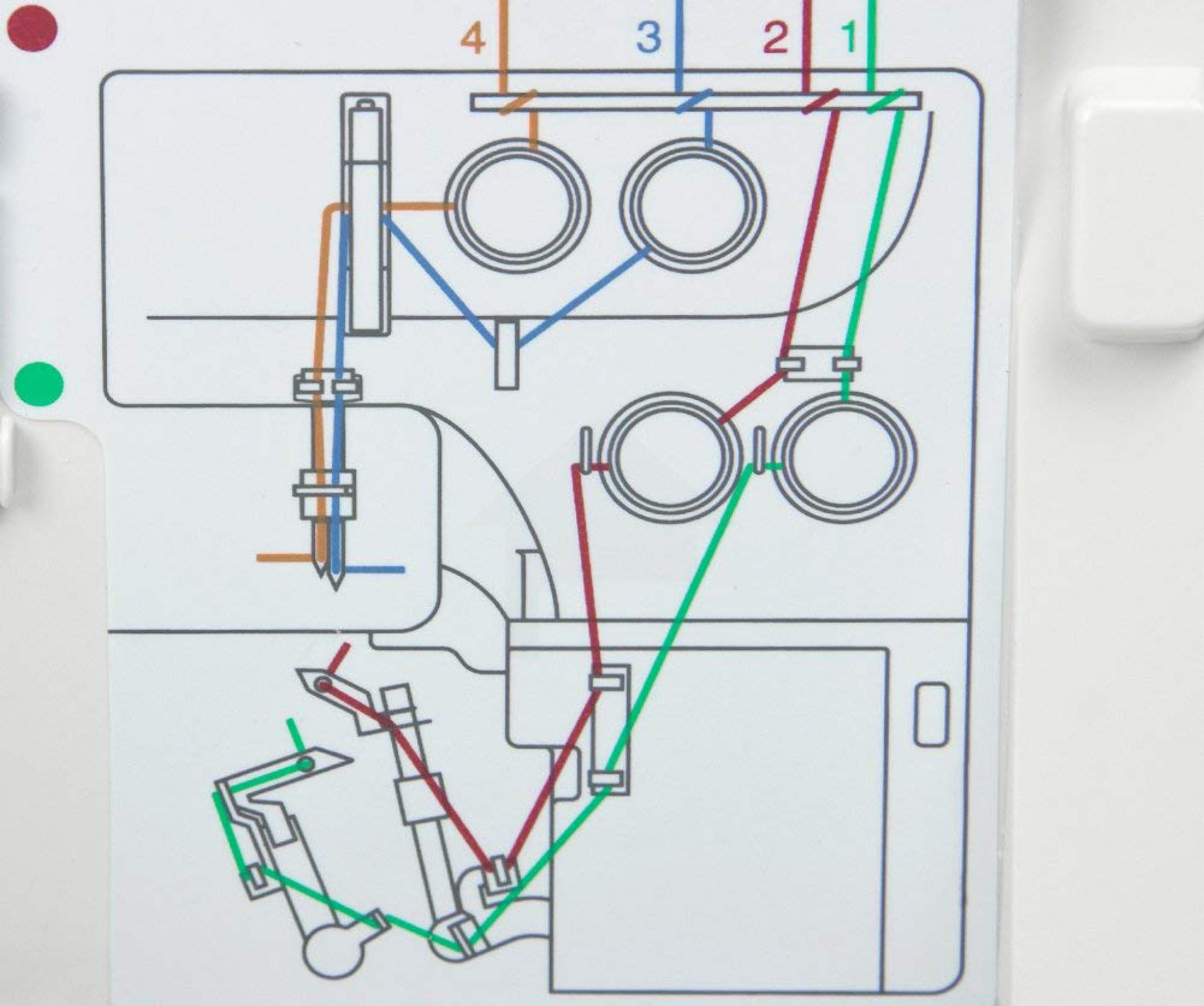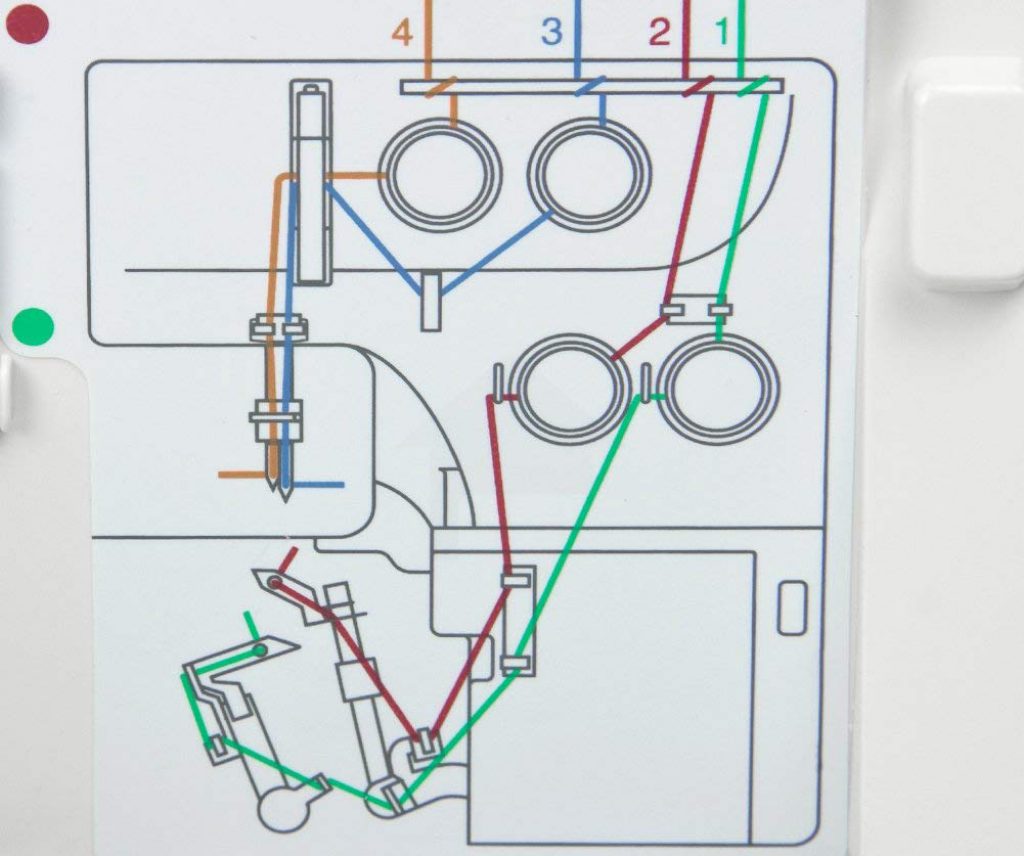 For such a small, compact serger you have a surprisingly long list of options.
Let's start with stitch length: this you can simply adjust on the right hand side of the machine, with a simple dial. You can customize according to your fabric and the specific project by a simple turn of the dial—not complicated at all. Also try out the different features to improve the quality of your sewing project, such as the rolled hem functionality which is built in.
You can adjust the cutting width, which in this case can be anything between 3.1mm and 7.3mm. It's not the widest range you'll find in the industry, but for such a compact machine it's impressive.
When you need to thread the unit, use the directions provided by the brand. You can use the diagram printed on the inside of one of the covers, or the video the brand put together. After a few practice runs you'll see how easy it is.
Once you start your projects you'll appreciate the differential feed ratio which ranges from 0.5 to 2.25. Fabrics that stretch a lot or tend to bunch together can still be used to create stunning sewing projects, thanks to this feature. Simply set it to 1.0 or less if you fear bunching, or higher if stretching is your problem. It's easy and quick to make these adjustments, so customizing your setup doesn't rob you of time when you're in a hurry.
Number of needles
The 8002D can work with three or four threads, or even just two, so you can customize the serger to your needs. Everything is provided to empower you to use these multiple threads, such as a set of needles that accompany your purchase. The color coded diagram also shows how each one should be threaded.
When you work you can use one or two needles depending on your needs. It's important to note that when picking needles you must use the right ones: the Janome 8002D can only be used with HA-ISP #11 to #14 needles.
Dimensions and weight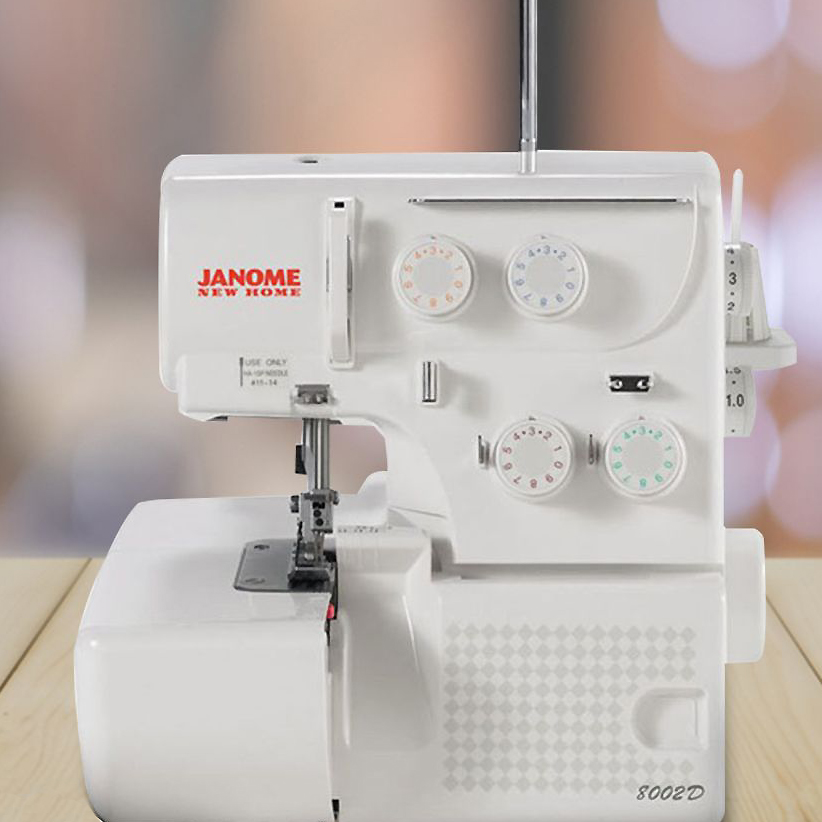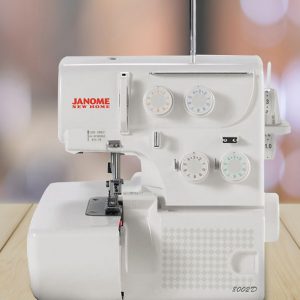 In this model there was a focus on providing sewers with a compact option. The Janome 8002D measures only 15"x 13.5"x 14.5", making it a viable option for small spaces. If you need a machine that you can easily find space for in your cupboard—if you don't have counter space to keep it out all the time—this is a practical option.
The compact design is also not extremely heavy. At just over 13lb it's relatively easy to carry or maneuver for almost anyone. If you need to carry it to a cupboard or if you're looking for a machine to easily transport to sewing classes or craft days with friends, this one will show to be a portable model.
Price
With Janome being a well-respected brand, you can't expect low prices for its machines and the Janome serger 8002D is no different. This is not one of the cheapest models on the market for this niche. But this is one of the simpler, more compact Janome models, making it one of the more affordable ones from this brand.
Key features
Retractable upper knife
Includes accessories
3 / 4 thread convertible
Adjustable cutting width, speed and differential feed ratio
Customizable settings
Snap on presser feet
Unique design of the rolled hem feature
PROS
CONS

Good entry level machine
Compact design
Threading chart provided
Can sew with different fabrics
Well-known brand
Long warranty

No space to store accessories
Tricky to thread at first