Embroidering letters to express something precious to you on your clothes gives you a personal attachment. It's a way of expressing yourself beautifully and also showcasing your sense of fashion and style. You might have come across embroidered letters in shorts, handkerchiefs, towels, and all sorts of wear. They all bring about positive comments, and to some extent, they can be excellent conversation starters.
Apart from making your stuff appear stunning, embroidering initials and letters will also serve as an identification mark to help you spot your items, such as towels and pencils for your kids. If you're in the dynamic world of marketing, embroidered letters will help you get notified quickly. It's a simple yet effective way of outshining your competitors and speaking volumes about who you are and your brand. It's one way of selling your brand without talking.
Furthermore, you can embroider letters for a personal gift. Think about gifting a friend or spouse with a tee embroidered with their names. It will definitely leave a long-lasting impression.
You can embroider a letter with a machine that will make your work easy. Hand embroidery is a bit daunting, but it gives you unlimited options on how you want the letters to appear. More so, you can crotchet letters and initials with ease.
Let's have a look at each embroidery technique.
What you need for hand embroidery letters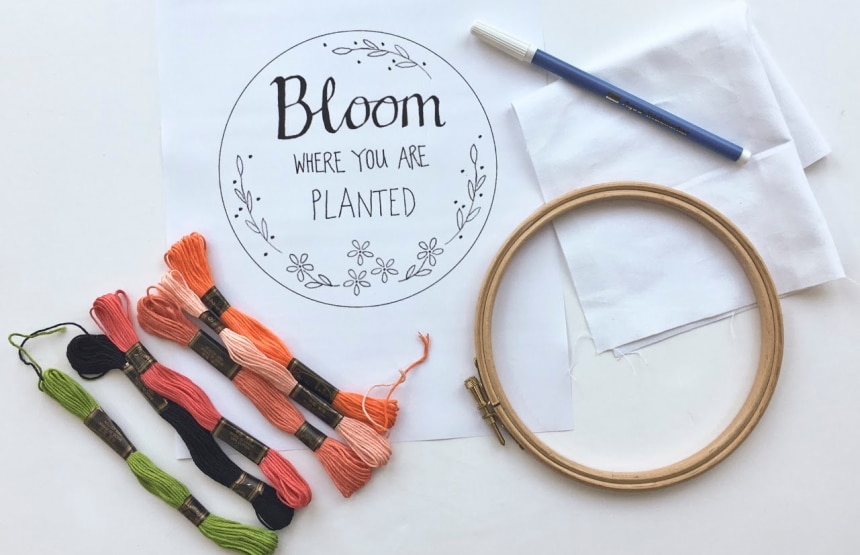 Hand embroidery is suitable for household items, personalized gifts, journal covers, quilts, and much more. Stitching and threading with your needle can be fun and intriguing, making a perfect form of impression. Hand embroidery is majorly categorized according to various stitches from counted thread work, extensive work to void work. They are them crossed, mixed, and stitched or joined together to make a stunning design.
Learning how to embroider letters by hand can be enthralling, intriguing, and will make you gain useful skills. From quotes to labels, there are unlimited options for embroidering letters.
For successful hand embroidery, you need the following tools:
Small, sharp scissors – Scissors will help you cut the fabric into the shape you want. There is a myriad of small scissors, but it's advisable to get embroidery scissors. You can get them online or from brick-and-mortar outlets near you.
Hoop – An embroidery hoop is a unique ring designed with two parts. It makes the entire process easy and smooth. They are available in wood or plastic materials. You can have both and use a wood hoop for displaying and plastic for embroidering.
Needles– embroidery needles usually have bigger eyes than regular needles. This is to accommodate the size of a floss.
Floss – Embroidery floss is readily available and comes in tons of colors.
Fabric– You choose your most preferred material. Canvas, linen, cotton, and muslin are all excellent materials for hand embroidery.
A marking tool – You can pick a water-soluble marker to help you draw designs and letters on the material. The water-soluble pen is easy to clean up using cold water once you're done embroidering.
So, how do you embroider letters by hand?
Hand embroidery gives a personal touch to any project, whether you're stitching a favorite quote or adding a quilt label. However, choosing a font makes a difference. The font will showcase your prowess and depict your sense of style. Play around with the word document to get various fonts. Once you find one, transfer it to the stitching material and start playing with your embroidery skills.
Choosing the right font depends on:
Size– For a small size text embroidery, ensure you keep the font simple. Small letters are difficult to stitch around the sharp angles and tight curves.
Appearance – Just like in an interview, the first impression matters. What will people think of you once they see your hand embroidery letters? More so, it ensures the appearance complements the situation. For instance, for a personalized wedding quilt, a romantic cursive font will be the best bet– the casual purpose, a handwritten font that will be more fun on your tee or towel.
Legibility – A font that looks perfect on a paper might lose its excellent appearance when worked on a piece of fabric. Therefore, a few practices on letters is highly advisable.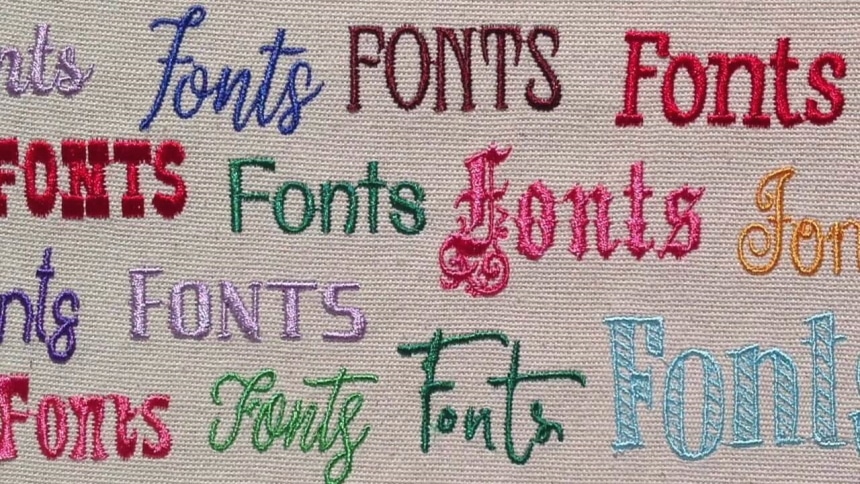 And remember, no matter which stitch technique you choose, always follows these four rules:
Ensure you end the thread before you start a new letter. However, the exception to this rule can apply when the font is too small or cursive.
Always shorten the stitch length if you're stitching around corners.
Figure out the stitching path before you start.
Some letters require to be stitched in two parts.
With that said and done, let's have a look at easy stitches by hand.
Backstitch letters
When you're learning how to embroider letters by hand, backstitching should be the first essential skill to learn. It produces a smooth, thin line of stitches, ideal for outlining in most embroidery patterns. This basic embroidery skill is suitable for outlining shapes to be filled with a satin stitch. It gets its name from the embroidery pattern, which results in stitching backward. You can backstitch from both left to right or right to left.
The stabbing method is the most preferred backstitch technique since it creates a smooth, tidy line, and the motion will bring out a perfect stitch.
Take the single stitch backward from the beginning point and bring the needle up again. This will make the start of a second stitch. The continue stitching in the same pattern, spacing the stitches at regular intervals for a perfect design, until you get to the ending point.
Although backstitching is an essential stitch skill, you will have to practice to make embroidery even.
Split Stitch Lettering
This lettering technique creates an interesting texture. It's ideal for small letters and cursive font. You begin by making a single stitch then bring up the thread in the middle if that single stitch. This will essentially make you split the stitches in two. Then, pull the needle and repeat the process for a stunning result, which is a letter that looks like a braid. Continue stitching until you complete your desired word.
How to Embroider Letters with Sewing Machine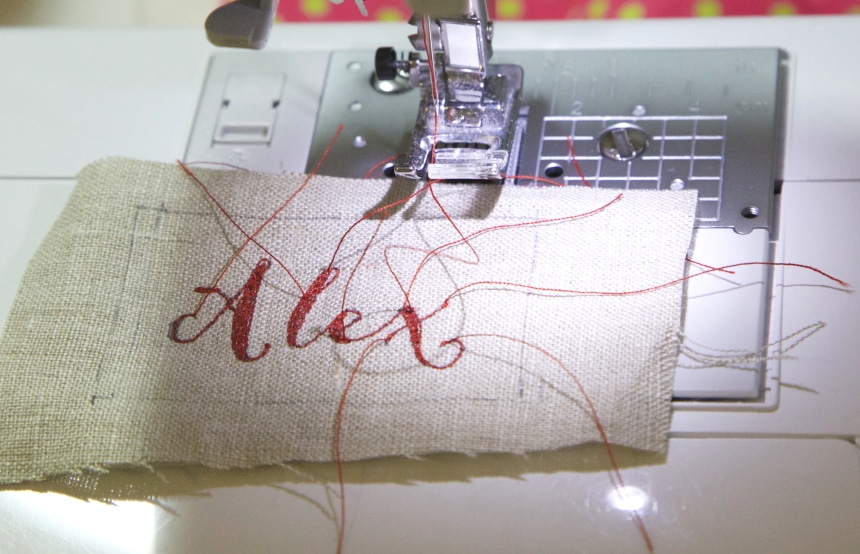 Just like embroidering letters by hand, stitching with a sewing machine can all be fun. More so, it's fast and gives accurate results. From quotes, monograms, from handkerchiefs and clothes, embroidery brings positivity.
A sewing machine is designed with a variety of features to enable the users to embroider letters for pillowcases, garments, and towels. Here is how to embroider letters with a sewing machine.
You need a template
A temple is like a map to guide you as you stitch. You can draw it or print the image from your PC. There is a myriad of images, quotes, and fonts online to use. For a perfect project, pick fairly thick fonts. Avoid thin fonts as well as scripts because you might not manage to stitch around tight corners.
Be creative
Sewing with a machine is fun, easy, and fast. However, your input is required. Don't just depend on fonts from the word document. There is a plethora of websites or programs that allow you to come up with epic name designs. As a result, you can print any design of your choice.
Prepare your fabric
After coming up with your name design, now get the fabric ready. Cotton, linen, and satin are ideal materials, but the choice is yours. Ensure you use a stabilizer to make the material studier, to avoid frays, and give you seamless edges. There is a single-sided and double-sided stabilizer. We would recommend the latter since it's adhesive on both sides.
Scale the letters
You need to scale the letters to ensure they fit in the designated area. Once you iron the stabilizer, pin the paper down, or use adhesive spray to ensure the paper stay in place. Adjust the length and width of the stitch until you attain your desired size. You can now stitch your template over the material by threading the sewing machine embroidery thread with a bobbin and needle.
Start by stitching the edges using a hoop and move it as you continue.
Free-motion machine embroidery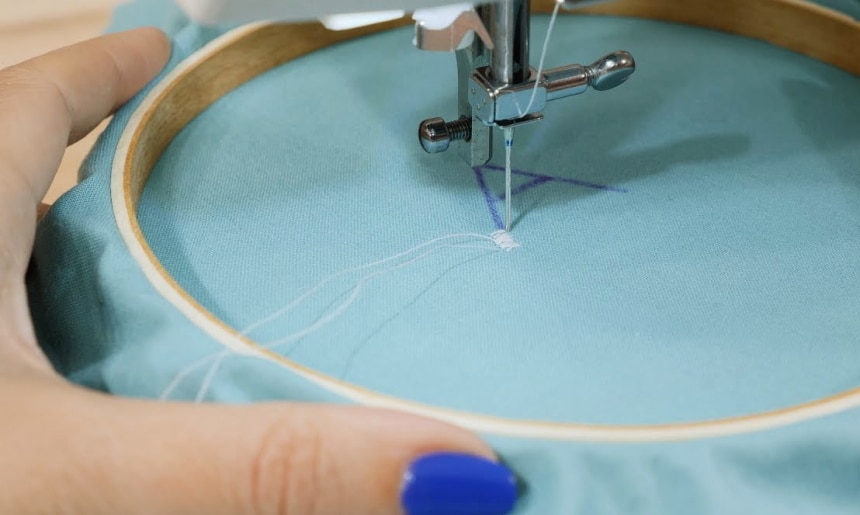 This is a skill from great quilters, but it can also be used in creating embroidered projects. As its name suggests, it's a free motion with no specific guidelines. Therefore, it lacks restraints, giving you full control over the stitch lines and patterns. The technique is commonly used in cards and paper. You can design any font letter or artwork.
Stitching
Once you set up everything, begin embroidering letters by pressing the foot control and maneuver the hoop in any direction. Ensures the settings are appropriate before you start stitching.
Position your stabilizer below the fabric and write the words or letters you want with a trick marker or a pencil
Place the fabric between the hoops and secure it by tightening the screws of the embroidery hoop.
Place the fabric beneath your sewing machine and stitch the edges first.
You can try various movements like a spiral or zigzag stitch. Work slowly and don't fret if you fail to follow the lines accurately. With more practice and being keen to details, you will learn how to make perfect stitches.
Embroider letters expertly with a regular sewing machine
Embroidery is an intense art that's capturing the attention of millions of people across the globe. Although handmade embroidery is still a masterpiece valued by many, the use of a machine makes work easy. You can still use a regular sewing machine to make those stunning designs on fabrics.
Making perfect scripts, quotes, and letters is comparatively tough. But with a machine, you'll work on your budget hassle-free. Here is how to embroider letters with a regular sewing machine.
Using a marker or pencil to trace letters
Browse different types of fonts from the internet and choose what you desire. For a start, you can use big or block letters then move to complicated fonts later. Sketch the letters first and then transfer the design to the fabric.
Threading the needle
Primarily, a regular sewing machine always comes with a needle for the user to pass the thread through the eye. Ensure you're using a strong thread to avoid it breaking in between. The machine comes with an instruction manual to guide you through.
Adjusting the feeddog
Adjusting the feed dog is crucial as it will bring a smooth pattern. Then lower the needle to make sure it's in contact with the fabric.
Placing the fabric
Place your cloth below the needle to embroider letters while moving the cloth and needle at the same time. The front side should face the needle to help you sew accordingly. Then lower the needle and begin stitching. This is a tough step, so you have to practice more to attain perfection.
The work involves lots of practice and patience. Once you master the technique, you can explore new designs and expand your creativity.
How to embroider letters on crochet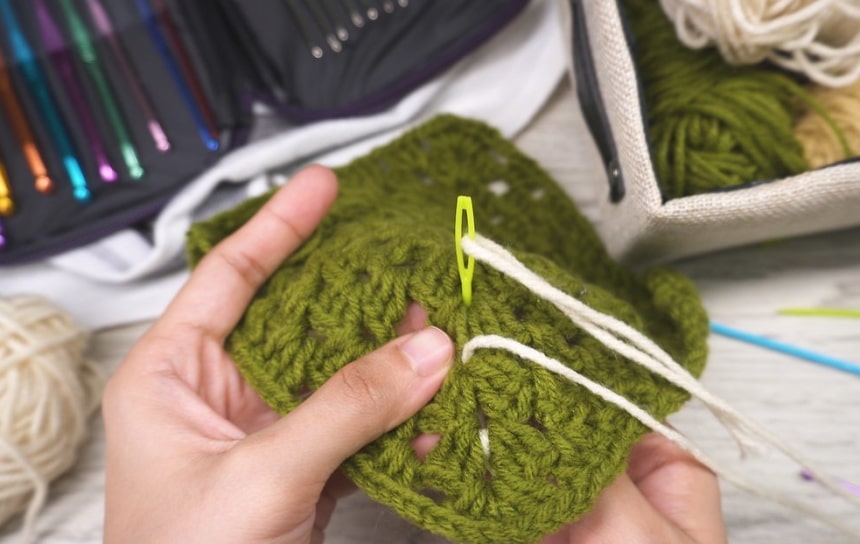 Crochet embroidery offers countless creative options and is one of the wonderful ways to add letters, numbers, patterns, and other interests into your project. You can achieve incredible results from any crochet fabric. However, the simple Tunisian stitch and single crochet offer better canvases to work with, as they create square grids that are easy to embroider on.  Learning how to embroider letters on crochet is an effortless process if you already know how to embroider letters by hand or make a slip stitch.
There are several techniques used for crochet embroidery ranging from surface slip-stitch to cross stitch, blanket stitch, running stitch, French knot, and Laisy Daisy, among others. You can also use a single crochet canvas with any crocheting tool or even combine two different techniques. Note that the instructions are given from a right-handed perspective, so you should swap the left and right if you are left-handed. Here's a brief look at how to embroider letters on crochet using a couple of standard embroidery techniques:
Surface-slip stitches
The surface-slip stitch is the easiest embroidery stitches you can achieve with just a crocheting hook. If you know how to make a slip stitch, then a surface slip-stitch should be a walk in the park. The steps for embroidering letters on crochet using surface-slip stitch are as follows:
Start by knotting the yarn onto the crochet hook using a standard slipknot. The crochet hook you choose should be the same size hook used for the crochet work (canvas) you intend to embroider on.
Pull up a loop in front of the canvas or work. To do this, carefully pull out the slipknot from the hook ad place a loop behind the canvas piece. Next, insert the crochet hook into the nearest opening, grab the loop and pull the slipknot loop to the front of the work. Make sure the knot remains at the back of the project. At this point, you are working where the embroidery will start.
Insert your hook into the next stitch and yarn over. You can wrap the yarn around the hook (at the back of the canvas), then pull it through the stitch and loop on your crochet hook back to the front of the project.
Pull the second loop through the first one you created with the slipknot and hold the base at the back of the project to ensure you have neat tight embroidery. You can go left, right, top, bottom, or diagonal depending on the letters you want to embroider. Slip-stitch into the next stitch using the same technique used to create the first loop.
Repeat the process until you have made the last stitch in your design. Remove the hook from the working loop and re-insert it from the back of the canvas. Pick up the upper loop you just dropped and pull it to the back of the work as well. Fasten off the yarn and weave the excess tail into the back of your canvas.
Cross stitches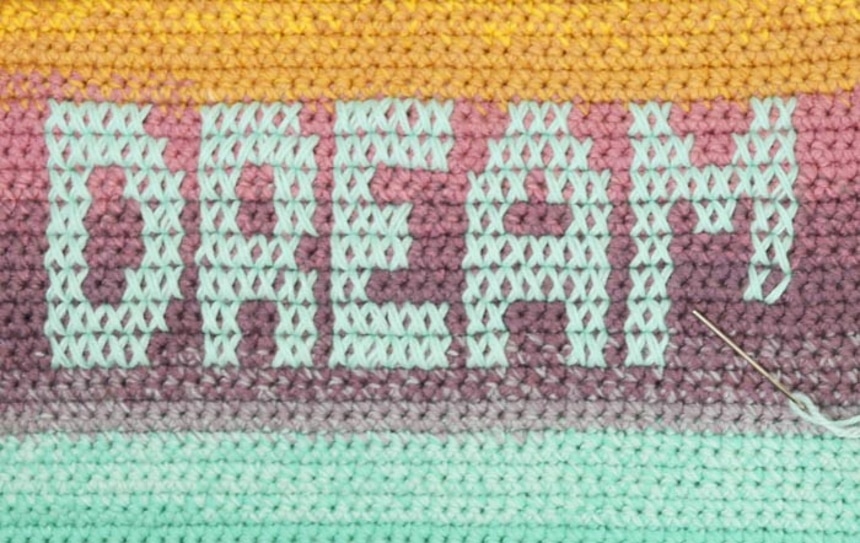 The cross stitch is easy to achieve and has better visual appeal. To accomplish this stitching, you need to work out a grid by creating rows of backslashes and then doubling back to make rows of matching forward slashes over the backslashes. This technique produces a neat line of crossing Xs. Use these steps:
Insert the needle into the right bottom corner of the design, back to front, and join your yarn. Leave at least three inches of tail. Next, insert the needle front to back two stitch rows up and one stitch row left of where you have joined the yarn. Insert the needle from back to front two stitch rows below where you have it and pull the yarn through, forming the first backslash.
Insert the needle front to back into the next stitch left of the top of the first backslash. Next, pull the needle from back to front two stitch rows below where you have it. Pull the yarn to form your second backslash. Repeat the process until you have the backslashes needed for your letter.
To form the forward slashes, insert the needle front to back into the top of the second last backslash. Next, pull the needle from back to front into the bottom of the last backslash and pull the yarn to form the first forward slash, completing the first X. Repeat the process until you have all your X crosses.
Backstitch
The backstitch is relatively simple to achieve and involves stitching one step backward and two steps forward. It creates a neat dotted line that can be used to embroider letters, numbers, and patterns. Here are the steps for backstitching letters into your canvas:
Like cross-stitch, insert the needle from the back to the front to join your yarn and leave at least three inches of tail. However, the needle should be one row above where you intend to start. Next, insert the needle from front to back in the row below and then from back to front into the row you joined the yarn. This completes the one-back-two-front movement to form your first stitch.
For the next stitch, insert the needle front to back into the top of the stitch you completed. Next, enter the needle back to front, two rows above the position you have the needle, and repeat the pattern until you have your last stitch.
For the last stitch, insert the needle front to back into the row below the previously completed stitch and pull the yarn through the back of the canvas.
Conclusion
There are several other techniques you can use to embroider letters on crochet, by hand or using the sewing machine. The chain stitch, blanket stitch, running stitch, satin stitch, and many more can all achieve neat tight stitches for adding letters, numbers, and any design pattern you want. While some methods, like the blanket stitch, are perfect for edges, most can embroider letters and numbers. It is essential to make your embroidery something close to the pre-existing canvas stitches, so the letters do not look out of place. You can also use various embroidery techniques in the same piece, especially if you intend to embroider thick letters or use more colors. It all depends on your unique requirements and the type of crocheted canvas you are using.