Some professionals argue that seams, edges and hems can simply be made with a standard sewing machine but the fact remains that nothing can beat a serger when it comes to achieving professional results. A serger machine will help you do more than just finishing touches on your projects. You can use it to jazz up store-bought clothes that have zero vibe. The Brother DZ1234 is a one-of-a-kind serger with a wealth of useful features. It has all you need to hem, make ruffles or shorten clothing.
The Brother DZ1234 is a fantastic option for anyone on a tight budget in need of an all-around serging machine. It is incredibly affordable and sews like a dream. It compares favorably with other models in the Designio line by Brother as well as other similarly priced models by other manufacturers. The machine sets itself apart with multiple built-in stitch options and adjustable differential feed that ensures you achieve perfect ruffles and smooth stitches on different types of fabrics. Read on to find out how the machine stacks up in the overall market.
This product's also been included into these rankings:
Specifications
Stitch length
2.0 - 4.0 mm
Stitch width
4.5 - 7.0 mm
Overlock seam width
3.0 - 6.0mm from left needle
Differential feed ratio
0.07 to 2.0 mm
Dimensions
15.2 x 13 x 13.2 in.
Weight
15.2 x 13 x 13.2 in.
Warranty
1/5/25 year limited
Brother DZ1234 Serger Review
Making adjustments to your dress and other store-bought clothes can never be easier with the Brother DZ1234. The machine is a host of multiple features that offer you creative freedom. You can choose to do repairs with the basic sewing features it offers or create professional finishes with the special decorative stitches it comes with. Here are some of the main features that make this machine an ideal investment creating neat professional-looking formal wear, fashionable apparel, and even stylish upholstery.
Overall performance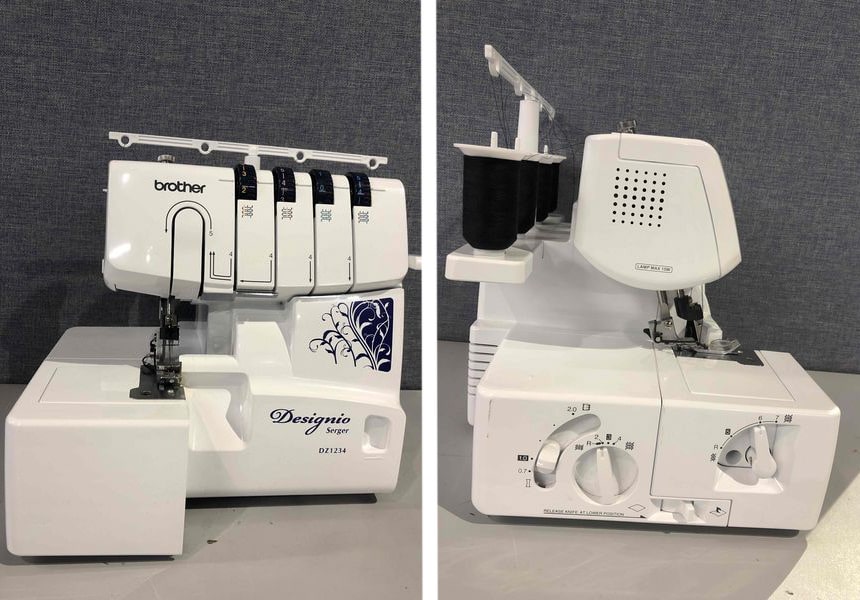 The Brother DZ1234 deserves to be at the top of any sewing enthusiast's list. It is a fantastic option for all sewing experience levels. As a beginner, you can grow with it into expertise. The entry level serger is a top performer that offers fast sewing speeds, ease of use, versatility and plenty of customizable options that allow you to create unique stuff.
You can use the machine for other myriad tasks other than finishing seams quickly and professionally. You can use the machine to stitch stretchy fabrics perfectly. Unlike the standard sewing machine, the serger allows the stitches to stretch with the fabric. Therefore, if you don't want your yoga pants to burst at the seam when you are doing your routine stretches, you need to get you a Brother DZ1234.
The machine also has the capability of sewing knits together perfectly unlike conventional sewing machines.
If you work with knits and stretchy fabrics like spandex a lot, this Designio is your best bet. It is also fairly easy to set up and use, thus highly recommended for beginners. The bottom line is, this machine can do so much that a conventional sewing machine cannot.
The number of threads
The most outstanding feature of the Brother DZ1234 is its 3 or 4-thread capability. You can use either 3 or 4 threads depending on the type of project you are running. It does not do 2-thread flat-locking Trusted Source Serger Sewing
Flatlocking Flatlocking can be used as a decorative stitch. Most sergers can flatlock if they have a two-thread or three-thread capability, but the tension range of some sergers may be too limited to sew perfect flatlock stitches. fcs-hes.ca.uky.edu which is a common feature among other models within its range.
The 3-thread option uses one needle and is the best for achieving perfect knits and lighter fabrics. The 4 thread uses both needles and is the best for achieving a perfectly secure seam. It is ideal for seams that get a lot of pressure dancewear, gym wear and swim wear. It is also perfect for heavier weight fabrics like denim.
Stitch types available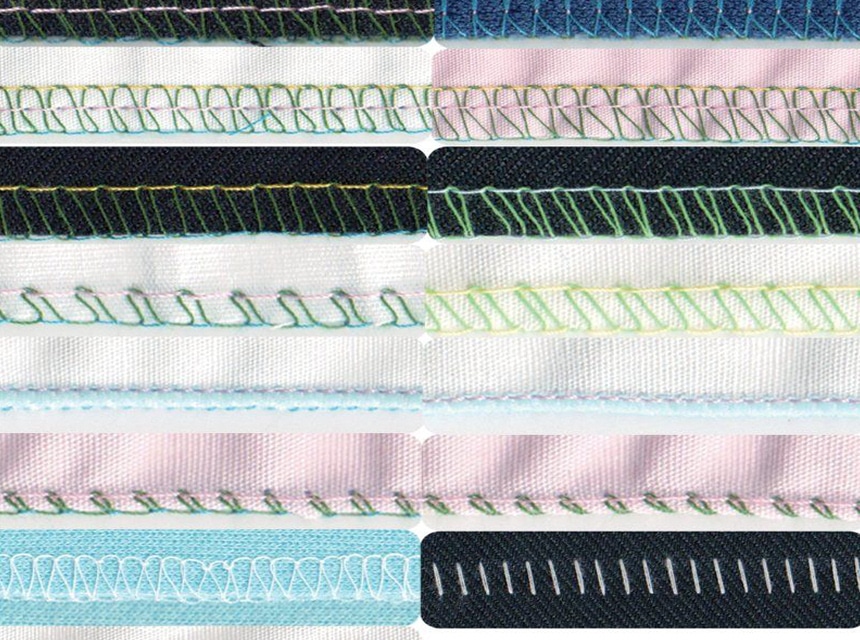 Brother offers 22 different stitch types. This is a bit on the lower end as more expensive sergers by other manufacturers offer more options. The 22 stitches include 4 thread overlock, 3 thread overlock, narrow hem, ribbon lock and rolled hem. As a beginner and even an old hat sewist, the 22 stitch options are more than enough for the common sewing projects.
Do note that this machine does not do buttonholes like other serging machines. Also, it is not ideal for zippers. On the bright side, you can adjust the stitch settings to customize the stitch to fit the needs of your project.
Stitch width and length
One of the main reasons why you are looking to buy a serging machine is because you need to work on stretchy fabrics. There's no debate that stretchy fabric is beautiful and comfortable but sewing them can be a hassle, especially if you are new to the sewing and serging trade.
Sewing speed
Sewing is super-easy and quick with this Brother Designio machine. You will be sewing at a flash speed of 1300 SPM. With such a speed if you fail to meet your project deadlines it's all on you. In fact, it is highly recommended for businesses that are in the fashion industry because it can stitch and repair in minutes.
Stitch controls
The Brother DZ1234 has an adjustable stitch width and stitch length that arm you for any type of fabric. You can adjust the stitch length anywhere between 2mm and 4mm and the stitch width anywhere between 4.5mm and 7mm. The width control will really come in handy when you need to make flat seam finishes, especially if you are working on lightweight fabrics.
Ease of use and user-friendly features
Ease of use is such a big concern when it comes to Sergers. The multiple thread capability and the idea of blades cutting through fabric is frightening especially to sewing and serging newbies. You will need a little practice with virtually every serging machine to get used to its functionality. After a few uses, you will realize the Brother DZ1234 is a very easy to use serger.
For starters, the machine is fairly easy to set up as it comes pre-threaded. If you ever need to re-thread it, you will have to do it manually because it doesn't come with an automatic threader.
Threading is going to need some patience. You can refer to the manufacturer's instructions on the user manual that comes in both English and Spanish. There's also a techniques CD and book provided for complete novices. The first time you thread will feel like a chore but with more practice it'll get easier.
On the bright side, the machine has a couple of features that make using it incredibly easy like color-coded threading, free arm, and adjustable differential feed ratio.
The Serger is color coded to make threading less of a chore. You are provided with an easy-to-follow color coded guide on the front of the machine for both the needles and upper/lower looper threading. The entire system makes threading less complicated.
The Free arm feature gives you an easier time sewing sleeves, pant legs, collars and small children clothing. Anytime you want to give the hard-to-reach areas on your project a clean professional finish, you simply remove the flatbed extension and use the free arm work area.
Adjustable Differential speed
The adjustable differential feed ratio allows you to sew different types of fabric with ease. It controls the ratio of movement between the front and back feed dogs to facilitate the smooth feeding of fabric beneath the needles.
The best thing about the Brother DZ1234 is that you can choose the settings of the differential feed ratio when making ruffles or gathers as you operate the machine. The adjustment mainly involves changing the speed of either feed dog under the presser foot by simply pressing a lever on the side of the machine. Besides creating beautiful gathers and ruffles, this feature will help you avoid puckering on lightweight fabrics as they move beneath the needles.
Durability and warranty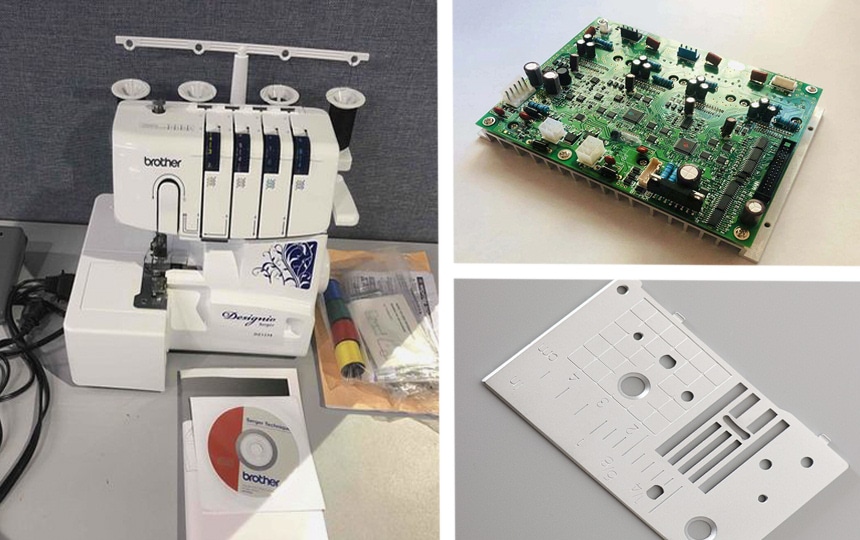 Brother is a world-famous sewing machine brand. It needs no introduction in almost every corner of the world and is a top-favorite for many because they produce reliable long-lasting machines. The Brother DZ1234 is no exception. It boasts a rugged yet lightweight build that feels solid and easily portable at the same time.
Its incredible durability is backed by a whopping 25-year warranty cover. You get a 25-year cover for the chassis unit, a 5-year warranty for the printed circuit boards and one-year cover for the accessory items and other parts of the machine. In case you encounter any trouble with the printed circuit boards and the machine is within the warranty period, you will have to pay for labor for the replacements. Brother insists on checking the original purchase date before making any repairs or replacements. Therefore, ensure you keep your purchase receipts safe should anything happen.
Portability
The Brother DZ1234 comes in a compact and lightweight build. Coming in at just 18.1 pounds, you can bring the machine with you anywhere you want. Also, it won't hog all the space on your sewing table. The good thing about buying a lightweight sewing machine is that you will never need an extra pair of hands to move it or tuck it away in a closet until the next time you need it.
What's more, at the front of the Serger, there's a small compartment included to hold your sewing essentials. You can throw your needles, spools, and feet in the compartment. This not only gives you easy accessibility but also helps you maintain a neat working area.
Price tag
Sergers can really cause a dent on your wallet. The Brother DZ1234 is an exception. It doesn't really weigh heavy on the pockets, thus a great beginner choice. It is advertised at a pocket-friendly price point of 380.63 dollars, and it comes with almost everything you need to get started. You won't need to buy things like needles and feet with your pocket change.
Key features
Here is a rundown for some of the top features of the Brother DZ1234;
22 Serger stitch options
Uses LED for lighting
Uses a lower knife drive type
Uses 2 needles
Lightweight build (18.1 pounds)
Features 4 types of specialty feet
Adjustable stitch width and length
Color-coded threading for added convenience during thread changes.
Differential feed fabric ratio of 0.7 to 2.0
1300 SPM maximum sewing speed
Screw type for measuring adjustment of presser foot
3 interchangeable feet included; gathering, piping and blind hem stitch
Free arm or flatbed sewing surface
2 starter thread sets
Multiple accessories including; needle set, cleaning brush, wrench, thread and spool cap, thread net, tweezers, and trim trap.
PROS
CONS

Easily portable
Durable build
Color-coded threading convenience
Does not require any special needles
Compact build with handy storage space
Smooth and quiet operation
High-quality and flash speed stitching
Affordable
Comes with an easy-to-read user manual in English and Spanish
Multiple accessories

Does not have automatic threading
Might be challenging to use for serging beginners at first
It cannot be used in countries that don't support the 120V AC electrical current
Conclusion
The Brother DZ1234 is the best serging machine any beginner or intermediate sewist can lay their hands on. It is packed with features that offer great versatility and ease of use. It is the ultimate machine for learning how to use a serger owing to its clearly-written user manual and techniques CD and book. If not for its lack of automatic threading, the Brother DZ1234 would score a clean 100 for being the best cheap Serging machine. As you can see from our Brother DZ1234 review, this serger is still  the best you can get for completing tasks, in the fastest, easy and most comfortable way.
References
1.
fcs-hes.ca.uky.edu
Flatlocking can be used as a decorative stitch. Most sergers can flatlock if they have a two-thread or three-thread capability, but the tension range of some sergers may be too limited to sew perfect flatlock stitches.