If you need to replace your old serger with a new one, you may want to consider getting Brother 2340CV. There are many models available today, but this one stands out from the rest. The chain and cover stitch machine allows professionals to put finishing touches to their garments. There are many interesting things to learn about this model and its features before you decide to buy it. We hope that the information provided in this Brother 2340CV review will help you make up your mind.
This product's also been included into these rankings:
Specifications
Functions
Chain and cover stitching
Stitch width
3mm to 6mm for cover stitch
Dimensions
13 x 15 x 13.4 inches
Brother 2340CV Chain and Cover Stitch Machine Review
The Brother 2340CV is a very functional sewing machine and a great device for professionals. It is not like the regular sewing machines you find today. This model can produce unique stitches like chain and hem ones which are necessary to finish almost any garments. We will be taking a closer look at all its unique features.
Overall Performance and Functions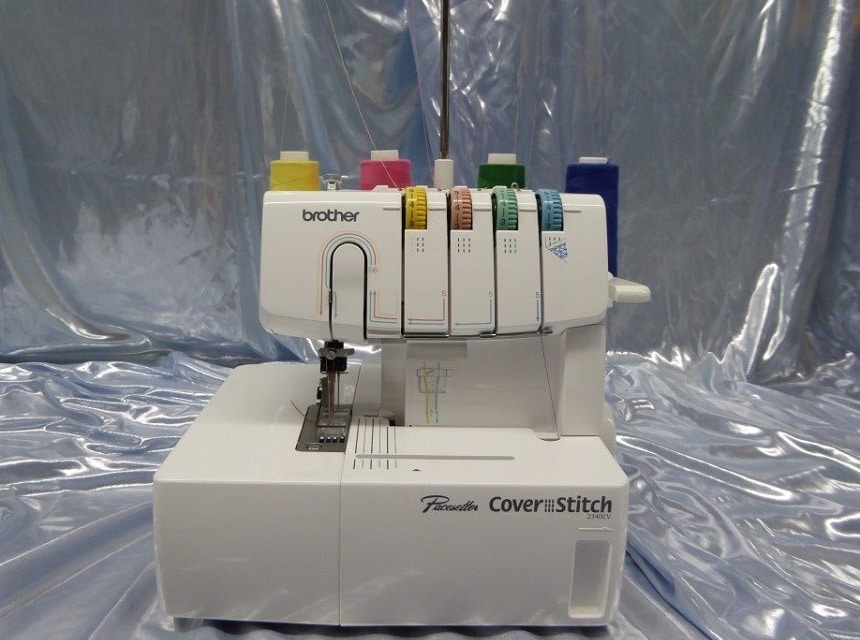 The 2340CV cover stitch machine creates stitches with the best results. The stitches add some flexibility to the material and make it durable when compared with other sewing machines. You can use it to cover the raw edges of your fabric to make a beautiful cover. In terms of its design, this Brother sewing machine is solid and designed with quality materials. It is a noiseless sewing machine and will allow you to work quietly without disturbing your neighbours. The sewing machine comes with all the tools you need to do your work. It also has additional accessories and an operation manual to help you understand how to use the Brother 2340CV sewing machine.
It is an excellent machine for making professional hems, attaching laces, elastic and other decorations on the edge of your fabric. Surprisingly, with all of the amazing features present in this sewing machine, it is lightweight. The machine only weighs about 13 pounds which makes it easy to carry around. Overall, the Brother 2340CV is a functional and versatile sewing machine.
The Number of Needles and Threads
When it comes to threading a serger, it can be an arduous task for newbies. Even some professionals also struggle with threading a serger. One of the benefits of using the Brother 2340CV sewing machine is that it has a colour-coded guide that shows you exactly where to place each thread. You also have the option of choosing three or four threading settings to get a perfect stitching pattern. These multiple threads and the option to pair them with different colours of threads allow you to make beautiful cover stitches.
There is also a bag that comes with this sewing machine. It holds all the different needle sizes depending on the thickness or thinness of your fabric. You can use these needles to handle any sewing projects on this sewing machine.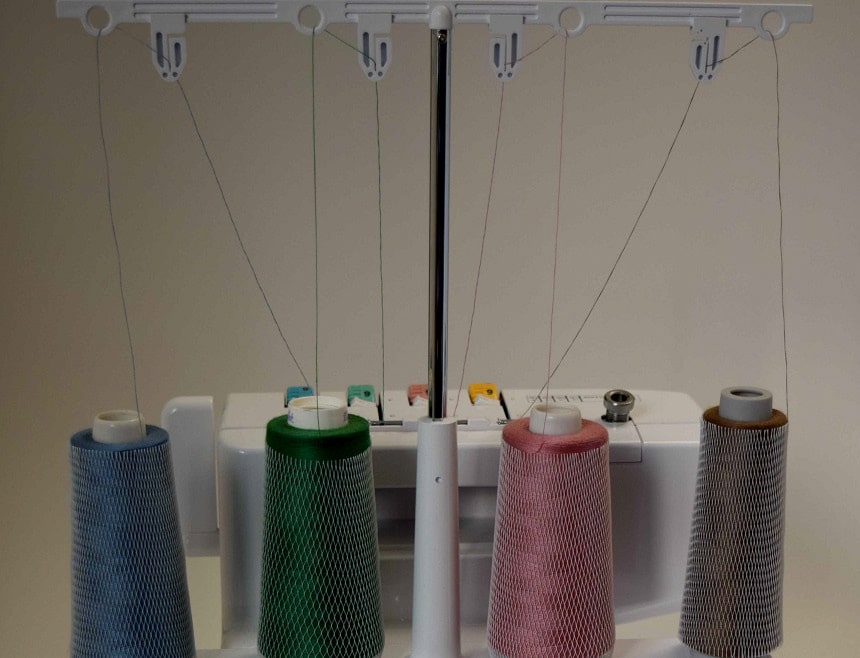 Stitch Types Available
This Brother sewing machine has an incredible threading system. You can make several stitches using this sewing machine conveniently. The Brother 2340CV can be used to make wide and narrow cover stitches. You can also make a tri- cover stitch and chain stitches with this machine. This ultra-modern sewing machine will help you get your sewing done in the quickest possible way and with a professional finish.
Stitch Width and Length
It has an adjustable dial that allows you to control the length of your stitches. You can adjust the length from anywhere between 2mm and 4mm. With the combined use of the adjustable length with the gathering foot and different coloured threads, you can make beautiful stitches at your desired length.
Sewing Speed
It is equipped with a looper threading system that's easy to use and produces fast results. It can make 1,100 stitches per minute. Projects get completed in no time with the 2340CV.
Stitch Controls
If you are having any issues with understanding the stitch controls, you can always refer to the manual. First-time users will need the manual to understand how to install and operate the server. The sewing machine's advanced serger will help you achieve so many sewing patterns. It has a fast looper and threading system that helps save time. It also comes with a blind stitch foot that allows you to bind the hem of your dresses and make decorations.
Ease of Use
It is easy to operate this cover stitch sewing machine from Brother. The design makes it user-friendly, and you also have access to a manual that you can always refer to. If you have little experience using any sewing machine, you can easily operate the Brother 2340CV sewing machine. This sewing machine can be operated by both beginners, intermediate and advanced sewers.
Durability and Warranty
You get a warranty on this sewing machine after purchase. The manufacturers included a 25-year warranty on this advanced serger in case of a defect from the manufacturer. You also get a 90-day warranty on other parts, including labor. You will also find a customer support number written at the back of your service manual to contact the company to resolve any of your queries. However, it is important to note that the Brother 2340CV is a durable sewing machine. The parts are sturdy, durable, and can take a beating.
Key Features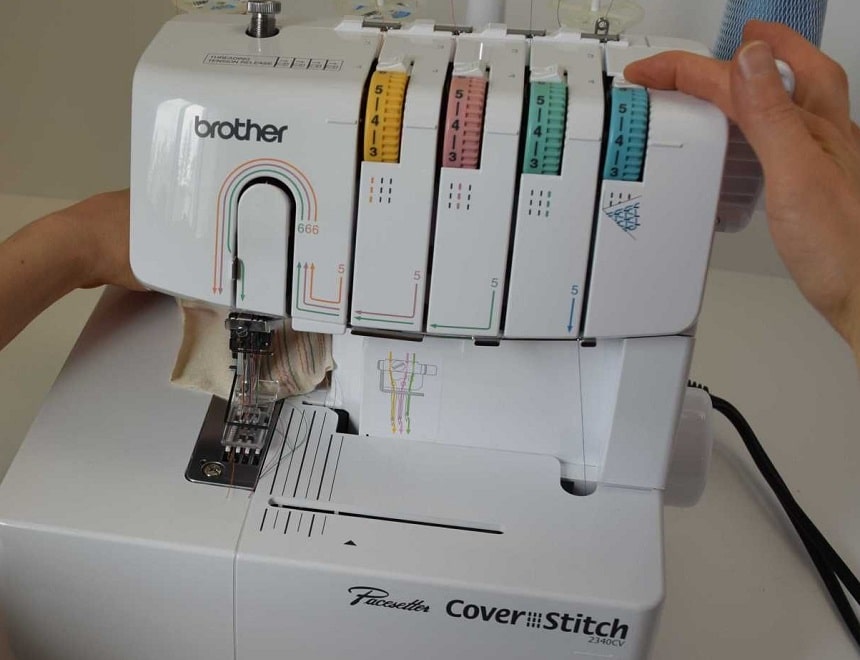 There are many reasons why we prefer this sewing machine. The Brother 2340CV sewing machine is capable of handling any sewing job. This machine packs quite a number of amazing features; we will discuss them below:
The Brother 2340CV sewing machine comes with a lever that allows you to adjust your stitches to make them properly aligned. It permits you to make more accurate stitches and also acts as an adjustment for the machine's differential feed. You can use the level to control the front and rear feed dogs of the machine.
Another major feature of this sewing machine is its differential feed. This part of the Brother 2340CV sewing machine is the major component that allows your sewing machine to handle different fabrics and materials. The differential feed allows you to sew smoothly without creases or wrinkles forming on the fabric whether it is thick or thin.
The sewing machine also has a one-hand thread cutter which you can use to snip the thread easily. This makes it easy for you to use your other free hand to do other tasks.
It has an inbuilt LED light bulb to help you see in a dark environment when sewing. It will also make your sewing clearer when working with dark fabrics, or if you have a weak sight, so you make accurate stitches.
Easy-to-follow lay-in threading
Just like the other high ranked sergers in the market today, the Brother 2340CV sewing machine is designed with a lay-in threading feature. This feature allows you to thread your needle conveniently. It is great for beginners and also for experts wanting to save time when sewing.
Presser foot pressure adjustment
The sewing machine comes with a pressure foot that helps prevent you from getting uneven seam. You can use this function by lifting the presser foot before placing your material under it. This will help you get a more accurate and even seam. Also, adjusting the sewing machine's presser foot prevents your fabrics from puckering, and this feature allows you to do curved sewing. You can get curved sewing by simply turning its screw.

The best part is that you won't have a problem with this because the sewing machine is designed to be adjustable to any suitable pressure. The adjustment should be made only when working with very light or heavy fabrics.
Price Tag
For a machine with an advanced server, you can get the Brother 2340CV for less than $330. This price is great considering it is an advanced-level sewing machine. It is affordable for people on a budget, and you will enjoy the value's worth. The sewing machine will serve you for all your projects, as it can take on heavy and light sewing tasks.
PROS

CONS

Operates quietly
Quite easy to operate
Easy color-coded guide for placing threads
High sewing speed

Complicated tension release
No free arm
Conclusion
The 2340CV sewing machine from Brother is a fantastic machine that will give you options to make beautiful cover stitches. It has a handy color-coded threading guide to make your sewing routine quicker. You can take advantage of its other amazing features to make beautiful dresses. The Brother 2340CV sewing machine gives your garments a professional finish. It is used mostly by experts who want to do a perfect job. If you are planning to get an advanced-grade sewing machine, we recommend you get this sewing machine. Hopefully, our Brother 2340CV review has covered everything you need to know about this sewing machine.