If you are in the market for an affordable, yet powerful serger machine, the Brother 1034DX should be one of your first choices. Suitable for beginners and intermediate users alike, the Brother 1034DX sewing machine is packed with features and comes with a budget-friendly price tag. This machine will provide you with consistent high performance while also being very easy to learn how to use even if it's your first time with a sewing machine. The Brother 1034DX Serger offers a 3/4 sewing option that is suitable for a wide range of fabrics.
The Brother 1034DX fits the needs of just about any user level and it packs a wide variety of features so you can complete your projects quickly. Our complete review of the Brother 1034DX will answer all the questions you might have before buying this sewing machine, whether for personal or commercial purposes.
This product's also been included into these rankings:
Specifications
Speed
1300 Stitches Per Minute
Overlock seam width
5-7 mm
Dimensions
11 x 11.7 x 13.2 inches
Brother 1034DX Review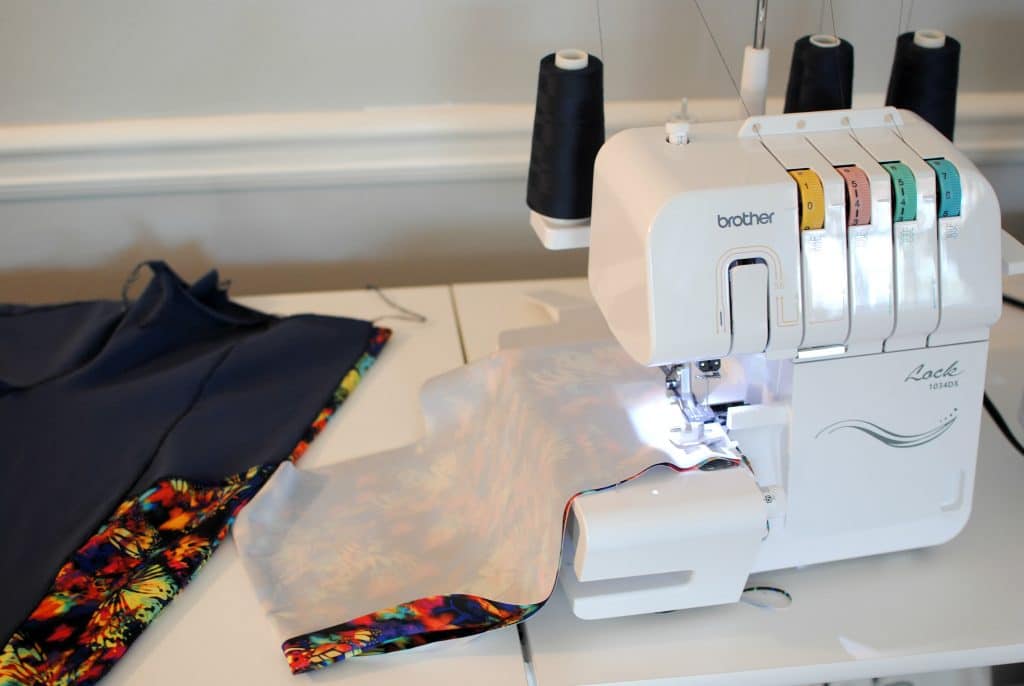 Brother is one of the first companies that comes to mind when we think of top-quality sewing machines. A long-term producer of fully featured computerized sewing machines, Brother is also known for its consistency and sturdiness of their products. The Brother 1034DX is no exception, as it works efficiently on a wide variety of fabrics and fits most purposes, from beginners trying their hand at their first projects, to experienced hobbyists and even professionals. The Brother 1034DX is a newer, updated version of the company's best-selling Brother 1034D serger, and though there aren't many differences between the two models, it does offer a slightly better lighting area
Some of the specialties that you may expect to find when buying the Brother 1034DX Serger machine are the easy process of threading and the functioning of the differential feed. This is also a sewing machine that comes with a wide range of accessories and multiple stitch options, so you can easily adapt it for your particular projects.
Some of the key features of the Brother 1034DX serger include:
Versatile stitch options
Differential fabric feed
Free arm for sewing sleeves and cuffs
Lit working area
Built-in storage
2-point thread tension control device
Overall performance
The Brother 1034DX packs quite a punch for a sewing machine of its size. If you are new to the world of sewing machines, you may wonder what a serger is. This is a specific type of sewing machine that is designed for making seams and other types of similar stitches. For this reason, they are able to use multiple lines of thread at the same time. Also known as overlocking machines, sergers are not replacements for regular sewing machines, as they cannot be used for things like zippers, buttonholes, topstitches and the like.
The Brother 1034DX overlock is a 3/4 thread serger, which translates into having the ability to use three or four threads for creating seams. The color-coded threading system is very intuitive and easy to use. Moreover, the machine has 22 built-in stitch functions, which are quite a lot for a serger. This is a specialized machine that caters to a wide array of uses.
Ease of use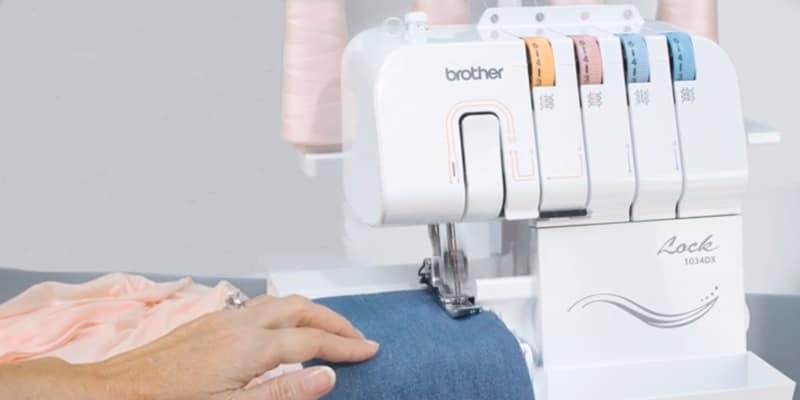 Overall, the Brother 1034DX serger is very intuitive, and the comprehensive user's manual has all the information to get you started right away even if you haven't used a machine of this type before. No matter what level you are, the machine is very straightforward to use, and even though it has lots of features that may look a bit overwhelming at the beginning, you will find that they are not complicated once you get into the hang of things. Moreover, the color-coded threading system is very easy to follow and since the lower looper threading system offers excellent support, you can focus on serging and the threads are sure to remain in position.
Sewing speed
The stich speed of the Brother 1034DX is up to 1300 stitches per minute, and once you get the hang of it, you will find that it is very easy to obtain great results at top speeds. The speed is adjustable, so you can find the right one for the type of fabric and stiches you are doing. You can easily adjust the speeds via an intuitive dial, and the process of doing so will not waste your time.
Built-in stitches, stitch length and width
The Brother 1034DX comes with 22 built-in stitches, which may not sound like much when you compare it with the more than 100 stitches that are available even on budget, regular sewing machines. However, this is quite a lot for a serger, and enough to create all the seams you may need. You can perform 4 thread overlock, 3 thread overlock as well as ribbon lock, rolled hem and narrow hem stitches with the Brother 1034DX serger. Optional presser feet are also available from Brother, and with them you can perform additional stitches such as flat lock, blind hemming and pin tucks. The overlock seam width is adjustable between 5.0 – 7.0mm. The stitch length is 2.0 – 4.0mm, while the stitch width is 5.0 – 7.0mm. Switching between various widths is very easy and you can change them according to the type of fabric you are using for a particular project.
Free arm
Despite the fact that this machine is rather small, you can still use it for larger projects thanks to the free arm. The Brother 1034DX machine comes with a removable free arm or a flatbed convertible, which allows you to sew tubular pieces more easily. All you need to do to use the extension is click it into place, position the fabric, and start sewing as usual. The free arm component also allows you to move the machine around easily.
Lighting
Brother has thought of just about anything for the Brother 1034DX, and this includes a lighting bulb so you can easily see the project you are working on even in low light. The bulb is replaceable, with spares readily available from Brother.
Extra accessories
The machine comes with several extra accessories, including two snap-on feet, a soft cover for storage and transportation, a foot controller, multiple needles, four thread nets, four thread spool caps, an instruction manual and an instruction DVD to get you started right away. A cleaning brush is also included so you can keep your machine in tip-top condition. You can also purchase extra accessories for the machine from Brother or third parties. A hard cover, for example, is a good choice for those who want to be able to transport the serger safely.
Dimensions and weight
The dimensions and weight of a serger are particularly important factors to consider when shopping for such a machine because they will determine whether the machine is easy to move from one place to another and whether it will fit well in your designated sewing space. The dimensions of the Brother 1034DX are 11.73″ x 10.98″ x 13.19″ and the machine weighs 13.45 lbs., which makes it quite lightweight and portable.
Price
The Brother 1034DX currently retails at just under $240, which doesn't make it the cheapest serger out there, but it's still a great price considering the multitude of functions and features this machine offers. It's a great choice for those who are just getting started, while also offering advanced users good value for their money.
Key features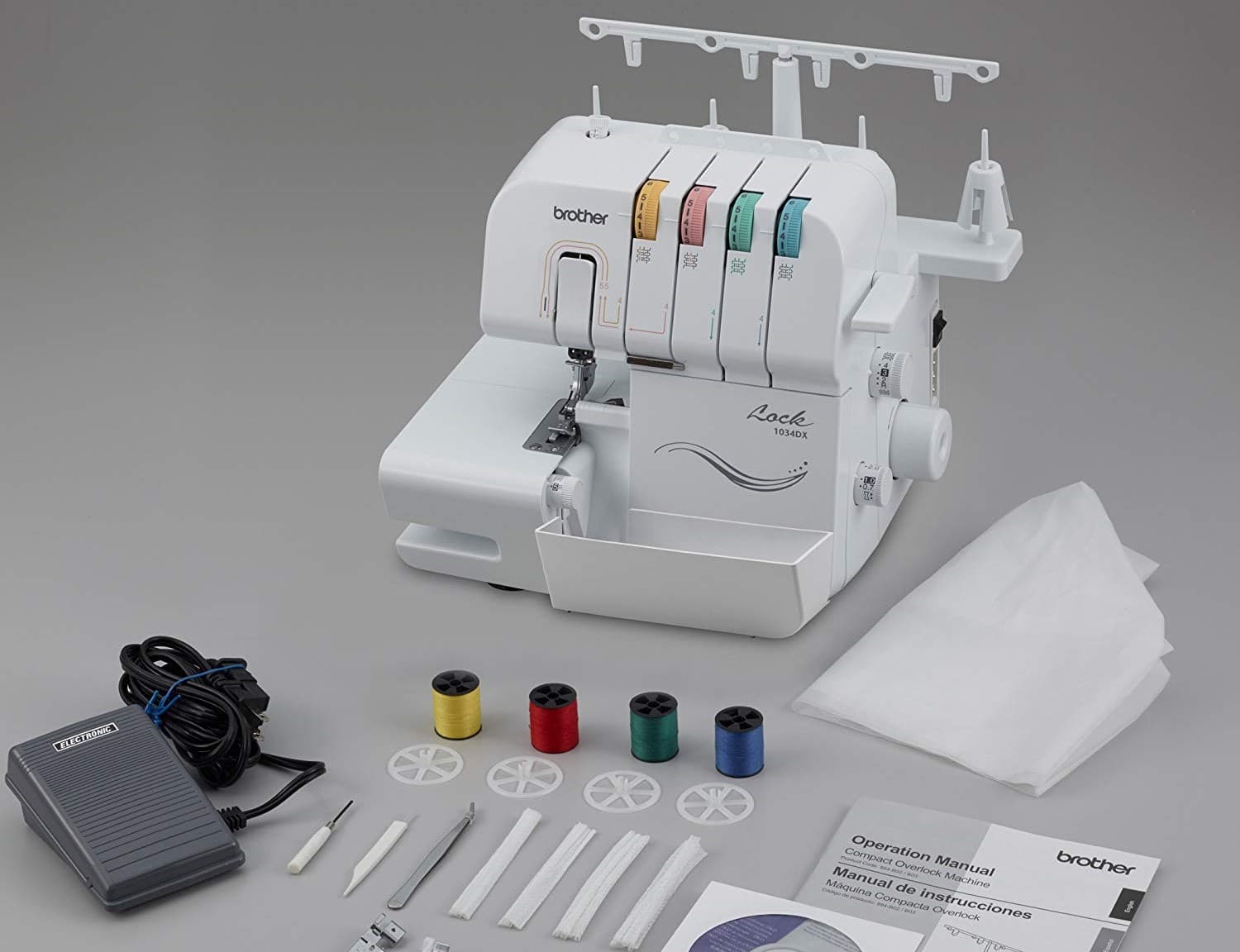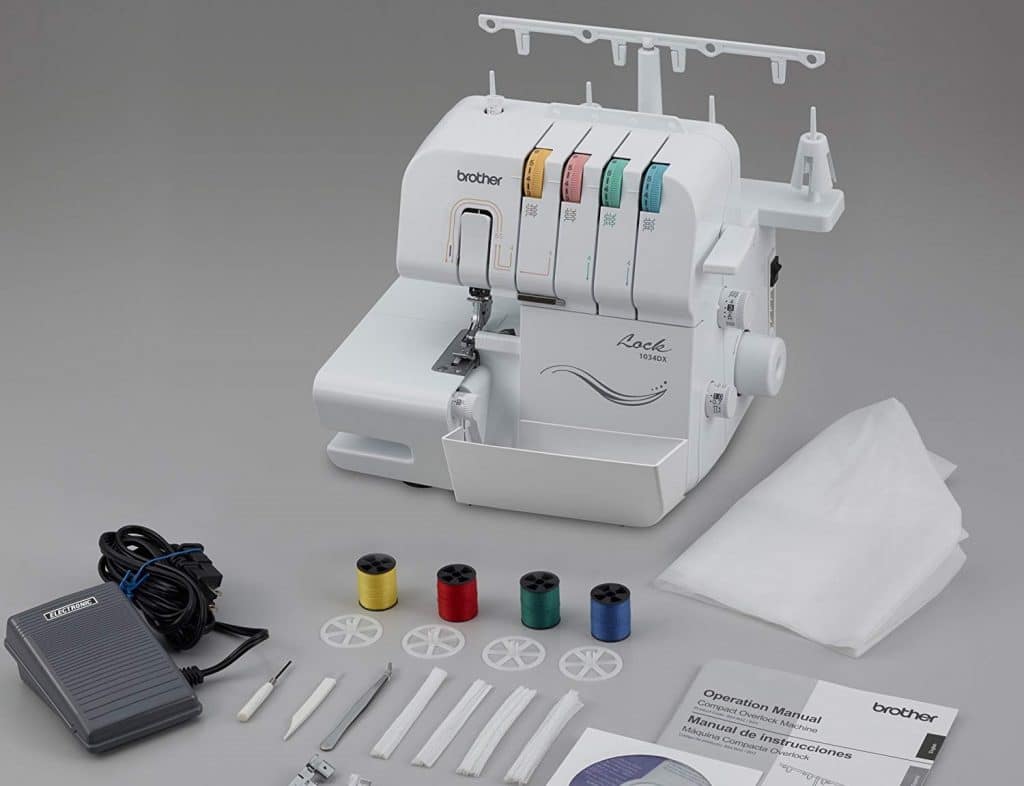 As you have seen above, the Brother 1034DX comes with a wide range of features and functionalities to suit the needs of all kinds of crafters. Here are some of the most important of them:
Two needles and 3/4 thread to suit a wide variety of projects
Easy color-coded threading for ease of use, particularly useful for beginners. While some users mentioned that the system may be a bit frustrating the first couple of times, once you get the hang of it, you'll find out it's quite intuitive.
Fast stitching of up to 1300 stitches per minute enable you to finish all your tasks quickly without compromising quality.
Differential fabric feed for enhanced stitch quality – this feature comes in very handy when you work with stretchy or knit fabrics, because it allows you to avoid that bumpy or wavy look.
Adjustable stitch width that you can easily change according to your project
Free arm for creating sleeves and sewing cuffs
Two-point thread tension control device that lets you adjust the tension for each of the needles for precise sewing
Presser foot pressure adjustment dial for extra easy controls
The retractable knife blade prevents accidentally cutting your fabric when you work closely to rolled hems. You can also easily tun off the knife blade completely for projects where you don't need to trim the edge.
Bulb light for a brightly lit work area. The bulb is also replaceable and the parts are readily available for extra peace of mind.
The machine uses standard sewing machine needles so you can easily replace them at a low cost.
The built-in storage space lets you keep all your accessories and threads on the front panel, where they are very easy to access.
The instructional DVD and bilingual operation manual help to get you started right away.
PROS
CONS

Easy to use – the Brother 1034DX may look a bit complex in the beginning, but its features are intuitive and easy to understand even by beginners.
Color-coding system – the color-coded threading system is also intuitive and makes the machine suitable for beginners.
Price point – this is a very affordable serger for the number of features it comes packed with and the quality of the seams.
Three or four threads – when buying a serger, the number of threads is one of the most important factors to consider. With this machine, you get three of four threads for professional results.
Fast stitching speeds – with speeds of up to 1300 SPM, the Brother 1034DX allows you to complete your projects in no time.

Even though the machine comes with an instructional DVD, many users mentioned that the low resolution makes it a bit difficult to watch.
You can only use rolled hems on some fabrics, particularly thinner ones.
All the controls are on the left side, so the machine may take a bit of adjustment for right-hand users.
Some users mentioned it is a rather loud machine. You may oil it regularly to improve this.
Doesn't come with the ability to cover stitch or chain stitch.