Looking for a user friendly device that can help you create fabulous sewing projects? That might just be the Brother 1034D and in our Brother serger 1034D review we'll share all you need to know to make an informed decision.
There's no question: you purchase quality products when you buy from Brother. The only challenge is to find the perfect model that suits your needs. For both beginners and pros there are features to love on the 1034D model, because it's simple to use, but contains advanced functionality. And it's even light and portable!
Want to know more? Here's the Brother Overlocker 1034D review every seamstress should read.
This product's also been included into these rankings:
Specifications
Speed
1300 Stitches Per Minute
Dimensions
11.73 x 10.98 x 13.19 inches
Brother 1034D Review
When you pick out a new sewing machine it's important you align its features with your specific needs. We'll list everything that's important regarding this model in our Brother 1034D review, so you can determine if it's the sewing machine your hobby or business needs.
Overall performance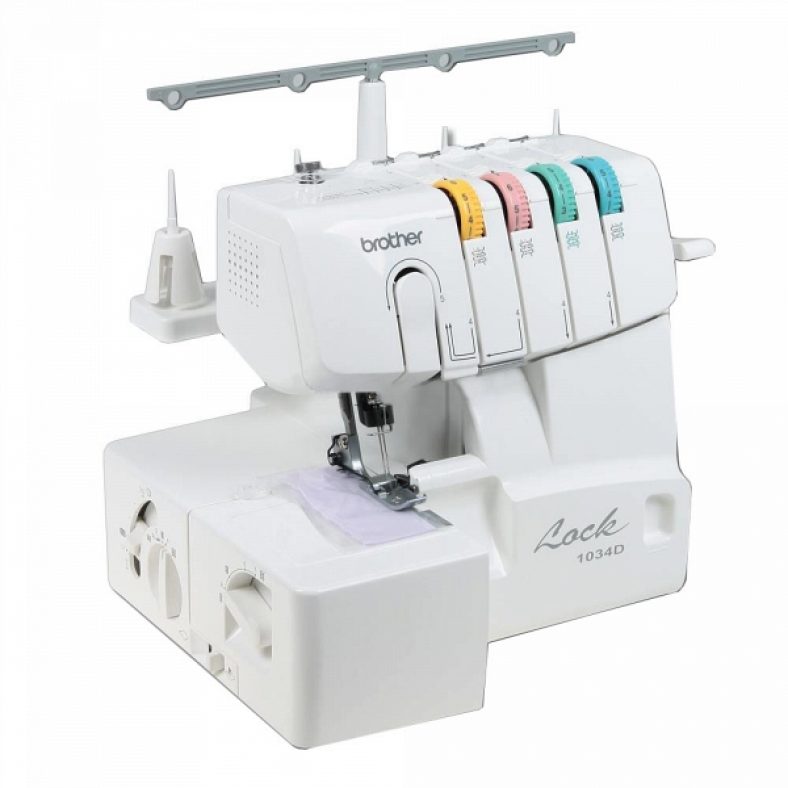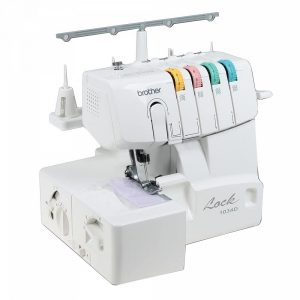 Start using the Brother 1034D and you'll quickly see why this brand is so loved in the industry. It's a quality unit that will last you a long time and the brand's 25-year limited warranty is proof of this.
It's a complete all-in-one purchase for anyone who wants to get into sewing, giving you basic features like sewing, but also empowering you with the serger function. And we love the design that includes a cover, so your new asset stays protected against dust.
The cover is also a carrying case, so you get a fully portable unit to take to sewing classes, or wherever your skills are needed. Rest assured this is a quality case, with metal locking mechanisms that will ensure it doesn't accidentally slip off when you're carrying it. This case's surface is easy to keep clean so your new asset will look brand new for a long time.
The 1034D delivers quality workmanship, so you can create high quality items, making it fit for professional use too.
It may be a bit loud to use, but not much worse than similar machines in this class.
One warning we will provide is that you should take care when working on thick fabrics, because it doesn't always work as well with them. If you work on a few layers, work with care.
Ease of use
Now, how does it suit someone who doesn't have any experience yet?
In our opinion, it can't get much easier than with this model. In our Brother 1034D review we saw the machine is easy to thread thanks to the provided instructions. Granted, you don't get a machine that will thread itself—that is the ultimate investment for many—but at this price you can't expect that. This brand luckily makes it easy for you to learn to thread your machine by adding color coded guidelines printed on the unit itself. Yes, it takes a few tries to get it 100%, but overall it's not too daunting a task.
Brother took it further and also created instructional videos, so you have back up options if you need them to understand exactly how to thread.
Sewing speed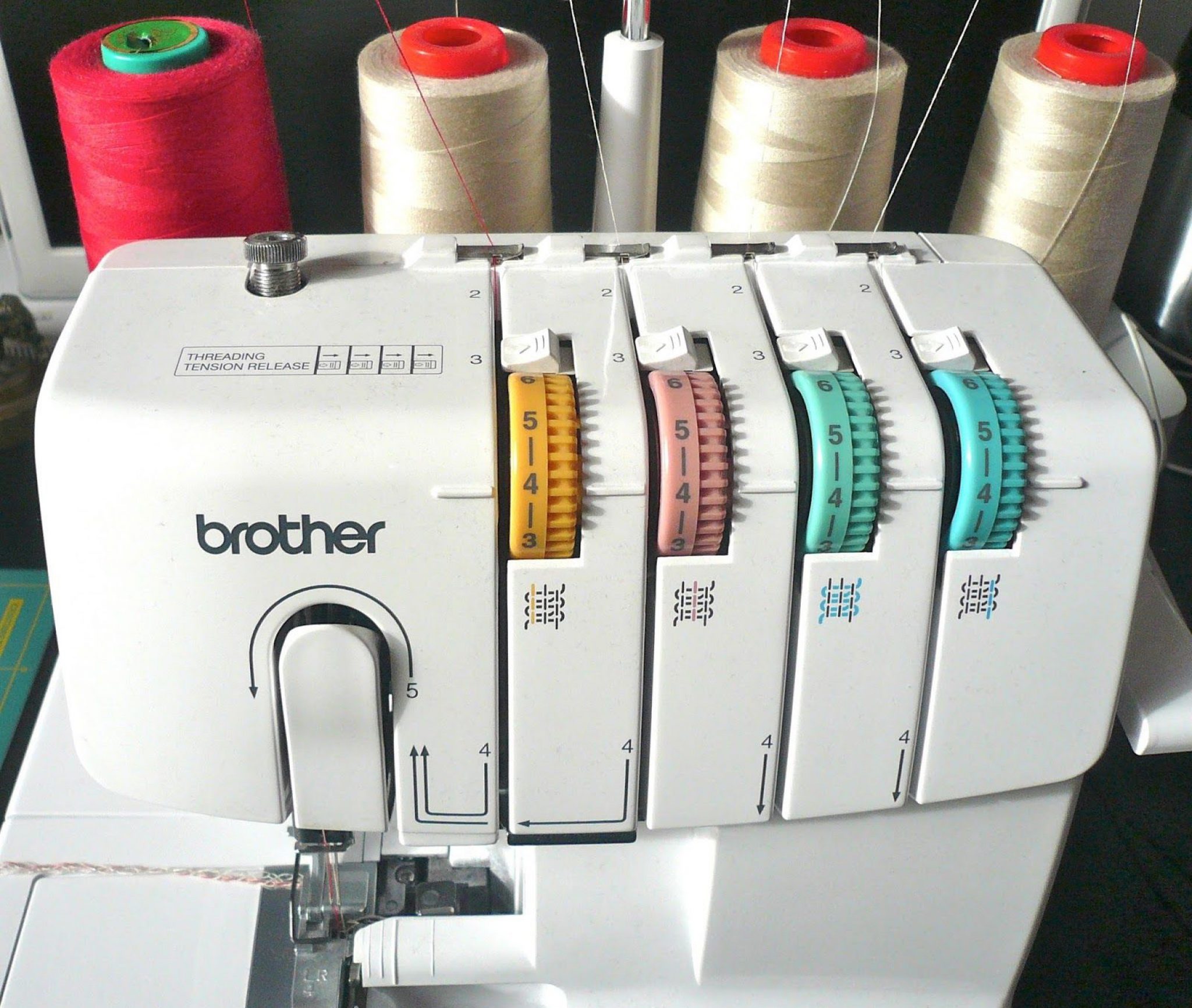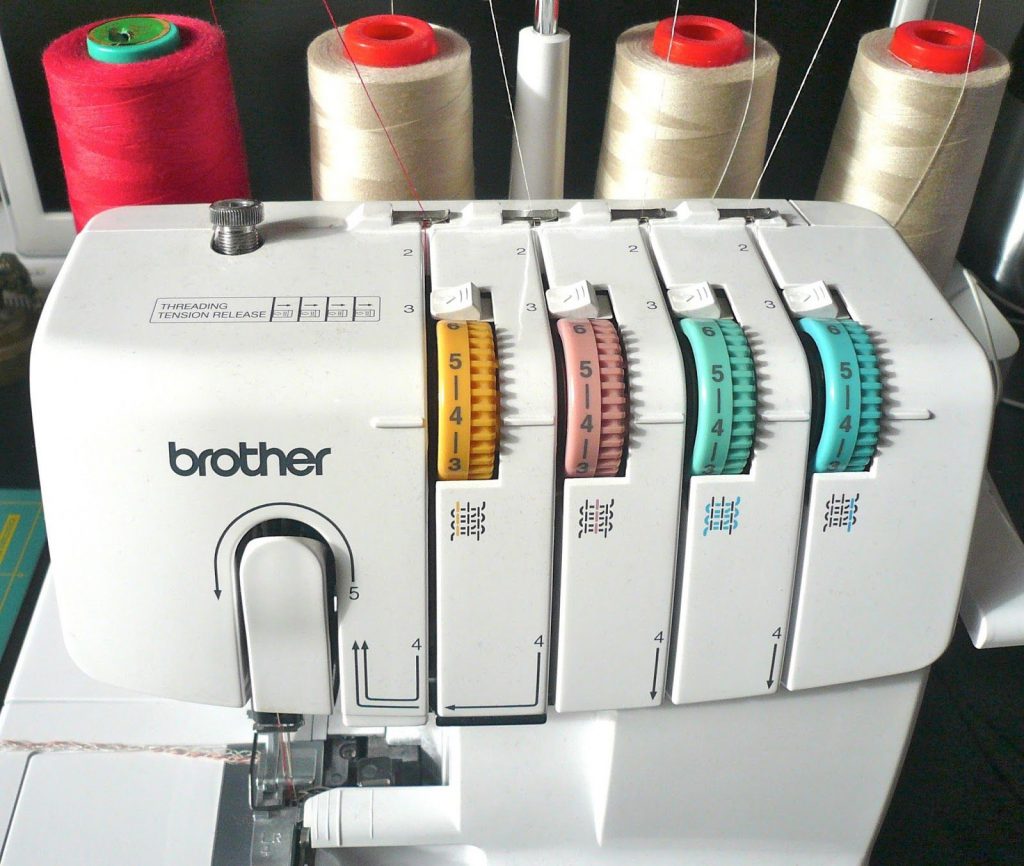 This machine is on par with many other machines on today's market, providing you with a speed of up to 1300 stitches per minute.
It's up to you which speed you want to work at though; you can regulate it with the foot controller. This is essential to ensure the user stays in control of the situation. Newbies may want to take it slow at first and not all projects require speed. This machine caters for all these situations.
Built-in stitches, stitch length and width, overlock seam width
When you're getting creative with your sewing your machine should empower you to let your imagination take flight. That's definitely possible with this machine because any Brother 1034D review will report how versatile it is thanks to the total of 22 built in stitches. It may not be the most extensive list on the market but it gives you a lot to work with, because you have options like a ribbon lock stitch included. This is all thanks to the provided feet, namely the gathering, blindstitch and standard feet. Additional stitches such as the flat lock type can easily be added to your list of options if you simply purchase other presser feet.
You can do both three and four thread overlocking; one more way you can customize your work according to your preferences.
The machine has settings that suit most basic products you may want to make, with the serger having stitch lengths between 2 and 4 millimeters. You can also adjust the width of the stitches and decide on any setting between 5 and 7mm. The same width applies to the overlock seam width.
You can set your preferred stitch by simply turning a dial. This is a user friendly method to customize your settings and a method many seamstresses are already used to.
The wide range of options makes this a practical investment whether you enjoy working on intricate clothing or simpler projects. The machine is also powerful enough for projects like making curtains. Some users even utilize it when they do quilting.
One thing to take note of is that certain dials are located on the left side of the machine, at the bottom. If you're right handed, making adjustments may be a little uncomfortable: you'll have to lean over or turn the machine if you can't manage it with your left hand.
Number of needles
On this model you can use needles number 11 to 14. It can take two needles and produce excellent workmanship thanks to Brother's admirable engineering.
Underlooper threader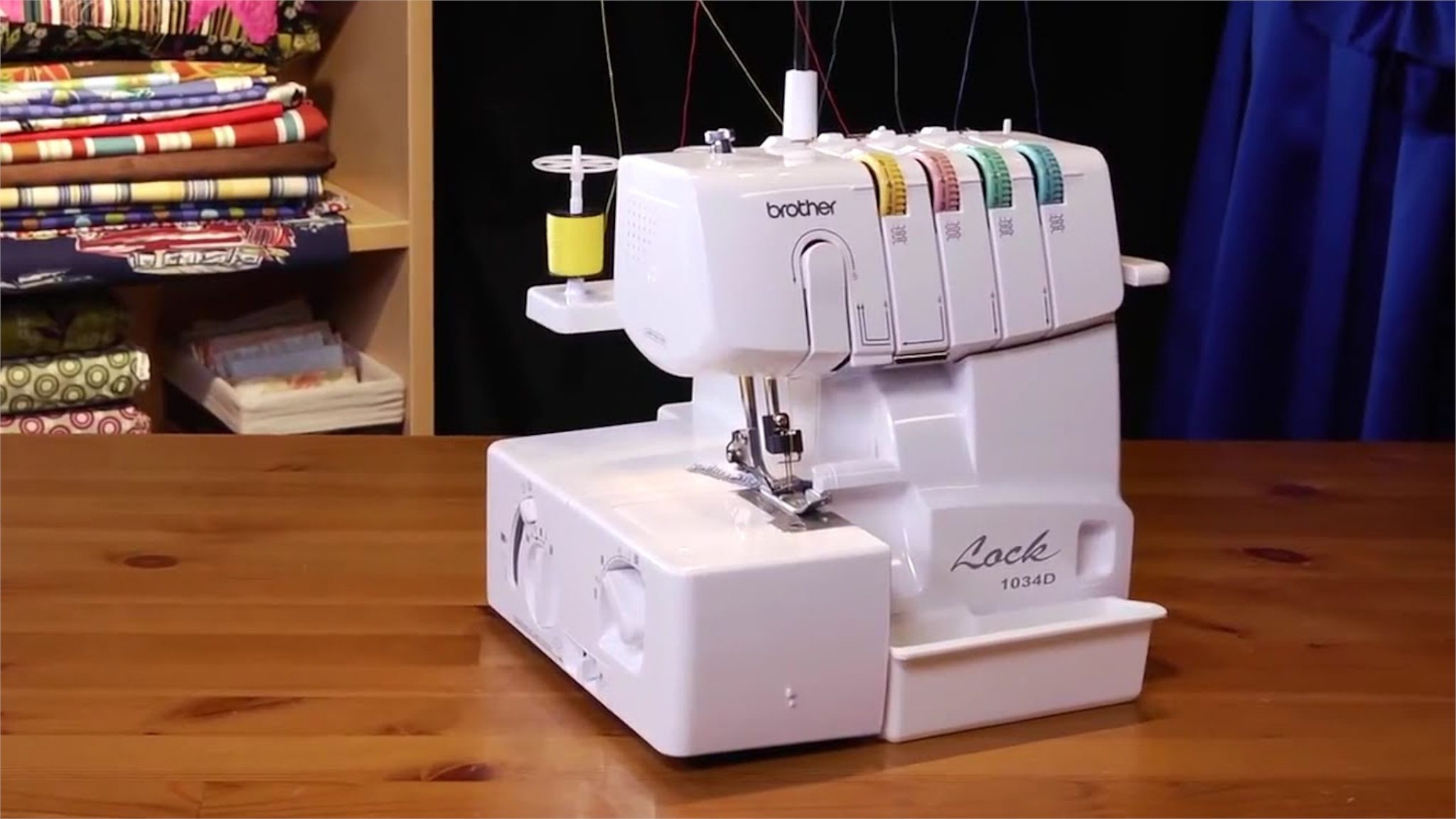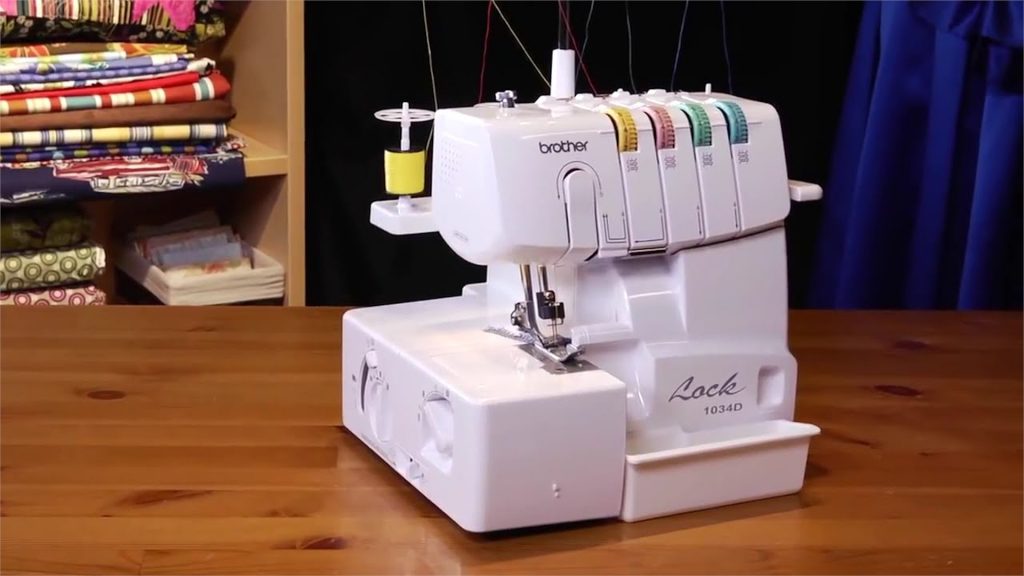 The unit has an underlooper threader incorporated into its 3-4 thread system.
Stitch fingers
There is one stitch finger as part of the Brother 1034D design. You'll be happy to know that this is one of the many components you can easily get replacement parts for from the brand itself.
Lighting
The brand makes sure you don't cause too much tension for your eyes by installing a light on the Brother 1034D. The bulb lights the work area sufficiently, but note that's it's not an LED light. Some may prefer an LED because it often provides brighter light and it tends to use less energy. This is a matter of personal preference and for this Brother Overlocker 1034D review we didn't think it was a deal breaker.
Dimensions and weight
This is definitely a portable unit because, as mentioned, you get a carry case included. The overall design also makes it easy to carry around because it's so light: at under 14lb you get a comfortable weight to take with you.
The dimensions are impressive whether you're looking for portability or a unit you can easily store in your cupboard. At 11.73" x 10.98"x 13.19" it doesn't take up much space. That also means you can consider this if your sewing room isn't very big—it won't feel too cluttered when you add this to your workstation.
Remember to measure your work counter before you purchase any sewing machine so you can gauge if you will be able to work comfortably after the machine is in place.
Price
This is one of the brand's affordable units that anyone can consider buying. And because you get more than one feature—it being a serger as well as a normal sewing machine—you get a lot of value for the price.
You should also consider budgeting for additional features such as more presser feet, because they can empower you to do even more with your new purchase.
Key features
Differential fabric feed
Retractable knife blade
Versatile
Thread tension adjustments
Various accessories
Perfect for newbies
Brother phone support
PROS
CONS

User friendly machine even for beginners
Affordable investment
Wide range of options enables customization
Lightweight
High speed

Can't do rolled hems on all materials
Not best layout for right handed users