One of the things people have the most sentimental attachment to is quilts. This is probably because the person who makes one does so with great love and care. Quilting has been around for millennia, and people still consider it as one of the best fulfilling hobbies to take up.
What is quilting and how to learn it?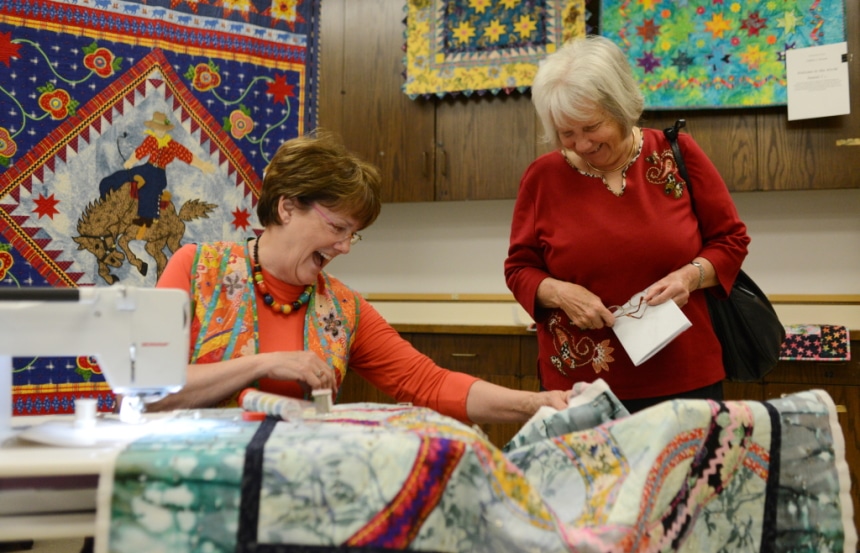 Quilting is simply the process of sewing at least two layers of fabric together. This is done to make a thick padded fabric that forms a quilt. Typically, quilting is done for warmth, and it involves stitching three layers of fabric together to create a decorative design.
Quilting can be done using hand or machine. Hand quilting requires the use of a quilting frame, special needles (betweens), and a quilting thread. While keeping one hand beneath the quilt, you should use your other hand to execute the stitches. The challenge that comes with hand quilting is to keep the stitches straight and uniform. Though this quilting method takes time, the stitches are small, uniform and artistry.
On the other hand, you can go for machine quilting using a regular sewing machine. Machine quilters use their walking foot to ensure that the quilt layers smoothly go through the machine. Quilting is done using the darn foot. This method is a bit complex as it employs an invisible monofilament thread to match the threads of the quilt. Each of the quilting methods described here has its unique advantages and disadvantages. However, each method creates a distinct visible shadow line.
Types of quilting
There are many quilting types that you can employ today. You will enjoy distinct patterns and originality, whether you use a machine or hand o quilt. Let us look into four basic quilting types;
Outline – This type of quilting requires you to quilt inside each patch. Its usually placed about ¼" away from the seamline. With the outline style, the quilt gets maximum strength while avoiding seam allowances.
Ditch – Quilting on the ditch requires that it be done on the 'invisible' low side of the seamline. With this method, you quilt close to the seamline of the patch.
Fill type – This type of quilting requires you to fill in and flatten the background. This allows the quilt top to expose the primary design magnificently. This type of quilting includes meandering quilting, channel quilting, crosshatching quilting, and echo quilting.
The allover quilting – You fill the entire top with a design while ignoring the seamlines.
Accent quilting complements instead of following the already existing seamlines.
Motif quilting follows the lines of design already drawn onto the quilt.
Selective quilting involves only quilting specific portions of design to accentuate their texture or color.
Quilting styles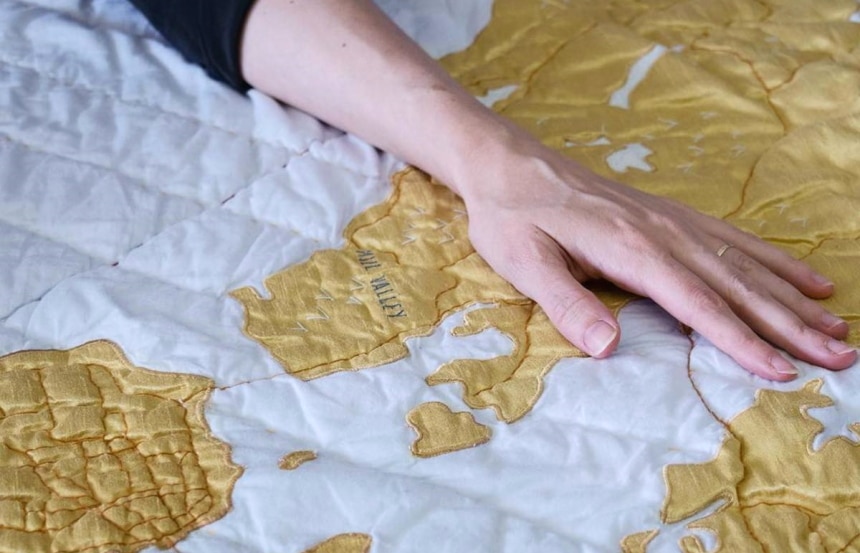 Applique quilting style – This type of quilting lets you use unique shapes other than the usual rectangles, circles, or squares. The quilts made using this style can be anything from bed quilt to wall hanging.
Pieced quilts – A pieced quilt can be any quilt that's made up of different fabrics that have been sewn together. A pieced quilt is also called a patchwork quilt. The advantage of this style is that it allows you to use different materials and designs.
Art quilts – This is a form of quilting that allows you to tell a story or convey some emotion.
Paper piecing quilting – This style of quilting, which is also known as foundation piecing, is quite common. This style requires that the quilt be stitched onto a paper foundation.
Quilting techniques for beginners
Quilting might seem complicated to an inexperienced eye. However, nothing more than a 'can do' attitude and a love for artistry is required to enter into the world of quilting. In learning the easy quilting techniques for a beginner, you will need to have the following;
A quilting hoop. Avoid using an embroidery hoop as it is not strong enough to support the weight of the quilt.
High-quality embroidery needles. You can go for John James crewel embroidery needles. These are hardy and won't break.
Clover open-sided thimble.
Piece of cloth – Perle 8 cotton.
A quilting thread
A pair of scissors
Every lover of quilting should start with learning hand quilting techniques. Once you learn the basics of hand quilting, you will not only have an easy time machine quilting but will be more appreciative of the whole quilting experience.
In hand quilting, you need to set the quilting hoop right in front of you. Tie a single loop on a medium-long thread. When sewing, the needle should come towards you. This way, you won't tire, and your work will be mastery.
Another quilting technique is sewing little pieces of fabric together. Machine quilting techniques are easy to learn for everyone. This quilting method requires that you have;
A quilting ruler
Rolle cutter
Self-healing cutting mat
A sewing machine
Pins
After cutting the fabric pieces necessary using the cutter and the ruler, join the pieces, you intend to sew together using the pins. The right-hand side of the pieces of cloth should be facing each other, and the edges should be even. While leaving a ¼" seam allowance, sew the pieces of the fabric together. Remember to press the newly made seam before moving on to joining another piece of cloth to the quilt.
Hand quilting techniques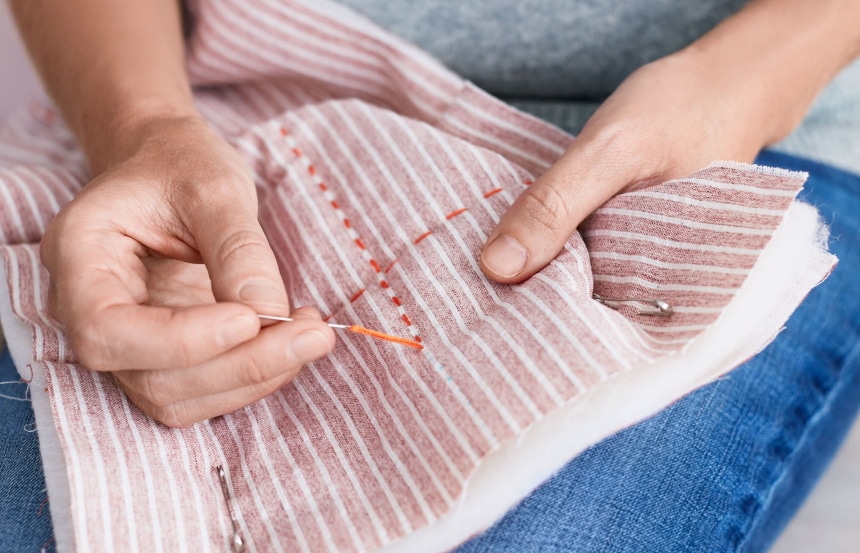 Hand quilting is a simple fun hobby that will help you discover new untold ways to accentuate the interior décor of your abode and also relax. Hand quilting involves you picking a thread that blends while making your chosen fabrics become work of art. Remember, with every hand quilting technique, the secret to tight and uniform stitches is to keep the needle perpendicular to the fabric when pulling the thread straight through it. Here are some simple quilting techniques for beginners;
Punctuate gingham squares
Trace a motif
Stitching your way down
Create a seamless border
Micro stipple a simple a mini pattern
Enliven checks
Strip quilting techniques
Strip quilting is one of the versatile quilt styles that allows you to design towards endless quilting directions and lengths. It also allows you to make a simple artistic quilt when you employ adopt any of the variations such as slash, shuffle, and whack. Here are some of the stripping techniques you can borrow;
The two at a time technique – This technique requires you to pick two contrasting fabrics and an accent fabric. Cut the accent fabric into narrow strips and the other fabrics into wide strips. You should then sew the accent strips onto the contrasting fabrics' pieces. Cut the strip sets into triangles.
Stack, slash, and shuffle – With this style, the fabric is stack and slashed. You can cut the fabric into intervals. You should then shuffle the stacks such that the fabric order in each of the stacks is different. Sew the fabrics together.
Bargello novelty prints technique – A bargello quilt boasts of pictorial prints where novelty fabric strips are sewn together. You will then crosscut them to have different widths before sewing them back together while making sure the layers are well staggered.
Machine quilting techniques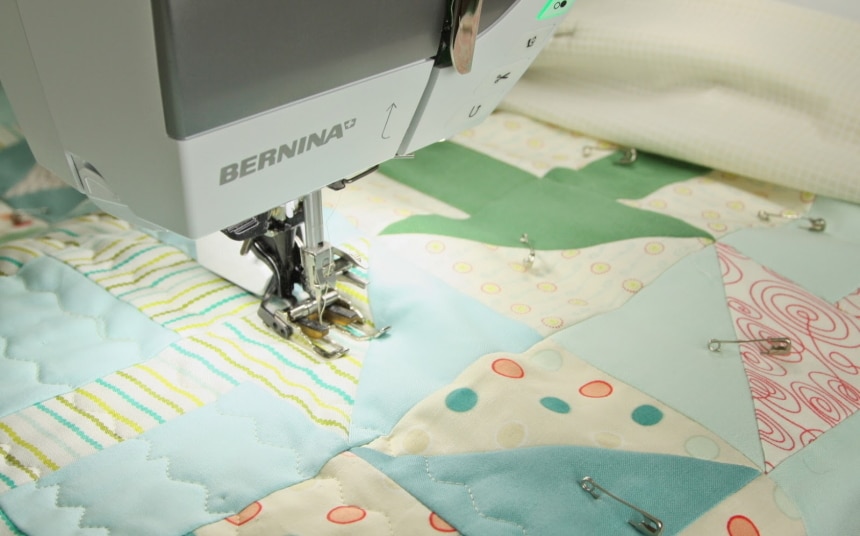 Many beginner quilters eventually come to embrace machine quilting techniques because of the simplicity and versatility a sewing machine has to offer. By using an ordinary sewing machine, one can make quilts by stitching patterns while employing some select techniques to sew through several layers of fabric. You can still achieve quality batting just as you do when doing quilting the traditional way. A machine will go as far as replicating hand stitching.
When it comes to machine quilting techniques, you should start with temporarily basting the three layers with safety pins. For best results as far as straight lines go in quilting, replace the standard presser with a walking foot attachment.
To learn your way up the quilting expertise ladder, you should start simple. You should also do away with feeddogs. These little teeth found below the plate will deter your fabric, and you won't be in charge of moving or maneuvering the fabric. If the feeddogs can't be removed, you can turn their setting to 0.
Conclusion
Centuries ago, quilting was explicitly done to keep families warm. In the past few decades, studies have been done to establish what other benefits lie behind this august tradition found all over the world. Even with people inventing more sophisticated and much better ways to keep warm, quilting remains adored and is being embraced by new and young quilting enthusiasts.
By learning of the many quilting methods and techniques, quilters create profound art using fabrics. You not only paint the world bight, but quilting enables you to keep stress away and stay in a good mood. Quilting will push you towards making friends and a strong sense of community since quilters have a strong sense of appreciation of quilts. Whether you use machine quilting techniques of hand techniques, when you meet another quilter, whether at a local store or online, you will have a lot of ideas to share. Embrace the different techniques of quilting available and color your world with a state of art quilts.