Quilting gives you an opportunity to express yourself, and there is no right or wrong when it comes to the sizing, so you can choose what dimensions you want. However, it helps if you can use a quilt size chart to get a rough idea of what sort of sizing you need, otherwise, you might make something that is wildly incorrect. If you want to match your quilt to a bed or crib, this is even more vital. It helps to know mattress sizes and a quilt binding size chart before you start so you can plan both the size, and the drop of the quilt.
In this guide, we provide a quilt size measurement chart and information about the different sizes of quilt so you can make the right choice for your next quilting project. We also cover the different styles of quilt, and how these need different sizing. You need to make sure you create consistent sizes if you are looking for uniform quilts, such as if you want to make baby quilts to sell online or for friends and family. It will also help you to fit the quilt with the bed or crib size you need.
Quilt size reference chart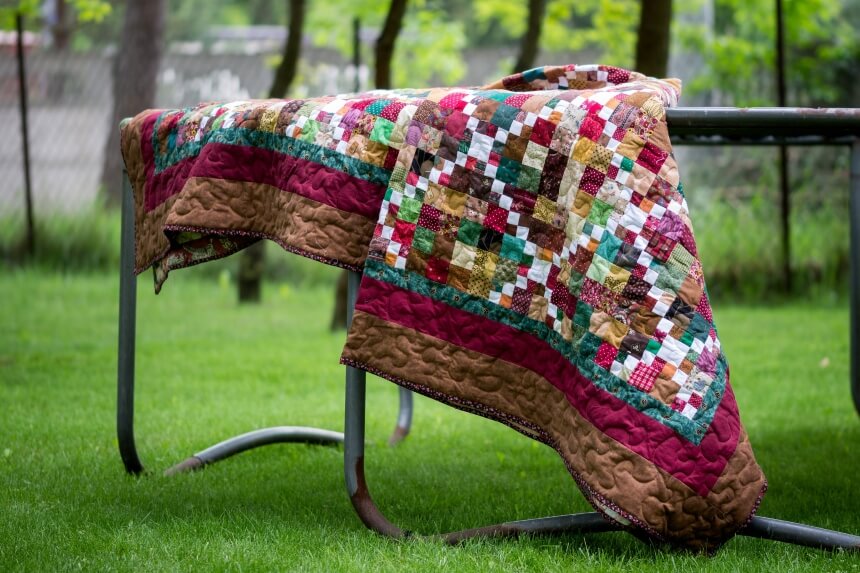 A quilt size reference chart can help you to understand the different shapes and sizes. As we've mentioned, it's not uncommon for some variety in the sizes so a printable quilt size chart will often include a range of sizes rather than specifics. If you have purchased a quilt block and you want to make it bigger or smaller, you will need a quilt block size conversion chart, which will show you how big you need to cut each of the blocks in order to get the correct size of quilt at the end of your project. Don't get your sewing scissors out until you've measured!
| | |
| --- | --- |
| Type | Size (dimensions in inches) |
| Baby | 30 x 40 |
| Crib | 36 x 52 |
| Throw | 50 x 65 |
| Twin | 70 x 90 |
| Double | 85 x 108 |
| Queen | 90 x 108 |
| King | 110 x 108 |
This reference chart takes into account the "drop" which goes on either side of the bed. If you buy a quilt, you expect that it covers the whole of your bed or crib, but also has a few inches either side which droops down beside the bed. If you want a longer drop then you are free to create a larger design, though the standard quilt guidelines will use the sizes above. These sizes are also very useful for quilt batting, and we'll cover more on this later in the article. By getting the right quilt size you can make sure you have batting that fully fills the quilt.
Baby quilt size chart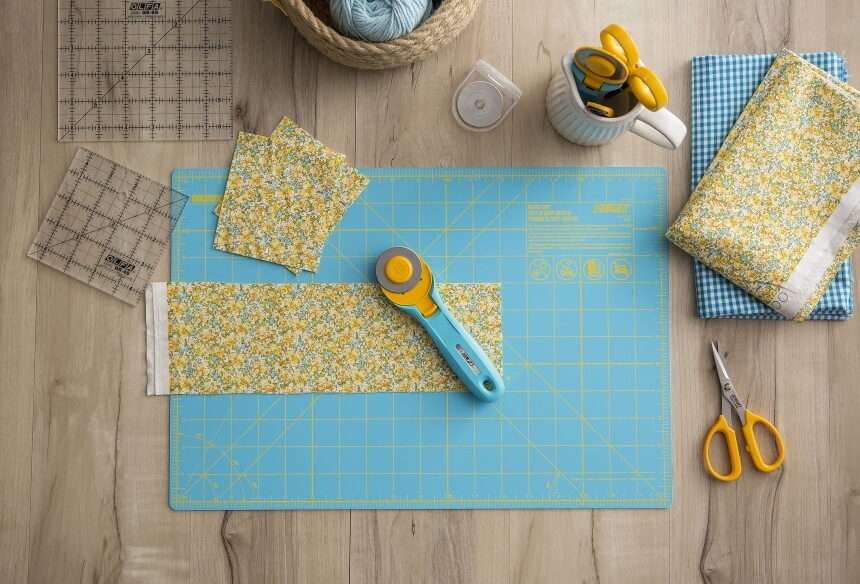 Baby quilts are some of the easiest to cut, you can use your quilt block size chart to establish the dimensions required and cut on a medium-sized cutting mat, such as the OLFA Double-Sided Self-Healing Rotary Mat, before you start to add batting. Baby quilts are usually 30 x 40 inches in dimensions, but as they are not necessarily going to fill a bed or a crib there is some flexibility in the patterns. You can choose roughly what size you think is best for your design.
Crib quilt size chart
The crib quilt size chart is important to get right as you may want your newly made quilt to sit nicely within a crib for your baby or toddler. A quilt size reference chart will show you that the standard size for this is 36 x 52 inches.
Throw quilt size chart
You can find throw quilt patterns online, but keep in mind that a throw quilt or a lap quilt size chart can vary greatly. These don't need to conform to a bed or a crib size so this means that people can make throw quilts in a number of different shapes and sizes. 50 x 65 inches is fairly normal, but some make 40 x 60 inch throw quilts.
Twin quilt size chart
A twin quilt size chart can also show some slightly different measurements such as Twin XL. If you want to get a standard twin size quilt then the size is 70 x 90 if you wish to create a 15 inch drop. If you plan for more than this then you can adjust accordingly.
Double full quilt size chart
A double full quilt size chart shows the size as 85 x 108. This gives some room for a drop on the quilt. Double quilts, just like queen and king sizes, are based on the size of adult beds. A double bed is one of the most common sizes of bed, so 85 x 108 inch patterns are very easy to come across.
Queen quilt size chart
As you can see from our chart, most queen quilt size charts recommend 90 x 108 inches as the standard size to fit these beds. You can opt for a different size if you want to create a differing drop length on either side or the end of the bed.
King and California King quilt size chart
King-size bed quilts are often 110 x 108 inches, and there's room to go even bigger. A California King Trusted Source Bed size - Wikipedia Standard bed sizes are based on standard mattress sizes, which vary from country to country. Bed sizes also vary according to the size and degree of ornamentation of the bed frame. Dimensions and names vary considerably around the world, with most countries having their own standards and terminology. en.wikipedia.org is an even bigger size, and the 114 x 117 size gives the quilt plenty of coverage for this huge size of bed. Be prepared that if you are going to create a quilt for this size of bed you are going to have your work cut out, but it is possible, even on a home sewing machine.
Quilt block size chart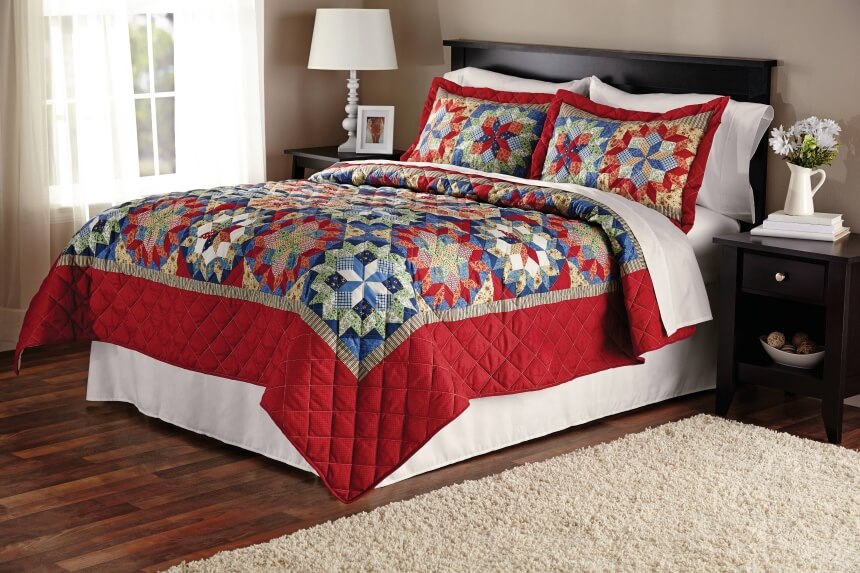 When you get into quilting, you will quickly start to understand how important the blocks are. A quilt square size chart can be vital, helping you to create the specific sizes of square you need to make up one complete quilt. For example, these quilting rulers have multiple shapes and sizes, which can be used to create the shape and dimensions you need. You can use creative grids to create the exact size you need for your quilt.
You can work out the quilt block sizes you need using some simple maths, but it helps to have a frame of reference. Also, if you want to make a quilt bigger or smaller, or to create a bigger drop on either side, you might need to use a quilt block size conversion chart to work out the sizes before you take to your cutting mat with your fabric. Cutting quilt blocks can be a long and arduous task, and it is a nightmare scenario if you get to the end and realize you have done something wrong and are then left with a quilt that isn't quite the right size.
Some people choose to use unique designs and quilting patterns to create their quilt. For instance, some people are searching for a rag quilt size chart. Rag quilts simply have an exposed seam, that looks frayed in a shabby-chic style. The size of the whole quilt is no different, but you might want to leave more space on the seam.
Quilt batting size chart
A quilt batting size chart can help you to ensure that you are correctly filling the quilt. The batting is the insulation that sits inside the quilt, and obviously it has thermal properties to help to keep people warm. On top of that, it gives a quilt texture and stops it from feeling thinner like a blanket. Here's a quick video for you to choose the best material for quilt batting:
A quilt batting size chart is very much the same as the actual quilt sizes. A lot of people buy the batting itself before they get started. It can be purchased pre-cut to size, or you can cut it from a roll if you wish. If you're creating an unusual size or shape of quilt then it might make sense to use batting that can be cut to the size you want. If you're sticking to one of the standard crib or bed sizes then it is often a good idea to get batting ready cut. For instance, the Warm Company Batting 2391 is already cut to roughly the twin size, and you can trim it further if required. If you're making a quilt that is another size, you'll find plenty of batting options. You can buy the batting on a roll or in the shape you are looking to create.
A quilt binding size chart is not required. The binding is what many quilts have around the outside, keeping the edges covered. The binding is more flexible. Most people cut enough strips to go all the way around the edge of the quilt, but add 8 inches for the corners and seams. This means you can take the standard quilt size chart and add the required length for this binding. The width is also something you may be wondering about. Different quilts can feature binding with different widths, and this is totally down to personal preference.
Final thoughts
As we've already mentioned, creating quilts gives you a great chance to get creative. If you want to make an unusual shape, size, or design of quilt, then you can! However, sometimes it is best to learn and know the rules before you break them.
In this guide, we've created a full quilt size chart and provided a lot of information on both the shape and size of batting and the quilt itself. This allows you to match up the quilt to the needs, so you don't end up making a quilt that has no drop or is too small for your comfy double bed.