When it comes to choosing a sewing machine, there's no doubt that you would see tens and hundreds of choices on the internet when looking for a good one. With the many sewing machine brands out there, it is a bit difficult for anyone to choose the right one for their craft.
One of these many machines is the Singer Simple 3223, one of the finest products from the leading sewing machine manufacturers. Whether you're a beginner or a pro, you can use this Singer machine. Let's take a detailed look at this Singer Simple 3223 review.
Specifications
Item Dimensions
15 x 7.5 x 12 in.
Review
The Singer Simple 3223G machine is a popular and easy-to-use device with a design that's easy on the eyes and a mechanism focused on beginners. The Singer is one of the first brands that comes to any tailor and fashion designer's mind when thinking of a machine. It is an American company founded in 1865 and is known worldwide for being a leader in world-class sewing machines.
The Singer Simple 3223 does just what the name says: making sewing simple. The machine is easy to thread, offers many stitches, and has a smooth mechanism altogether. Although the target customers are beginners Trusted Source How to Use a Sewing Machine (with Pictures) - wikiHow Sewing machines can look frighteningly complex to those of us who don't know how to use them. However, don't let the fear of an unknown machine and skill set keep you from creating glorious textile wonders! Use this step-by-step guide… www.wikihow.com , the sewing machine can be used by professionals too.
You can also stitch all types of fabrics with the Simple 3223 sewing machine, from heavy and thick materials to light ones.
Overall Performance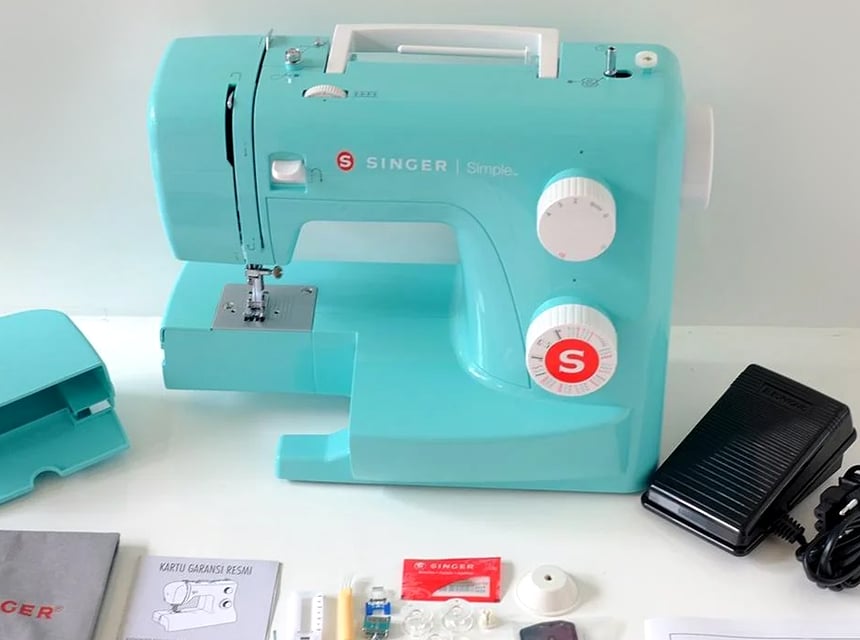 The Singer Simple 3223 machine offers brilliant performance that allows you to make all types of clothes and projects of your choice. It also has different needle positions for all types of stitching. For one, it has about 23 pre-installed stitching methods for you to choose from, whether you're making blankets, clothes, gowns, curtains, and other home décors. It can also be used with different kinds of fabrics.
As for the bobbin, it winds up straightforwardly, and when it's filled, it will stop by itself. The easy threading also adds to the performance, and you can learn how to do it in a few seconds. To make it even more brilliant, there is an automatic buttonhole and bobbin winder.
The Singer Simple 3223G machine has a Snap-On Presser Feet that eliminates the need for screws and makes it easy for you to enjoy sewing. The all-purpose foot does most of the work for you, whether you're making buttonholes, button sewing, cording, and piping.
Design
The design of the Singer Simple 3223 machine is quite easy on the eyes and your hands too. It has a free arm sewing machine design, making it easy for you to reach collars, cuffs, pant hems, and other similar areas. The machine has onboard storage for storing accessories easily.
The machine also comes in three colors: petrol, yellow, and pink, allowing you to choose anyone you prefer. Whether you want to complement your décor or just pick your favorite color, you have enough choices.
Weight & Dimensions
The weight of Singer Simple 3223 is 12.2 pounds, which is a decent weight for a sewing machine. With the portable and compact design, you can carry the machine anywhere you'd like and use it too. As for the total dimensions, they are 15 x 7.5 x 12 inches, which makes up the space-saving design.
Sewing Speed
Although the sewing speed of the Singer Simple 3223G machine is not specified, it is faster than an entry-level machine but slower than the standard home sewing machine. You can easily use the sewing machine to make all types of crafts and projects, especially if you're a beginner.
The machine might have decent speed, but it is also easy to control. Many of the functions are automatic, so you can easily control them and work at your own pace. This is another feature that makes it ideal for beginners.
Interface
The user interface of the Singer Simple 3223 machine is quite straightforward, which is why it is marketed towards beginners. All the buttons and functions are easy to find and control. Even if it's ideal for beginners, professional tailors would have no trouble with all sorts of projects when using the machine.
The sewing machine also comes with a DVD and instruction manual that you can look through before using the machine. Even if it would be easy to get used to the interface, you can make things easier for yourself.
Although it can be used by anyone, beginners would benefit more from this machine. It breaks down the complex process of more advanced sewing machines, helping them to save time and energy. In no time, you would be able to make clothes for yourself and your loved ones.
Accessories Included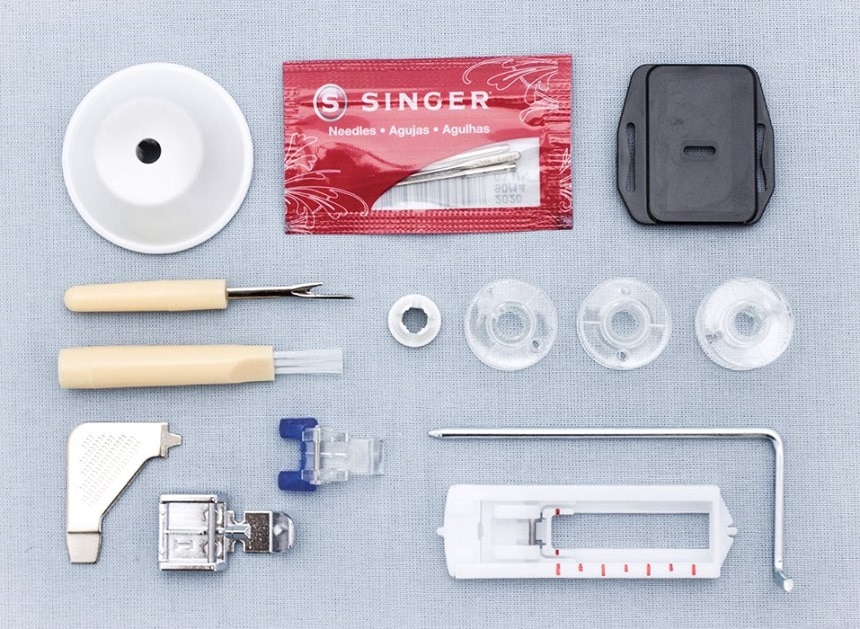 The Singer Simple 3223 machine comes with a wide range of accessories that makes it easy for you to enjoy sewing. It comes with all sorts of accessories that make sewing easier and more enjoyable, making it stand out from other types of sewing machines. With the storage compartment, you can easily store these different accessories. When you open the box, you will see:
All-Purpose Foot
Zipper Foot
Buttonhole Foot
Button Sewing Foot
Thread Spool Caps (2)
Screwdriver
Darning Plate
Edge / Quilting Guide
Bobbins (Class 15)
Pack of Needles
Auxiliary Spool Pin
Seam Ripper/ Lint Brush
Soft-Sided Dust Cover
Foot Pedal
Power Cord
Instruction Manual
Machine Intro DVD
Warranty
The Singer Simple sewing machine comes with a 25 years warranty, which is enough to keep any customer hooked to the product. From the day that you purchase the machine till the next 25 years, you can always turn to Singer whenever there is a problem or defect with it.
The limited warranty might be set at 25 years, but some of the electronic components have a warranty of only two years. As for the entire replacement or repair of broken parts, this is only allowed during the first year of the purchase. But, the 25 years warranty is a guarantee that the Singer product is of high quality.
Keep in mind that you should read the warranty conditions, as Singer would not replace or repair if the defect was caused by you or does not meet their conditions. You should also keep the receipt and proof of payment, as this would come in handy when claiming the warranty.
Price Tag
It might be because of the simple interface or the leading brand, but the Singer Simple sewing machine comes at an affordable price. Regardless of your budget for a new machine, there's a good chance that you would be able to buy this because it's more affordable than many others in the market.
Depending on where you purchase it and your delivery, it would cost between $150 and $200. It's advisable to buy the machine from reliable places like Amazon, and you don't have to spend any extra costs on maintenance or accessories.
PROS

CONS

Easy threading process.
A variety of stitching choices are done at a good pace.
Can be used for all types of fabric.
Durable, strong, and extensive warranty.
Compact-sized and portable.

Sometimes, the thread jams in the bobbin.
It comes with only the basics.
The voltage is ideal for North American use only, except with an adapter.
Conclusion
Overall, our Singer Simple 3223 review will end by saying that this is a great machine, for beginners and professionals. Although the machine would serve you better if you're sewing as a hobby and not as your source of income, it comes loaded with different basic and straightforward features.
References
1.
How to Use a Sewing Machine (with Pictures) - wikiHow
Sewing machines can look frighteningly complex to those of us who don't know how to use them. However, don't let the fear of an unknown machine and skill set keep you from creating glorious textile wonders! Use this step-by-step guide…