For simple sewing projects, any basic sewing machine will do. Those who have expanded their sewing capabilities and want to try out more difficult projects may want to upgrade to a machine that has more to offer. Our Brother HC1850 review covers one of these more advanced machines, giving sewers and quilters all the information, they need to decide if this is the model for them.
The Brother sewing machine HC1850 is easy to set up and to use, with features like the LCD screen, flip-up stitch guide, and speed control that give you everything you need to get started. It also comes with almost 200 built-in stitch options and 8 presser feet, so you can complete almost any type of project in no time. If you've been considering this model but aren't convinced it's the right one for you, check out our Brother HC1850 review for more information.
This product's also been included into these rankings:
Specifications
Made for
sewing and quilting
Max sewing speed
850 stitches per minute
Needle threader
automatic
Dimensions
12.5W x 19.25D x 15.25H in
Review
The Brother computerized sewing and quilting machine HC1850 has a ton of great features, which can be a bit overwhelming for those who aren't familiar with these types of machines. To help you figure out exactly what this model has to offer, we'll break it down for you in the following sections.
Overall performance
The Brother HC1850 is one of the most versatile machines available at this price point. Despite the low cost, it includes an abundance of features, including a huge variety of stitches for basic and decorative sewing, as well as numerous buttonhole options, and can even do some monogramming. It also has a variety of other functions and accessories for all of the projects that you have in mind.
This model is lightweight and portable, so you can take it with you wherever you go for some sewing on the road. This makes it a great option for sewing or quilting classes and groups, plus it can be easily moved around your home if you don't have a dedicated sewing area to keep it permanently.
Despite the almost overwhelming amount of features, this model is still beginner-friendly, so those trying their hand at sewing for the first time will have no trouble getting the hang of it. It comes with everything you need to get started and so much more, so you can expand how you use it as you become a more experienced sewer.

Design
The Brother HC1850 is designed with simplicity in mind, even though it has some high-tech features that may seem a bit complicated until you try to use them. All of the buttons and switches on the machine are well-labeled, so you won't be guessing what each of them is for. There is also a handy flip-up stitch guide right on the front of this sewing machine, so you can easily choose the stitch you want in seconds.
This model is designed to be used anywhere as well as at home. It is lightweight and easy to move from place to place, plus there is a built-in carry handle on top for toting this machine to classes or sewing groups, so you won't have to struggle to get it where you need it.
Stitches width and length
There are likely going to be some pieces that require different stitch widths and lengths, so an easy way to adjust these can speed up your sewing process. Luckily, the Brother HC1850 makes altering the length and width of your stitches extremely simple.
There are buttons on the right side of the LCD screen. The top buttons control the length of the stitch and the bottom ones adjust the stitch width. After you've chosen your preferred stitch, you can push the plus or minus button for each of these options until your stitch is the perfect width and length for the project you're working on.
There is even a diagram above the LCD screen that shows you the varying options for the stitch length, so you can see the range of options. There is another diagram below the screen that shows you the total range of the stitch width as well, which makes it easier to choose the right options.
Built-in stitches types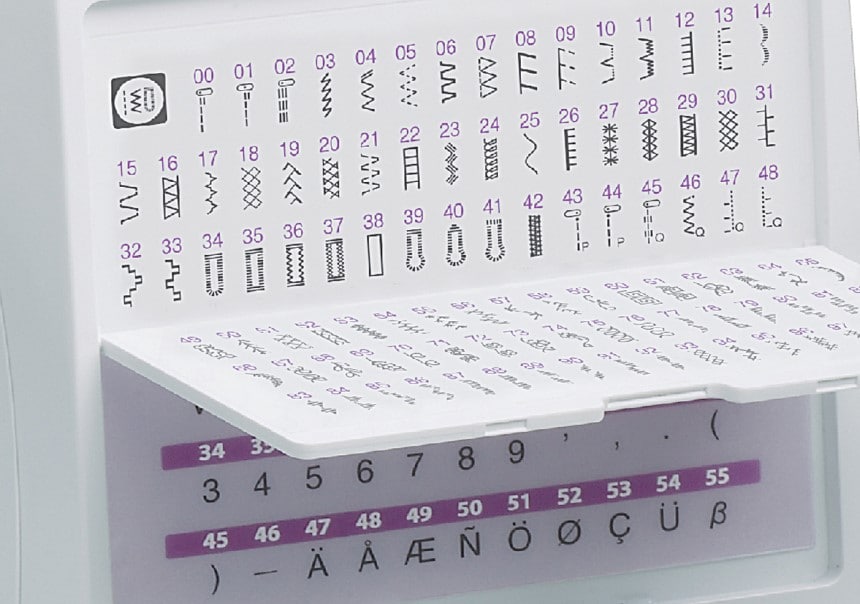 One of the best features this sewing and quilting machine has to offer is the 185 built-in stitch options. The first 130 of them are for your general sewing needs. This includes basic stitch options, like the zigzag, blind hem, joining, or bar tack stitches, as well as a few quilting stitches and a wide variety of decorative stitches. This allows you to sew a variety of items in almost any way imaginable.
There are also 55 alphanumeric sewing stitches that you can use for monogramming your items. This allows you to add messages, phrases, names, and even your signature on the pieces you make. There is only one font for Brother HC1850 monogram function, though, so you can't adjust this to make the letters, numbers, and symbols any larger or smaller. This may not be an issue for everyone but it is something to consider before purchasing this machine.
Though they aren't included in the 185 stitches this model boasts, there are also 8 buttonhole options to choose from. These are all 1-step, auto-sized options that you can pick from, depending on the type of fabric you're using, no matter the thickness or the feel of the material.
Sewing speed
This computerized sewing and quilting machine includes a foot pedal that you can use to control the speed at which you sew. At its fastest, the Brother HC1850 can complete 850 stitches per minute, though most people don't need to have the foot pedal to the floor when working on their projects. If you're comfortable using the foot pedal, this piece is likely all you need to get your pieces done.
Unfortunately, not everyone likes using the foot pedal. Beginners may need some time to get used to sewing at slow speeds and trying to learn on the foot pedal may have them working faster than they'd like to. Luckily, there is another alternative to the pedal for those who prefer to sew without it.
This sewing machine includes a slide button that allows you to choose the speed the machine will sew at. The slider can be placed in one of three positions, so you can choose slow, medium, or fast speeds, depending on your skill and comfort level. There is also a start and stop button that you can use to begin sewing and halt it when you reach the end of the seam or want to pause in the middle of one.
You can use this speed slider to get used to the speed the sewing machine has to offer and adjust it as needed for the type of fabric you're using. As you gain confidence, you can speed up the needle or even switch to the foot pedal when you're ready.
LCD display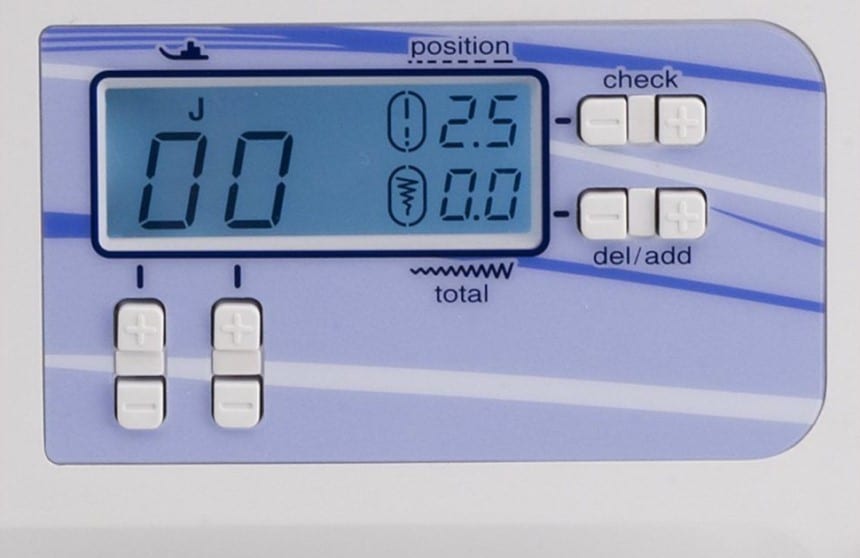 The LCD display is one of the handiest features that the Brother 1850 has to offer. This screen isn't huge but it is large enough to give you the information you need for the stitch option you've chosen.
Once you attach a presser foot, a letter will show up on the LCD screen that corresponds with the foot you're using. Then you can use the stitch selector buttons below the screen to choose the stitch you want that will work with that foot. This makes it easier to match your stitches with the right foot since the machine only allows you to choose a certain number of stitches once a foot is attached.
On the other side of the display screen is the length and width options that we discussed above. This keeps all of your selections clearly displayed the entire time you're sewing. This screen is also backlit, so you will be able to see your specifications, even if the lighting in your sewing area isn't the best.
Working area
The working area on the Brother HC1850 is designed to make sewing as simple as possible. The main working area is standard size but includes a built-in free arm that can be accessed by removing the accessory storage area of the sewing machine. This makes it easy to work on those cuffs, sleeves, and pant legs.
There is also a variety of automatic functions that make this model a breeze to use. These include the automatic needle threader that uses a lever to feed the thread through the needle's eye. There is also an automatic bobbin winding system and a quick-set bobbin that you can see clearly through the transparent bobbin plate, so you never need to guess how much thread you have left.
The automatic drop feed system is also a handy part of the working area since this system adjusts as needed, no matter what fabric you're using. This ensures that your stitches will always be tight and uniform.
Quilting table
For those who want to do a bit of quilting, there is a large quilting table that you can attach to the sewing machine to give you more room for those larger projects. Of course, this long arm doesn't mean that you have a ton of space for those king-sized quilts. Instead, this quilting table gives you the room you need to make smaller quilted items, such as table runners or placemats.
Needle threader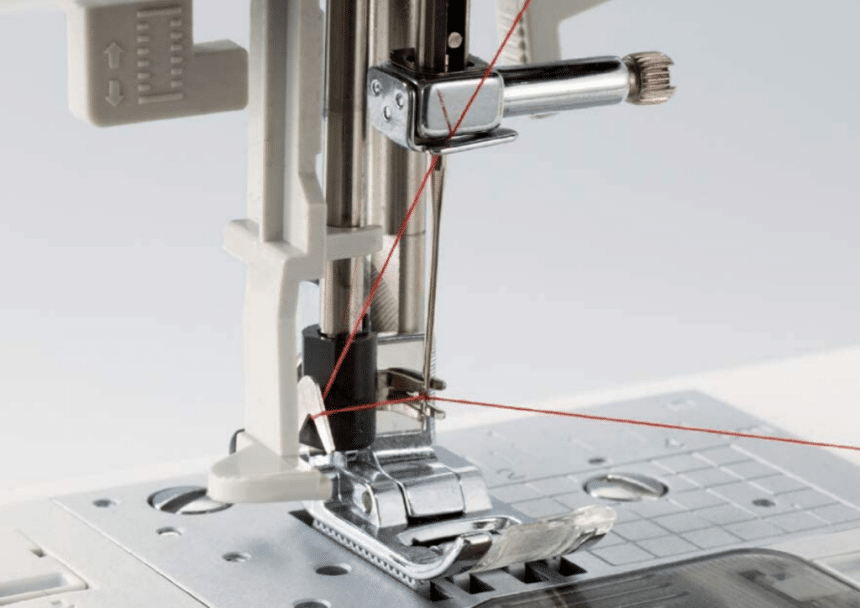 As we discussed above, this model uses an automatic needle threader. Threading a needle is one of the most difficult parts of sewing since not everyone can get that thread into the tiny eye of the needle on the first try. For many of us, it takes repeated thread licking and attempts before we get it threaded.
The automatic needle threader takes the pressure off, allowing you to thread that needle in only seconds. All you need to do is press the lever and the sewing machine feeds that thread through the eye for you for a perfectly threaded needle every time.
User interface
The Brother HC1850 has an extremely simple user interface for a computerized sewing machine. This is because the buttons and display screen are all well-labeled and easy to use, even for those sitting down at a machine like this one for the first time.
The stitch selection, length, and width are all controlled using the plus and minus buttons, with the selection clearly displayed on the screen. The speed control and start/stop button are easy to use, especially since they are positioned right over the needle, keeping them well within reach while you're sewing.
There is also a needle position button beneath the speed control slider that lifts the needle out of the way, which is also handy when the needle needs to be replaced. The automatic functions, like threading the needle and the feed dog system, also make this a simple machine that takes no time to get the hang of.
Storage area
A storage area is one of the best features of any sewing machine since it can hold all of those accessories when you're not using them, keeping them safe and organized until you need them. The storage area on the Brother computerized sewing and quilting machine HC1850 is located in the same place as most machines. This is in the removable area beneath the needle plate that you can remove to gain access to the free arm.
This storage area flips open on the front of the machine to give you quick access to any of the accessories stored in there. It has enough room for all the basics, which makes it easy to keep what you need close at hand. This also ensures that you'll have all the items you need if you take the HC1850 out of your home without forcing you to carry a bunch of extra items separately. This reduces lost items since all of the items stay in the storage area unless you happen to need them.
Dimensions and weight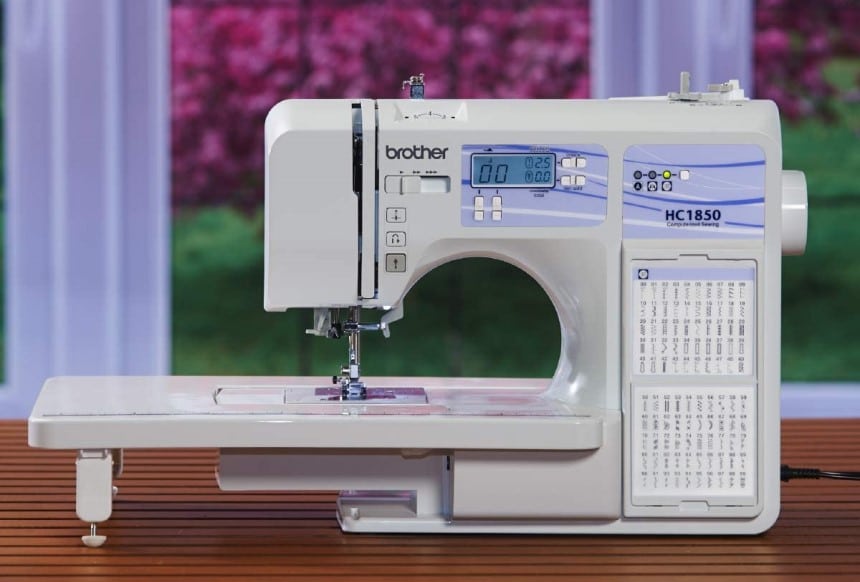 The dimensions of any sewing machine are something to consider, especially for those who don't have a dedicated sewing area or have limited space to keep one. The Brother HC1850 sewing and quilting machine isn't huge, despite all of the features it has to offer. The dimensions of this machine are 12.5 x 19.25 x 15.25 inches, so it is small enough that it shouldn't take up too much space on a table during use or when put away in a cabinet between sewing projects.
These dimensions are for the sewing machine as it is. If you remove the storage area and add the quilting table, this will add a few extra inches to the sewing machine, not to mention the extra table space you'll need for the larger projects you'll use this large table for.
The weight is also an important feature for those who are planning to move their sewing machine from place to place or who are taking it to sewing classes or other activities outside of their home. At only 13.2 pounds, this model is lightweight and very portable, so you can take it with you wherever you like without straining yourself. Of course, those looking for a heavy-duty sewing machine may not feel that one this light will hold up as well as other models but as long as you treat it carefully, the Brother HC1850 should last for several years of regular use.
Light
To keep those stitches perfectly visible, your sewing machine needs a decent light. The Brother HC1850 takes this into account, including a built-in LED light right where you need it. This creates an extremely well-lit working area, whether you're using the regular sewing area or the large quilting table.
As well as keeping your sewing projects in full view, this light also keeps everything visible when you're dealing with other functions, like putting the drop-in top-loading bobbin into place, swapping out the presser foot, or changing the needle.
Of course, even the best sewing machine light can't do it all on its own. You should still be sewing in a room with adequate lighting to avoid straining your eyes. This can be from a nearby window, an overhead light, or even a desk lamp positioned to light the area around your sewing machine. These help the built-in LED light do its job.
Warranty
Like many of the Brother sewing machines on the market, this one doesn't have a straight warranty that covers everything. Instead, it has specific warranty coverage for certain parts of the HC1850 sewing and quilting machine. It is listed as a 1/5/25 warranty, with each number used as a certain year amount covering specific areas of the machine.
The 1 means that there is 1 year of coverage on the parts, labor, and accessories included with the sewing machine upon purchase. Anything you buy separately will likely not be covered, so you'll have to check the warranty on each item on its own.
The 5 stands for 5 years of coverage on the electronic components and the printed circuit boards. This doesn't include replacement labor, though, so this will cost extra if needed.
There is also 25 years of warranty on the chassis casting. All of these warranties begin at the original date of purchase and can't be transferred to anyone who buys the sewing machine secondhand. The warranty is also only valid if the HC1850 is purchased directly from Brother or an authorized Brother reseller.
Accessories included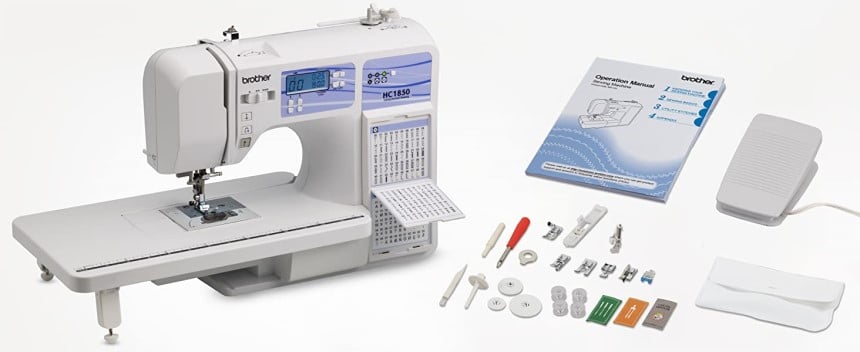 There are several Brother HC1850 accessories included with this sewing and quilting machine, which makes it easier to get sewing right out of the box. First, there are 8 presser feet in the list of accessories, all of which have a specific function.
The zigzag foot is the one you'll use most often since it is for the basic and zigzag stitches. The buttonhole foot is used with the buttonhole stitch to make those perfect buttonholes every time. For sewing overcast seams without frayed edges, the overcasting foot is used.
There is also a monogramming foot for those lettered and numbered stitches and a zipper foot for neat stitches as close to the zipper coils that you can get.
The blind stitch foot creates those tiny hems, while the button fitting foot lets you attach buttons to all your garments. For quilters, a quilting foot is needed to get you started. The only foot missing is a walking foot. Brother does have a few of these that you can purchase separately, though, including the Open Toe Walking Foot Low Shank Adapter SA188, which includes built-in feed dogs and works well with all types of fabric.
There are 4 Brother HC1850 bobbins included with this sewing machine, though if you need more, the 50 PK Clear Bobbin X52800150 are transparent and fit this sewing machine perfectly. Other accessories include a needle set, a twin needle, a ballpoint needle, an extra spool pin, a cleaning brush, a seam ripper, a foot pedal, and a screwdriver, all inside a handy accessory pouch.
To get started with this sewing and quilting machine, there are also an English/Spanish instructional DVD and an operation manual. You also get Brother's technical support via online, live chat, and phone for the entire life of your sewing machine.
Price tag
For a model with as many functions and features that this one has to offer, you may expect it to have a rather high price tag. The Brother HC1850 doesn't cost as much as you might think, though. The price varies from about $200 to $300, depending on where you buy it from. With a bit of time and patience, you may even find it on sale for less than that, which is fantastic for those on a budget who still want to get a decent sewing and quilting machine.
Of course, if you want those extras, like the walking foot and extra bobbins, this will add to the cost, though it may be worth it if you plan to use the sewing machine and its accessories regularly.
PROS
CONS

Easy setup
Beginner-friendly
Lightweight
Multiple stitch options
Quiet
Computerized functions

No cover or case
Not for heavy use
Only 1 monogram font
Conclusion
There are a lot of great sewing machines on the market but after reading our Brother HC1850 review, you may not need to look anywhere else for a quality machine. This computerized model is easy to use, with a ton of stitch options and automatic functions that make it simple for sewers of all skill levels to create the amazing projects they want in no time. It's also compact, lightweight, and has a relatively low price, so it can fit into any space and budget.