Not every sewer needs a high-end, complicated sewing machine with all the bells and whistles to create complicated projects with intricate detailing. Those looking for a more basic unit to try out for their first few projects or who sew infrequently but still like to keep a decent machine on hand may want to check out our Singer Promise 1412 review.
This model is compact, lightweight, and includes a few simple stitches that help you complete some basic sewing, with some decorative options if needed. It is easy to use, even for younger sewers, plus it is a durable machine that should last for years if properly cared for. For more information on what this sewing machine has to offer, keep reading.
This product's also been included into these rankings:
Specifications
Material
Plastic from outside, metal frame
Dimensions
16.61 x 13.74 x 8.78 inches
Though this small sewing machine doesn't have all the functions of a more expensive model, it does have several features that may make it worth a look. Check out the following sections to see what the Singer Promise 1412 has to offer.
Overall performance and functions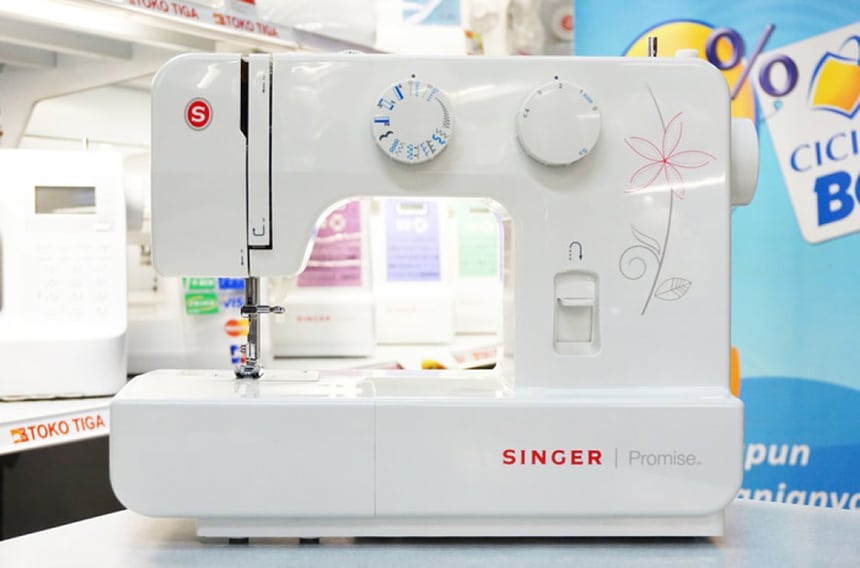 The Singer Promise 1412 is one of the smaller models this brand has to offer, and it looks rather delicate with its minimal controls and pretty flower design on the front. This look is a bit deceiving, though, since there is a sturdy metal frame beneath the pretty white casing and a powerful feed system that keeps the machine running smoothly for all your projects.
This little sewing machine also runs at a higher speed than you may expect, completing up to 750 stitches per minute. This lets you complete all of your projects quickly, saving more time to enjoy the ones you've finished.
There are also a wide variety of other features and accessories included that you may not expect to find on a compact machine like this one.
Built-in stitches
There aren't hundreds of stitch options to choose from to create intricate, decorative designs on your garments or other fabrics, so if that's what you need in a sewing machine, the Singer Promise 1412 isn't the machine for you.
What it does offer is a total of 12 built-in stitches, with ten basic options and one decorative stitch to sew your various items. There is also a buttonhole stitch, which we'll discuss more below.
These stitch options will give beginners or infrequent sewers the ones they need to sew some simple projects. The stitches are all easy to select using the handy dial on the front of the sewing machine.
Buttonhole
Buttonholes can be tricky to add to your clothing and other fabric items, so having a machine that can make this easier is a must. The Promise 1412 includes a buttonhole foot, as well as a 4-step buttonhole stitch function that allows you to create those additions to any piece. There is even a handy dial that you can use for each of the steps to make this process even simpler, even for those trying this function for the first time.
Stitch functions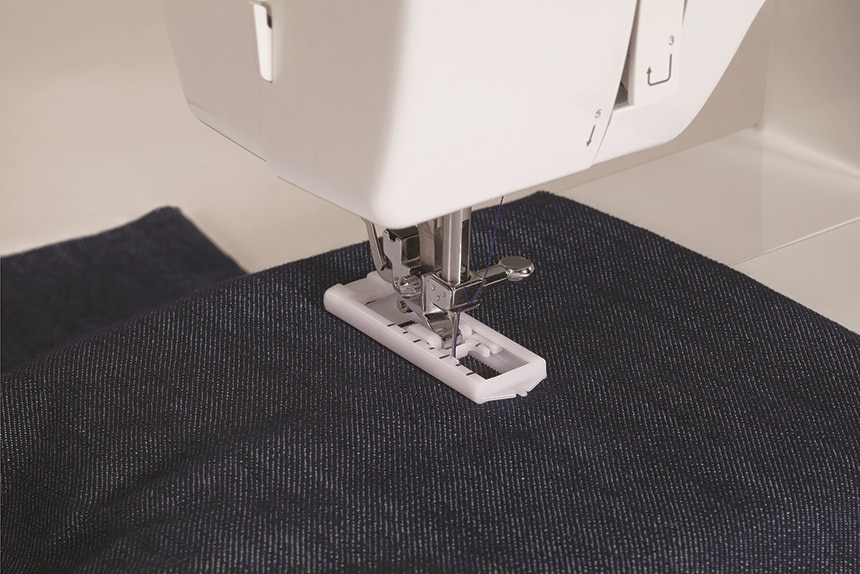 As well as the 12 built-in stitches, there are a couple of other functions that you can use to adjust the chosen stitch as needed, depending on the project and type of fabric you're using. The first is the adjustable stitch length, which allows you to lengthen or shorten the stitches as needed using the handy dial on the top of the machine.
You can adjust the stitch width as well, using a separate dial on the top of this sewing machine. This allows you to adjust the size of the stitch as it moves from left to right, creating wider or narrower stitches as needed for any of the projects you're working on.
There is also an adjustable tension function that you can alter for varying fabrics. This ensures that all of your stitches are straight, and even as you sew for the cleanest, most professional finish on everything you make.
To make sure that your stitches don't unravel at the ends, there is a reverse lever on the front of the Promise 1412 sewing machine. You can go back and forth over the beginning and end of each seam to prevent it from coming loose, plus you can add reinforcements wherever needed to make your stitches extra strong.
Bobbin
Unlike some other Singer models, this one comes with a front-loading bobbin. This isn't quite as easy to use as a drop-in bobbin, but it shouldn't take you too long to get the hang of using this component. You can insert and wind the bobbins quickly every time without altering the surface of the needle plate, keeping the needle's movement smooth and steady.
The bobbins themselves are metal, so they are sturdy and should last a while. This does mean that these pieces and the needle plate are not transparent, though, so you will need to check how much thread you have left periodically as you sew to ensure it doesn't run out in the middle of a seam.
Material
Even though this sewing machine isn't a heavy-duty model, it can still handle a variety of fabrics with ease. This means that you can swap out thinner materials for thick fabrics like denim without worrying about the machine coming to a halt. This is because the Promise 1412 includes automatic presser foot pressure. The machine adjusts the pressure on the foot you're using accordingly when you switch fabrics with no extra steps on your part.
Accessories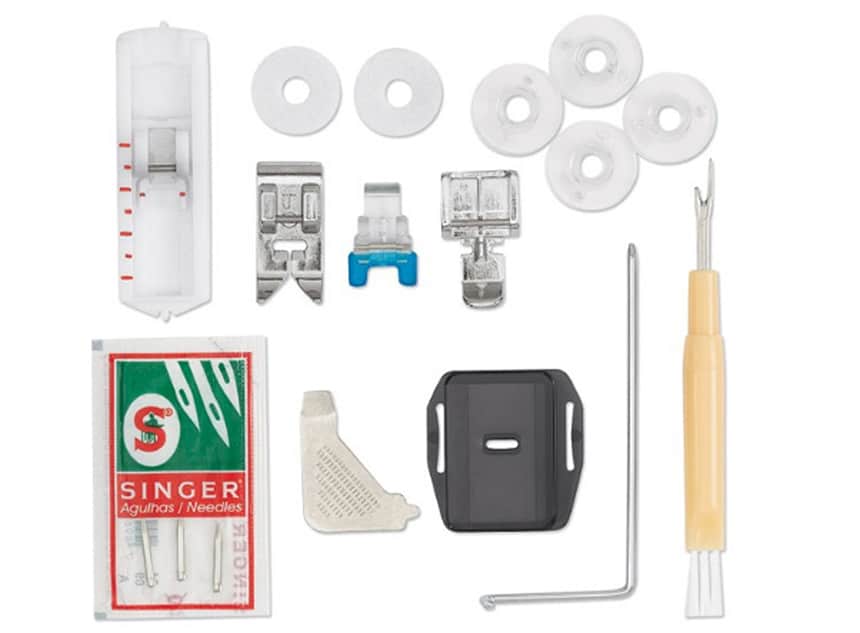 This little sewing machine comes with a bunch of handy accessories that make it easy to get started with the projects that have been on your mind. There are several feet, including the all-purpose foot, a zipper foot, a button foot, and the buttonhole foot we described above. These are all snap-on feet as well, so it takes only a few seconds to swap them out.
There is also a pack of needles, a few Class 15 bobbins, and spool pin felt, a darning plate, a screwdriver, a combination seam ripper and lint brush, the foot pedal, and a power cord for use with your 110V wall outlet.
A Quick Start guide, an instruction manual, and an Edge/Quilting guide come with it as well, all of which you can use to learn the basics of this sewing machine and begin some simple creations before working your way up to harder designs.
Dimensions
Not everyone has the room for a bulky sewing machine, so it's nice to have the option of a smaller model. The Singer Promise 1412 has dimensions of 16.61 x 13.74 x 8.78 inches, so it is compact enough to fit almost anywhere you want it. You can create a dedicated sewing area, or you can pull it out when needed and tuck it away in a cabinet or closet when you're finished sewing whatever piece you're working on.
The compact size also allows you to take this little sewing machine with you to a sewing class or anywhere else you plan on working on your projects. It doesn't include a case, though, so if you're taking it out of the house, you should find an appropriate one to fit this machine or be extra careful with it to ensure it doesn't get damaged.
Weight
Weighing less than 14 pounds, this little sewing machine is one of the lighter models available. Of course, being light doesn't mean it will shift while you're trying to sew. Your machine should still stay put as you are running it. The lightweight does make it easier to move the Singer Promise 1412 whenever needed. For those who don't keep their sewing machine in a dedicated area or like to take it with them to do some sewing outside of their home, a lightweight machine makes moving it from place to place a breeze.
Warranty
Warranty information is one of the most important features to look for when choosing a new product. Unfortunately, there is no warranty listed for the Singer Promise 1412 sewing machine, so you do need to consider this carefully before choosing this product. Though there may be a warranty listed in the paperwork included with this model, there is no guarantee of this, so you may end up paying for any repairs yourself if the machine fails.
PROS

CONS

Easy threading
Automatic reverse
Handles all fabrics
Durable frame
Lightweight
Multiple accessories

Few stitch options
No cover included
No warranty information
Conclusion
Shopping for a new sewing machine can be a difficult task, especially if you don't know what the machines you've been considering have to offer. Luckily, after reading our Singer Promise 1412 review, you now have all the information you need to help you decide if this little model is the right one for you. It is compact, lightweight, and beginner-friendly, but it also has some great features that ensure it will last for years if needed or until you're ready to upgrade to a more advanced model.