Whether you're just learning to sew or have spent years creating lovely garments and home décor items, you need a decent sewing machine that can handle all of the projects you have in mind. The Singer Heavy Duty 4432 sewing machine is a great option for all types of sewers since it is easy to get the hang of, plus it can handle almost any type of fabric needed for your creations, no matter how complicated your patterns are.
If you're considering a new sewing machine, check out the features in our Singer Heavy Duty 4432 review. We've covered everything this model has to offer to give you all the information needed to decide if it's the sewing machine for you.
This product's also been included into these rankings:
Specifications
Speed
1,100 stitches per minute
Buttonhole
1-step automatic
Components
All-Purpose, Zipper, Buttonhole, & Button Sewing Feet, Seam Ripper/Lint Brush, Quilting Guide, Needles, Bobbins, Screwdriver, Auxiliary Spool Pin, Spool Pin Felt, Soft-Sided Dust Cover, Manual, Power Cord, Foot Controller, Quick Start Guide
Power source
Corded electric
Dimensions
15.2 x 6.25 x 12 inches
Warranty
Limited 90-DAY for Adjustments, Belts, Rings, Bulbs, Attachments; Limited 2-Year for Motors, Light assembly, Wiring, Switches, Speed control, and Electronic Components; Limited 25-Year for Sewing Machine Head
The Singer Heavy Duty 4432 is more than your basic sewing machine. It is described as a workhorse with a ton of great features that are worth getting acquainted with if you're in the market for a new model.
Overall performance and functions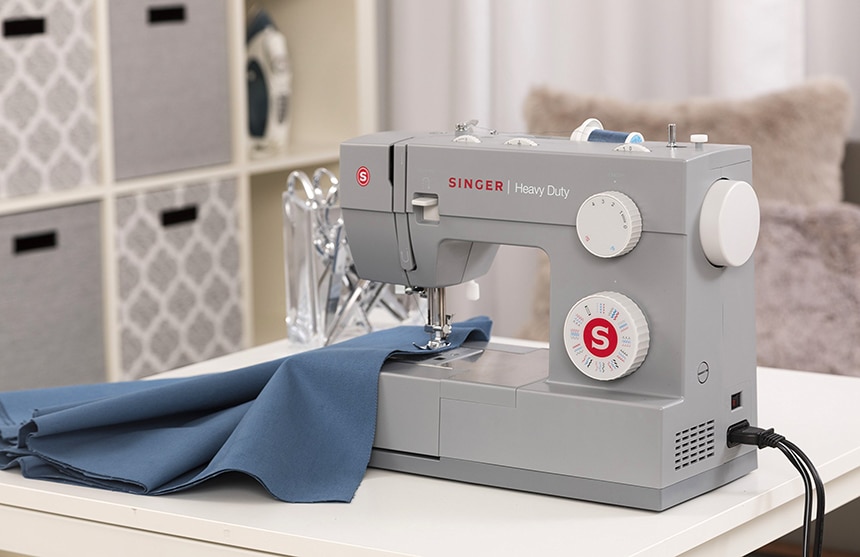 Singer is one of the most popular brands when it comes to sewing machines due to the high quality of the models they have available. The Heavy Duty 4432 model is no exception since it is made of durable materials that can handle almost any type of material you plan to use for your sewing projects, plus it is versatile with a high speed that advanced sewers love. Of course, it is also easy to use, so even those who are buying a sewing machine for the first time will have no trouble learning all the features this model has to offer.
Best of all, this model has a reasonable price that will fit into any budget. This makes it easier to afford the materials you need to create those amazing designs you have in mind. It is also portable, so you can take your Singer 4432 to a sewing class or group whenever you like without worrying about damaging any delicate parts.
Type
The Singer Heavy Duty 4432 sewing machine is an electronic, mechanical sewing machine, which uses the more basic functions of a mechanical sewing machine combined with the power source of an electronic device. This allows the machine to include several stitch options and a wide variety of functions that make sewing much easier for everyone using one of these machines.
Speed
Though this sewing machine is designed for home use on your various projects, it has the high speed of a professional model, allowing you to complete your creations in record time. It has the capability of completing up to 1100 stitches per minute, which is exceptionally fast when compared to similar sewing machines. Of course, not everyone will be able to work this quickly. It takes time to get comfortable with such speeds, so you can use the foot pedal to slowly get started and increase the speed as needed as you perfect your sewing abilities.
Keep in mind that there is no speed control on this sewing machine, so the speed is controlled only by how much pressure you use on the foot pedal. This may take some getting used to, especially for beginners, so it may be a good idea to practice using scrap materials before starting on any of your main projects.
Built-in stitches
Unlike the more basic sewing machines, this model includes 32 built-in stitches. This includes six essential straight and zigzag stitches, seven stretch stitches, 18 decorative stitches for some fancy detailing, and even a buttonhole stitch, which we'll discuss more below.
Though this isn't nearly as many stitches as you would get with a high-end computerized sewing machine, 32 stitch options are more than enough for the average sewer to make use of. This also helps beginners learn which stitches work best on varying projects without being overwhelmed by hundreds of options to choose from.
It's easy to select the stitch you need using the dial on the front of the sewing machine. There are also dials on the top to adjust the stitch length and width, so you can alter your stitches as needed, depending on the type of project you're working on.
Buttonhole
Buttonholes can be tricky to make on any garment. Luckily, the Singer 4432 includes a fully automatic 1-step buttonhole that makes this a simple process. All you need to do is attach the included buttonhole foot to your sewing machine, place the button into position, and start the machine. It automatically creates the perfect buttonhole size based on the button used. This ensures consistent buttonholes every time, no matter what size and type of button you've chosen for your garment.
Feet
There are four snap-on presser feet included with this sewing machine that you can swap and use as needed, depending on the type of sewing you're doing. As well as the buttonhole foot that we already discussed, there is an all-purpose foot for your general sewing projects, a zipper foot for adding zippers to any piece, and a button sewing foot for attaching buttons to various clothing items, as well as anything else you need them for. There are also a few other feet available from Singer if needed, though you'll have to purchase them separately.
You can adjust the presser foot pressure as needed, depending on the fabric you're using. This helps the machine feed the materials evenly, no matter which foot you're using and what type of fabric you're working with.
There is an extra-high lifter for this as well for the thickest fabrics.
Bobbin
This sewing machine includes a top drop-in bobbin that is easy to put into place and thread when you're ready to start sewing. The bobbin itself is transparent, as is the bobbin cover, so you'll always be able to see how much thread is left. This ensures that you won't run out of thread in the middle of a seam, keeping all your finished projects as clean and professional-looking as possible.
Components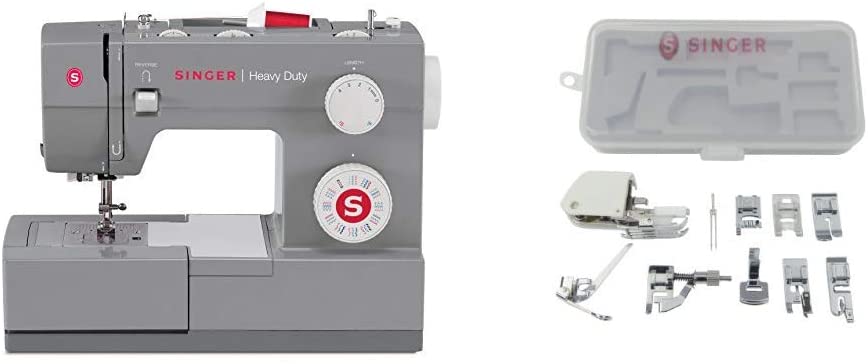 As well as those that we've discussed above, there are a variety of other components worth noting if you're considering the Singer 4432 for your sewing needs. It includes a built-in needle threader to save you the time and hassle of trying to thread it yourself, a reverse lever for reinforcing the stitches at the beginning and end of a seam, and a drop feed switch to lower the feed teeth for some free-motion sewing or when attaching buttons.
Other handy components include the removable free arm, which also includes a storage compartment for your smaller items, and three needle positions for varying sewing techniques. The machine has a heavy-duty metal frame and a stainless-steel bed plate to increase its durability, plus there is a built-in handle on top for added portability.
Also included with this sewing machine are a pack of needles, a few extra bobbins, spool caps, an auxiliary spool pin and felt, a seam ripper/lint brush, a screwdriver, an edge/quilting guide, and a soft dust cover to keep your sewing machine clean between uses.
To help you get started, you get access to Singer's Online Owner's Class for learning the basics of your sewing machine and the Singer Sewing Assistant App for tips on setup, stitch selection, various parts, and so much more.
Power source
This model doesn't have batteries or any other internal power source, but it does run on the 110V that is standard in any North American home. This means that you can plug this unit into any of the wall outlets nearby without worrying about damaging your machine. Areas that use 220V will need to purchase an adapter if this sewing machine is the one they want to use.
Dimensions
For those who don't have a ton of space available for their sewing machine, this one from Singer is relatively compact. Its dimensions are 15.5 x 6.25 x 12 inches, so you can fit it almost anywhere. The compact size of this machine also allows you to take it with you anywhere you need a sewing machine for added convenience.
Weight
The Singer Heavy Duty 4432 is still a lightweight machine, regardless of what its name suggests. It weighs only 14.6 pounds, so it is easy to move from a cabinet to your work area whenever needed.
You can also carry this portable model out of your home to sewing classes or other places you need it, making it much more convenient to keep on hand than some other models.
Warranty
You should always check the warranty on any item you buy to ensure that you'll be covered if there are any issues with that item. The Singer Heavy Duty 4432 machine has a 90 day/2 year/25-year warranty, which can be a bit confusing if you don't know what each of those timeframes covers.
The 90-day part of the warranty is for any adjustments, belts, rings, bulbs, and attachments. The 2-year warranty is for the motor, light assembly, switches, wiring, speed control, and electronic components, while the 25-year warranty is for the sewing machine head.
If any of these components on the sewing machine are defective, they will repair or replace them as needed during the timeframe specified by the warranty. These warranties are also only available for the original purchaser, so if you buy this sewing machine secondhand, you'll be responsible for the cost of any replacement parts or repairs.
PROS

CONS

Heavy-duty design
Handles most thick layers
Reasonable price
Easy to use
Built-in LED light
Portable
Powerful motor

No speed controls
No paper user manual
Limited accessories
Conclusion
Singer is one of the top names in terms of sewing machines, so it's no wonder so many people check out the models they have available before looking at other brands. As you can see from our Singer Heavy Duty 4432 review, this particular machine has an abundance of great features and accessories that make it well worth trying out. It is also easy to use, lightweight, and portable, giving beginners, hobbyists, and advanced users a great machine for use at home and anywhere else they need a decent sewing machine.