Singer is one of the biggest names in the sewing world, with history dating all the way back to 1851, and the Singer 7258 is one of the brand's most popular models. This is an award-winning computerized sewing machine with more than 100 stitch options and 10 different presser feet. It boasts a lot of features and functionality, as well as the sturdy construction and brilliant design the Singer Corporation is known for.
The Singer 7258 is also a mid-range sewing machine in terms of price, so it's a nice option for experienced sewers looking for an upgrade to the current equipment, or total newbies looking to give sewing a try and wanting to buy an affordable machine they can rely on. Our Singer 7258 sewing machine review will take an in-depth look at the various features and aspects of this machine to help you decide if it's right for you.
This product's also been included into these rankings:
Specifications
Speed
750 Stitches Per Minute
Dimensions
14.5 x 7.5 x 12 inches
Singer 7528 Review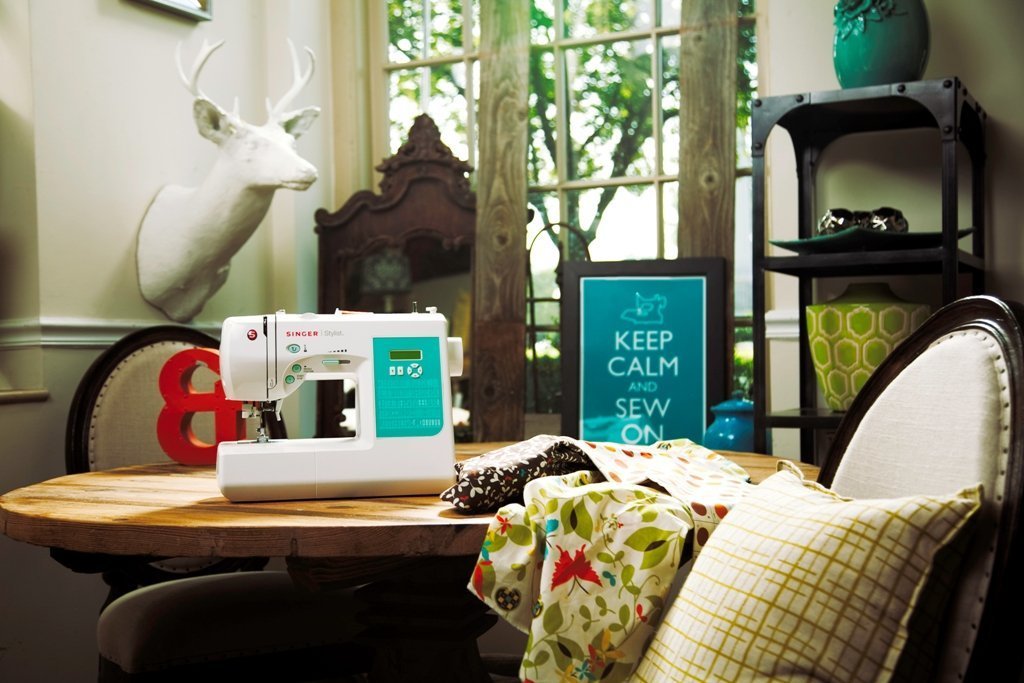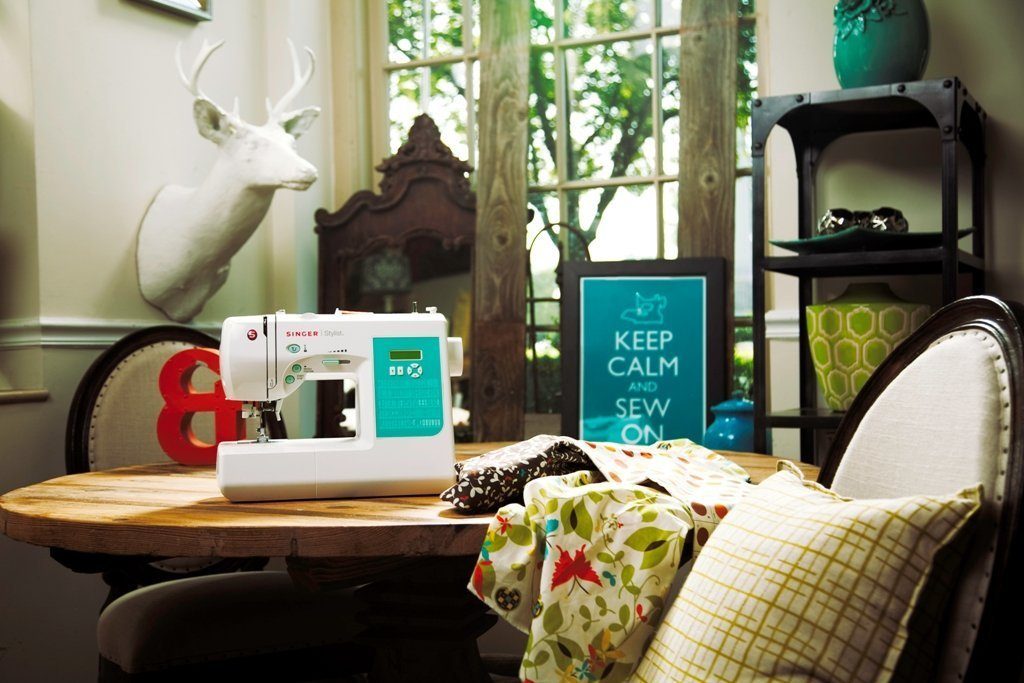 Before we get deeper into our Singer Stylist 7258 review, it's worth just taking a look at the technical specifications and features of this excellent sewing machine. Its most impressive feature is its exceptional array of 100 different stitch options, including everything from basic and stretch stitches to more decorative and intricate stitches. It also features an LCD screen to let you see which stitch you're working with and other settings, plus precise speed controls and a programmable needle. The Singer Stylist 7258 is a fully computerized sewing machine that also comes with electronic autopilot, a drop-in bobbin system, automatic needle threading, and one-step buttonhole functionality.
Overall performance
Singer's 7258 is an award-winning sewing machine that has found a place in countless homes around the world. It's a mid-range computerized machine with a lot of stitch options, which really help to make it one of the most flexible and versatile sewing machines on the market today.
In terms of the amount of features and functionality you get from this machine, the Singer 7258 offers staggering value. It's a budget-friendly device that can handle all kinds of common sewing tasks, as well as more elaborate projects with its decorative stitches and strong under-the-hood technology. It's a nice option for experienced sewers but also brilliant for beginners.
Ease of use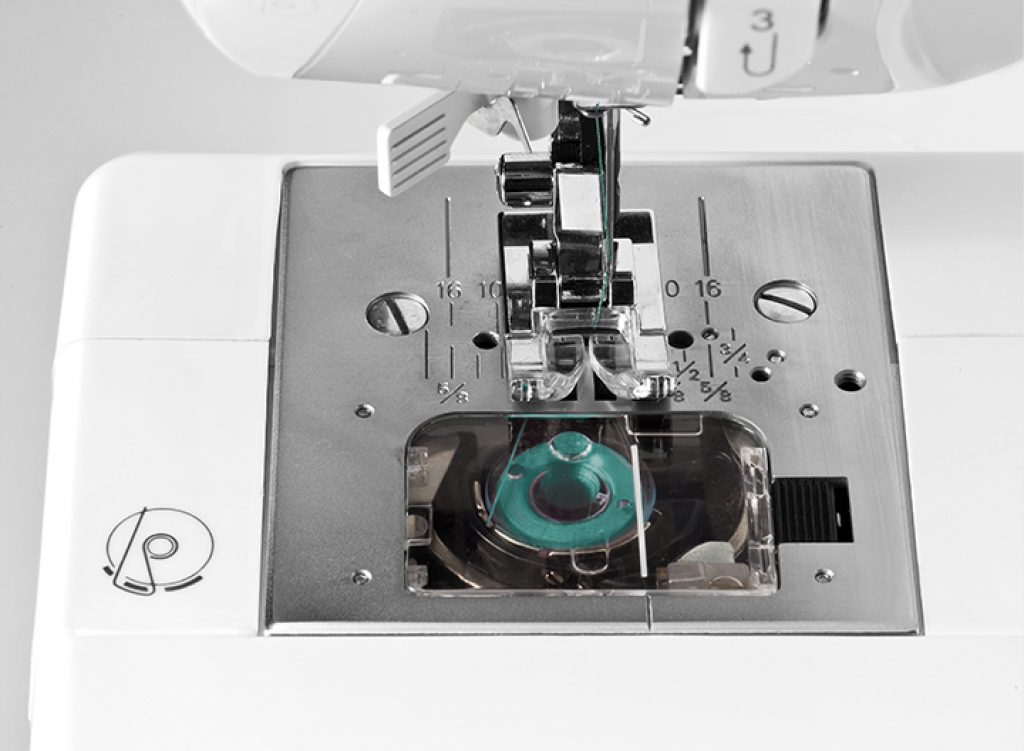 By far one of the most important elements of any sewing machine is its ease of use, especially for beginners or inexperienced sewers. We're glad to report in this Singer 7258 Stylist review that this sewing machine is very easy to use. It features clearly marked buttons for adjusting the speed and needle position, and the LCD screen is very clear and easy to understand too.
Beneath the screen, you have a few buttons to adjust the stitch style and size you're using, with all 100 of the stitches listed beneath the screen with little images and accompanying codes. It really couldn't be any simpler to start sewing like a pro with the Singer 7258 and it seems like the entire machine was designed with ease of use and simplicity in mind.
Sewing speed
Sewing speed is an important aspect to consider, especially if you like to take on different kinds of sewing jobs and projects and need variable speed settings to suit each task. The Singer 7258 definitely doesn't disappoint in this regard, capable of a wide range of settings from relatively slow to a very decent 750 stitches per minute.
You can actually adjust the settings with the little lever on the front of the machine. Once you set the lever at a speed you like, you don't even need to use the foot pedal to control the speed at all. The machine will automatically sew at the speed you've selected, which is very convenient, and you can change it whenever you want by moving the lever/slider to the left or right.
Built-in stitches, stitch length and width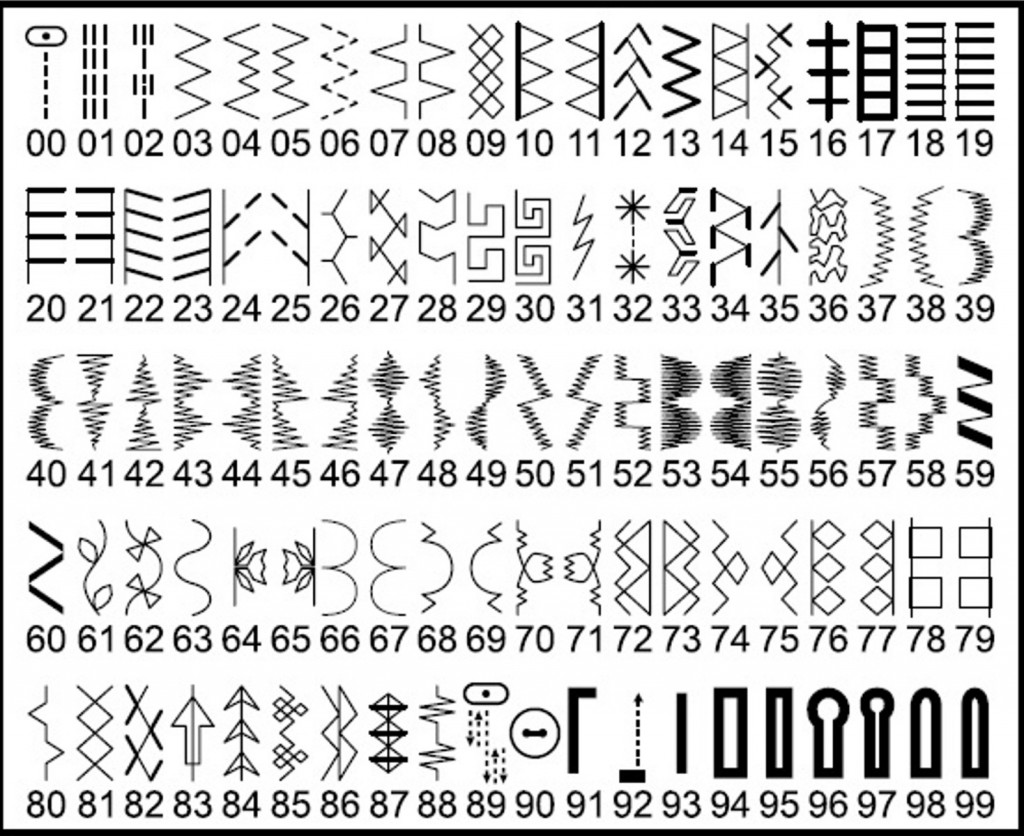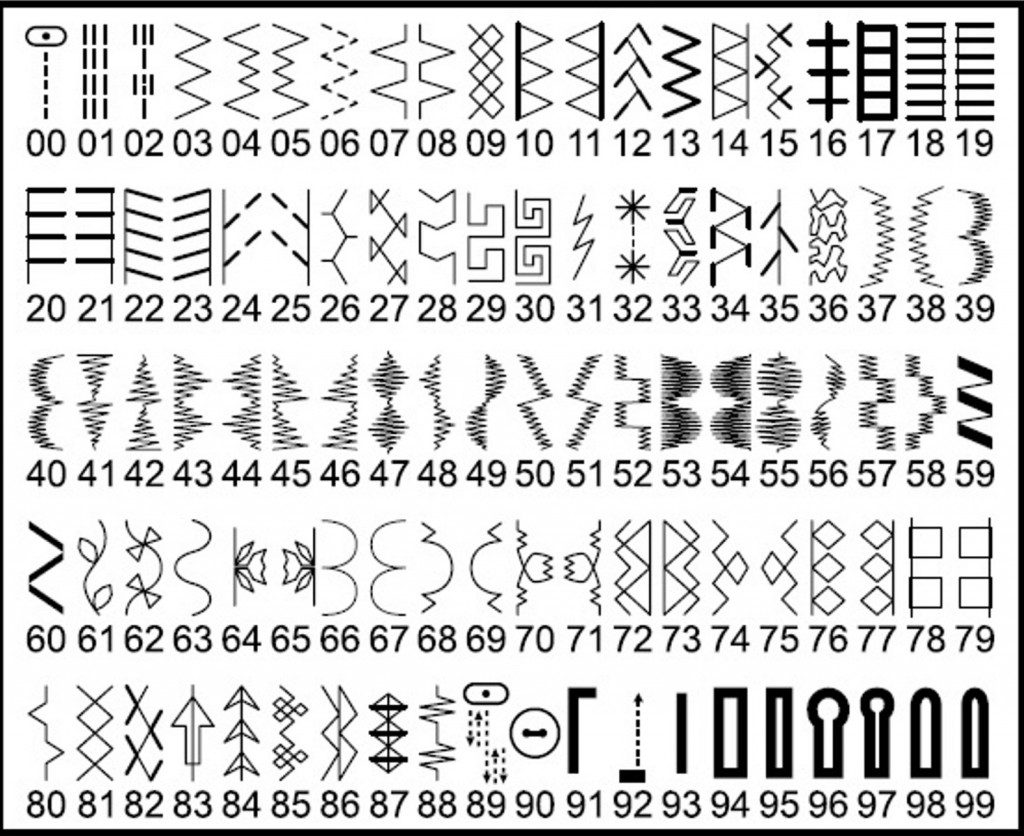 As previously stated earlier in our Singer sewing machine 7258 review, this machine excels in terms of stitch options. In fact, many people buy the 7258 purely based on the huge number and variety of options it has to offer. You'll be getting a grand total of 100 different stitch options with this machine, and you can change between them with ease using the buttons provided.
Of those 100 stitch options, more than 70 are decorative, with lots of detailed, intricate, unique, and stylish stitches to suit any project imaginable. There are also several basic and stretch stitch options to choose from, as well as a range of buttonhole stitches too. What's more, not only can you choose from 100 different stitches, you can also adjust the stitch length and width with ease using the buttons beneath the LCD screen.
LCD display
The LCD display of the Singer 7258 is one of the features that really stands out the most on this model. It's only a small and simple display, but it tells you all you need to know, including which stitch you currently have selected, plus the length and width of your chosen stitch, and you can adjust those settings with ease using the buttons provided.
It can be a little tiring to use the arrow keys to scroll all the way up through the numbers to get to a certain stitch, but this is only a minor flaw and won't bother too many users greatly. The information on the screen is always nice and clear and it's a great little feature, especially for beginners to help them get used to the machine.
Free arm
You can slide the removable storage compartment away on the Singer 7258 to get access to the free arm, letting the user sew things like trouser hems or sleeve cuffs with ease. Like the LCD screen, the free arm and its accompanying storage area is a nice little bonus of this machine, which helps to enhance its overall usability and versatility.
Lighting
Lighting can be such an important feature of any sewing machine. It's vital that you sew with strong illumination around your workspace so you can see exactly what you're doing for those intricate, precise projects and sewing jobs. Fortunately, the Singer 7258 excels once more in this domain.
This high quality computerized Singer sewing machine comes equipped with multiple StayBright LED lights. The lights are located on both sides of the needle, so provide strong illumination from every angle and give the user a very clear and bright view of what they're doing, minimizing shadows and giving you the precision you need to enjoy problem-free sewing.
Dimensions and weight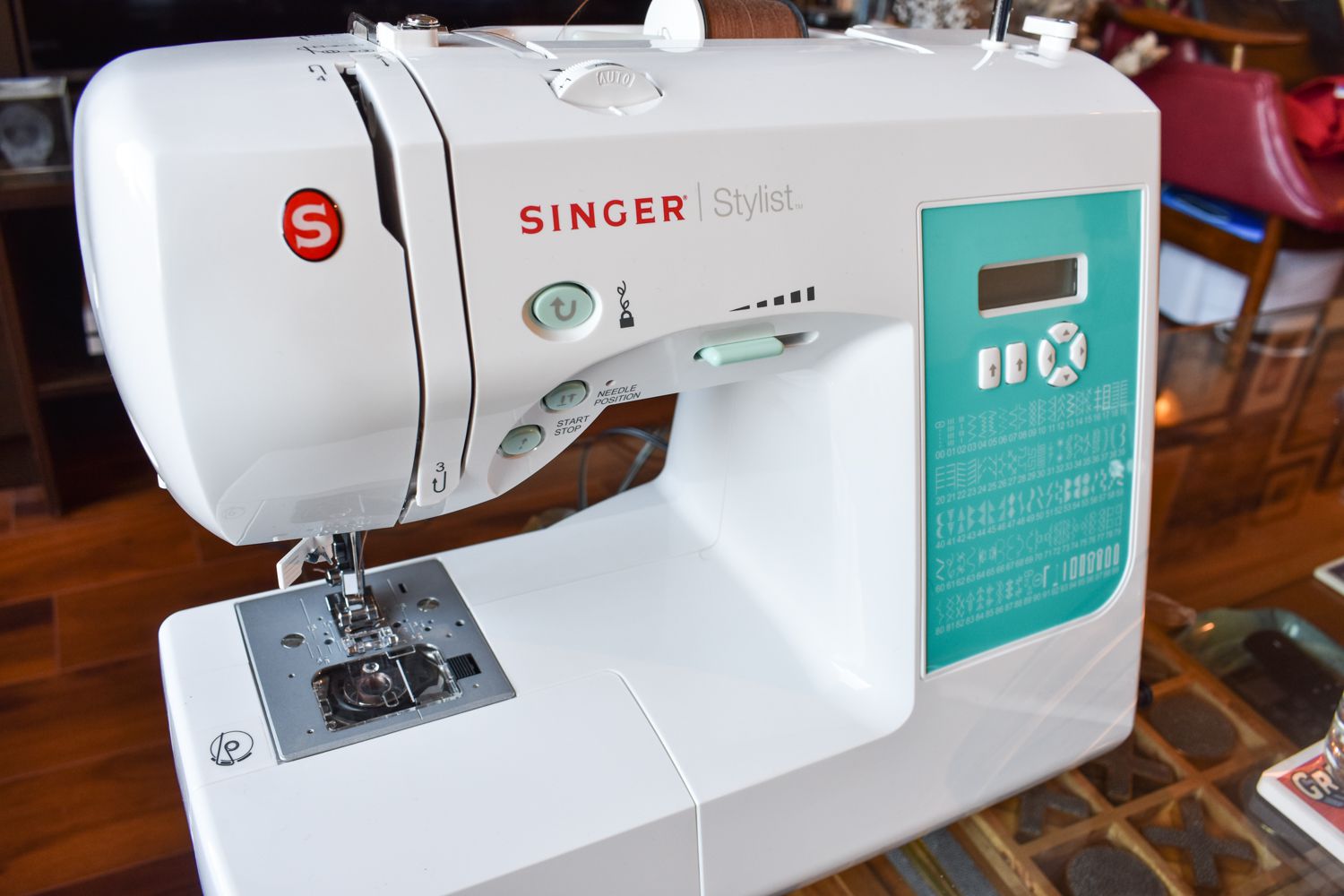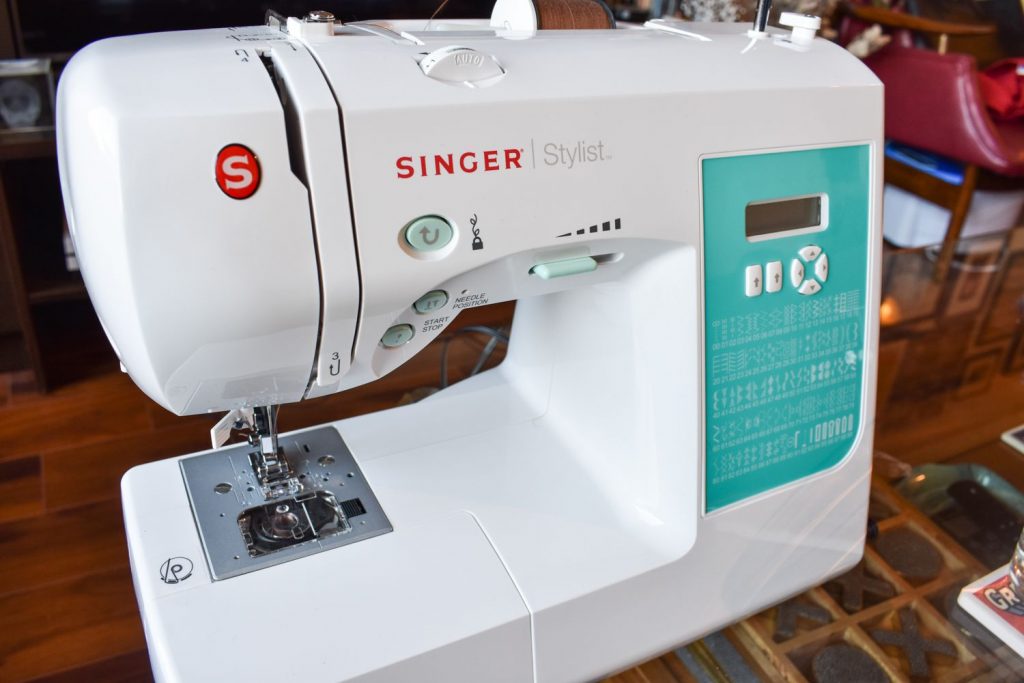 The size and weight of a sewing machine can be important for many people. These devices can famously be quite bulky and heavy, difficult to carry around and set up. In the case of the Singer Stylist 7258 sewing machine, we're looking at a machine that measures up at 14.5 x 7.5 x 12 inches and weighs a little under 15 pounds.
It's quite a sturdy and durable device, but it's not too heavy at all and can be carried around quite easily by most people. It's also quite a compact and nicely-sized sewing machine, especially when one considers how high performing and versatile it is.
Price
Experienced sewers will know that some machines can cost very high prices, and with all the features and functionality of the Singer 7258, one might expect it to be quite an expensive, high-end device. In actual fact, this Singer sewing machine is very fairly priced and falls right in the 'mid-range' category compared to other sewing machine price tags.
The Singer Stylist 7258 can be purchased for under $200, making it a very affordable and attractive option for people on a budget or those who are just testing the waters of sewing and don't want to make a huge investment straight away. It's an excellent value option, overall.
Key features
100 Stitch Options – The Singer 7258 gives you a huge number of stitch options to choose between, including dozens of decorative options.
Adjustable Stitch Size – You can change the stitch width and length whenever you want using the buttons provided.
Adjustable Speed – This sewing machine features a lever to let you change the speed on the fly.
Automatic Speed – With the Singer 7258, you don't need to use a pedal to control the speed as the machine can do it automatically.
Lighting – The Singer 7258 features powerful LED lights on both sides of the needle.
LCD Screen – A simple LCD screen shows you your currently selected stitch option and size.
Programmable Needle – The needle of the Singer 7258 can be moved up and down with a convenient button on the front of the machine.
One-Step Buttonhole – The Singer 7258 lets you sew buttonholes in a single step.
High Speed Stitching – The 7258 can attain speeds of 750 stitches per minute.
Free Arm – A removable storage compartment provides easy access to the free arm and lets you store spare needles.
Start/Stop Button – The start/stop button on the Singer 7258 lets you sew without using the pedal, if desired, with automatic speed adjustments for your convenience.
Accessories – The 7258 comes with 10 different presser feet, thread spool caps, an auxiliary spool pin, a pack of needles, a lint brush, a darning plate, spool pin felts and an instructional DVD.
PROS
CONS

Lots of stitch options
Very easy to use
Perfect for beginners
Highly affordable
Lots of included accessories
Easy to adjust
Multifunctional

Can be a little noisy
Choosing stitches can be time-consuming