Singer is a respectable brand. It is one of the oldest sewing machine makers popular for quality and high-performance units. The Singer 4452 is one of their heavy-duty gems. It comes with a motor that is 60% more powerful than that of a regular machine. This means you can sew all kinds of fabrics including the non-generic thick ones like canvas and denim. You can also sew lightweight materials with it, thanks to its convenient adjustable presser foot.
The machine has a lot to offer, from unmatched versatility and great stitch speed to multiple accessories. It is pretty basic in design yet highly-functional. At least you won't get overwhelmed with a gazillion confusing features. This Singer 4452 review has all the details that will rule out your suspicions about the all-inclusive model.
This product's also been included into these rankings:
Specifications
Type
Electric, treadle-powered sewing machine
Buttonhole styles
1 one-step
Stitch length
Adjustable length
Dimensions
15.5 x 6.25 x 12 in.
Review
The Singer 4452 is not an attractive machine. There's nothing fancy or cutesy about it. It means business, like every other heavy-duty sewing machine should. It is the pinnacle of Singer's heavy-duty line of machines. Its wide array of features and easy usability makes it a perfect fit for both beginners and advanced sewists.
The highlight feature of the machine is its ability to sew thick fabrics like denim, canvas, and leather. It's fast stitching speed and easy set-up are the main reasons it is a famous go-to for many. The machine boasts great versatility with 32 different built-in stitches. With these stitches, the sky is the limit for you in terms of creativity. The Singer 4452 won't solve all of your problems but it will try. It will not bombard you with extraneous features. It is just a basic workhorse.
Design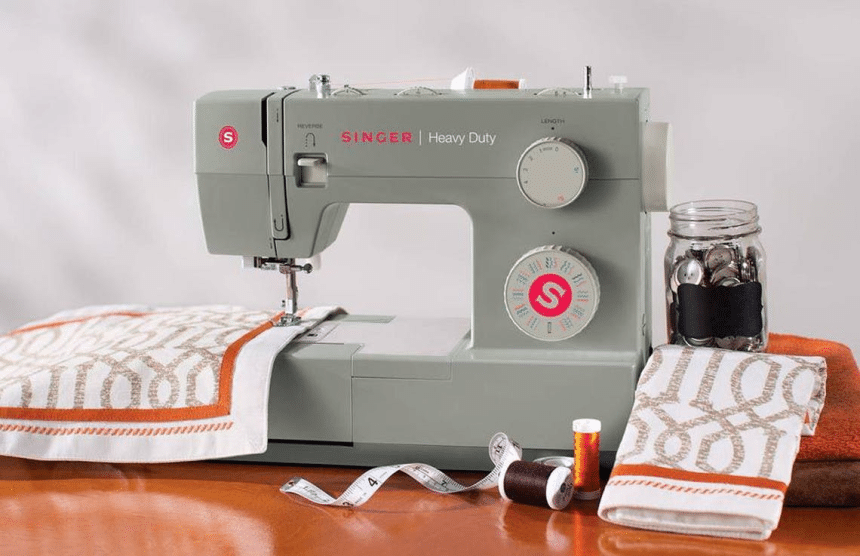 The Singer 4452 has a pretty basic design. It is very simple on the surface. It is not a beauty at all. Its design means business and nothing else. All its elements are beneficial and will help you make your job easier.
The machine boasts a rugged build with a heavy-duty metal frame made to last. The metal frame reduces vibration and noise, hence its relatively quiet operation. It also makes the machine capable of handling heavy workload easily. It is unlikely to cramp with frequent use because of the frame.
At its top is a handle that helps you pick it up easily when you are moving it from one point to another. There's also a transparent bobbin plate on its surface that will help you monitor the thread supply.
It features 2 turn knobs at the front of its panel. The larger knob is meant for choosing a stitch while the smaller one is used for adjusting the stitch's length.
Overall Performance
As much it's not the most elegant machine out there, the Singer 4452 is an incredible workhorse. It is a manual sewing machine, so you can forget about the fancy computer chip with easy setting adjustments.
It is also relatively easy to use as you can play with the settings to figure out the tension and stitch types that would work for your projects.
The machine mainly stands out because of its powerful motor and ease of use. A beginner wouldn't have much to complain about. A seasoned sewist would equally make the most out of it as it has features that can meet their needs.
The powerful motor allows you to work on thick fabrics and delicate ones alike, thanks to the adjustable 6 presser feet included in the package. The multiple stitches, high stitching speed and accessories that come with the machine also contribute to its top-rated performance.
Another unique aspect of the machine is its ability to change the thread tension or presser foot pressure. Very few heavy-duty machines include this feature as most manufacturers assume they'd only be used for heavy-duty applications. This increases its versatility to work with a wide variety of materials.
Ease of Use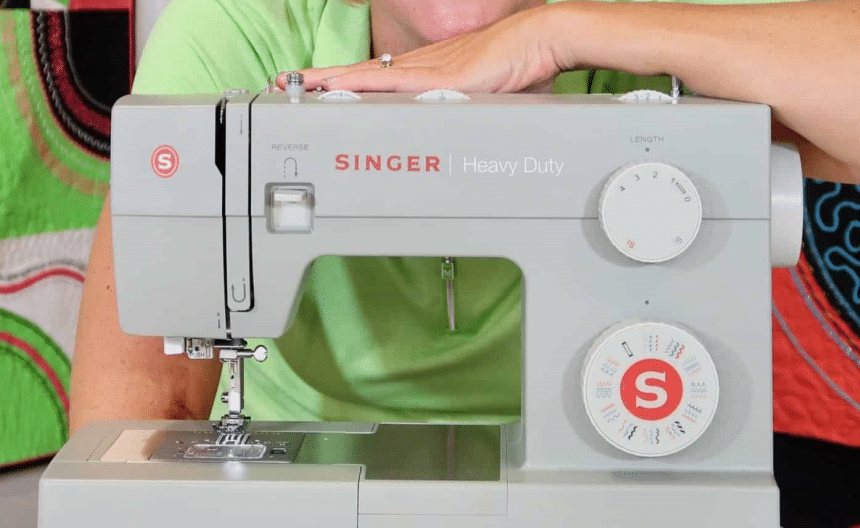 The Singer 4452 is a mechanical machine that is superbly easy to use owing to all of its convenient features. First off, it comes with a detailed quick-guide and user manual. With keen adherence to the manufacturer's instructions, set up should be a breeze.
Some of the features that make the machine remarkably easy to use include an automatic needle threader and easy loading bobbins. The automatic needle threader will help you save a lot of time as well as avoid unnecessary eye strain.
The machine's bobbin is easy to load as well. Plus, it is transparent so you can always see how much thread is left so you can change before you begin your next project.
Sewing Speed
This is one area in which the Singer 4452 shines. It can sew up to 1100 stitches per minute which is pretty fast; much faster than most high-end sewing machines.  This means you would have no excuse to not complete your projects on time.
The only downside to this speed is that it can get hard to control especially for beginners. The machine uses a foot pedal to control the speed. You must apply the right amount of pressure on the foot pedal to get a consistent sewing speed. It's not rocket science. It only takes a little practice to get the hang of it.
Quick tip: make a foot pedal pad to prevent the foot pedal from moving around when you are still trying to learn a consistent and steady sewing speed.
Bobbin
Unlike other Singer machines, the 4452 requires zero intuition to set up the bobbin. The bobbin is a top-drop which simply requires you to drop it then follow the directions imprinted on it to pull the thread through its case.
What's more, the bobbin case is transparent. This allows you to monitor the amount of thread you have left so that you don't run out in the middle of your project. The only downside is you have to lift the bobbin thread yourself. It's usually a standard on most Singer sewing machines.
Needle Threader
Threading the needle is virtually every sewist's biggest dread. It takes time and strains the eyes. Some people are good at it though. The Singer 4452 is the ultimate solution for those who hate to think of threading their machine.
The machine features a built-in automatic needle threader. Threading the machine simply entails rotating the threader towards you to allow a small hook to pass inside the eye of the needle. You can then go ahead to wrap the thread around the hook then pull it back through the needle.
As much as the automatic needle threader is a convenient feature and is deemed better than those of other brands like Brother, it is a delicate piece that's breakable. Always ensure the needle is at the center or raised to the correct point, otherwise, you would have trouble getting the hook through the eye and end up bending the device.
Also, when you are positioning the needle to the highest point, be careful not to turn the hand wheel away from you as it would break the machine.
Thread tension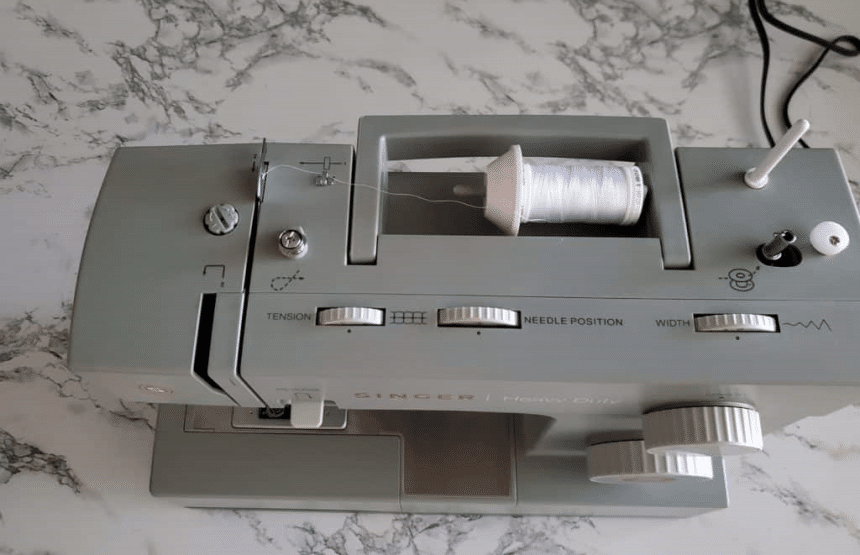 For you to achieve the best possible stitch quality on different types of fabric you must adjust the thread tension of the machine. With the Singer 4452, you can do so using an adjustable manual control.
The adjustable upper thread tension gives you complete control over the tension of the upper thread. You can adjust this tension manually to get the perfect tension balance for your stitches.
The same concept applies to the presser foot pressure. You can control the presser foot pressure by manually adjusting the foot tension to suit different fabrics with different thicknesses.
Built-In Stitches
The more the stitches a sewing machine has the more versatile it is. The singer 4452 comes second to none in terms of versatility. It has 32 built in stitches which is a pretty wide range for a basic home machine. You can choose any of the stitches with the large knob on the machine's top. Of the 32 stitches, there are 18 decorative, 6 basic, 7 stretch, and 1 buttonhole.
The stitches offer you multiple choices for decorating and designing creative projects. What's more, the machine features the reverse stitch lever. This allows you to sew in reverse so that you can secure a seam. The seam gets secured at the beginning and the end preventing it from unravelling.

Stitch Length and Width
The smaller knob on the front of the Singer 4452 allows you to adjust the length of your stitch of choice between 0 and 4mm. As for the width adjustments, there's a button at the top of the machine that allows you to change the width of your stitches between 0 and 6mm.
As a beginner, you are likely to experience a lot of confusion with trial and error adjustments. You can avoid this by making yourself a cheat-sheet of average settings for the stitches you are fond of using.
The rule of thumb usually is that thicker fabrics need longer stitch lengths while delicate fabrics need shorter stitch lengths. For a start, you can do 2 or 3mm length for a straight stitch for sewing a seam and 4mm for a straight stich for basting fabrics together.
Free Arm
When you remove the accessories compartment on the Singer 4452, you will be left with its built-in free arm. A free arm is a convenient feature, especially on heavy-duty machines. It facilitates the sewing small and circular clothing items like sleeves and curves.
Can you imagine sewing the two sides of your sleeves together accidentally? The free arm prevents such frustrations. If you anticipate to work on circular and small projects like hemming jeans, then this machine has got you covered.
Lighting
The machine features bright LED lighting that illuminates the stitching area adequately. If you work in a poorly lit room, the lights will sort you. They also help reduce eye strain when you are working on dark projects by allowing you to see your designs clearly.
Dimensions and weight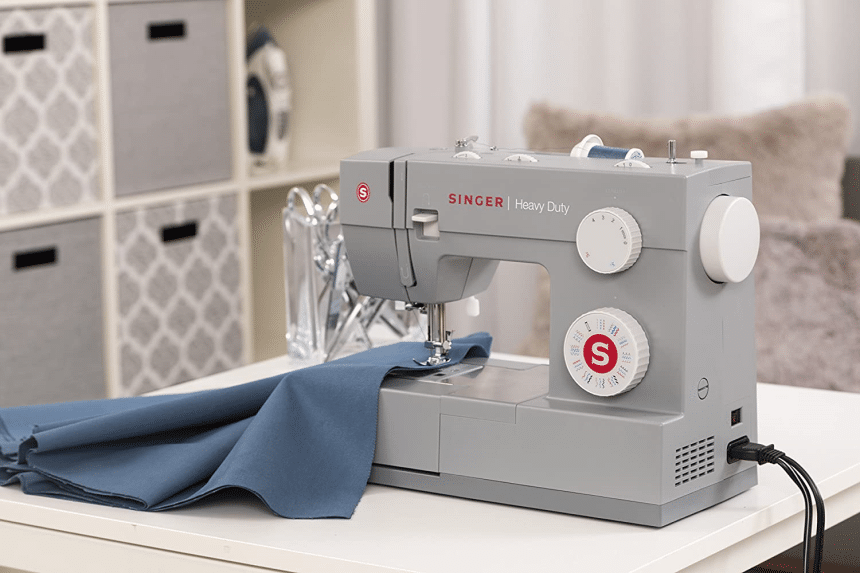 The Singer 4452 weighs 14.6 pounds. The weight is surprisingly light for a heavy-duty machine. Although it's not as heavy as other machines on the market, it's not the kind of light that you'd want to carry to classes frequently.
The size is pretty standard like that of other heavy-duty sewing machines. It's not the smallest, so you want to create ample space for it in your work space. You'd conveniently use the machine if you placed it somewhere permanently because it is not easily portable.
Accessories
On top of the myriad impressive features this machine offers, it comes with tons of standard accessories and several bonus heavy-duty ones. They include:
All-purpose foot
Needles
Bobbin
Zipper foot
Buttonhole foot
A quilting guide
An instruction manual
A power cord
Soft dust cover
Clearance plate
Screwdriver
Even feed or walking foot (an essential for quilters)
Non-stick foot for tough fabrics
Seam ripper and lint brush
Auxiliary spool pin
Warranty
Many sites state that the Singer 4452 has a 25-year warranty cover but the Singer website states that it carries a limited 90day/2yr/24yr warranty.
The 90 days covers attachments, rings, adjustments, bulbs and belts. The 2 years covers all the electronic components like the motor, speed control, switches, light assembly and wiring. The 24 years covers the sewing machine's head.
Should your machine fail to function properly within 90 days of purchase, you will get free repairs at Singer's expense for labor. After 90 days, you will get help but you will have to pay for labor.
Some sewists complain that the warranty isn't the most stellar on the market. It is therefore advisable that you unbox your sewing machine and try it out before the 90 days expire.
Price tag
The Singer 4452 is fine heavy-duty machine that comes at a surprisingly affordable price compared to others of its caliber. It is fairly priced and you will get excellent value for your money.
Key features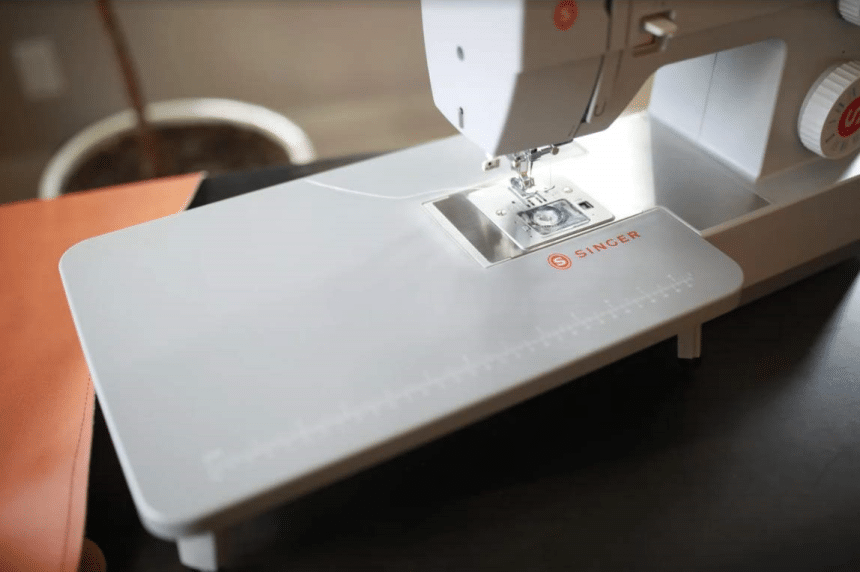 The Singer 4452 comes with multiple features and some of the essential ones include:
Heavy-duty metal frame
Automatic needle threader
60% more powerful motor
Adjustable stitch length and width
Snap-on presser feet
One-step buttonhole
Easy leading bobbin with a transparent cover
Rotary dial for changing stitches easily
Needle up/down
Super-fast stitching speed 1100 stitches per minute
Free-arm for hard-to-reach areas like sleeves and curves
32 built-in stitches
PROS
CONS

Incredibly fast stitching speed
Solid durability
Multiple stitch options (32)
Handles thick fabrics
Versatile- different settings for different projects
Runs smoothly
Easy to use
Powerful motor
Great for both beginners and advanced users
Relatively quiet
Sturdy and stable during sewing
Free-arm sewing for hard to reach items
Easy to set up

The foot pedal can be hard to use
Some users experience tension issues
Tends to break needles at maximum sewing speed
Conclusion
Singer has managed to stay in the game as a big shot brand for so long because they continue to make excellent products at reasonable prices. The Singer 4452 is one of their budget mechanical heavy-duty sewing machines preferred by many for its power, ease of use and versatility.
It's is a nice basic workhorse that doesn't have all the extras and fancy design but it gets the job done. It's pretty intuitive as it isn't packed with a lot of confusing features. Its powerful motor is its main selling point. It runs the machine smoothly and gives an impressive stitch speed of 1100 stitches per minute.
With 32 built-in stitches, you can create just about anything. Plus you can adjust the length and width of the stitch of your choice. You also get to make secure seams with the reverse stitch feature.
The Singer 4452 is very straightforward and it comes with a user manual that you can always refer to if you get stuck. It also features a quilting guide as a bonus accessory for quilting enthusiasts. Besides, the user guides, the machine is packed with features that make it remarkably easy to use like an automatic threader, a free arm and an easy loading bobbin with a transparent case.
The first glance at the Singer 4452 would have you worried that it has a flimsy build because of its plastic exterior. Don't let the plastic exterior fool you. The machine has a solid build. Its metal frame interior accounts for its sturdiness and durability. You can count on it to hold up well regular use for many years to come.