Many people enjoy sewing. It's a great pastime and a useful skill to learn. You can sew with all kinds of materials and create everything from clothes to quilts and crafts. However, in order to get the most from your sewing experiences, it's vital to choose a sewing machine you can trust. The Singer 4423 is one of the best all-round sewing machines you can buy.
Coming from one of the best brands in the business, the Singer 4423 is an affordable, dependable sewing machine with a great range of features and useful add-ons to help you handle almost any sewing project with ease. Our Singer sewing machine 4423 review will give you a full, in-depth overview of this machine.
We'll take a look at the various features of the machine throughout our Singer 4423 review. We'll also consider its overall price and value for money factor, along with its size, weight, ease of use, and general performance statistics. Read on to learn all about the Singer 4423 and find out whether this sewing machine is the right one for you.
This product's also been included into these rankings:
Specifications
Speed
1100 Stitches Per Minute
Dimensions
15.6 x 6.25 x 12 inches
Warranty
90 day/ 2 yr/ 25 yr
Singer 4423 Review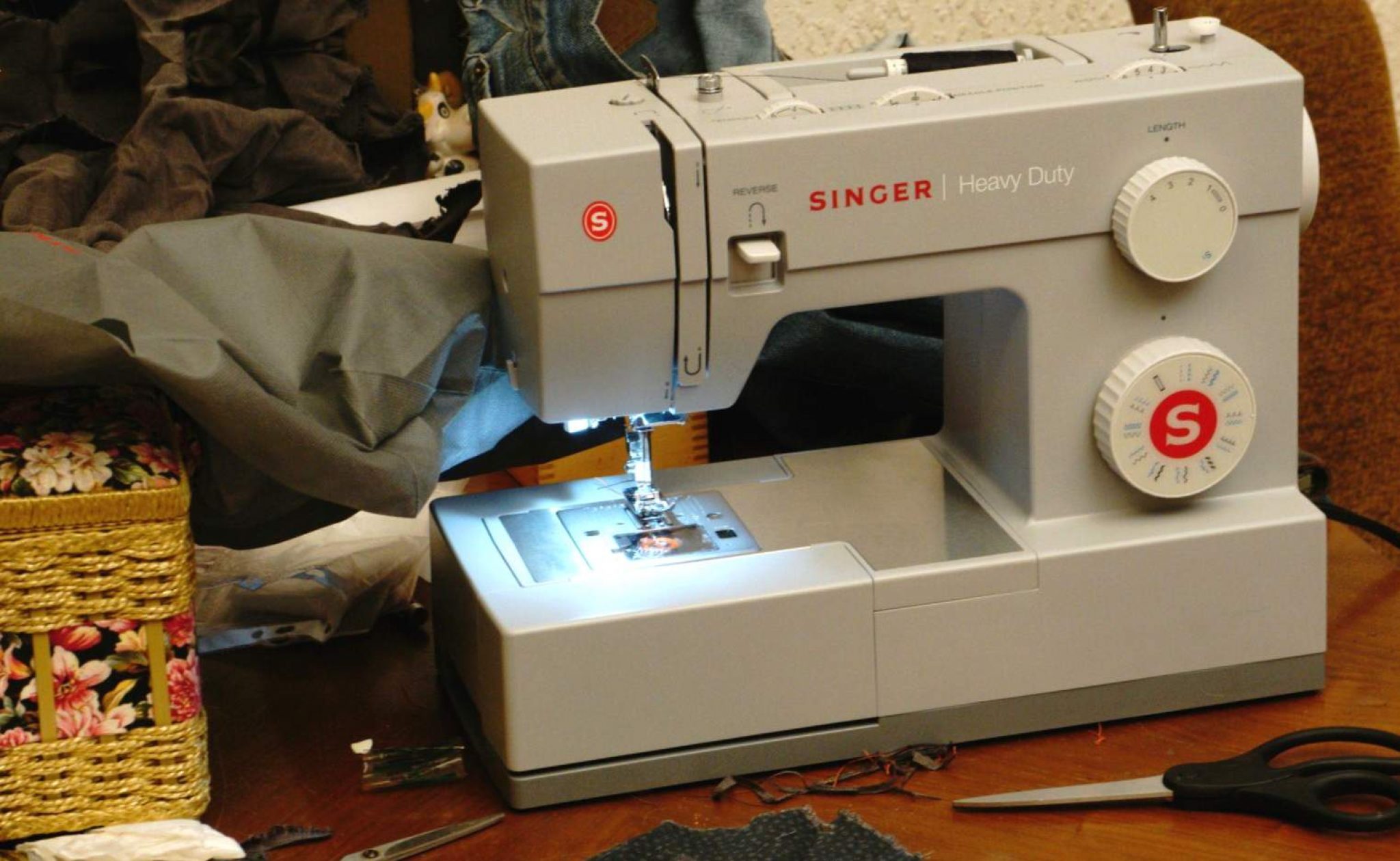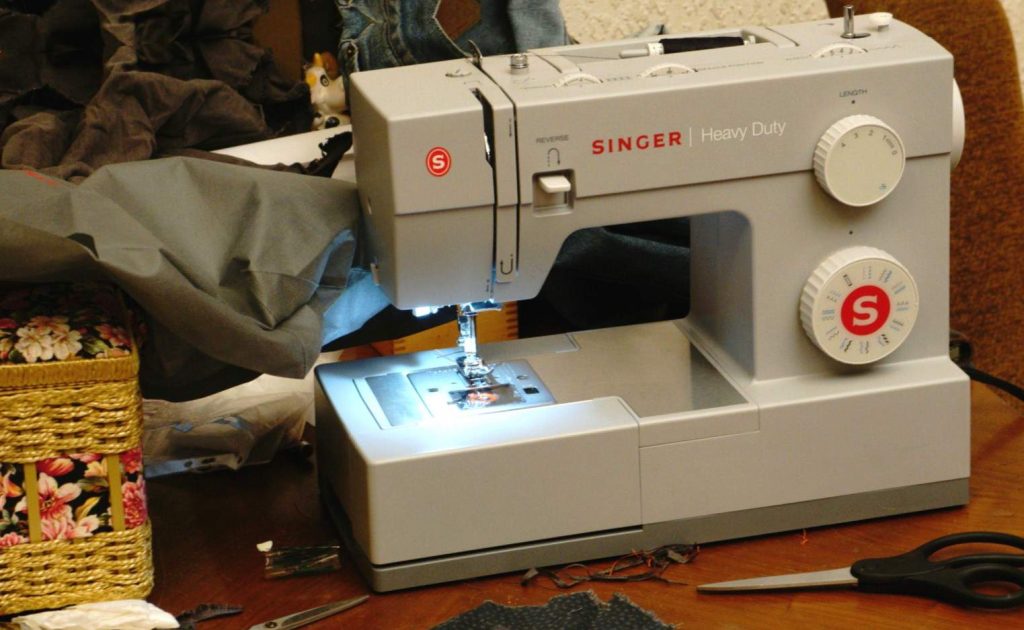 When writing up our Singer heavy duty 4423 review, the first thing we noted is the all-round quality of this machine. Made by one of the sewing industry's leading brands, the Singer 4423 has a lot to offer. It is able to sew at some very impressive speeds and keeps things simple and approachable with a classic, mechanical system, as opposed to a computerized counterpart.
The Singer 4423 offers a great range of built-in stitches and options in terms of stitch length and width too. It also comes with a free arm to help you handle a range of additional sewing projects, like sleeves, with ease. Plus, it can also come with a very long warranty and is also quite a lightweight sewing machine compared to many others on the market. Read on in our Singer HD 4423 review for details on the features and functionality of this machine.
Overall performance
The first aspect to think about in our Singer 4423 heavy duty sewing machine review is the overall performance of this machine. When buying a sewing machine, many people want it to last for several years, offering many sessions of happy, problem-free sewing. As one would expect from Singer, the 4423 is a machine you can trust.
It's a heavy duty sewing machine, built to last and designed to handle any situation. It can be reliably used again and again without any problems, offering plenty of useful and functional features to improve and enhance your sewing experiences.
The Singer 4423 offers super high sewing speeds too, along with a tough metal interior frame and powerful motor, ready to push the needle through even heavy weight fabrics and keep on going through extended sewing sessions.
Ease of use
Ease of use is another essential element of our Singer 4423 sewing machine review. A lot of people have been sewing for years and have plenty of experience, so can handle more advanced machines and features with ease.
However, there are also plenty of individuals out there who are still relatively new to sewing and need an intuitive, easy to use machine that they can feel comfortable with. Surprisingly, the Singer 4423 manages to please everyone! It has been designed flawlessly from the ground up by Singer's expert team in order to appeal to both beginners and experts alike.
Those who are new to sewing will really appreciate the simplicity of this machine. It features a simple dial that lets you choose between the various built-in stitch types with a flick of the wrist. It also comes with a range of accessories to get you started and allow more experienced users to test out their advanced techniques.
There's a little accessory tray, which can be simply and easily removed to reveal the free arm, and the Singer 4423 has one very important feature that helps to make it super useful: automatic needle threading. This really saves you a lot of time and frustration, allowing the needle to be threaded automatically without the need for the user to carefully and precisely thread it through themselves.
Sewing speed
Sewing speed is one area of our Singer model 4423 review that really stands out from the crowd, as this machine is capable of some super high speeds. With a high power motor under the hood, the Singer 4423 can reach a maximum sewing speed of 1,100 stitches per minute. This allows experienced and advanced sewers to handle tough, long projects more quickly and easily than ever before.
Even if you're working on something huge like a quilt, the Singer 4423 can make the whole process go a lot faster with its superior speeds, even out-sewing a lot of the more expensive models out there. The speed is variable too, and the user can adjust the speed as they like during the sewing process, slowing it down for more intricate work and speeding it up for simple tasks like sewing straight lines.
Built-in stitches, stitch length and width
It's always helpful when a sewing machine comes with a range of built-in stitches. These are essentially pre-programmed or pre-fitted stitch types that the user can switch between as they sew, allowing them to sew in different styles and patterns. The more stitch types you have, the more variety your machine is able to offer.
Some sewing machines can boast of more than a hundred different built-in stitch types. The Singer 4423 isn't quite that powerful. In our Singer 4423 heavy duty review, we discovered that this machine comes with 23 built-in stitches in total.
It's not quite as much as some of the more expensive models out there, many of which offer fancy patterns and intricate letter and symbol stitches too. However, it's still a good number and gives the user a lot of options, without overwhelming them with too much choice.
12 of the 23 built-in stitches are decorative, and the other featured stitches include basic, stretch, and buttonhole stitches too. This allows the user to take on a wide range of sewing projects from quilts to crafts and even decorative items you can display around the home.
In terms of stitch size, it's always helpful to be able to adjust this too in order to have more flexibility and options with your machine. The Singer 4423 is able to offer adjustable stitch width and stitch length up to 6mm.
Noise Level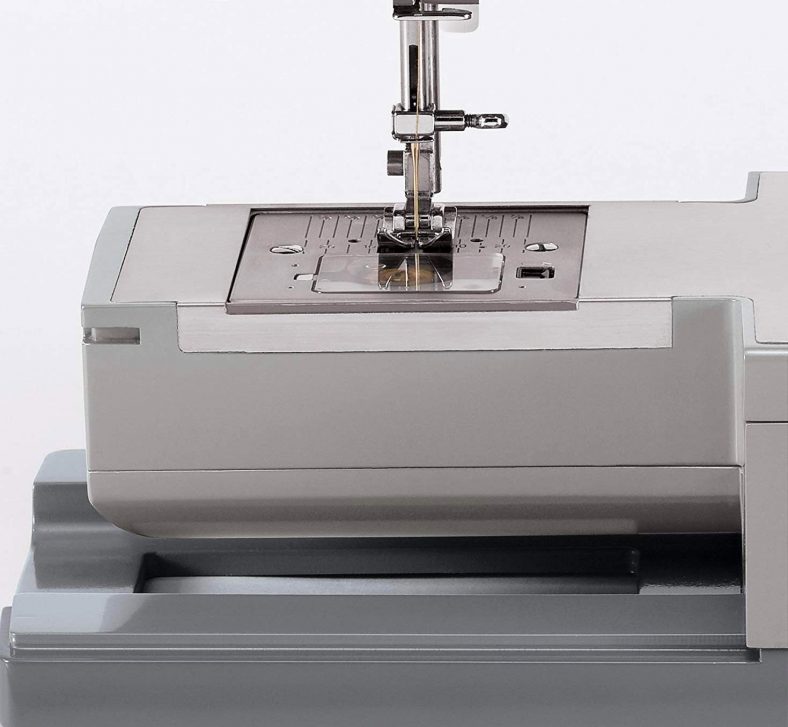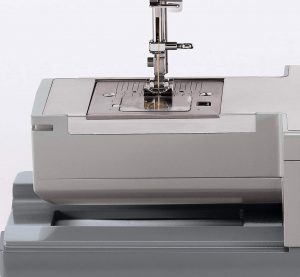 One thing that many people need to think about when buying a sewing machine is the amount of noise it can make. Noise levels for sewing machines are measured in decibels (dB) and they can vary quite a lot. These machines have a reputation for being quite noisy, but there are some more silent options out there.
Unfortunately, the noise level of the Singer 4423 is quite high. This sewing machine can register at over 70 dB. For reference, that's about the same noise level as a car traveling at 65mph or a typical vacuum cleaner going around the home. This means that the Singer 4423 is quite a loud sewing machine, and it can be frustrating or distracting to some people when the machine is in operation.
However, it's more or less in line with many other machines out there and is actually a little bit quieter than some of the competition, so this is just something that people typically have to accept when buying a sewing machine.
Free arm
Another aspect of our Singer heavy duty 4423 sewing machine review to think about is the free arm. The vast majority of modern sewing machines come with a free arm, especially those produced by leading brands like Singer. A free arm, as the name indicates, is essentially an almost-free-standing part of the machine that can be used to sew certain specific items, like sleeves.
To reveal a free arm, you usually have to remove the surrounding parts of the shell, just like on the Singer 4423. You can take away the accessory tray on the side to open up the free arm. This will allow you to wrap sleeves and other pieces of material around it and sew them with ease. The free arm is very easy to access and simple to use on the Singer 4423, helping to give this model yet another advantage for users.
Lighting
Sewing is often an intricate process in which the sewer needs to be able to clearly see what they're doing. The slightest mistake can ruin a project, so it's vital to be able to see clearly at all times.
This is why a lot of high quality sewing machines come with built-in lights to illuminate the sewing area around the needle and help you see everything without any shadows or issues. When a sewing machine doesn't come with a light built-in, you need to spend extra money investing in an extra accessory light to stick on the side or position nearby.
Fortunately, the Singer 4423 heavy duty sewing machine does feature a large LED light just beside the needle. The light works excellently to light up the space all around the needle, not casting big shadows and helping to make the whole space super clear and visible. This is a great advantage of the Singer 4423 and helps to make it more user-friendly overall.
Dimensions and weight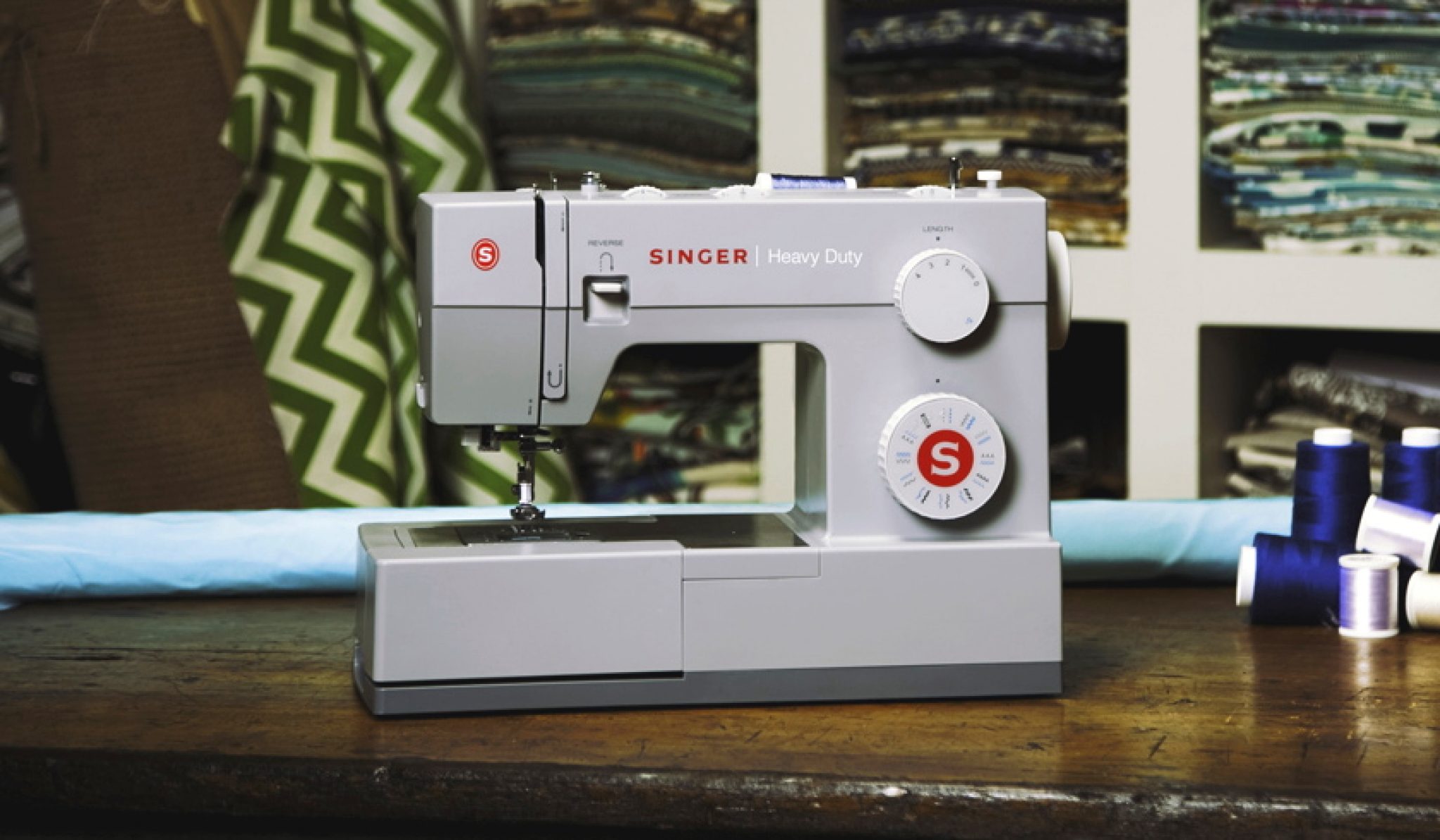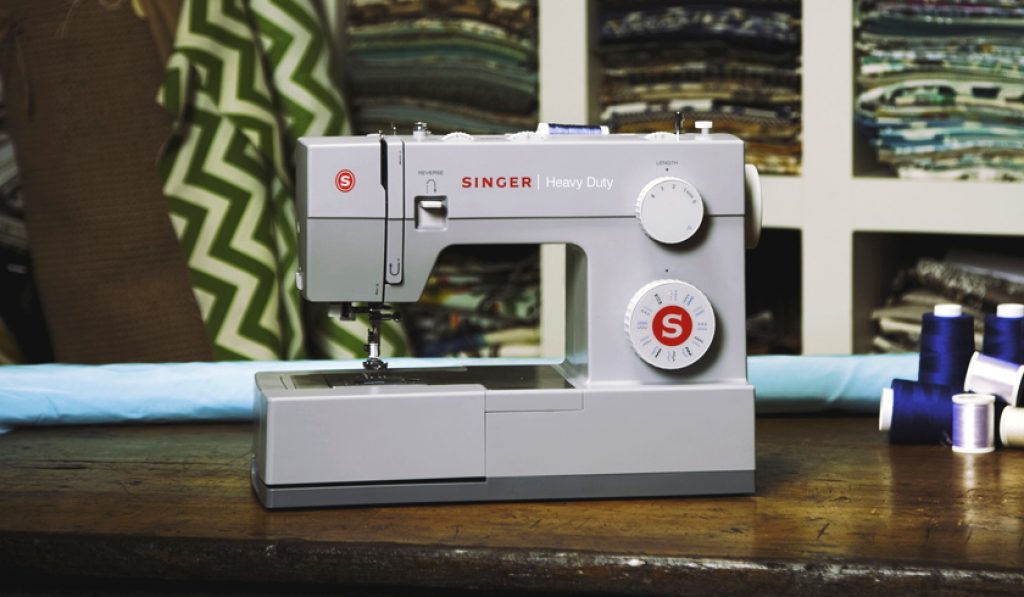 You also need to think about the size and weight of a sewing machine before buying one. Don't forget that many sewing machines are quite big and heavy, and this means there are several important issues to think about.
Firstly, you have to look at the weight of the sewing machine and think about how often you'll need to lift it and move it around. Carrying heavy objects up and down the stairs or lifting things too often can be a problem for many people, so this is definitely an important factor to think about.
The size of the sewing machine is also important, as this determines how compact the machine is and how much space it takes up. You need to find a machine that fits your sewing space just right, as well as one that can be easily stored away when not in use.
The Singer 4423 measures up at 15.5 x 6.2 x 12 inches. Compared to other machines from the same brand and other leading manufacturers, this is quite small and convenient. It weighs in at just over 14lbs, which is still heavy for some users but relatively lightweight overall, so it's quite easy in most cases to carry the Singer 4423 around and store it away.
Price
Sewing machines can come at a huge range of different price tags. Some of them are super cheap, costing less than $100, whereas others can be valued at several hundred dollars or even several thousand dollars if you want a truly high-end, industrial grade model. The Singer 4423 is available at a very attractive and affordable price of under $150. It's one of the top value for money, all-round sewing machines on the market today.
Key features
23 built-in stitches including buttonholes, basic stitches, and decorative stitches
Automatic needle threading feature
Free arm Accessory tray
Ships with a range of accessories like needles, bobbins, and all-purpose foot
25-year limited warranty
1,100 stitches per minute maximum sewing speed
PROS
CONS

Great for beginners and experienced sewers alike
Super fast sewing speeds
Amazing value for money
A super long warranty to protect your purchase
Heavy duty metal frame provides durability
Automatic needle threading for simple use
Lots of accessories included

Not a huge range of built-in stitches
Can get quite loud