In this Singer 4411 sewing machine review, we will delve into the features, design and functionality of this machine to help you make an informed purchase decision.
The Singer 4411 heavy duty sewing machine with easy-to-use mechanical features and a variety of different stitch types including a buttonhole stitch. While this model may have a limited selection of stitches compared to other sewing machine models, it has a metal frame and solid construction, offering fast sewing speeds. This makes this machine ideal for those who appreciate simple features, but may need to work their machine hard.
The Singer 4411 is classified as a beginner machine, so it has all the features you'll need to get started without feeling overwhelmed by complicated settings. While there is some manual adjustment, the design and layout is intuitive, so you can develop your skills and confidence.
However, since the machine is heavy duty, it may also appeal to more experienced sewing enthusiasts who are looking for a sturdy machine with a powerful motor to tackle heavier fabrics and larger projects without breaking the bank. If this sounds like this could be the machine for you, read on.
This product's also been included into these rankings:
Specifications
Type
Electric, treadle-powered
Dimensions
15.5 x 6.25 x 12 in.
Review
The Singer 4411 heavy-duty sewing machine is packed with features that enhance its functionality. We'll examine the key features in more detail below.
Design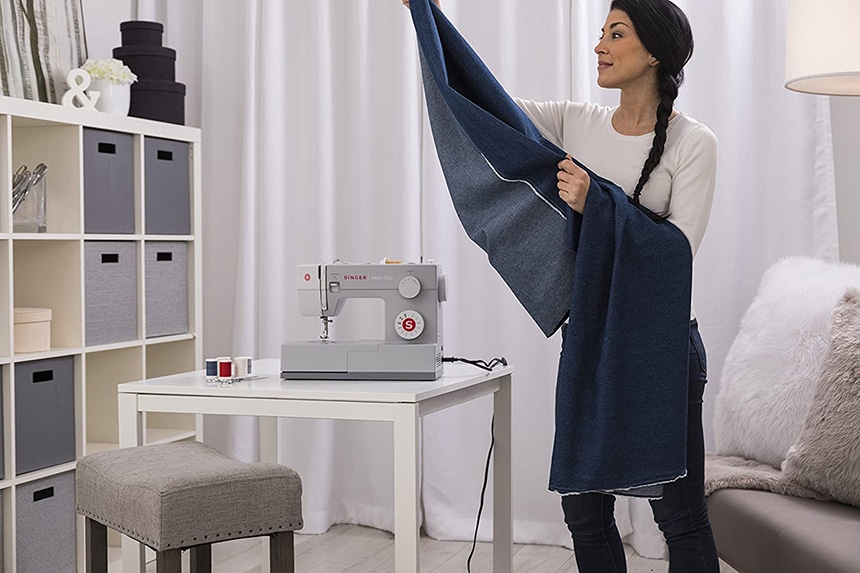 The Singer 4411 has a boxy and sturdy design, which suggests this machine is durable and reliable. The machine has a heavy-duty interior metal frame that provides rigid support and keeps the mechanisms in alignment. There is also a stainless steel bed plate that encourages fabric gliding on the machine arm.
The overall finish is an industrial gray color, but there are red details to highlight the design features including the stitch selection and Singer Logo.
Overall Performance
Singer is an established sewing machine brand throughout the world. This company has a fantastic product line for all types of sewers.
The Singer 4411 Heavy Duty is a great option for home sewers. While it can handle most sewing tasks, it is not really designed for industrial sewing. It can sew through a few layers of fabric, but if you want to sew layers of heavy fabrics such as denim, you may be better suited with an industrial machine.
The 4411 has some great features, so it is easy for beginners to use, but it also has the capability necessary for more experienced sewers.
Ease of Use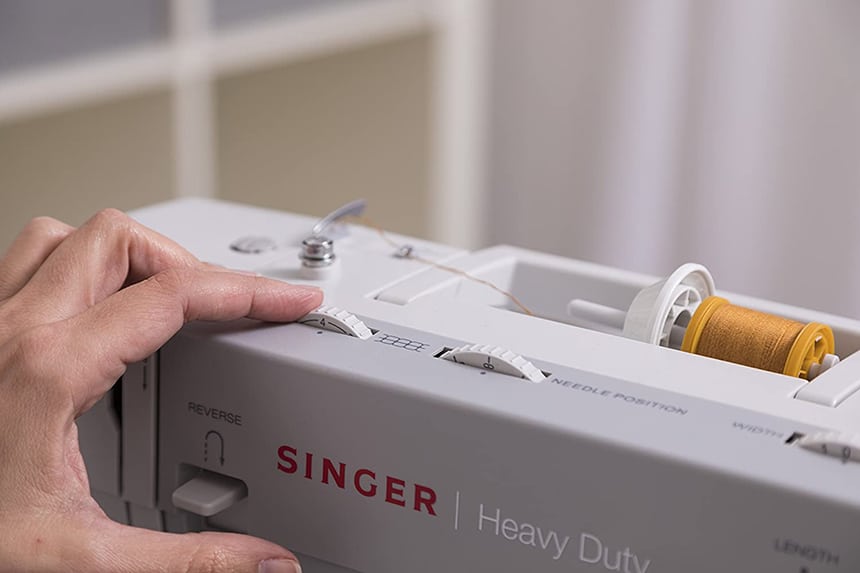 Although the Singer 4411 does allow for some manual adjustment, it does have an intuitive layout that makes it easy to use. You can adjust the stitch width and length and the tension to customize your stitches.
The machine can also handle a variety of different fabric weights. So, whether you're sewing silk or denim you can adjust to find the ideal stitch and thread combination to complete your project.
While the machine does have a fast sewing speed, it has all the features you'll need as a beginner or more experienced sewer. This creates a versatile, full size machine that will allow you to tackle almost any project.
Sewing Speed
While most standard machines sew at 750 to 900 stitches per minute, the Singer 4411 can manage an impressive 1,100 stitches per minute. Since the machine is designed for these fast sewing speeds, you don't need to worry about uneven sewing or the machine skipping stitches.
Just be aware that if you're not used to a fast machine, you may need to practice sewing at these speeds. Fortunately, you can adjust the foot controller speed. There is a screw inside the pedal that allows you to adjust the speed. You can simply play around with this until you reach a speed that you're comfortable using.
Built-In Stitches
The Singer 4411 has 11 stitches built in. This includes six basic stitches such as zig zag and straight. There are also four decorative stitches and an automatic buttonhole stitch.
Reverse lever
When you're stitching fabrics, you need to reinforce the stitches to ensure they don't pull away. Without a reverse lever, this can be a challenge. Fortunately, the Singer 4411 features a built-in reverse lever, so you can easily reinforce the first and last stitches on your project.
Bobbin
Whether you're a beginner or an experienced sewer, having a bobbin that just drops into place can make everything a little easier. This is how the bobbin on the Singer 4411 works. There is also a clear plastic cover over the bobbin bay, so you can see how much thread you have remaining.
This can be helpful if you're sewing a long seam and don't want to stop part way, so you can wind more thread onto the bobbin.
Loading a drop-in bobbin is simple. You just need to lift the presser foot, pulling the needle up to the highest possible position. Open up the slide plate and remove the empty bobbin. Take approximately three inches of the thread from your new bobbin and drop it into place. You will then need to guide the thread through a couple of notches and pull it up. Once you put the slide plate back in place, you're ready to start sewing.
Needle Threader
An automatic needle threader is a lever to guide your thread through the sewing needle eye. This can be a great feature for those who struggle to thread needles, but unfortunately, the Singer 4411 does not have this feature.
However, since it has good lighting, you should not have too many issues threading the needle. Beginners may just need a little practice.
Thread tension
Proper tension is crucial for a strong seam. Correct tension occurs when a small amount of your upper thread appears on the bottom side of your fabric.
There is no single setting for tension on all stitch functions, fabric or thread. Generally, a balanced tension where the stitches are identical top and bottom is only desirable when you're straight stitching. So, in most cases, you will need to adjust the thread tension according to what stitch you're using. You will obtain a nicer stitch and less puckering if you have the right tension.
To adjust the tension, there is a dial on the 4411. To increase the tension, simply turn the dial to the next number, while turning the dial down will reduce the tension.
Most of your sewing will require a tension setting of between "3" and "5". However, if you notice the tension is too loose adjust to a higher number or turn the dial lower if the tension is too tight.
The bobbin tension is set at the factory, so there should be no need to make any adjustments.
Stitch Length and Width
The Singer 4411 has a maximum stitch length of 4mm and maximum width of 6mm. You can adjust the stitch length with the adjustable and manual control. This allows you to manually adjust the length of the stitches to create a different effect and change the appearance of the inbuilt stitch.
The machine also has a stitch width adjustment control. You can manually widen your stitches, which may be particularly helpful to customize zig zag stitches.
Free Arm
A free arm is an excellent feature if you're working on very small projects, hemming pants or sewing a tube-shaped item. On the Singer 4411 there is both a free arm and extension table. The extension table includes storage for your sewing accessories. You can also completely remove the extension table, so you can access the free arm from either side.
Lighting
Even if you have a bright and sunny sewing room, you may still need additional light for your sewing projects. The 4411 features a 15-watt LED light that automatically turns on when the machine is switched on.
The light illuminates the sewing plate, so you can see your stitching more easily. Since this light has an LED bulb, you can expect years of use. However, when it does come to time to replace the bulb, it is a relatively simple procedure.
You simply need to open up the front cover with a screwdriver to access the bulb. Be sure to unplug your machine to prevent possible shocks before you begin. Once you open the front cover, you need to unscrew the old bulb and screw in a replacement bulb. You can then close the cover and replace the screw before plugging in your machine and testing it.
Dimensions and weight
The Singer 4411 is a substantial appliance, but is not as heavy as an industrial machine. It weighs 14.5 pounds, making it fairly easy to move and lift on to a tabletop to complete your sewing projects. The machine has a foot print of approximately 15x6x12 inches. So, it should not take up much space when not in use.
This is quite impressive given that the 4411 can handle heavier fabrics and more challenging sewing projects. While many people may like the idea of having an industrial machine, most of us don't have the space to accommodate such a hefty piece of equipment. So, the 4411 is a decent compromise. It can handle most fabrics, yet has fairly modest dimensions and weight.
Accessories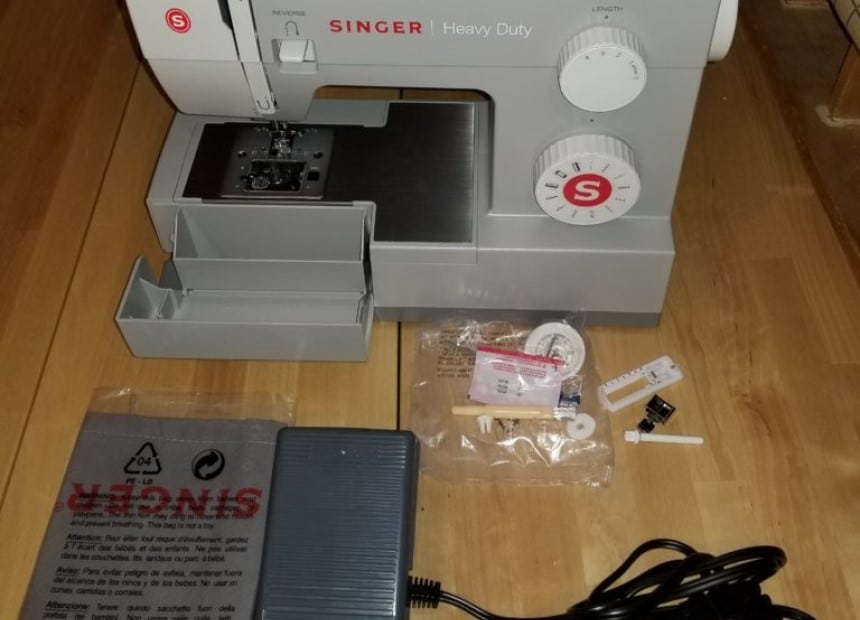 In addition to the machine itself, power cord and pedal, the 4411 is supplied with a number of accessories. This includes:
Screwdriver: This is the correct size and head to open up the cover and replace the bulb or perform other basic maintenance tasks.
Bobbins: The 4411 is supplied with several bobbins, so you can spool different colors and types of thread. These are plastic bobbins, which is standard for a drop in style bobbin. You should only use this style of bobbin rather than substituting metal bobbins, as this may cause the machine to become jammed.
Seam Ripper/Lint Brush Combo: This is a great piece of kit for any sewing enthusiast. You'll need a seam ripper to quickly and easily remove any stitching errors, while the lint brush allows you to keep your fabric clear of any debris as you're sewing.
Needles: Good quality needles are crucial for any sewing project, so Singer provides a set of needles to get you started.
Instruction Manual: This is your essential owner's manual. Be sure to keep this on hand, as it will provide details on how to spool bobbins, thread the machine and perform maintenance tasks.
Soft Sided Cover: The 4411 is also supplied with a dust cover, so you can protect your machine when it is not in use.
Warranty
A warranty showcases the manufacturer's confidence in their product. With the 4411, Singer offers a three-year part warranty. The sewing head and related parts have a 25-year limited warranty, but the motor has a two-year warranty. The lamps, belts and attachments are covered by a 90-day warranty. This means that you should be able to enjoy years of stress-free sewing with this machine.
Price tag
Despite these impressive features, the Singer 4411 has a rather modest price tag. While it has a heavy-duty motor and can handle all types of fabrics, you will not need to pay much more than a basic sewing machine.
This could offer a great compromise for those who are looking for a more industrial style machine, but cannot afford the hefty price tag associated with these types of machine.
Additionally, you have the reassurance of a 25-year limited warranty for the machine included in the price.
Key features
The Singer 4411 has numerous features, which include:
A heavy-duty motor: The Singer 4411 is designed as a heavy-duty machine and as such its motor is 60% stronger compared to the standard Singer sewing machines. This additional power will allow you to sew heavy duty fabrics without risking burning out the motor.
Four presser feet: This machine is supplied with four presser feet to accommodate different sewing types. This includes an all-purpose foot, a zipper foot, a button foot and a buttonhole foot.
Four step buttonhole maker: Making buttonholes can be time consuming, but the Singer 4411 allows you to automatically make buttonholes with its four step buttonhole stitch. All you need to do is place the button on your fabric to mark its size before you raise the needle and change the selector. There is also an adjustment, so you can fine tune your buttonhole.
Edging guide: If you're planning on quilting using this machine, you'll find this is an excellent feature. The guide attaches to your presser foot, so you can sew a consistent distance between seams. You can also use this guide to create decorative stitches on your projects.
PROS
CONS

Can sew a variety of fabrics
Solid internal frame, so it won't move or tip if you're sewing heavy items or large projects
Built in thread cutter, so you don't need to move your hands from your project to reach for scissors
High power motor for consistent stitches on any project

Since it runs faster, it can sound louder compared to other sewing machines
Speed does take some getting used to, but you can adjust it as you become familiar with it
Preset stitches only, so you cannot expand your stitch styles
No auto needle threader
Conclusion
As we have shown, the Singer 4411 is a highly versatile machine with a decent range of features and a modest price tag. While it is designed to be suitable for beginners, the heavy-duty motor and metal internal frame make it a great option for more experienced sewing enthusiasts.
In addition to this, the 4411 is supported by an impressive 25-year warranty, with a two-year warranty for the motor. It is also supplied with a basic kit of bobbins, needles and even a cover to get you started. This should allow you to enjoy years of sewing without needing to make a significant additional investment.
So, in conclusion of this Singer 4411 sewing machine review, this machine is a solid choice whether you're a complete novice or budget conscious sewing enthusiast. It is well worth serious consideration, when you're shopping for a sewing machine to start your next project.