Singer 2277 is one of the few affordable, solid and straightforward beginner sewing machines out there. It doesn't have all the bells and whistles typical of other Singer sewing machines but its simplicity is its selling point. It's not only a top preference for beginners but also sewists who don't like to fiddle around with many features. The unit is simple to use, portable, and has the right number of built-in stitches. It is perfectly suited for simple sewing projects, and occasional garment repair as you will see in this Singer 2277 review.
The machine belongs to the Singer tradition line which has 3 other machines: 2250, 2259, and 2282 with a similar price point. The main difference between the earlier models; and the newest ones is a one-step buttonhole upgrade and more stitch designs. This makes them more popular.
This product's also been included into these rankings:
Specifications
Buttonhole styles
1, fully automatic
Needle threader
Automatic
Dimensions
15 x 6.2 x 12 in
Review
The Singer 2277 is the ultimate beginner sewing machine that is also valuable to seasoned sewers. It is very basic but can come in handy for various sewing projects. It also comes with a couple of accessories that not only make it a versatile option but also save you some pocket change. Here are some of the features that make the sewing machine a solid option.
Design
The Singer 2277 comes in a compact yet sturdy build. It is almost the size of a small microwave. It is also incredibly lightweight and can easily be transported from place to place. The machine is quite the spectacle with its entirely white body and a few lime green accents on its stitch selector dial. The appearance is not that sophisticated, but it's also not entirely boring.
The full interior of the machine is metallic, hence its sturdiness. You can count on it to give you excellent value for your money when it comes to longevity. If you intend to use it just for occasional sewing and simple garment alterations, you can trust that it will serve you for a long time.
Overall performance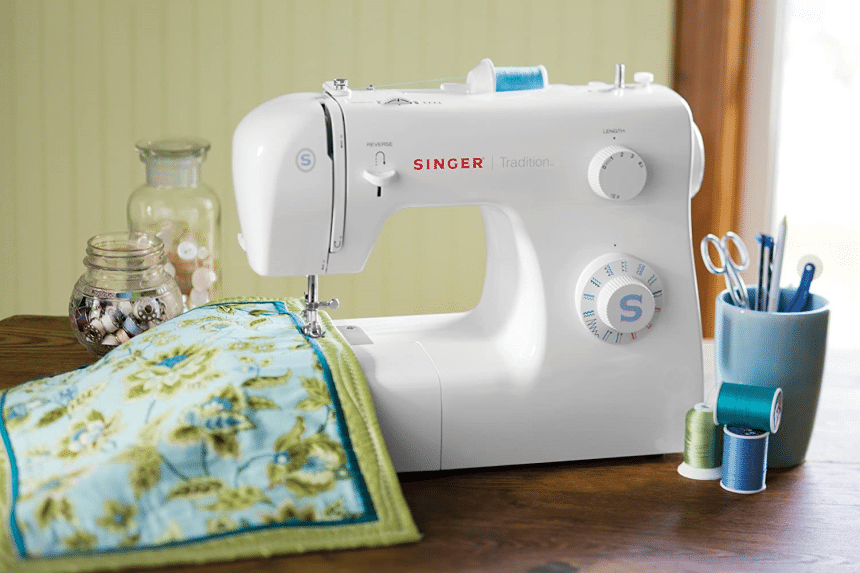 Being one of the World's most trusted and recognizable sewing machine brands, you cannot expect anything less than a stellar performance from any sewing machine. Singer has been the leading sellers of both artisan and consumer sewing machines for the longest time now. The Singer 2277 is one of their beginner models in the traditional line with all the positive rave about its overall performance.
The machine is also fairly sturdy for a beginner model. Although the sturdiness doesn't come as a surprise because Singer is a world-famous sewing machine brand associated with unmatched quality.
The machine is super-easy to set up and use thanks to its user-friendly features and intuitive design. Although the machine is advertised to be ruggedly built with a full metallic interior, it is not a heavy-duty machine. You can only use it for small sewing projects like garment repairs. It is designed for learners and occasional sewers, in fact, most users wish it came with a dust cover or hard case to protect it from dust during storage. Also, you cannot use it for thick fabrics. This does not meant that it is a toy machine. Heavy fabric types like leather, tweed, wool and thick cotton is likely to stall the machine or break needles consistently. To be on the safe side, just stick to lightweight to medium fabrics and consider sturdier models for thick fabrics.
Ease of use
The Singer 2277's main selling point is ease of use. Setting it up and using it is such a breeze thanks to its intuitive design and straightforward features. If you buy it as your first sewing machine or receive it as a gift, you'll have it running in no time. All you have to do is thread it properly, then pick a stitch with the dial, and a stitch length with the opposite dial. Press the foot pedal and voila! You're ready to go.
The machine has manual controls that are pretty intuitive. They allow you to control the stitch parameters and thread tension with ease.
It also has an array of convenient features like the free arm and automatic needle threader that make it a tad easier to use. These are features you hardly get in cheaper, portable beginner models. They are only common in mid-range and high-end machines. The bottom line is, the learning curve on the Singer 2277 is so small and it wouldn't take much to get accustomed to its functionality.
Sewing speed
Singer is not known to provide sewing speed information for its mechanical sewing machines but the 2277 is an exception. It sews at 350 stitches per minute. This is not the fastest sewing speed out there but it is sufficient for a learner or a beginner.
Also, as an occasional sewer, you won't need a high sewing speed because it is highly unlikely that you will be in a hurry. Heavy-duty machines have high sewing speeds because the users work on multiple projects with tight deadlines regularly. Once you have mastered the basic sewing skills, you can upgrade to a better machine with a fast speed and top-notch features that suit your advanced skills.
Built-in stitches
The Singer 2277 has 23 stitch designs and 97 stitch applications which are more than enough for an entry-level model. The stitch options aren't so varied that you'd be overwhelmed or confused but are adequate to serve you through various small projects. You can sew a tote bag, make a shirt cuff, hem a pair of pants or even start the beginnings of a quilt. Also, once your sewing skills advance, you can adapt the stitch options to more advanced projects.
Just so you know, stitch applications are different from stitch designs. Essentially, stitch applications are the different ways in which you can adjust the length and width of the available stitch design to create a new one.
The most common stitch application is sewing a zigzag stitch with a zero width to create a satin stitch. With 97 stitch applications, you can get creative and make the most of the sewing machine even as an advanced learner or a highly skilled sewer. The best thing about the 97 stitch applications is that Singer thoughtfully created a detailed guide on how to do it.
Stitch length and width
You can adjust the length and width of the 23 stitch designs in 97 different ways. The adjustable stitch length and width is what makes this machine versatile. It offers you the ability to hone your basic sewing skills as you pick up new ones along the way. You may not need to upgrade to a more advanced sewing machine once you master how to adapt the 23 stitch options into different types of projects by adjusting their lengths and widths.
Needle threader
This is one of the features that make the Singer 2277 incredibly easy to use. Threading a machine is one of the things that most beginners and even seasoned sewers dread.
Automatic needle threader saves you time and efforts. It's not that necessary a feature but if you have ever spent minutes squinting at the end of a fuzzy thread trying to pop it through the needle then you will understand why it's such a wonderful feature to have.
Most manufacturers neglect to add this simple feature to their low-end machines yet it isn't any complicated or expensive. Luckily, the Singer 2277 has it.
All you need to do to use the threader is raise the needle to the highest position then press the lever near it to the furthest point. Pass the thread through the thread guide then in front of the needle around the hook. Next, release the lever then pull the thread loop through the needle's eye.
Working area and free arm
The Singer 2277 is not a big machine. Its working area is not the amplest out there but it is adequate for small to medium projects. Plus, it comes with a free arm which allows you to work on the hard to reach areas of your projects like sleeves, collars and pant hems with ease.
Lighting
The machine features an LED light bright enough to allow you to see your dark projects without squinting. Also, if your craft room is poorly lit, you will benefit highly from the LED lights on the machine.
Dimensions and weight
At a mere 13 pounds, the Singer 2277 is one of the easiest sewing machines to lift and carry. It wouldn't be such a pain when carrying to class, transporting or moving from one place to another during cleaning or for storage purposes. You can invest in a good carrying case to make the machine even more portable.
Its compact build also makes it easy to store. It's almost the size of a small microwave. If you have limited storage and working space, it should be your prime pick.
Warranty
The Singer 2277 like many other Singer machines is backed by a whopping 25 year warranty. However, not all the parts of the machine are fully covered for 25 years. The sewing machine head has a warranty cover of 25 years from the date of purchase. The motors, stitches, wiring, electronic components, light assembly and speed control have a backing of 5 years from the date or purchase. Should anything happen within the period, Singer will do repairs and replacements for free, but you will have to pay for labor.
Other aspects like the machine's bulbs, belts, rings, adjustments, and attachments are guaranteed for one year.
Accessories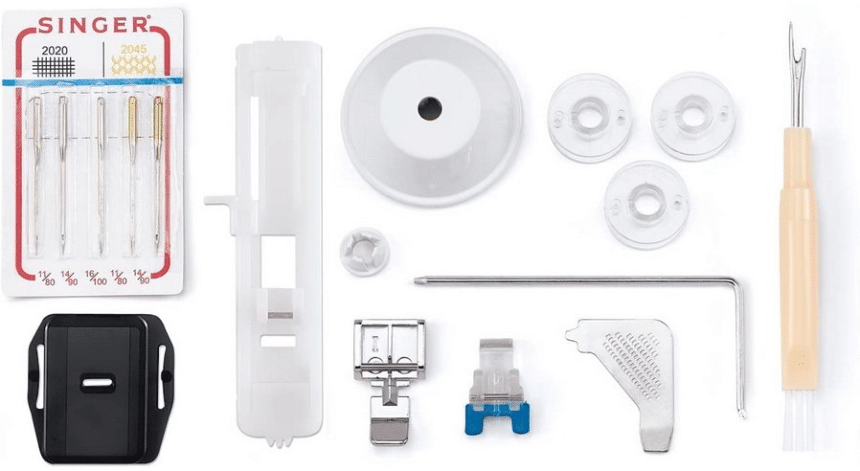 The Singer 2277 comes with multiple accessories that offer excellent value for money. The accessories also make it highly versatile and easy to use. They include;
Instruction manual
Quick start guide
Edge/quilting guide
Screwdriver
Thread spool cap holders
4 feet (Button sewing foot, all-purpose foot, Buttonhole foot and Zipper foot)
Lint brush
Bobbins
Needles
Darning plate
Price tag
You can part with hundreds of dollars for a decent sewing machine. The Singer 2277 is a top contender among the best entry-level sewing machines but it doesn't dent your wallet. It comes at a fraction of what most machines within its range cost on Amazon.
The machine retails at 273.99 dollars as at now (June 2021) which is quite a deal for anyone looking for a low-budget yet high-quality entry level sewing machine. You will get the biggest bang for your buck considering all the accessories and convenient features included. The fact that it is ready to use straight from the box in terms of accessories is a crucial money-saving factor worth considering. Plus it comes with a generous warranty.
| | |
| --- | --- |
| PROS | CONS |
| Basic and easy to use | Not the best for advanced sewing |
| Easy to setup | Tends to shake or move during sewing |
| Sturdy metallic build | The reverse lever is reported to get sticky at times |
| Easy to thread | The bobbin system tends to jam |
| Light and portable | Some users have issues with the thread tension |
| Useful stitch applications guide | |
| Twin needle capability | |
| Great accessories pack | |
| Excellent value for money | |
| Versatile | |
Conclusion
It is quite evident that this unit is the ultimate sewing machine for any keen learner. It offers a bit more than other basic sewing machines out there, and thus is outstanding as a beginner option. Its features are incredible, considering its pocket-friendly price point. Its automatic needle threader is remarkably efficient, its dials easily accessible thanks to the proper labels and you can fully control it with the foot pedal.
As if that's not enough, the machine features a one-step buttonhole that a sewist of any skill level will appreciate. It comes with all the presser feet and stitches you need to complete both basic and sophisticated projects, plus, it keeps your workstation well lit with the LED light. The machine compares favorably to its sister models because of the one-step buttonhole feature, a faster sewing speed and a wider range of stitches to choose from.
Is there anything you feel we missed in our Singer 2277 review? Let us know in the comments below.