JustToSew is reader-supported. We may earn a commission through products purchased using links on this page. Learn more about our process
here
When looking for a sewing machine, it is quite likely that you'll end up with either Juki or Janome options in your shortlist of possible purchases. After all, both these manufacturers are famed for their high-quality offerings. That said, some buyers have a hard time deciding which is better in the Juki vs Janome comparison, and we understand why.
Remember that both manufacturers have multiple offerings currently in the market. Also, you'll no doubt find mixed reviews when researching the various Juki and Janome sewing machine models available for purchase. However, one thing these manufacturers have in common is that most people who buy their machines end up satisfied with the purchases. That said, you may still want to know which is superior in a Juki vs Janome comparison before deciding on which sewing machine to buy. The brands' comparison below may help shed some light on the subject.
Brands comparison
Juki and Janome are two bigwigs in the sewing machine manufacturing business, and unsurprisingly they both have their origins in Japan. Juki's history, for one, can be traced back to 1945 where it began by making home sewing machines. Over the years, it's grown into a world-class brand that is the go-to option for people looking for industrial sewing machines. However, it has dialed down its focus on home and beginner sewing machines.
Janome, on the other hand, was first founded in 1921, although by then, it went by a different name. As such, it has almost 100 years of experience in innovating and making new sewing machines both for the home and industrial market. The company has all its manufacturing bases in Japan, Taiwan, and Thailand, although it has global reach in sales.

Janome's machine lineup is much wider than Juki's in a lot of categories. Also, a lot of users have praised the build quality of Janome machines. Despite Juki's focus on industrial sewing machines, Janome is not left behind in this category, and you can find some excellent options to work with. Consequently, depending on what you want from your sewing machine, any one of these two brands could end up being a perfect fit.
You'll need to stack up some of their popular models against each other to get a definitive answer on which one is better. By doing so, you'll be able to compare speed, thread tension, number of stitches, weight, warranties, and other features of the machines.
Notably, you can't pit an industrial sewing machine against a home sewing one as the comparison results will be skewed. For the comparison to work, you have to select two models geared towards the same market.
Juki vs Janome: Comparing two popular models
The Juki TL-2010Q and Janome 1600P-QC are two popular offerings from their respective manufacturers competing for the same market. As such, we will be comparing the two of them below to see which one would prove a better purchase. We may even get to put the Juki vs Janome debate to bed with these two as samples.
Juki TL-2010Q vs. Janome 1600P-QC
| | | |
| --- | --- | --- |
| | Juki TL-2010Q | Janome 1600P-QC |
| Speed | 1,500 SPM | 1,600 SPM |
| Number of stitches | straight stitch only | straight stitch only |
| Max. stitch length | 7 mm | 6 mm |
| Thread tension | manual | manual |
| Extension table | yes | no |
| Automatic threader | yes | no |
| Knee lift | yes | yes |
| Presser feet | 7 | 1 |
| Dimensions | 7.9" x 12.6" x 19.3" | 19.6" x 12.7" x 7" |
| Weight | 24.2 lbs. | 32 lbs. |
| Warranty | 25-year limited | 25-year limited |
| | | VIEW ON AMAZON |
If you want to compare the Juki TL-2010Q and the Janome 1600P-QC, you may want to start with the speed. This is the first item on the table above. As you can see, it goes in favor of the Janome 1600P-QC, which, true to its name has a speed of 1600 SPM. The Juki TL-2010Q is not far behind as it clocks a speed of 1500 SPM. Despite the difference, both of these sewing machines are quite fast and will allow you to finish your sewing jobs in short periods of time.
Another feature that people tend to look at when reviewing sewing machines is the number of stitches. Some models have as many as 100 different stitches. This is nonetheless not the case with either the Juki TL-2010Q or the Janome 1600P-QC. They both feature one type only, which is the basic straight stitch. As such, in this area, the sewing machines are tied.
Next, we have an area in which the Juki machine takes the lead. This is in terms of the maximum stitch length. However, just like in the speed feature, the difference is almost negligible. That said, if you are adamant on having a larger stitch length, the only choice you'll have is to take the Juki TL-2010Q.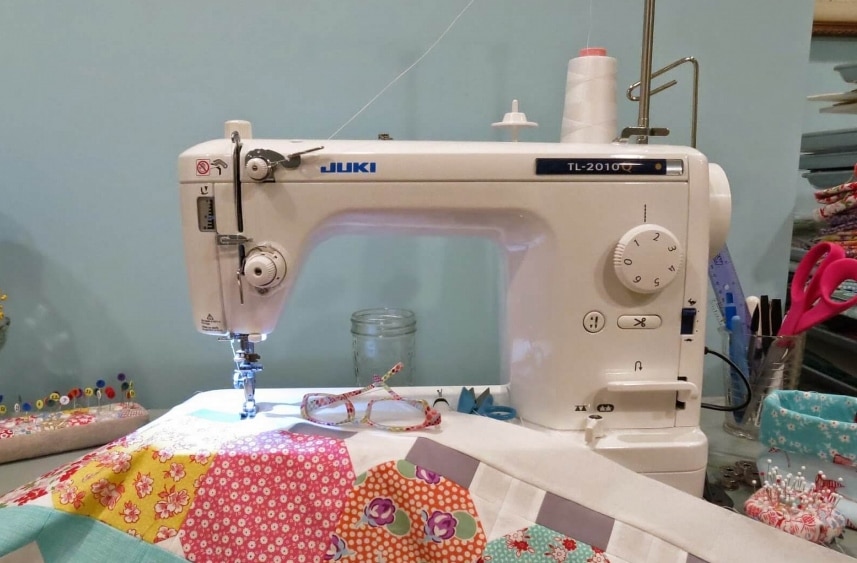 The next comparison point is another area where we end up with a tie as the two options will need you to manually adjust the thread tension. Where the extension table is concerned, the Juki pulls farther ahead of its counterpart. As stated in the table above, the extension table is included in the Juki while it's absent in the Janome 1600P-QC.
An extension table would make the machine easier to work with, where you encounter lots of large fabrics. However, if you decide the Janome 1600P-QC is for you, even with this flaw, all hope is not lost. There are a couple of aftermarket extension tables that will fit your Janome machine like a glove. This will of course add to the overall cost of the sewing machine.
The Janome manufacturer also chose to include a manual threader in the 1600P-QC offering. As such, the win in this section automatically goes to the Juki with its automatic threader. For those whose eyesight is poor, manual threading can be an impossibility, and so the Juki will be their best bet. Even if your eyesight is perfect, threading is so much easier with the machine helping out.
Additionally, whichever machine model you pick from these two, you'll likely appreciate the knee lift included. While it's seemingly insignificant, this feature leaves your hands free so they can hold the fabric you're working on. This may lead to cleaner stitches overall.
On the issue of presser feet included, you again find the TL-2010Q well in the lead. It has seven presser feet in total. This means that aside from the all-purpose presser foot, there are others included that work for unique jobs. Of course, this kind of versatility isn't available in the Janome as you only get one presser foot. That said, there aren't any rules against dipping back into your pocket and purchasing several aftermarket presser feet.
If you look at the weight of both these machines, you'll come to the same conclusion we did: that the Janome 1600P-QC is heavier than the Juki. It will thus be more of a challenge to move this machine from time to time.  As for the size, there isn't much difference.
Notably, you'll get a 25-year warranty whether you choose the Juki TL-2010Q or you decide to pick the Janome 1600P-QC instead.
Final Thoughts
And there you have it: a full and thorough comparison of Janome vs Singer & their most popular products. It's abundantly clear to see why Janome and Singer are both such popular brands – their products are simply fantastic. Both brands design, develop and distribute sewing machines that are the cream of the crop & can help novice sewers & professionals alike improve their sewing skills. Each brand brings something unique to the table and offers users something different.
Of all of the different machines we've introduced you to today, we can't deny that one product stood out to us the most and that is the very first product we discussed: Janome's 4120QDC. Based on this product's price point, technical specifications, vast number of stitches, buttonholes, needle positions and included accessories, we can say with confidence that this product undoubtably guarantees Janome is the winner in the battle of Janome vs Singer for sure.