The Japanese brand Juki, created in 1938, is a colossus in the sewing machine manufacturing industry. For its designs, the company favors innovation and has won over its customers on a global scale.
Among its best sewing machines is the JUKI HZL-LB5100. This mid-range machine is a versatile machine that combines many features and is easy to use. In this JUKI HZL-LB5100 review, we will take a look at the overall sewing performance, durability and warranty, built-in stitches and buttonhole styles, swing speed, and ease of use of the machine.
Specifications
Dimensions
16 x 11.75 x 7 inches
JUKI HZL-LB5100 Sewing Machine Review
The JUKI HZL-LB5100 is a computerized sewing machine with a sewing speed of 700 SPM. In this section, we'll see the overall performance, ease of use, application for use, among other features of the machine.
Overall Sewing Performance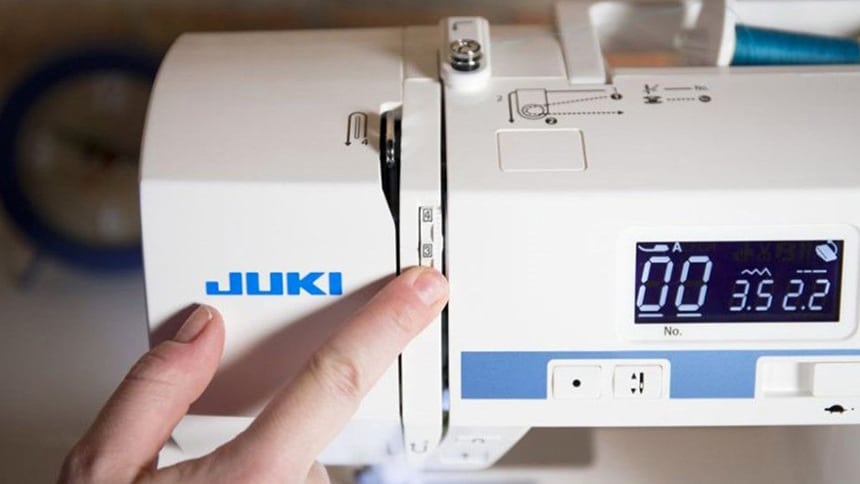 This electronic sewing machine has a lot of advantages, but in general, it falls within the standards of machines in the same price range. The Juki HZL LB 5100 appeals for its versatility. It is a machine that brings together many features, which makes it possible to carry out all kinds of projects. The various settings allow you to take full advantage of the machine.
The seven feed dogs facilitate the sewing of the different kinds of fabrics uniformly. In addition, they are adjustable.
This machine allows the sewing of very different fabrics, they can be thick or thinner. It is also equipped with a double presser foot lift to pass the layers.
While the Juki HZL LB 5100 has many advantages, it also has some weaknesses that should be highlighted.
Being a computerized machine, it's not as powerful as an electronic machine. On the other hand, due to the weakness of its power, it is quite silent.
However, the sewing speed is quite slow. While this may be annoying for people with a solid background in sewing, it may not be at all inconvenient for those who are new to sewing.
It is a sewing machine that brings together all the necessary features for sewing, except the automatic thread cutter.
The Juki HZL LB 5100 is very suitable for people who want to start sewing while taking advantage of many functionalities. Its sewing speed is suitable for beginners. This mid-range machine, therefore, makes it possible to carry out all kinds of work from the start and to progress.
The Juki machine has several programs and it is possible to make adjustments for both length and width. The needle can be positioned to the left or the right. It is also possible to use a twin needle with two spools.
Thanks to its features, it is also aimed to meet the needs of quilting enthusiasts. The machine offers many stitches specially adapted to quilting and patchwork.
It may also be suitable for more experienced users who wish to take advantage of a versatile machine as long as they are not looking for a powerful machine.
Ease of Use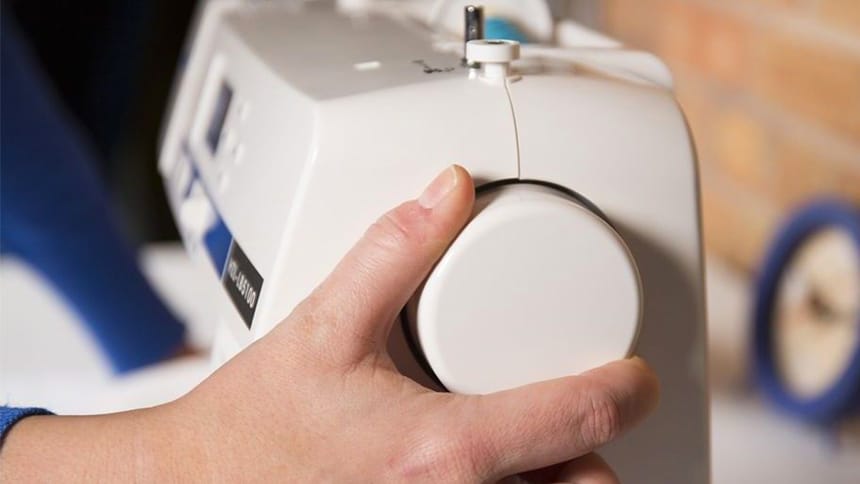 The width of the workspace and the LED lighting make it possible to work in complete comfort. In addition, it is equipped with a free arm to facilitate the sewing of sleeves, pant hems, etc. Meanwhile, sewing sleeves is not so easy as the free arm is too large.
The placement of the horizontal housing is very convenient and provides pleasant use. As we have pointed out, the low power and speed can be a deal-breaker. But it makes the machine ideal for starters who need to learn slowly.
However, if power is a criterion that is important to you, then you have to look for higher-end models. However, if you are more interested in a machine that will allow you to create using all kinds of stitches, then you have found the one for you. Its handling is easy and if necessary, you can refer to its user manual.
Sewing speed
The sewing machine has a sewing speed of 700 stitches per minute. It is however still possible to opt for a slower speed to simplify the seams which require higher precision. Asides from the foot pedal, you can adjust the speed by using its speed slider.
The sewing speed makes it suitable for beginners. However, for professional use, this power problem makes it a handicap because you will not be able to sew at a consistent speed. A few users also complain that the speed can be unsteady.
Built-in stitches and buttonhole styles
The Juki HZL LB 5100 offers a wide choice of stitches since you can choose from the 100 available. We, therefore, find the essential stitches, basic stitches, and others more fanciful. Some embroidery stitches and one buttonhole style are also available. They will allow you to personalize your creations and discover the pleasures of embroidery. You have the choice between 3 automatic buttonholes and a round one.

Lighting
The Juki HZL LB 5100 is equipped with an LCD screen that will allow you to make your various settings with ease. However, we are joining other users who think the LED light could be brighter.
Durability and warranty
The Juki HZL-LB5100 may not be so powerful, but it is a robust machine that offers a high quality of sewing and long years of use. For those who are worried about the durability of the machine, despite its price, it is sold with 5 years of manufacturer warranty against workmanship and defective material.
Key features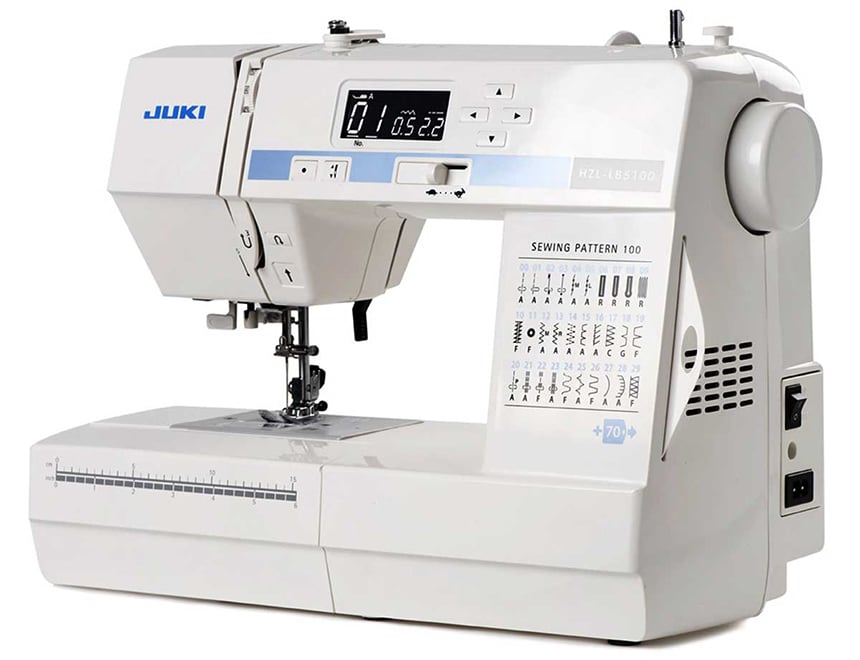 Some of the key features of the Juki HZL-LB5100 sewing machine are explained below:
700 stitches per minute: With a 700 SPM sewing speed, this machine will be too slow and less powerful for professionals. However, starters who want precision and want to learn quickly should find this intuitive to use.
Semiautomatic threader: You will benefit from a semi-automatic threader. This means that by pulling the lever, you will be able to thread the needle quickly.
7-point feed dog: For a good piecing of your fabrics, it is equipped with 7 point feed dog which compensates for the low power. You can easily sew various fabric types accurately from one edge to the other on this machine.
Precise stop and adjustable speed: To stop the sewing machine precisely where you wish to end the stitches, release the start/stop button. While sewing, you can press the same button to switch the speed to super slow.
2 auto-lock stitches: You can make an automatic lock stitch or reverse stitch at the start and end of straight sewing.
Price tag
The machine is sold for less than $350. Depending on the brand you pick, you can find a few less expensive models. For example, at less than $200, the Brother XR9550 Computerized Sewing and Quilting Machine is not just a high-performance model. It has 165 built-in stitches and a speed of 850 stitches per minute. Meanwhile, if you don't want to go outside Juki, the Juki HZL-LB5100 is not the least expensive within its HZL range. The JUKI HZL-27Z and the Juki HZL-353ZR-C are all under $400 sewing machines like this model.
PROS

CONS

Has a free arm
Includes a built-in LED
You can use a twin needle
Includes the seven-point feed dog system
Good value for money
Durable and ideal for starters

Too large free arms
Low speed and not very powerful
Conclusion
The Juki HZL LB 5100 sewing machine is an electronic sewing machine whose speed will satisfy beginners who are still learning the rope. It is a mid-range machine that offers a quality of sewing worthy of the high-end. However, its 700 SPM speed is a downside that makes it unsuitable for professional use, as we emphasized in the JUKI HZL-LB5100 Review. Semiprofessionals, including beginners, can also find this useful.