The JUKI HZL-F300 sewing machine is a complete model and offers a high number of stitches while maintaining a high level of production quality. This semi-professional sewing machine designed in Japan is reliable, robust and will allow you to work on any piece of fabric. It is the ideal machine to set up on your own for quick and flawless garment-making or alteration jobs.
Perfect for experienced seamstresses, it is certainly the dream sewing machine to take your creations to the next level. Having tested this machine, in this JUKI HZL-F300 review, we'll see how the machine performs overall. In any case, we were seduced by its general quality during our test and are won over by its foolproof versatility!
This product's also been included into these rankings:
JUKI HZL-F300 Sewing and Quilting Machine Review
The JUKI HZL-F300 is a great machine for those who want to unleash their creativity and need a professional quality machine for their creations. In this section, we'll see the overall performance, ease of use, application for use, among other features of the machine.
Overall Sewing Performance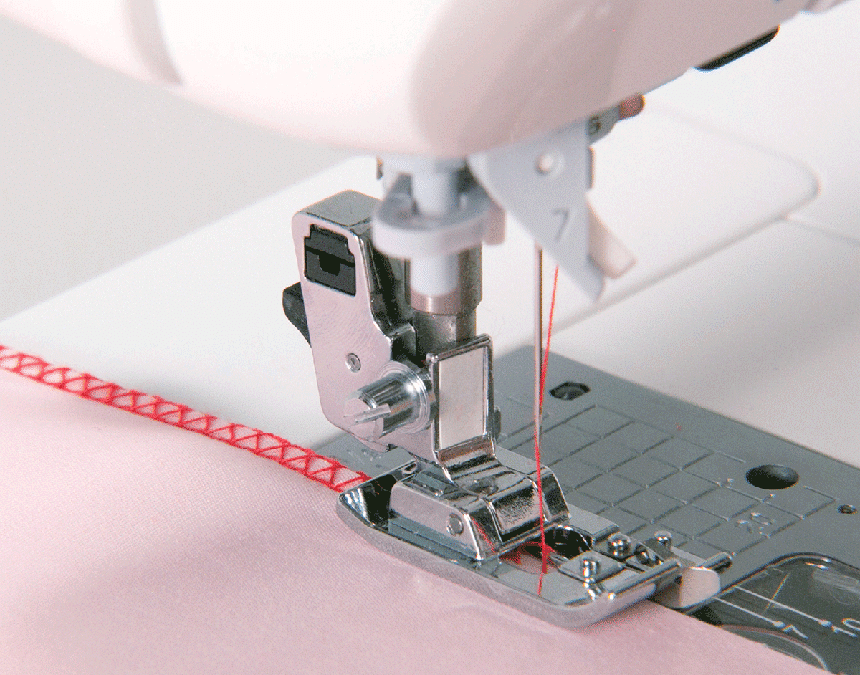 The sewing quality of the JUKI HZL-F300 is of a very good standard. It's ideal for sewing stitches, decoration, or making buttonholes. The points are very solid, perfectly regular, and very few defects are visible to the naked eye. In addition, this professional machine sews at a fairly high speed, without however having variations in results depending on the speed.
The buttonholes are very easy to make. The choice is really wide, and it allows you to always find the type of buttonhole that will suit perfectly the style you want.
When it comes to fabric types, this machine works well with both thin and heavy fabrics, and it can even cope with multiple layers without too much hassle. The ease with which it works with a wide variety of materials is remarkable and the feed dogs provided allow it to feed any type of fabric.
It has the most essential functions to facilitate sewing work such as automatic threading, automatic thread trimmer, a button to finish the seams, to position, free quilting, and much more. The possibilities are limitless with the JUKI HZL-F300 sewing machine.
With a vast amount of positive feedback across the internet, it is fair to say that the sewing machine is the delight of professionals.
Overall Quilting Performance
This machine is developed for high-quality quilting too. Combining power and reliability, with its quilt guide and durable quilting foot, the machine has features that novice quilters need.
The sewing machine will automatically determine the width of the quilting stitch. It comes with an extension table that will allow you to work on large parts more easily.
A kit of 15 different feet is also available and will allow you to do various jobs. Some needles are also included in the delivery and bobbins are also provided to start your first jobs.
Ease of Use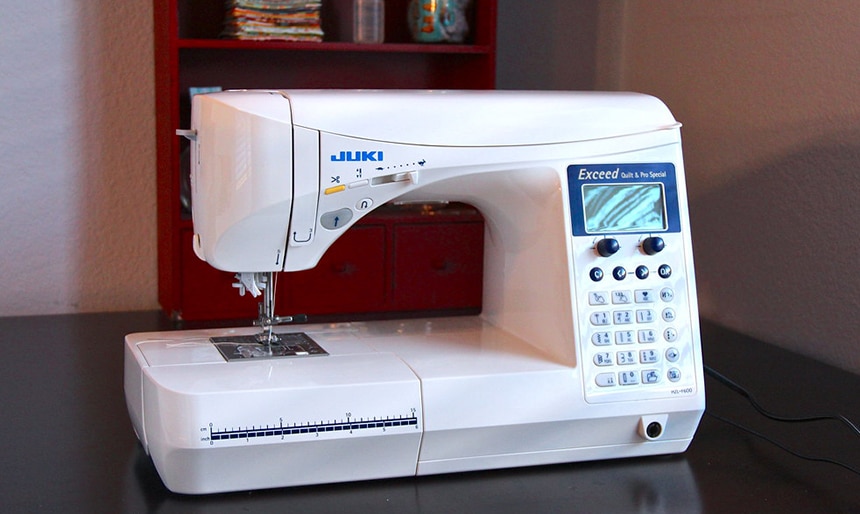 The sewing machine is an almost professional model with many possibilities. This does not mean that it is complex to use, but it does require a little time to master. You will need several working sessions to get all its possibilities.
Nevertheless, the explanations given in the manual are clear and fairly comprehensive. But the very large possibilities of adjustments are enormous. You will have to spend time on the control panel to unravel it.
Once you understand the stitch selection system, how to adjust them and put them into action on the machine, there is not too much difficulty in reproducing it.
People who have already used good-level electronic sewing machines will be less confused, but more beginner people could be lost. Beginners are not too the target of this kind of product either.
Sewing Speed
The machine can make up to 900 stitches per minute. This is not too slow for semiprofessionals, and beginners can easily catch up too with this speed level as it comes with speed control. You can set the machine to sew at just 80 SPM at the lowest speed settings.
Built-in Stitches
The JUKI HZL-F300 sewing machine is exceptional in terms of the number of stitches offered. It has up to 106 built-in stitch patterns.
In addition, it also has functions such as automatic thread threading, a free arm, very simple and automatic thread tension adjustment, the possibility of working with an overlock machine, and stitch adjustments in length and width.
Buttonhole Styles
Asides from its 106 stitches, the machine offers three different fonts, decorative stitches, and 16 kinds of buttonhole stitches. This sewing machine fully justifies its reputation as a professional machine with such an array of preset stitches which are automatic and electronic sensor controlled.
Display
Being a computerized machine, the Juki HZL-F300 has a large liquid crystal display that measures around 33 mm by 66 mm. This display screen that can be touched ensures an easy selection of your patterns.
Lighting
The sewing machine comes with a double LED lamp that helps light up your workspace. Working on the machine is efficient and safer thanks to the super bright LED seam that does not produce heat. The LED lighting perfectly illuminates the needle and sewing area. This makes overnight projects a possibility.
Durability and Warranty
The Japanese manufacturer has specialized in industrial, professional, and semi-professional sewing machines for more than 80 years. With this long history of sewing machines for Asian garment factories, JUKI has developed a real know-how of reliability and robustness with its machines. These machines are known to last for decades in an industrial environment under often the harshest conditions.
We find this DNA on this semi-professional model. This machine is very solid and has few weaknesses. It has formidable power, complete accessories, and no apparent problems. Many other users also have positive comments about the solidity and reliability of the machine.
As further proof of its reliability, like all sewing machines from Juki, this comes with a 5-year warranty.
Key Features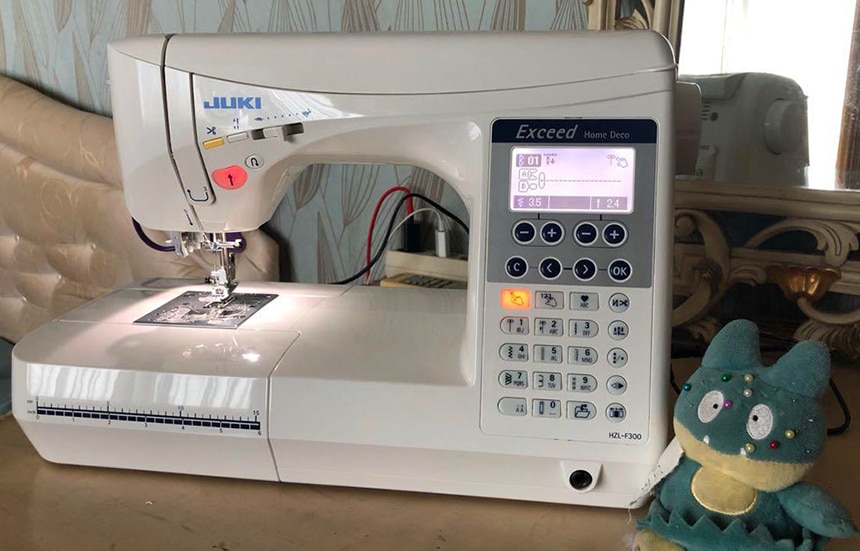 Some of the key features of the JUKI HZL-F300 sewing machine are explained below:
Extension table included: Large sewing space!
It comes with an extension table that will allow you to work on large parts more easily. A kit of 15 different feet is also available and will allow you to do various jobs. Some needles are also included in the delivery and bobbins are also provided to start your first sewing jobs.
Wide range of built-in stitches
The JUKI HZL-F300 electronic sewing machine offers 106 stitches, including 16 automatic buttonholes, 3 cutting widths, 3 fonts, 700 memories, a feed by a rectangular movement of the claws, and more.
The HZL-F series has an excellent drive thanks to the special steel claw and the design of the foot. Thick materials, such as jeans, will be sewn very easily.
Automatic thread cutter at hand
Save time by pressing a button or the foot pedal so you can cut the upper and lower thread.
Automatic needle threader
Thanks to its needle threader, it's easy to thread your machine so that you can get started quickly.
Rheostat with thread trimming function
The HZL series automatically trims the bobbin needle thread by heeling the foot pedal. With this function, you can concentrate on your work while the threads are being cut automatically. It is also possible to cut the threads using the front button of the machine.
Price Tag
Given that it is a semi-professional model, this machine is a little bit expensive. Even if it is one of the most expensive of the Juki HZL series, the many features it offers and the superior quality of sewing it allows offer great value for money. It is built for people with long experience in sewing, intermediate seamstresses who want to reach an advanced level, or those who want to equip themselves for professional engagements. Even though it sells for around $600, this neat and sophisticated Japanese machine will be a good investment on the long-run as it is built to last for several years or even decades.
PROS

CONS

Wide variety of buttonholes
Very good sewing quality
Very reliable machine
Lots of features
Ideal for sewing and quilting
Built for semiprofessionals

Fairly long learning time
A little heavy machine
Conclusion
Because of the qualities and the meticulous work it allows, we recommend this machine for semiprofessional and professional level seamstresses who need a sewing and quilting machine.
The JUKI HZL sewing machine is a high-level machine, combining professional-level technique, a huge assortment of stitches, various functions, and quality of workmanship. It's more complicated to use than other models and more expensive too. However, it is also ideal for people who want to take a step forward in sewing. With a model like this in your hands, there's room for creativity.