Specifications
Built-in stitches
80, including 1 font of letters
Dimensions
20 x 10.5 x 14.8 inches
JUKI HZL-70HW Sewing Machine Review
The JUKI HZL-70HW sewing machine comes with some amazing features. We will be looking at some of these features and also show you why we think this sewing machine is worth buying.
Overall Sewing Performance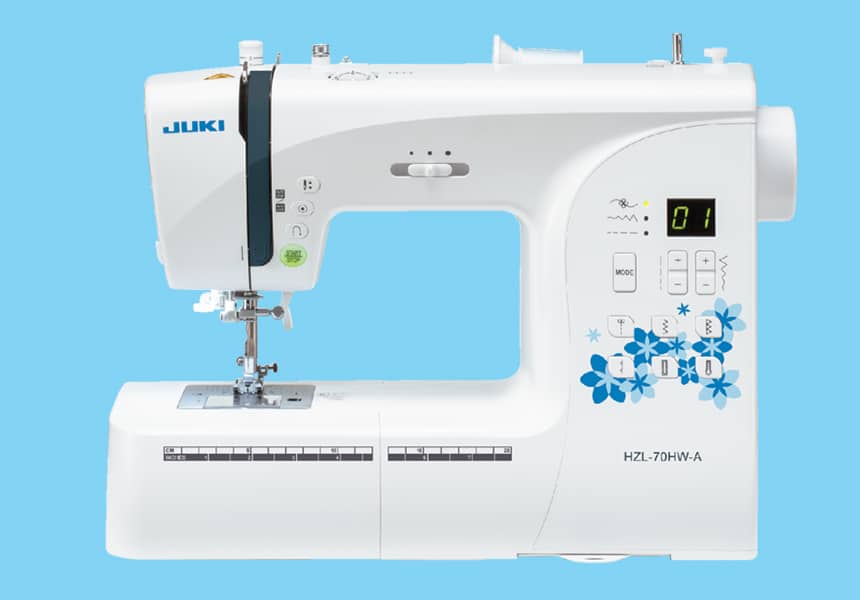 Of the many innovations of JUKI, the JUKI HZL-70HW-B sewing machine offers great performance, and you will get excellent value for your money. Everything works fine on this sewing machine. The Juki sewing machine offers seven drop feeds, 80 stitches, LED lighting, five automatic buttonholes, the free arm, and automatic threading. It is one of the most efficient sewing machines you can get around its range.
Its lightweight makes it flexible for your sewing projects, which you can use in your home, and everywhere you go. The sewing machine can be put to better use in the classroom to introduce beginners to learn the art of sewing. Among its other incredible features, the JUKI HZL-70HW can be set up easily. It comes with an on/off button as well as an indicator to let you know if your machine is on.
Ease of use
This is the best sewing machine for any beginner or people looking to start this craft. The JUKI HZL-70HW sewing machine comes with easy to read buttons. The functions are simple, and they will help you develop your sewing skills. It is great for household use and also to make your decorations. You can always create interesting wears using its pre-programmed stitches. This computerized sewing machine allows you to sew without any difficulty.
One of the things that makes it easy to use is the portability of the Juki HZL-70HW sewing machine. The JUKI HZL-70HW is designed with a comfortable easy to carry handle, and it is lightweight. You can have it as a travel companion when you have to do some sewing outside your home.
The sewing machine is commonly used in sewing classes and is also great for advanced sewers. It is a quality sewing machine, and one that won't take up much space in your sewing room.
Sewing Speed
If you do a lot of sewing and need a sewing machine that would make your work fast, this JUKI sewing machine is what you need. The sewing machine can sew up to a speed of 800 stitches per minute. The high-speed sewing machine ensures you get the best stitches and on time. It is consistent, and the results are excellent. You can work for half the time it would typically take you with any other sewing machine. Even if you are using the sewing machine occasionally, you can still save hours spent making a dress. The JUKI HZL-70HW sewing machine will ensure you complete your sewing projects quickly. You can also set it at a low speed, depending on what you need.
Built-in Stitches and Buttonhole Styles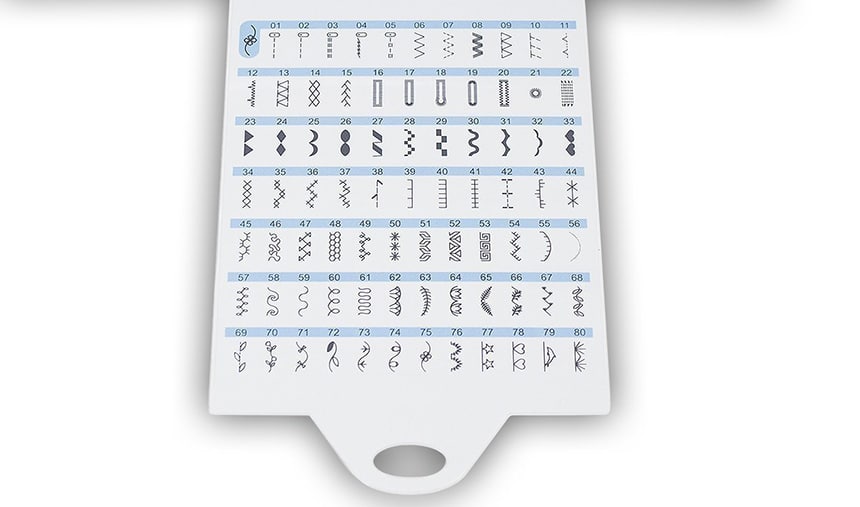 You can comfortably sew stitches in both thick and thin fabrics with this JUKI sewing. It has a feed system that runs smoothly and comes out great. Sewing buttonholes won't be a problem with this sewing machine. It has pre-programmed stitches for your buttonholes, and you can sew as many designs as you want. The JUKI HZL-70HW sewing machine also comes with two lockstitches that you can do at the end of your sewing operation. It has a reverse and reinforcement stitch, and you can adjust your sewing at three speeds. The sewing machine also comes with a top drop-in bobbin, width adjustment and stitch adjustment for your sewing jobs. Everything is pre-programmed, and this makes it easy for you to work even if you are learning to sew.
Lighting
There are times you would need to work out late, especially in places with little or no light. In such a situation, this sewing machines LED lighting will come in handy. The LED light of the JUKI HZL-70HW allows you to work in darker rooms or even at night.
Durability and Warranty
The JUKI HZL-70HW is not an industrial sewing machine, but it can still handle some thick fabrics. You can use this sewing machine on fabrics like leather and even denim. JUKI has a great reputation in the fashion industry, and with its over 30 years of experience, it is known to produce high-quality sewing machines. This JUKI household sewing machine is made with quality materials and comes with functional parts to complete your sewing jobs.
The company gives a five-year warranty upon purchase of this sewing machine. The warranty includes telephone customer support, transport costs, and labor.
The JUKI HZL-70HW sewing machine is a great product and one that will serve you for a very long time. Most people have used this sewing machine without developing issues, and there are hardly any complaints about using this sewing machine.
Key Features
The following are the key features you will discover when using the JUKI HZL-70HW household sewing machine:
This JUKI household sewing machine comes with up to 80 pre-programmed stitches, which works at a maximum speed of 800 stitches per minute.
The sewing machine has a maximum stitch length of up to 4.5mm, and its maximum stitch width is 7mm. You get two options to use when sewing.
The JUKI sewing machine has all the common features found in computerized sewing machines. It has a built in-auto threader, presser-foot pressure adjustment dial, reverse and reinforcement stitch button and many other easy to read functions to help you sew better.
This easy to use sewing machine also comes with a free arm which can be found when you remove the JUKI household sewing table and accessory box. This will make it easy to access the cuff pants, sleeves and see tabular areas.
Price Tag
If you are on a budget and are looking for a good sewing machine that will work great, this JUKI household sewing is one of the most affordable sewing machines. Considering its computerized functions, we believe the price is surprisingly affordable, and if you decide to get it, you will get value for your money. The sewing machine falls around the low range sewing machines of JUKI and works fine despite its affordable price.
PROS

CONS

Excellent sewing quality
The sewing machine is strong enough to make quilts
It can sew thicker fabrics
Great for beginners and sewing classes
Easy to carry handle and lightweight
Affordable price
Conclusion
This JUKI sewing machine is one of the good quality sewing machines from JUKI. Although JUKI is known to produce high-quality industrial sewing machines, they also make household sewing machines. The overall performance of this sewing machine is great, and you will enjoy using it for a long time. If you are learning to sew, we recommend that you get this sewing machine. Hopefully, this JUKI HZL-70HW Review will help you decide if this sewing machine is right for you.