The Janome Skyline S3 is a pretty famous sewing machine. It is one of the most renowned home sewing machines on the market. The machine is a top preference for many sewers because of its sleek and durable design, its efficiency and impressive fast sewing speed. You can trust the machine's solid build to give you a long-lasting performance.
The S3 is the most affordable model in the Janome Skyline Series. It is a mid-range machine designed for every day sewing projects like garment repair, patchwork, quilting, and home décor and crafting among others.  Although it's not a heavy-duty sewing machine, the S3 is built for precision sewing and can handle thick and multi-layered fabrics like denim and leather. It is super-easy to use with intuitive controls and sews smoothly and quietly. Our Janome Skyline S3 review provides full run-down of the machine's features and benefits.
Specifications
Type
Sewing and quilting machine
Dimensions
19 x 12 x 9 in
Review
Although it comes with a steep price point, the Janome Skyline S3 is one of the best home sewing machines that money can buy. Janome ensures you get excellent value for your money with the exceptional features of the S3. It is designed for unmatched convenience and high-precision sewing with virtually every feature any sewer could ever dream of. In this Janome Skyline S3 review you will find a detailed run-down of the machine's features:
Design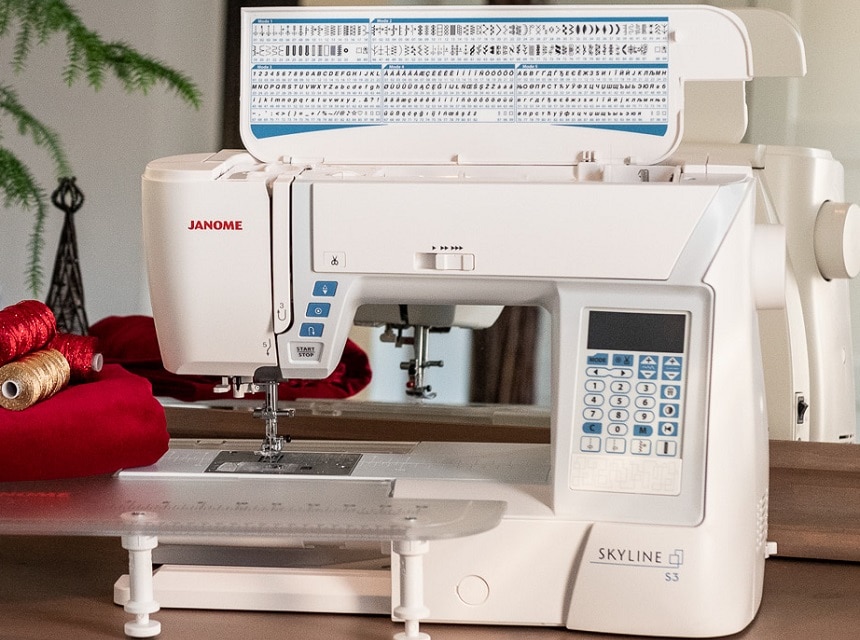 The S3 comes in a sleek modern design that screams class. It is stylish with clean lines and a crisp white frame. The machine is not lightweight and easily portable. It is moderately weighty, coming in at 22 pounds. Its weight is both a curse and a blessing. Some users wish it was a bit lighter for easy portability while some think its heavy weight adds to its stability and solid feeling.
Despite its weighty build, the S3 is not a giant machine. Therefore, it will easily fit in your already cramped up craft room.
The machine has a simple design layout with the intuitive backlit LCD screen facing forward. The screen is brightly lit. You would never have to squint even when you are working late in the night to read its content.
Overall Performance
Janome is one of the top performing sewing machine brands out there. The renowned brand is almost celebrating its centennial. This speaks volume of the quality of machines they produce. The Skyline S3 is a top-performing home sewing machine that seems to have achieved the perfect balance between usability and functionality.
The machine is packed with multiple advanced features that are sufficient for experienced sewers and its smooth controls gives those with little sewing knowledge a chance to learn the ropes.
The Skyline S3's high-end and precision design guarantees you professional results every time you use it. Also, it comes with a ton of accessories that increase its versatility. You can use the machine for various everyday sewing projects like making fashionable clothes, garment alterations, basic quilting, and patchwork among other crafts. It is dabbed a home sewing machine but it can handle various multi-layered and thick fabrics like denim and leather.
The highest remark about the S3 among users is its usability and smooth operation. Most users report that the machine is incredibly intuitive, given it has lots of extraordinary features. They also swear by the machine's quiet operation. This makes it a prime choice for anyone looking to sew at night or at dawn when the world is quiet.
Ease of Use
If not for its hefty price point, the Skyline S3 would be the ultimate sewing machine for beginners. It is highly recommended for any novice looking to splurge on a high-end sewing machine that they can grow into professionalism with because of its ease of use. Anyone can get to grips with the machine's functionality without trouble.
The machine's simple design and easy-to-use features aim at giving you a seamless sewing experience. Some of the features that make it easy to use include: an automatic needle threader and cutter that make threading it a breeze, a stop/start button, an intuitive LED screen, multiple needle positions, adjustable speeds, and an incredible feed system.
Sewing Speed
The S3 sews at an impressive speed of 820 stitches per minute. This allows you to get your projects done in no time. If you are new to the art of sewing and could use a slower speed, you will make the most of the machine's adjustable speed settings. You can take the speed down all the way to 70 stitches per minute.
At 70SPM even your child can learn how to sew with the machine. Whether you sew at top speed or at the lowest speed, the machine sews very quietly and smoothly. It doesn't vibrate the sewing table or counter like other machines with fast sewing speeds.
Built-In Stitches
The Skyline S3 comes with a whopping 120 built-in stitches. The multiple options allow you creative freedom as you can choose any stitch for any kind of project. All the 120 stitches are listed and displayed on a chart inside the top cover of the machine. All you have to do is use a keypad at the machine's front to choose one that suits your project's needs then begin sewing.
Moreover, the machine's stitch patterns and settings come with font settings in European, English and Cyrillic. This is a great deal for people who love to personalize or label their products.
In addition to the 120 pre-programmed stitches, Janome includes 7 one-step buttonholes and the alphabet to increase options for fashion designers and garment makers. There isn't any sewing, quilting or embroidery work that you can't do with this machine.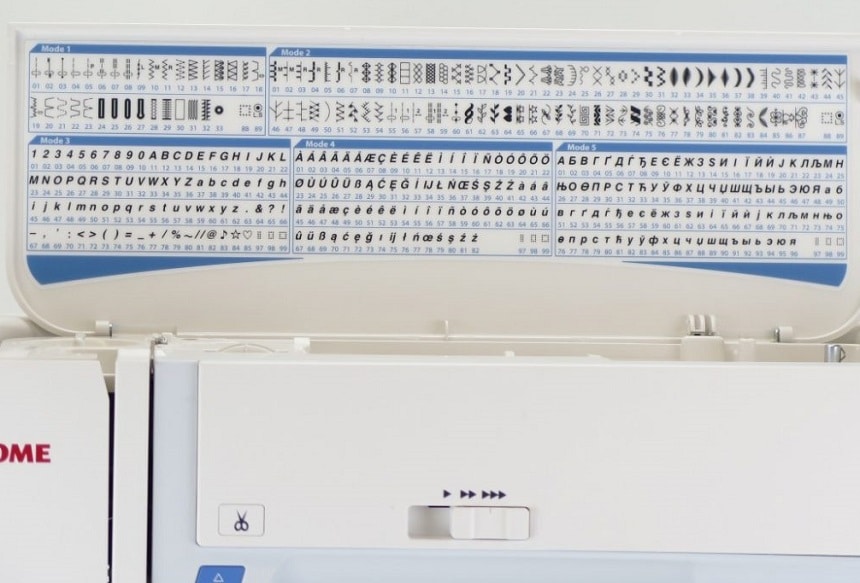 Stitch Length and Width
Besides the ability to choose pre-programmed stitches, the S3 stands out among its peers with more precision settings like adjustable stitch length and width. The ability to pick a stitch length and width allows you to create beautiful and delicate stitchwork and patterns even without touching the built-in automatic pattern settings.
You can adjust the stitch length up to 5mm and stitch width up to 7mm. Extra-wide stitches allow you to take your decorative stitches to the next level. They allow you to fill in more areas easily.
Another praiseworthy feature that gives you more control over your stitches is the multiple needle positions. You are allowed to choose from 71 unique needle positions for increased precision with decorative stitches. This makes the machine a fantastic choice for quilters.
Needle Threader
If you haven't the steadiest hands or superb eyesight, this should be your go-to machine. You will not waste a minute feeding thread through a tiny little hole with this machine thanks to its efficient needle threader.
On top of the automatic needle threader, Janome included automatic tension control and thread cutter to make threading a tad easier. When in 'A' mode, the machine will adjust the thread tension according to the thickness of the fabric you are working on. You can as well adjust the tension manually if it's what you prefer.
Working Area and Free Arm
The Skyline S3 is built with an ample working area. The working area measures 210mm and its long arm measures 310mm. the free arm space is 120mm and 4.7 inches high. The entire working area is sufficient for handling large projects with ease.
The free arm allows you to work on the hard-to-reach parts of your project like collars, cuffs, and sleeves.
Lighting
Most sewing machines come with built-in LED lights because there is a high chance that the lighting in your working area is not sufficient for sewing.
As mentioned before, Janome goes out of its way to provide you with not one but 4 ultra-bright LED lights. They are carefully positioned to provide you with a well-lit workspace. If your craft room is poorly lit or you love to work at night, the S3 is your best bet. It will allow you to see your dark projects without squinting hard.
Dimensions and weight
The Skyline S3 doesn't make the cut for the best lightweight sewing machines out there. It is moderately weighty. At 22 pounds, it is not the heaviest machine and it will not break your back when you try to move it from one place to another.
Although it's heavy, the Skyline S3 is not a bulky machine. It can fit in your small craft room neatly without taking up a lot of space.
Warranty
Janome offers a generous warranty cover for this gem of a machine. You get a whopping 25 year cover on the internal metal cast. You wouldn't expect less for what it costs. The electronic parts have a 2-year cover. The other parts of the machine have a full year's cover.
In case you encounter any mishaps with the machine within the first year after purchase, Janome will repair and do replacements for free including labor. Labor is only guaranteed for 1 year after purchase.
Accessories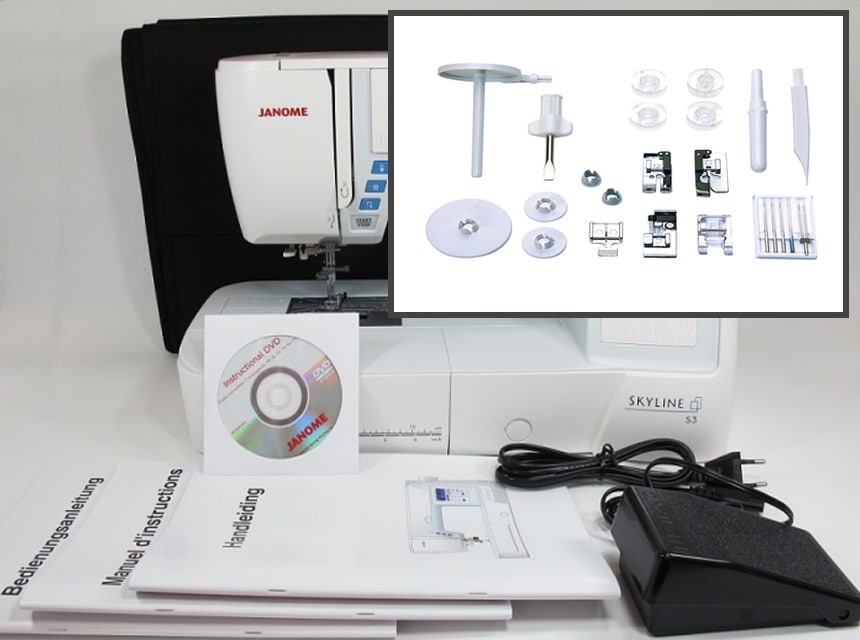 The Skyline S3 comes with myriad accessories that give you real value for your money. The standard accessories included in the package include:
Blind hem foot
Automatic buttonhole foot
Over edge foot
Zig-zag foot
Satin stitch foot open toe
Zipper foot
¼-inch seam foot
Bobbins
Needles
Lint brush
Spool caps
Extra spool pin
Seam ripper
Screwdriver
Instructional DVD
Fabric sewing machine cover
Warranty card
The feet allow you to handle any type of project you can imagine.
Price tag
The Skyline S3 is the most affordable sewing machine in the skyline series. This doesn't mean it is cheap though. If you are not prepared to splurge on a sewing machine, it will dent your wallet. It goes for 730 dollars as at now (July 2021). With its advanced features you will get real value for your money at this price point.
PROS

CONS

Sews very quietly
Incredibly easy to use
Large and Well-lit working area
Multiple decorative stitch options
Smooth operation with minim vibration
Multiple presser feet included
Easy threading and bobbin setup
Convenient thread cutter and automatic tension control
More than 70 needle position options for increased precision
Multiple accessories

 

Heavy
Complaints about the bobbin winding not being tight
Premium price point
Conclusion
Our detailed Janome Skyline S3 review depicts the sewing machine as a highly precise and convenient option. The machine has top-notch build quality and just about every feature any professional sewist would ever dream of. It is perfect for both beginners and experts who are willing to dig deep into their pockets for a top-performing sewing machine.