The technological revolution has made it to the sewing industry, and basic machines no longer cut it. As a sewist, some of the aspects you look out for when buying machines include design, manufacturer, ease of use, and price. Unfortunately, most computerized sewing machines are usually very costly.
If you're tired of mechanical sewing machines and are looking to upgrade to a computerized one, then you've already come across the Janome JW8100. It lies on the affordable side of the scale and works great for both beginners and experts. We have compiled a comprehensive Janome JW8100 review to help you make an informed decision.
This product's also been included into these rankings:
Specifications
Type
Computerized sewing machine
Buttonhole styles
7, automatic
Dimensions
16 x 7 x 12 in
Review
Janome is well known for producing high-quality, affordable machines, and the  Janome JW8100 model is no different. This sewing machine has various features that make it perfect for beginners and expert sewists, including its ease of use and smooth sewing capabilities. It's also computerized and has 100 built-in stitches. If you're a Janome lover, keep reading to find out the main specs of this sewing machine!
Design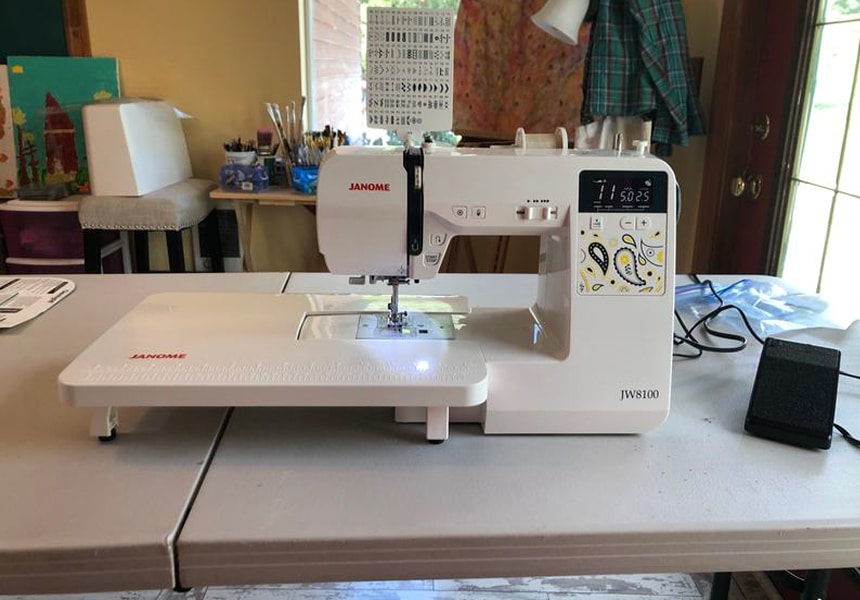 The Janome JW8100 only weighs 12.7 lbs and measures 16 x 7 x 12 inches. This makes it compact enough to fit in small places like a sewing machine cabinet. It has a basic design but don't let this fool you because it has a digital LCD screen that displays important details such as the width & length of the stitches, the type of stitch being used, and the recommended foot.
This sewing machine has a white exterior and a metal interior frame fortified with hard plastic that enhances its durability and stability while in use. The exterior is sleek and shiny, and there's a paisley pattern below the digital screen which makes the machine seem a bit modern.
Overall Performance
Users have a lot of great things to say about these sewing machines, most of which are centered around their affordability. Even though the JW8100 is lightweight, it feels well-built & solid, and the hard case it comes in makes it portable. This means that you can travel with it or take it to your sewing lessons. The Janome JW8100 is also easy to set up and use despite its digital features. All its controls are intuitive, making it perfect for those that are just getting started with sewing. Overall, this sewing machine will give you your money's worth.
Ease of Use
Most computerized sewing machines have many stitch designs and come with multiple controls, such as speed control. start/ stop button, etc. The Janome JW8100 has all the benefits of a computerized sewing machine but is beginner-friendly. It's entry-level and has a lot of features compared to mechanical models, but it doesn't have so many gadgets and options that you get overwhelmed. We especially loved the intuitive design, which is hard to find in similarly priced sewing machines. Its user-friendliness makes it usable by both beginners and experts.
Sewing Speed
Sewing speed is one of the most important features that expert sewists look for, and we were not disappointed.
The Janome JW8100 can stitch at a maximum speed of 750 stitches per minute, which is quite impressive for a sewing machine of this price tag.
The best part about this sewing speed is that it is fast enough for expert sewists but not so much that it overwhelms the beginners. It, however, comes with a speed control slider that allows you to stitch at your preferred speed. We compared it with other machines that have similar features, and it was comparatively faster.
Built-In Stitches
It's hard to find a stitch that isn't included in the Janome JW8100 sewing machine because it has 100 built-in stitches! They are divided as follows:
Heirloom style stitches: 27
Basic and fashion stitches: 20
Quilting stitches: 18
Button home stitches: 7
Home decor: 28
There are endless possibilities for the items you can make with these stitches! The machine came with a stitch chat that ensured we didn't have to keep checking the manual every time we needed to change a stitch. Even with a good memory, remembering all the 100 stitches is difficult, which is why this feature is handy. You can, however, remove it if you don't need the chart.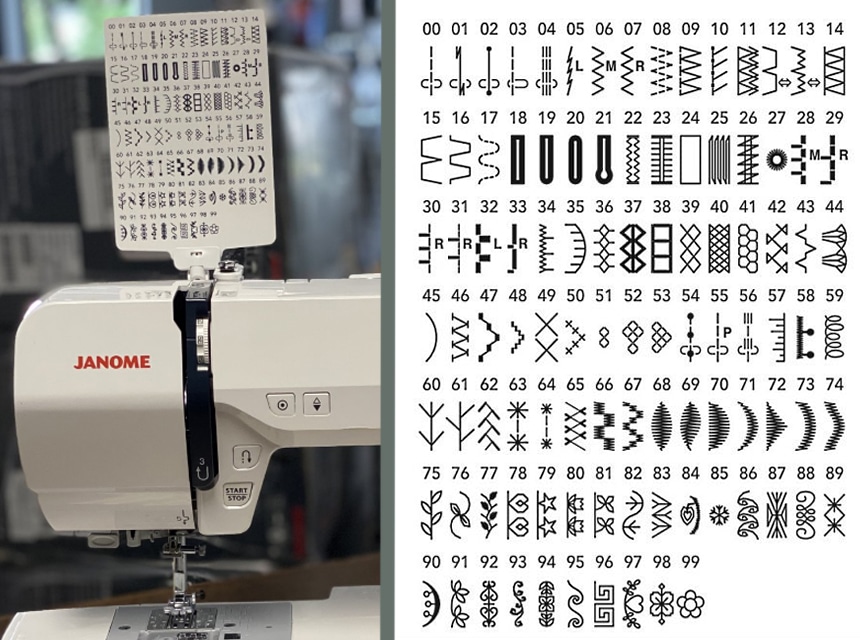 Stitch Length and Width
Whether you're making gathering stretches or permanent stitches, the stitch length and width play a critical role in the final construction of your project. The Janome JW8100 sewing machine has a maximum stitch width of 7mm and maximum width of 5mm.
Needle Threader
One of the most annoying elements of wrong is needle threading, especially when you have a weak vision. It's just so hard to get the thread into the needle! This is why we were thrilled to find out that the Janome JW8100 has an automatic needle threader. It makes it easier to use the sewing machine and takes away the hassle of manual threading.
Working Area and Free Arm
This sewing machine has a wide detachable table that makes it easy for you to sew in your preferred working area. For instance, if you're working on a quilt, you need a large working surface where you can spread the fabric comfortably. With the JW8100, you can easily attach the table, which eliminates the hassle of gathering your fabric in small workplaces. If, on the other hand, you're making a tiny dress and don't need a large working area, you can simply detach it.
The JW8100 also has a removable storage compartment that you can use to turn it into a free arm. It comes in handy when you're sewing small spaces such as hemming pants or sleeves.
Lighting
A great sewing area is a lot more than the sewing needle and thread. The space around the machine also matters, and good overall lighting is one of the factors you should look out for. This is because if your sewing space is well lit, you will not suffer from eye strain. The light will also reduce fatigue, allowing you to sew for a long time.
The working area of the JW8100 has a built-in light that you can change manually when the lightbulb becomes defective.
Dimensions and weight
One of the reasons why sewists are shifting from mechanical sewing machines to computerized ones is their bulkiness and difficulty of repair Trusted Source How to repair a vintage sewing machine - The Washington Post Question: I have two Singer sewing machines, a 301A and a 401A. These machines were made in the '50s and '60s, are all metal and driven by gear, not belt. In my opinion, they are worth their weight in gold (or at least silver) as opposed to the newer, lightweight plastic machines being made today. The 301A has not been used for several years and has frozen. www.washingtonpost.com . Computerized sewing machines like the JW8100 are lightweight and compact, making them easy to carry around and store. This machine weighs 12.7 pounds which is daily lightweight and only measures 16 x 7 x 12 inches. The working space is around 6.7 x 4.3 inches which you can easily expand using the extension table.
Warranty
We love brands that stand by the quality of their products, and the Janome is one of them. The JW8100 model has a whopping 25-year limited warranty. You should, however, note that this doesn't mean that the entire machine is covered throughout the period.
The 25-year warranty period is only applicable on the mechanical parts, while the electrical parts only have a 2-year warranty.
Please note that the warranty is only applicable if you only use the machine for domestic use and don't cover commercial use.
Accessories
The JW8100 sewing machine has multiple standard accessories, including 6 presser feet and small and large spool holders. It also comes with a power cable, owner's manual, foot control, and a stitch card. If you'd like more functionality on your sewing machine, there are several alternative accessories that you can have installed.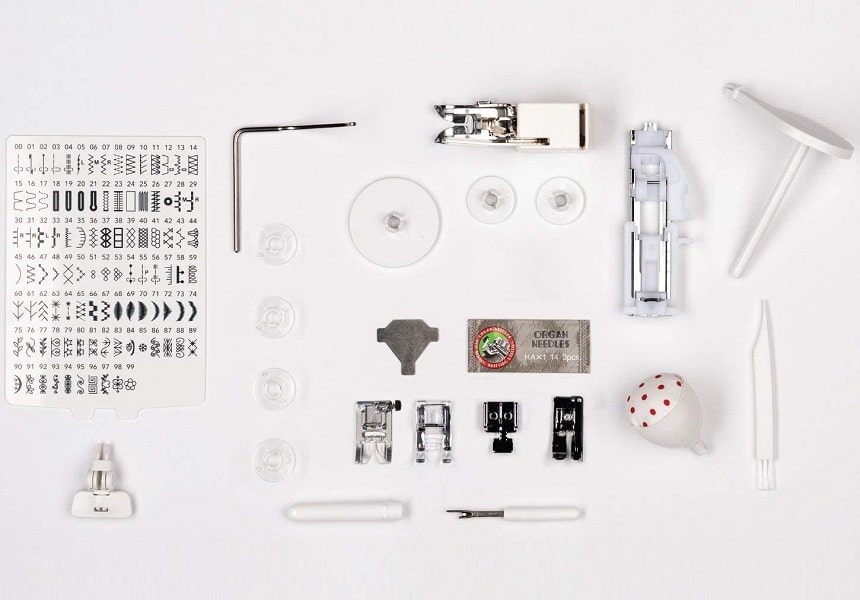 Price tag
One of the most overlooked elements of sewing machines is their price. You don't have to break the bank to get a quality and durable machine.
One of the features that make this sewing machine a favorite among many is its affordability. It only costs around $350, which is fairly affordable compared to other models with similar functionalities.
Convenience Features
Some of the features that make this sewing machine easy to use include:
Start/stop button: this feature allows you to use the machine without pressing on the foot pedal. It especially comes in handy when you're mending or sewing long seams.
Locking stitch button: this button ties off the thread ends which means that you don't have to backstitch so you can lock seams. This feature is ideal when you're using decorative stitches or are securing seams on light garments.
Easy reverse button: you should use this feature when you're licking seams by backstitching or to stop a stitch pattern before you complete it.
Other buttons include the drop feed to control the speed and direction of the fabric when you're using free motion, a one-hand needle threader, and a jam-proof bobbin system.
Customization Features
The customization features on this machine include the 100 built-in stitches that enable you to work on multiple projects and 7 buttonhole styles that you can use to customize the holes based on your sewing style and fabric weight.  It also has an LCD screen that allows you to control various aspects of your sewing project, including stitch width and length, recommended foot, and stitching style. This takes the guesswork out of your projects.
This machine also has a memorized needle up/ down button that enables you to set the needle in either position. When the needle is in the up position, you can easily remove your fabric, and when it's in the down position, you can pivot on the corners of your fabric. It comes with a speed control slider feature that enables you to set the maximum and minimum sewing seeds. Use high speeds when you're making long and straight seams, while the slow speed will work perfectly on intricate patterns and designs.
Professional-Level Features
Even though most of the features in the JW8100 are great for entry-level sewists, there are some features that expert sewists would enjoy. They include the free arm features, the 7-piece feed dog system, and the specialty needle plate. This sewing machine also has an auto declutch bobbin winder and a manual thread tension control that allows you to tension the thread based on the fabric that you're working on. It comes with a high presser foot lift that comes in handy when you're stitching bulky fabric like denim and a dust cover to protect the machine when you're not using it.
PROS

CONS

It is computerized, so you don't have to deal with dials and knobs.
It comes with 100 built-in stitches.
It has an auto-thread feature.
It's lightweight and easy to carry around.
It sews quietly and smoothly.
It's easy to use, especially for entry-level sewists.
It comes with a stitch chart.
It has a detachable work table.
It's relatively affordable and durable.

Lacks an automatic thread cutter.
Doesn't have a free motion foot or quilting foot.
The sewing area has dim lighting.
It's not efficient when sewing through multiple layers.
Conclusion
All factors considered in our Janome JW8100 review, this sewing machine is a great buy. It's one of the most affordable computerized machines and has impressive features that are great for both beginner and expert level sewists. It's also easy to use, durable, compact, and easy to carry around, so you can take it to your sewing lessons.
References
1.
How to repair a vintage sewing machine - The Washington Post
Question: I have two Singer sewing machines, a 301A and a 401A. These machines were made in the '50s and '60s, are all metal and driven by gear, not belt. In my opinion, they are worth their weight in gold (or at least silver) as opposed to the newer, lightweight plastic machines being made today. The 301A has not been used for several years and has frozen.