If you are in the market for a high end mechanical sewing machine with the ability to handle heavy fabrics with a lot of ease, the Janome HD 3000 is an ideal choice for you. With a powerful motor and a metal frame, the HD 3000 has got fantastic features and a performance that makes it suitable for beginners and established seamstresses alike. While this machine may lack a couple of bells and whistles that a majority of today's computerized machines have, nevertheless, it will deliver consistent results day in and day out. The Janome HD 3000 comes with an auto-needle threader, 1 step automatic button, 18 built-in stitches, a solid metal frame and more. This machine is a fantastic choice, whether you're a beginner or an advanced sewist, and will handle a huge variety of projects. This Janome HD 3000 review seeks to impart you with crucial information that you need to be aware of about this feature–packed workhorse.
This product's also been included into these rankings:
Specifications
Speed
860 Stitches Per Minute
Dimensions
16 x 11.3 x 7.2 inches
Janome HD3000 Review
Janome has done an excellent job with this machine by ensuring that it comes fully packed with all the essentials, an aspect that makes it a good choice for advanced sewers as well as those that are just starting out. As noted above, this is a feature-rich machine with more than 10 key features. Below are some of its features that make the HD 3000 a worthy sewing machine:
Work light
Auto needle threading
1 step buttonholes
Adjustable presser foot pressure
Snap-on presser feet
Accessory compartment
Included hard case
Free arm
7 included presser feet
Overedge Foot
Zig-Zag Foot
Blind Hem Foot
Drop Feed
5mm Stitch Width
Reverse stitch button
Stitch selection dial
Push-pull bobbin winder
Overall performance
The HD 3000 is an outstanding machine and a veritable workhorse that performs well even when subjected to tough sewing projects. This machine has got a performance comparable to other, more commercial-level sewing machines. If you need to work with heavy materials such as canvas, this is the ideal choice for you. With its heavy-duty metal frame and sturdy construction, you cannot doubt the performance of this machine. It is highly stable whilst sewing, producing accurate stitches even at high speeds. The Janome HD 3000 uses a 1.0-amp motor that is capable of easily sewing through materials such as denim, leather, or canvas. This machine performs flawlessly on light, medium and heavyweight material. When it comes to performance, this machine is truly right up your ally. Despite it not being computerized, it is truly levels above the average mechanical sewing machine available on the market. This machine is reliable, sturdy, precise, and will serve you for many years to come.
Ease of use
When it comes to ease–of–use, the Janome HD3000 is definitely one of the easier machines to master, and this is another reason as to why a lot of sewists –especially those starting out – prefer it to other machines. Regardless of your level, it's very straightforward to use and has a super simple setup process. In fact, you can have it up and running in less than ten minutes of getting it out of its package. With a well-detailed instructions manual, you won't encounter difficulties with threading or navigating your way through sewing projects. Despite the fact that it comes with a plethora of features, it's much easier to use than the majority of computerized sewing models that come equipped with many complicated features that can make sewing a nightmare, especially for a beginner. Better yet, the HD 3000 comes with a dial knob designed to make its operation much easier.
Sewing speed
When looking for a sewing machine, you would want to shop for the one that sews pretty fast since you may be busy with other duties of the day. When it comes to sewing speeds, the HD 3000 does quite well with the ability to sew at maximum speeds of 860 stitches per minute. As noted a little earlier in this review, this machine is powered by a 1.0-amp motor that is able to propel it and make it sew at such impressive speeds, which in many ways is thought to be way much faster than its expected range. Regardless of the material that's being handled –whether its light fabric or heavy-duty material, the HD 3000 is able to reach a top sewing speed of up to 860 stitches per minute.
Built-in stitches, stitch length and width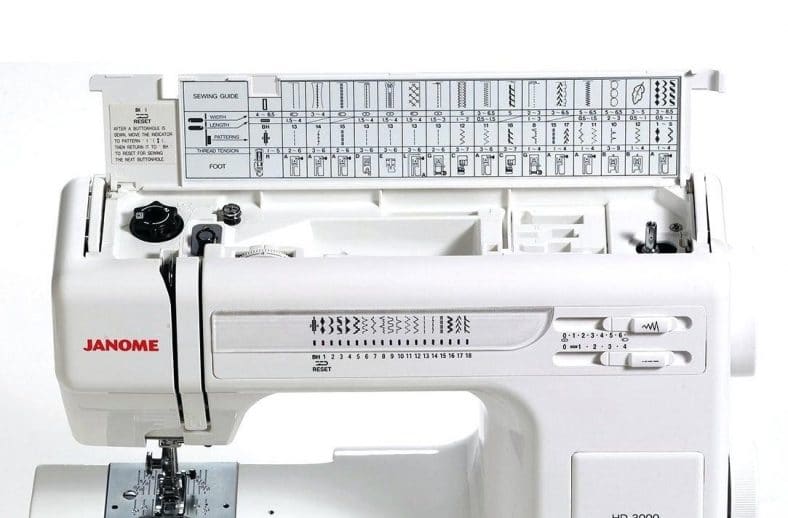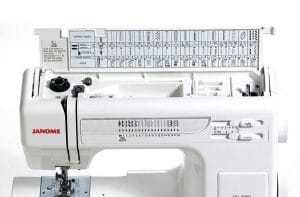 Among some of the first features that you are most likely to notice with the Janome HD 3000 sewing machine are the built-in stitches. It comes with 18 built-in stitches consisting of a small range of decorative and basic stitches such as zigzag and straight stitches that can go a long way in helping you become creative. Flip up the top cover for a convenient visual representation of the different stitches. But if you don't fancy many stitch options but you still want to get the job done, this is the right machine for you. The Janome HD 3000 has got a stitch length of 4mm and a stitch width of 6.5mm. More importantly, a user has the option of adjusting the stitch length and width as he or she wishes or depending on the project or the task at hand. The adjustments are conveniently located on the front of this machine for ease of use.
Free arm
A free arm is one of the most important features that enhance your sewing experience making your sewing life much easier, especially when sewing fabric such as pants hems or sleeves. On a sewing machine, a free arm is the area under the needle that holds important parts of the machine such as the feed dog, bobbin and the shuttle. A free arm feature enables you to slip a trouser or a sleeve under the needle and sew such hard to reach areas not only fast, but with a lot of ease. This is an excellent feature that comes with the Janome HD 3000. The free arm can be accessed by removing the front section of the machine. This free arm component also allows the HD 3000 to be moved around with greater ease.
Lighting
If you happen to have sewed without a machine light before, you might be aware of just how stressful your task can become without this feature. But the HD 3000 comes with lighting on it. The built-in work light is bright and well positioned, thereby eliminating the work area brilliantly. Regardless of whether you are sewing in a dark corner that does not have sufficient light or at night, you no longer have to painfully strain your eyes.  However, there are some people who find the light attached to this machine somewhat dim. If this is the case for you, you can always get an extra sewing lamp to illuminate your work area.
Dimensions and weight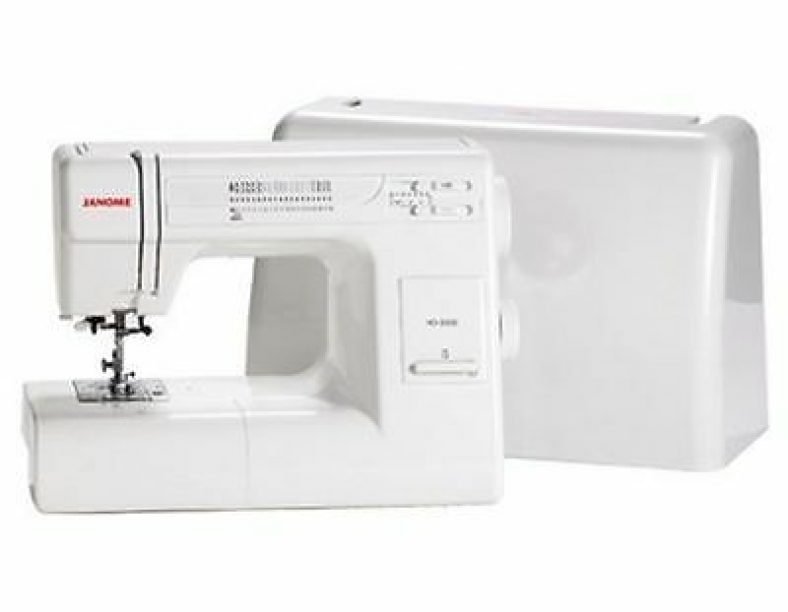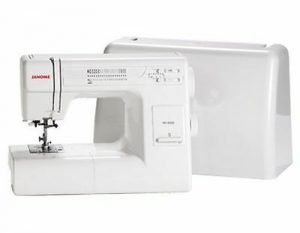 Where are you going to store your machine after using it? And is it so heavy that moving it from one place to another becomes difficult? While in the market for a sewing machine, its storage and how to move it around are elements that matter a great deal. In other words, you have to consider the dimensions and weight of your machine. The Janome HD 3000 does well in terms of storage and moving around. This machine can perfectly fit in small spaces with a lot of ease, with its total width, length and height dimensions of 40.6cm x 18.3cm x 28.7cm. In terms of weight, the HD 3000 is fairly light, weighing just 18.7 pounds (8.5kg). It's a sturdy and durable model and not as heavy as others. This is in part thanks to its aluminum body construction. It's important to note that this machine has the ability to sew through multiple layers of fabric despite its light weight.
Price
Currently, the HD 3000 retails at around the 430-dollar mark. For this price tag right now, it is fair to say that this machine is nothing but great value. Not only will this all-around workhorse last you for many years, but it also has everything that you need for quilt piecing and other tasks such as basic garment production/sewing. This is a heavy–duty sewing machine, meaning that going through denim or other home décor materials isn't a problem as such. Compared to other sewing machines in the same class, HD 3000's price is a real bargain. It is hard to imagine that at such a price, this heavy–duty sewing features a sturdy feel – not forgetting the fact that it's a great utility machine that can produce excellent results every time.
Key features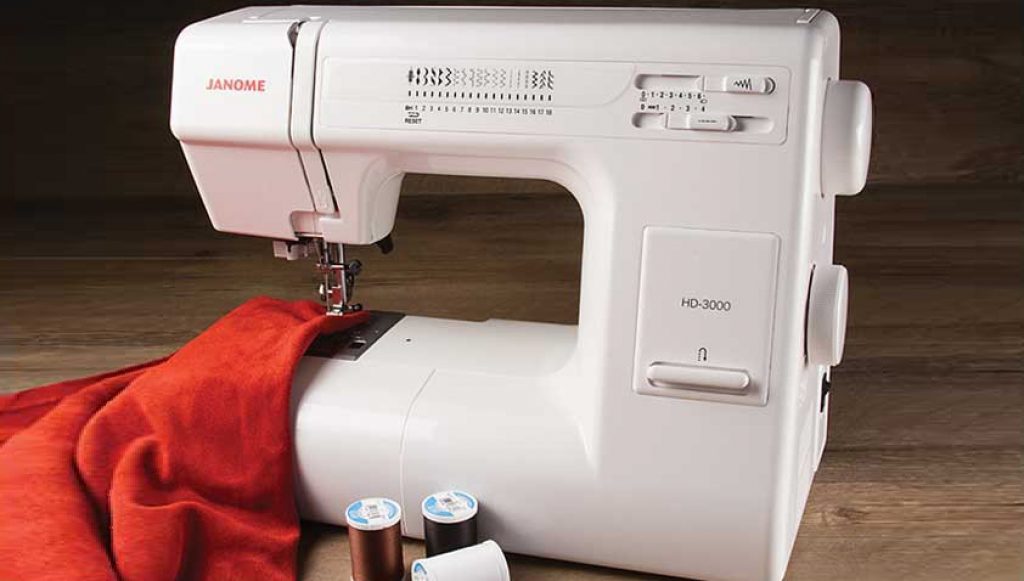 As noted earlier, the Janome HD 3000 is a feature–rich sewing machine with a lot of key functions that accompany it. Some of these include:

Work light – this is bright light fitted slightly above the work area so as to ensure stress-free sewing, especially when working in poorly lit areas.
Auto needle threading – a great time saver that eliminates eye strain as the machine is able to do this all by itself
1 step buttonholes – the foot measures the actual size the buttonhole each time a buttonhole is sewed.
Adjustable presser foot pressure – it sets the right amount of pressure needed to hold the fabric.
Snap-on presser feet – hold the fabric flat as it gets fed and stitched.
Accessory compartment – this includes its cleaning tools, repair tools and other accessories.
Included hard case – this is a case designed to offer convenience and sturdy protection of the machine.
Free arm – this one enables easy sewing on hard to reach areas such as hems and cuffs.
7 included presser feet – this is designed for purposes of sewing 7 different stitches.
Overedge Foot – this one allows the thread to wrap itself around the fabric to avoid unraveling.
Zig-Zag Foot – a snap that's designed to sew a variety of decorative stitches such as the zig-zag stitch.
Blind Hem Foot – mainly used to create a blind hem on curtains or the bottom of pants.
Drop Feed – this feature enables freehand embroidery or darning applications.
5mm Stitch Width – this is how far the stitch can go from one side to the other.
Reverse stitch button – a lever/bar that lifts and lowers the presser foot allowing the machine to sew in reverse direction.
Stitch selection dial – a pattern selection dial that's used to select the type of stitch to be sewed.
Push–pull bobbin winder – helps the user control which helps the user to control the machine easier.
The above is not all. There are other additional features associated with the HD 3000 worth noting. They are:
Lengthy warranty – it comes with a limited warranty of 25 years.
Manual – it comes with an easy to understand manual that makes the setup fast and easy.
Mechanical controls – this is an excellent feature that helps a user control the operation of the machine.
PROS
CONS

Easy to use
Tough and stable
Can handle just about any task thrown at it
A sturdy machine that comes with a strong motor to handle 860 stitches per minute
Runs smoothly and quite
Has an excellent stitch quality
Has many features
Fairly lightweight and can fit in small spaces
More affordable compared to other sewing machines of its class

Its thread cutters aren't well positioned as they are placed on the side of the machine resulting in thread wasting
Not suitable for extra tough fabric as the needle may get stuck
May be a little bit louder when sewing soft fabric