The Janome HD1000 is the best of both worlds: a versatile industrial grade machine that's easy to use. This is a great choice for beginners and professionals alike because it's fast, tough, and versatile enough to use with almost any fabric. If you're looking for a machine that can take on most sewing projects, check out our Janome HD1000 review.
The Janome brand has really stood the test of time. It was founded in 1921 in Japan by Yosaku Ose and was originally called The Pine Sewing Company. In 1954, it assumed the Janome name. The brand's mission is to make high-quality, reliable machines that are easy to use and to provide the best customer service possible. We think they've accomplished these goals with this machine.
Keep reading for our Janome HD1000 review to find out what makes this machine so special.
Specifications
Speed
840 stitches per minute
Working area
6.4'' x 4.7''
Dimensions
15.6" x 12.4" x 6.3"
Warranty
25 years limited
Review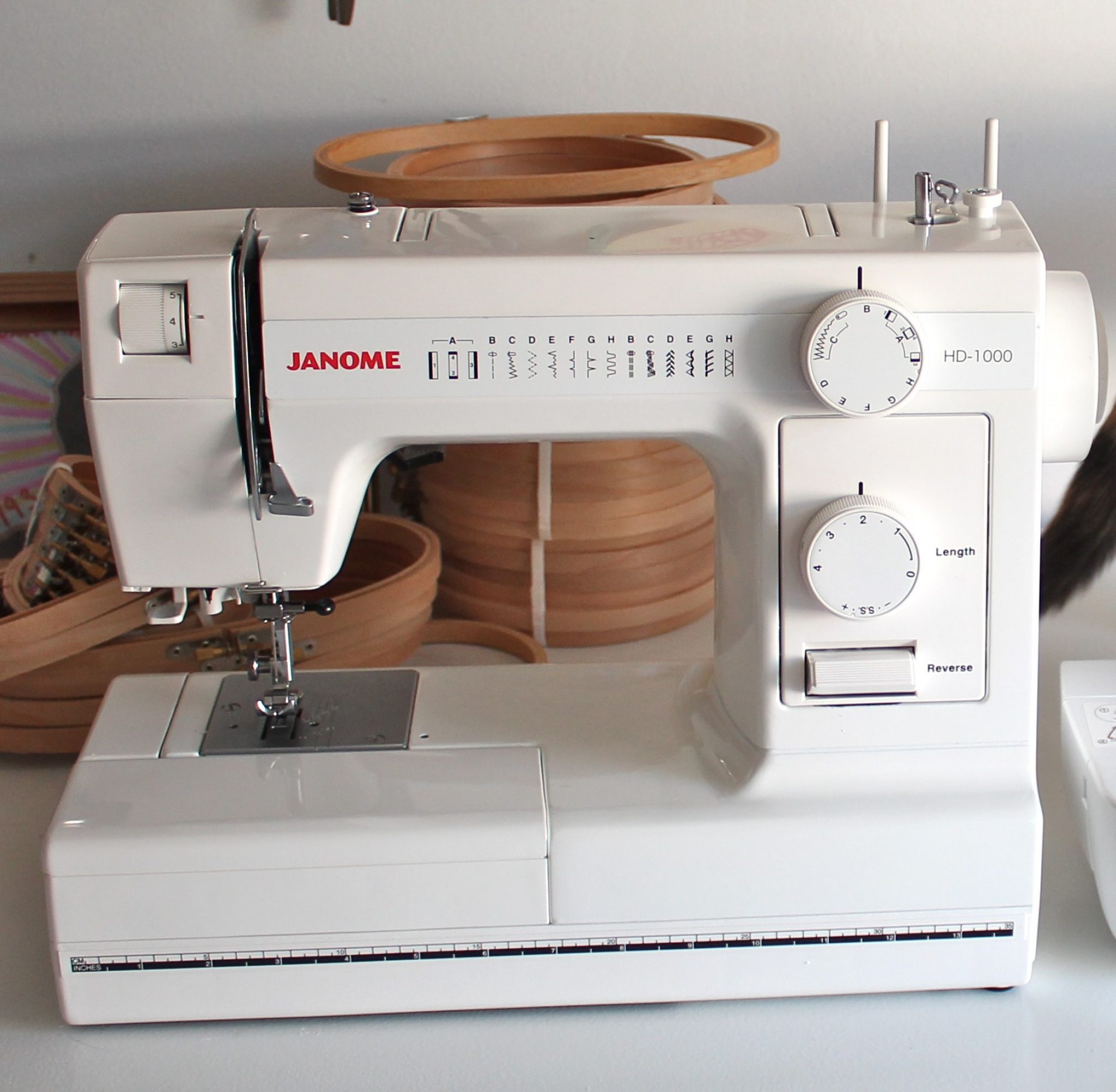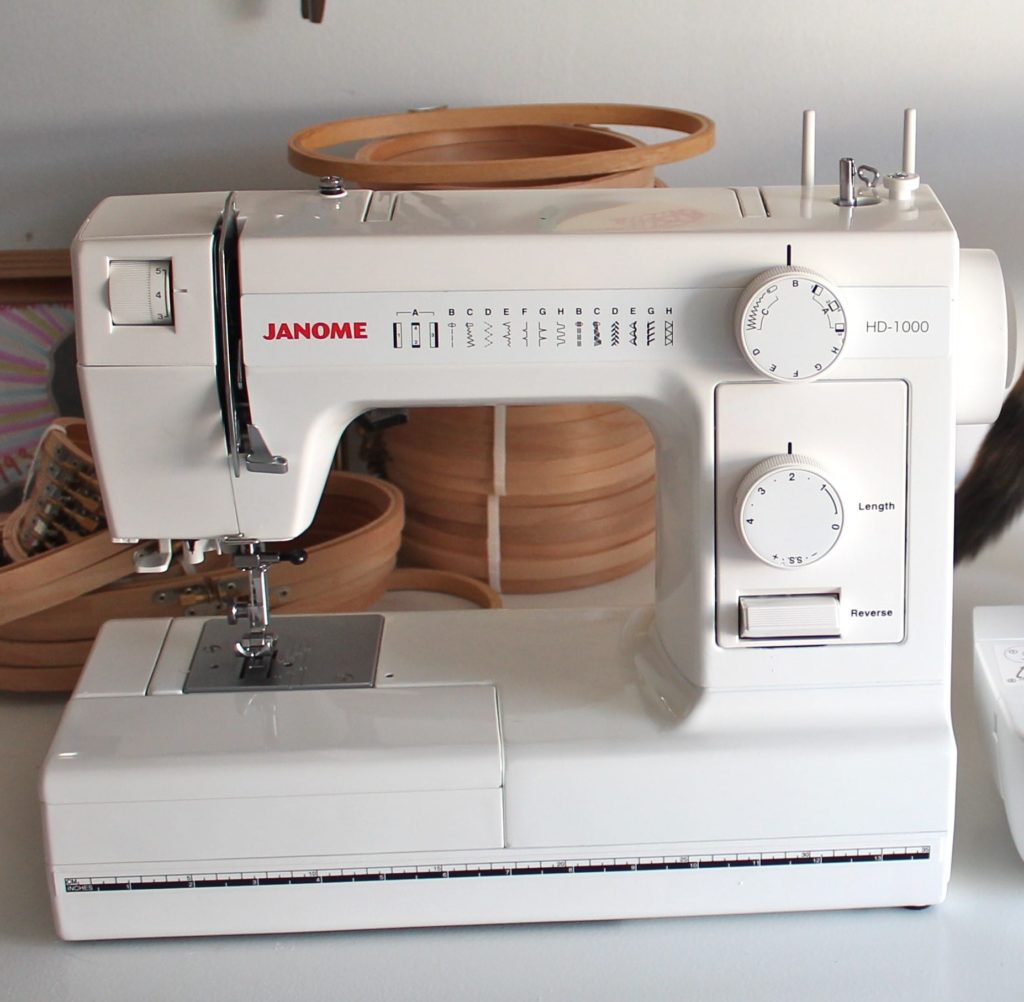 The Janome HD1000 is an all-around strong performer. It's tough enough to handle multiple layers and thick materials and comes with a nice amount of built-in stitches that provide a lot of versatility without being overwhelming for new users.
Here's a closer look at the features that make this such an effective and reliable machine.
Overall performance
A lot of sewing machines claim that they're tough enough to tackle most sewing projects but they don't actually deliver once you get them home. The Janome HD1000, though, really comes through. The heavy-duty design is capable of powering through tough jobs and has enough power behind it to really deliver. Plus, at only 17 pounds, it's lightweight enough to provide a lot of versatility and won't weigh you down as much as larger industrial machines.
Users had a few small issues with the HD1000. First, it has a history of clutch problems. The clutch has a tendency to slip which can lead to significant damage. If it breaks altogether, the machine will have to be repaired. Luckily, Janome offers a 25-year warranty that covers the cost of defective parts so if there really is a problem with the machine, the warranty should cover it.
There are some glitches with the bobbin, too. Standard bobbins typically work without much of a problem but custom bobbins jam periodically.
How user-friendly is it?
One of the best things about this machine is that it's so easy to use. It doesn't have a lot of complicated menus and buttons. Instead, simple dial controls make it easy to fine tune adjustments. This is one of the features that make it such a good choice for beginners. Changing from one fabric to another is pretty simple, too, because you don't need to make a lot of changes, simply turn the dial.
There are 14 built-in stitches, the right amount to deliver versatility without being completely overwhelming. Reverse stitching is important for locking stitches in place and it's easy to use on this machine, too. Plus, the extra-high presser foot easily accommodates thick fabric or multiple layers.
Another good thing about this machine is if you ever have any questions or need a bit of help, the user's manual is really useful for troubleshooting.
Heavy-duty abilities
The Janome HD1000 was built for heavy sewing jobs. It features a strong metal construction that makes it a good choice for anyone who's looking for a machine that's going to last.
We already mentioned the extra-high presser foot but it's a really great feature. It makes working with thick, multi-layer fabrics easy but is also still effective with lighter materials. You just have to be sure to make the proper adjustments. With the right needle and settings, this machine tackles most fabrics quickly and easily.
That said, there are a few common materials that cannot be used with this machine including reptile skin, denim, canvas, plastic, and rubber. While this might not matter to someone who's planning to use this machine at home, there are some industrial and commercial applications that require these materials. Depending on how you plan to use it, this is something to keep in mind.
Speed, stitches, and buttonholes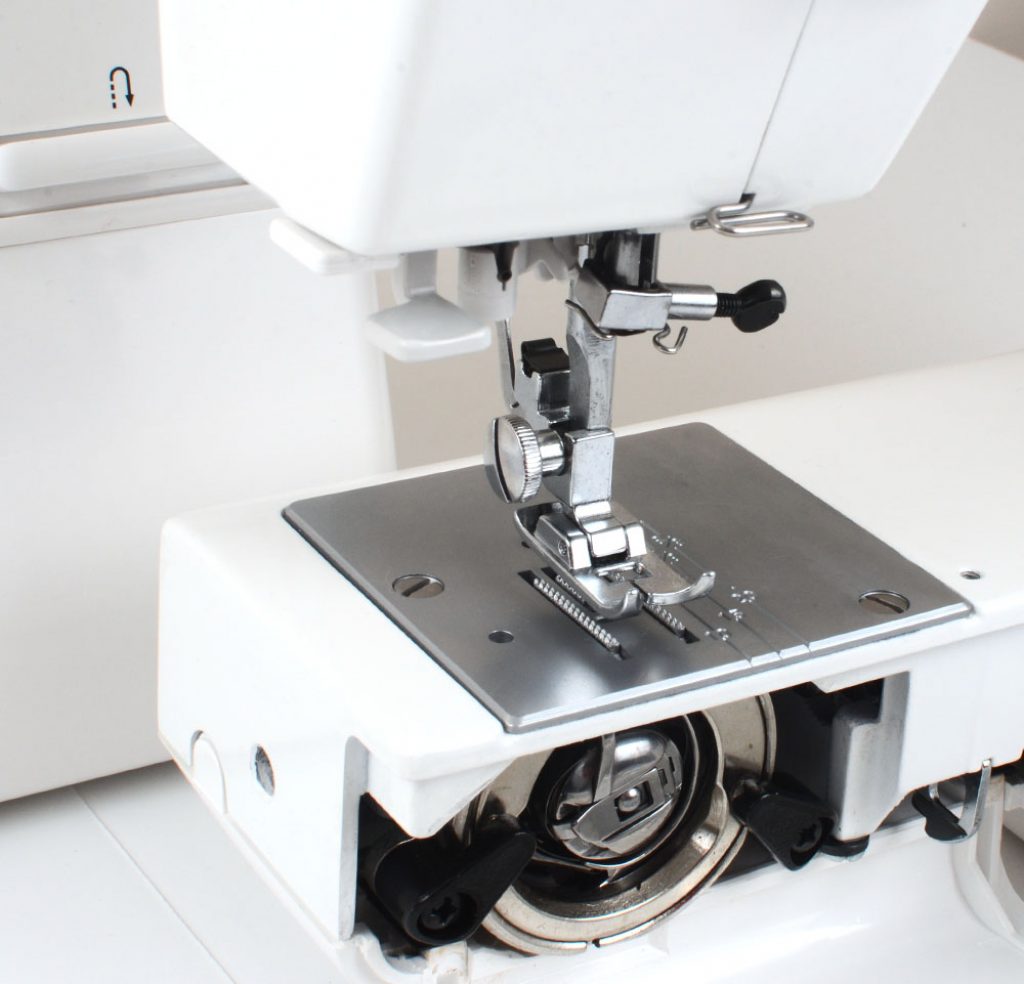 This machine has 14 built-in stitches for variety without an overwhelming number of choices. In addition to the standard straight stitch, this machine can also do reverse stitching, buttonholes, zig-zags, and more.
The best part is how easy it is to choose a stitch. Machines that have a large stitch library can be hard to maneuver but the Janome HD1000 has a simple dial. All you do it turn the pattern dial then select the stitch length.
That's not all, it also has a drop feed-along with a three-piece feed dog that comes in particularly handy for quilting, sewing buttons, and darning. It gives you a decent amount of control over the fabric as it's fed through the machine for better accuracy and freedom of movement.
Exterior and durability
This machine is made with an aluminum interior frame and exterior. Not only is aluminum extremely durable, but it's also lightweight which is why this machine weighs only 17 pounds. Plus, this industrial-grade machine doesn't contain any plastic parts which means that the internal pieces are much less likely to break.
Threading
Threading the needle is one of the most tedious things about sewing, especially if you have to wear glasses. Luckily, the Janome HD1000 has a built-in automatic needle threader. While it can be glitchy at times, it's still a really useful feature.
Controlling the tension of the thread is also really easy. A simple dial at the top of the machine tightens and loosens the tension depending on the type of thread and fabric you're using. It's an easy to use feature that really adds to the quality of your work. This simple mechanism helps make sure that your stitches are locking properly and helps you tackle a wider range of projects.
Portability
As we mentioned, this machine weighs just about 17 pounds. Obviously, this isn't light enough to carry from room to room all the time and it isn't a machine that you could pack up and carry to a sewing class or studio space. If you're looking for a machine that packs up quickly and is great on the go, this isn't it.
That said, it's light enough that you can put it away when you're done using it if you don't have a lot of space. This is another reason why it's good for beginners who may not have a dedicated sewing room where they can leave the machine out all the time.
Plus, since it's made of aluminum and doesn't have any plastic parts, it's durable enough to tolerate being moved occasionally. Just remember that this is an industrial grade machine and it isn't really meant to be carried from place to place or moved daily.
Accessories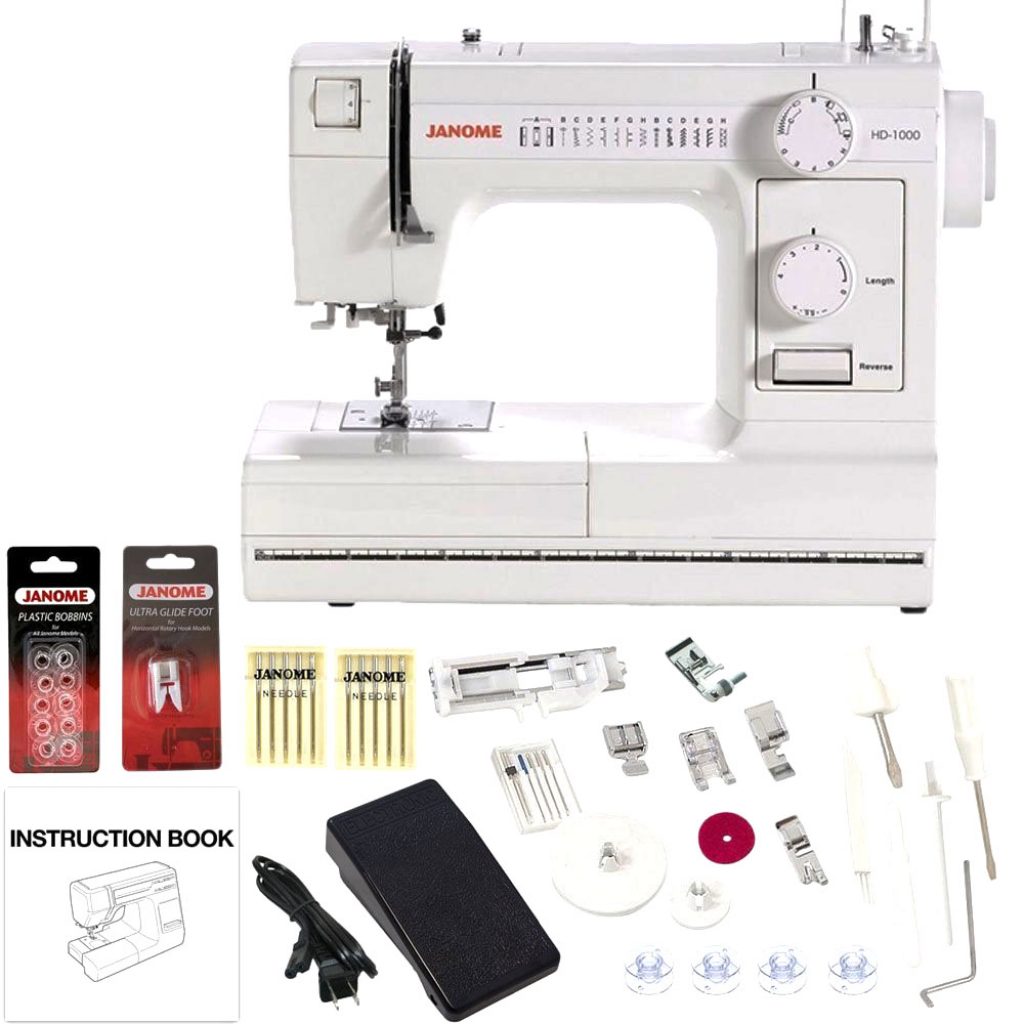 This machine includes a lot of useful accessories. It comes with bobbins, felt, two screwdrivers, extra needles, a seam and buttonhole ripper, zipper foot, hemmer foot, buttonhole foot, a hem guide, and a soft cover so you can keep it protected from dust and debris when not in use.
Warranty
To show you exactly how durable this machine is, it's covered by a 25-year warranty. That's pretty impressive but it's still important to read the fine details so you know what's covered.
When you buy this machine from an authorized retailer, the warranty covers problems with the materials or workmanship with the exception of the electrical components. They're covered for only two years from the original purchase date.
In the first year, any defective parts will be replaced for free, including any labor. After that time, replacement parts are still free while the machine is under warranty but labor is not included.
To maintain warranty coverage, the machine must be cared for properly so make sure you do the required maintenance that's laid out in the owner's manual. Normal wear and tear aren't covered, even if it results in damage.
Price tag
This machine costs around $300, a little more or less depending on where you buy it. Overall, it's a pretty good price for the quality of the machine.
PROS
CONS

Heavy-duty design
Made with lightweight, durable aluminum
Beginner friendly
Extra-high presser foot
14 built-in stitches
Automatic threader
25-year warranty

Doesn't work with all fabrics including reptile skin, canvas, twill, plastic, and rubber
Clutch can slip at times
Custom bobbins jam periodically