As a newbie to sewing, shopping for a suitable sewing machine is a bit tricky. You want something that works well but doesn't have that many features, as those can be confusing to get used to. However, you also don't want the machine's capabilities to be too limited; otherwise, you'll have to upgrade in a short while, and that can be a waste of money.
Lastly, you want something affordable and budget friendly that matches your wallet. According to the manufacturer, the Janome 2212 is just right for the beginner market in more ways than one. As such, we've conducted a Janome 2212 review in the sections below. Consequently, whether the machine fits the billing or not should be clear to you by the time you finish reading this write-up.
This product's also been included into these rankings:
Specifications
Type
Mechanical sewing machine
Buttonhole styles
1, four-step
Dimensions
15.2 x 11.6 x 6 in
Review
In our opinion, the Janome 2212 seems to do precisely what the manufacturer claims it does. It is a fairly simple machine, and with a few instructions, even newbies should be able to use it. As such, don't expect it to excel at handling industry-type sewing jobs, projects, and workloads. However, if it's your first machine, it ticks a few of the right boxes, including being lightweight, compact, affordable, and more. It could be a sewing machine that you carry to class with ease if necessary. It can also handle your first complex sewing job. That said, if you want all the details about the various features and what to expect in performance, keep reading.
Design
In terms of design, the Janome 2212 is a beginner machine through and through. Each component seems to be made with that in mind. As we mentioned above, it is compact, meaning it can easily fit into a bag or case and be carried to class. Furthermore, it incorporates a free arm which works well when sewing materials in the round. It shouldn't have any issues sewing flat fabrics either as long as they're relatively small.
Additionally, it doesn't have a screen which is an increasingly common inclusion in modern sewing machines. However, what it does have is a chart stuck on the side of the machine that shows the different stitch patterns available and how to access and select them. That said, considering the device is only capable of 12 stitches, this chart isn't very big.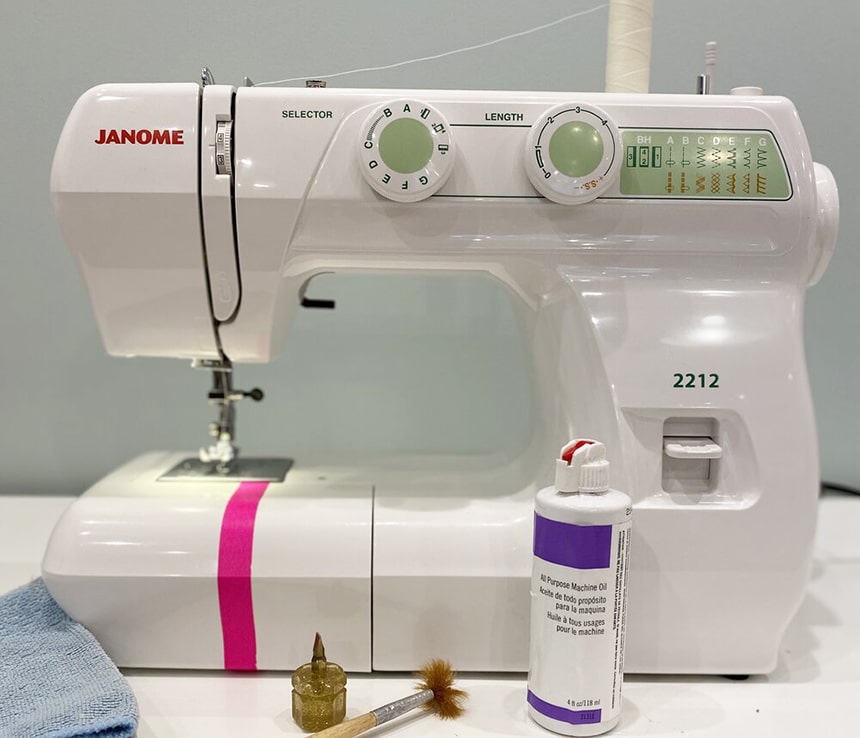 There are two dials on the machine. One is the stitch selector dial which also doubles as the width adjustment dial. The second one is the length selector dial that should allow you to adjust the length of your stitches.
Also, another aspect of the design is the lever conspicuously placed on the lower side of the machine. This is the reverse lever that should make it a cinch to lock your stitches once you're done sewing. Lastly, the device features a drop feed design which does have some advantages. However, it does tend to be problematic if you're transitioning from thin fabrics to thicker options as you sew.
Ultimately, this design is quite simple, easy to figure out for people of different skill levels and all the controls are within reach.
Overall Performance
In terms of performance, there isn't much to complain about. As we stated above, the machine has 12 stitch patterns, and the adjustment knob for the same is conveniently located. It sews flat fabrics and fabrics in the round quite easily, given that it has a free arm sewing surface. The drop feed also has an easy time moving along fabrics as the machine sews.
However, if you're sewing thick fabrics together with thinner ones, you'll have to start and stop the machine a few times to ensure smooth transitions and to prevent jamming. This can be fairly bothersome, but for the price, it's acceptable.
Additionally, the machine features an 860 SPM stitching speed. For beginners, this speed is quite good. It's slow enough to allow users get used to the sensation of sewing. It also makes mistakes less likely. However, for the more advanced sewer, this speed can be stifling and slow.
Ease of Use
With only 12 stitches included and a few controls on the body of the device, using this sewing machine should be a walk in the park. Also, you don't need to cram any of the controls. There is a sticker for the same on the side of the machine that you can reference occasionally. Over time you'll find that you need to look at this chart less and less as you change your stitch settings.
However, the Janome 2212 doesn't come with a threader. That said, if you find threading difficult with the current machine set up, there are some third-party threaders in the market you can get for a small fee. There are other solutions to this problem as well.
Sewing Speed
As we mentioned above, the Janome 2212 features a maximum stitching speed of 860 SPM. Most advanced and professional sewing machines have a significantly higher sewing speed. However, if you're a beginner sewist, the speed might be more of a con than a pro. You'll likely end up making a variety of costly mistakes before you can get used to sewing with a machine.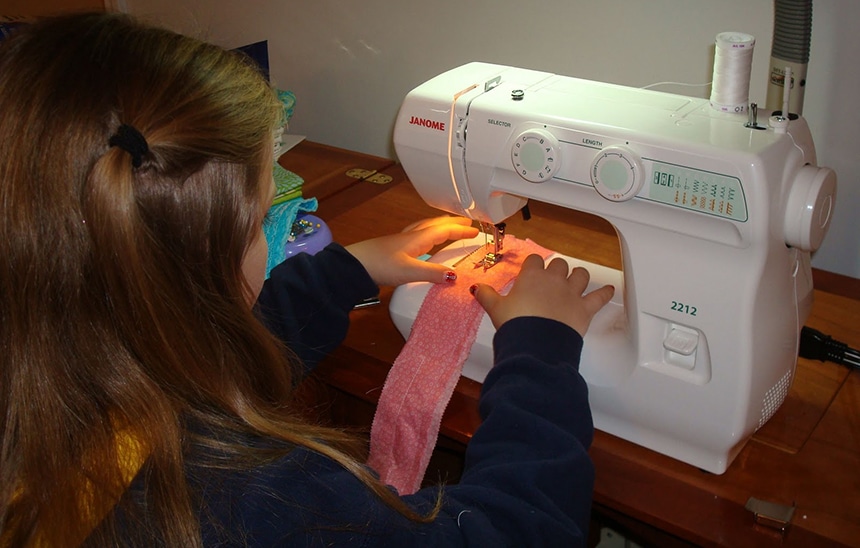 However, since this machine's sewing speed is fairly slow, it should give you a chance to get used to sewing machines in general.
Built-In Stitches
As for the built-in stitches, there are 12 patterns in total. This may seem underwhelming, especially if you've seen higher-end machines with hundreds of stitches built-in. However, this will give beginners a chance to familiarize themselves with different stitches as they learn to sew. These stitch patterns can also handle the bulk of simple sewing jobs.
Notably, these patterns are illustrated on a sticker on the side of the machine. You can use this reference as you turn the selector dial to the stitch you want to use. Furthermore, one of the stitch patterns is a four-step buttonhole option, so you won't need to use any other machines to finish your projects.
Stitch Length and Width
The stitch length for all the stitch patterns available on the machine is adjustable. You can pick any size from 0.5mm to 4mm. On the other hand, the width is only adjustable for one of the stitches on the machine. Notably, this is why there is a dedicated adjustment knob for the length while the adjustments for the width are integrated into the stitch selection knob.
Needle Threader
As for threading the machine, you'll have to do it manually. If your eyesight is failing or you have shaky hands, this will make threading your needles a tall order. However, there are two possible solutions to this problem. One is to buy a third-party threader. They are widely available and affordable, so it shouldn't be too hard to find one in your budget range.
Solution number two is to use easy-thread/self-threading needles. With easy-thread needles, you don't have to rely on your eyesight or the stability of your hands to thread the needle. They're also easily available.
Working Area and Free Arm
In terms of the working area, the Janome 2212 isn't very impressive. It comes with a free arm design that works well enough when you're sewing fabrics in the round. For example when you're sewing cuffs, sleeves, and pant legs. The free arm is also not problematic when sewing small flat projects like table napkins.
However, users will struggle if they're sewing larger pieces of fabric. That said, just like with the needle threader, there is a workaround. Users can buy an extension table, although how much it will cost you will depend on the size of the extension table you want. Some are small and moderately priced, while others are much larger and can set you back more than $100.
Lighting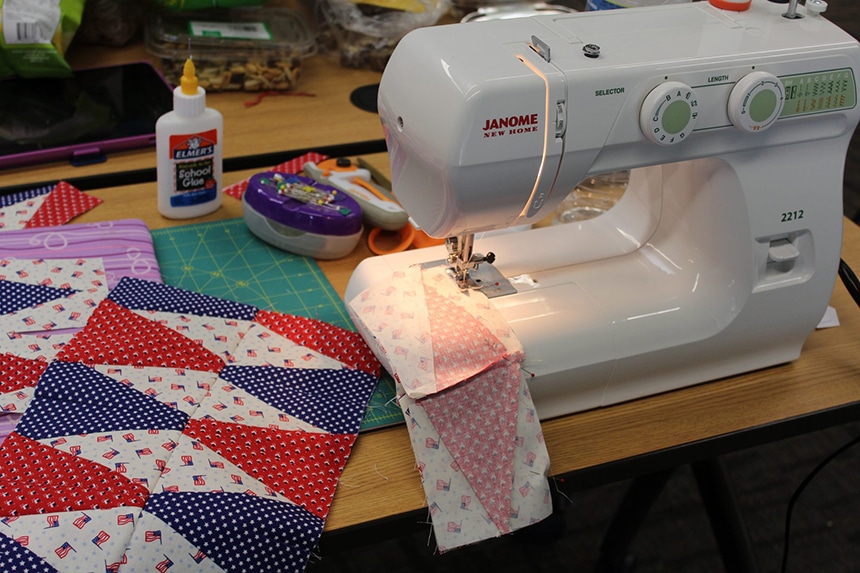 The Janome also features built-in lighting that illuminates your work area as soon as you turn on the device. Consequently, working in the dark and with darker-colored fabrics shouldn't present any problems. Furthermore, the replacement bulbs for the machine are quite affordable just in case your old one gets damaged.
Dimensions and weight
Seeing as though the Janome is designed to be a beginner device, it doesn't have many complex features and attributes. This has allowed the manufacturer to keep the profile compact. Consequently, packing it into a tote bag and taking it to class or on vacation doesn't seem like too tall an order. Furthermore, the weight matches the device's size, and at only 13 lbs, you can carry it for relatively long distances without straining your hands. Even kids are not likely to have a problem moving the device around your craft workshop if necessary.
Warranty
The warranty is another selling point not just for this device but for other Janome machines as well. An oversimplified depiction of the terms is that buyers get 25-year limited coverage. However, details are also important. The 25-year range is only for defective components and poor workmanship. Otherwise, the electrical components of the Janome 2212 are covered for five years in addition to one year coverage for labor.
Accessories
Notably, buyers also get multiple useful accessories with every purchase of the Janome 2212. These accessories include a manual, three different types of presser feet Trusted Source Presser foot - Wikipedia A presser foot is an attachment used with sewing machines to hold fabric flat as it is fed through the machine and stitched. Sewing machines have feed dogs in the bed of the machine to provide traction and move the fabric as it is fed through the machine, while the sewer provides extra support for the fabric by guiding it with one hand. en.wikipedia.org , a needle set, a bobbin, a screwdriver, a seam ripper, a vinyl dust cover, and the foot control for the device.
The screwdriver is included since it's a necessary part of changing your needles. The other accessories also have their uses, e.g., the vinyl cover can help protect the machine from dust if it's left in storage for extended periods and the seam ripper will be handy once you start sewing.
As for the presser feet, you get a zipper foot, a blind foot, and a buttonhole foot although you'll likely add others to your collection with time.
Price tag
The Janome is intended as an introductory device to the sewing craft. You can see that in the minimal enthusiast features included as well as the relatively slow stitching speed. The price is also reflective of the intended market, where the device is one of the more affordable options available. As such, even people without a lot of money can easily acquire the Janome 2212.
PROS
CONS

The Janome 2212 is quite affordable
Easy to use
You get multiple accessories, including seam rippers, a screwdriver, a vinyl cover, and more
Instructions for changing stitch pattern are on the side of the machine
25-year limited warranty
Included lighting
Adjustable stitch length
Lightweight, hence easy to transport

The stitching speed is relatively low
No threader included
Fairly limited number of stitch patterns
Conclusion
While the performance and features are unlikely to impress enthusiasts and experienced sewists, the Janome 2212 is solid, dependable, affordable, and an all-around impressive option for any newbie to the sewing craft. Even the few cons here and there are unlikely to cause buyers any problems in the long run. As a bonus, the warranty terms are quite favorable.
References
1.
Presser foot - Wikipedia
A presser foot is an attachment used with sewing machines to hold fabric flat as it is fed through the machine and stitched. Sewing machines have feed dogs in the bed of the machine to provide traction and move the fabric as it is fed through the machine, while the sewer provides extra support for the fabric by guiding it with one hand.