Sewing is by now means only an activity for the ladies anymore. Yes, most women may know how to – even if it's just the basics – but it is actually a skill everyone should know. For example, back in the day, sewing was used to stitch things together for protection. Men would need to carry gear around with them for hunting and so sewing leather was a skill that even they knew how to do. Should everyone take on this hobby? It could be fun!
You may be interested in learning how to sew yourself, specifically sewing leather as it can be a fun activity to participate in, especially when you see the end result. Sewing with leather opens up a whole new genre of this hobby and once complete, you'll feel proud of yourself.
Nowadays sewing leather is used to make shoes, bags, and belts. It's valuable because a leather piece of an outfit can set you apart from the rest more than any piece of jewelry. People can notice the handcrafted piece, thinking you purchased it from a high-end store—meanwhile you are the creator.
With that being said, you may not be sure of where to start because there is so much information out there. It could become overwhelming and confusing. You may be wondering how to sew leather and even other materials. Let's go through some key facts and exactly what you'll need to start your leather sewing journey.
Which type of leather fits for sewing?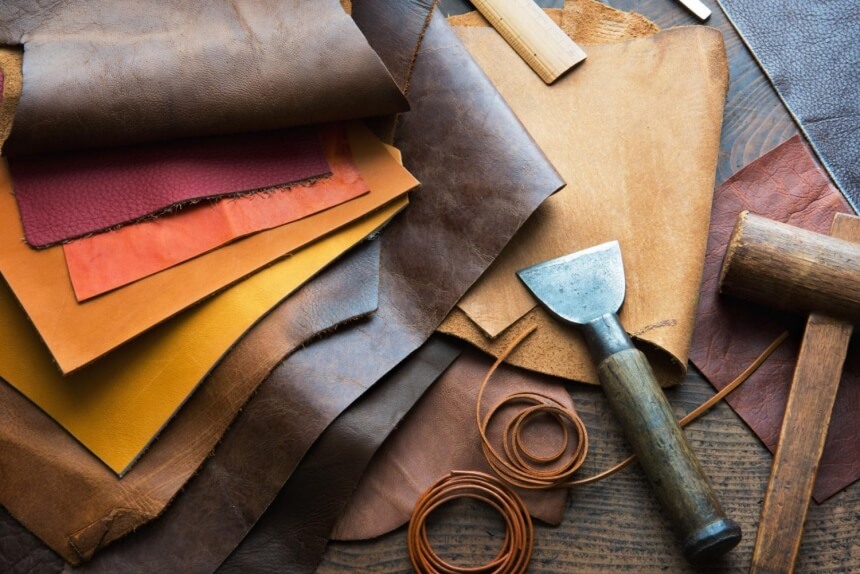 Your first question may be, what type of leather can I use? It's safe to say that you can sew any type of leather. The only thing you need to keep in mind is the thickness of the leather. Of course, there is only some material a needle can go through without bending or breaking. You can use either leather or vinyl which is classified as faux leather.
Faux leather is a name for artificial leather. It is made to look like real leather, but it is made of synthetic material. It can be dyed in different colors and have many textures ensuring that it looks like actual leather. Manufacturers may try to copy leather, but it will never smell or last the same way real leather does.
There are advantages though. Faux leather is water-resistant and doesn't stain as easily. It is also easier to sew than the real thing and is much cheaper to buy. It could be the perfect type of leather for you to start off with until you build up your experience with leather.
There are many names for faux leather, such as:
Faux leather
PU leather
Vinyl
Leatherette
Vegan leather
Pleather
As suggested earlier, starting with cheap leather could help build your confidence until you're ready to move on to higher-quality leather. But, when choosing the leather you're going to work with, it's important to look for quality. Quality leather will ensure that you get the best result and it won't end up tearing during the process.
For example, full-grain, top-grain is considered the most expensive as it comes from the best portion of the top of the hide once the hair is removed. Genuine leather isn't always top quality and is sometimes made to look like top grain leather. Split leather and bonded leather are of poorer quality that is weak and doesn't last that well. Bonded leather is made from scraps of leather which are then treated and bonded together while split leather is a thin layer of leather that comes from thicker pieces after they've been cut into layers. There is also suede which is a form of split leather with a fluffy surface. It is often used when making shoes and furniture.
The different types of leather Trusted Source Leather - Wikipedia Leather is a strong, flexible and durable material obtained from the tanning, or chemical treatment, of animal skins and hides to prevent decay. The most common leathers come from cattle, sheep, goats, equine animals, buffalo, pigs and hogs, and aquatic animals such as seals and alligators. en.wikipedia.org also depend on the animal used to provide the leather. There are hides from a range of animals and reptiles that are a source of leather. Which one will you prefer? There is no need for you to feel like there isn't a type of leather out there for you when there are so many for you to choose from.
A few animal types of leather that you may be interested in include:
Cow Leather
Crocodile Leather
Snake Leather
Goat Leather
Sheep Leather
What you want to sew influences the leather you choose because each leather has its different uses. Some leathers are used specifically for gloves and clothing such as sheep leather while snake and crocodile leather will most commonly be used for belts and bags. Of course, you can make the choice of the leather you want to use.
Any leather can be stitched by hand or by a sewing machine in order to create your final product you're aiming for. As with any material though, you'll only get the best results when you follow wise techniques and expert guidelines. You can have the right tools and do everything the right way and still get it wrong if you just skip one rule.
One magic rule is this: while you pick which type of leather to use, don't forget that thickness is important, especially if you're sewing something at home. It would be a complete waste for you to go out and spend your money on leather that you then won't end up using, just because it's too thick to work with.
What you'll need to sew leather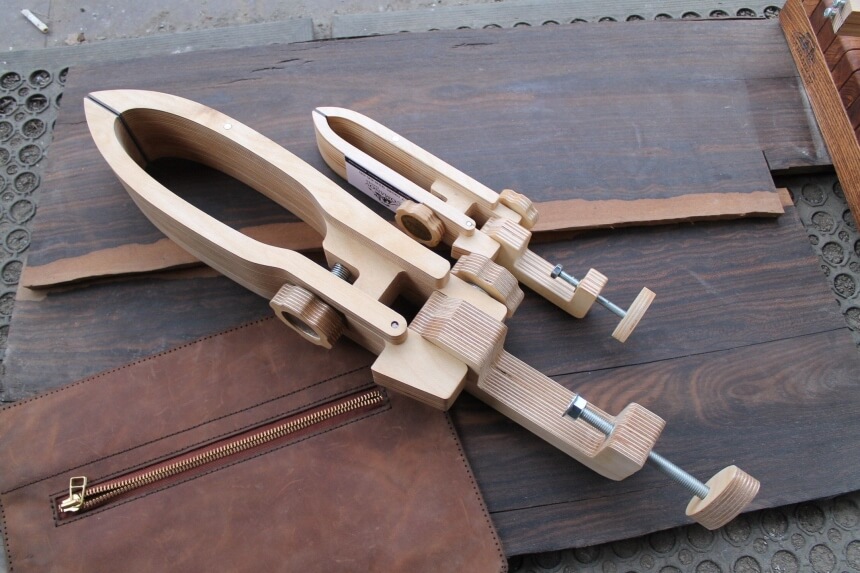 If you're looking into sewing leather by hand there are a few things you'll need to do the job correctly. It doesn't matter if you've done it before or if it's your first time, the right tools are essential as this will guarantee that you get the best results possible. I know that when it comes to doing something crafty, having everything sorted beforehand will also streamline the process and give you more confidence to carry on.
The tools you'll need for hand sewing leather are as follows:
Sewing needles: The first and obvious tool is sewing needles. You'll need two or more needles for sewing leather. Make sure that they are sturdy so they don't bend and break or make sure you have more on hand if needed.
Waxed thread: You can wax the thread yourself if it isn't waxed already just by using candle wax or beeswax. This is so the thread will be sturdier and won't snap during the process of tugging.
An overstitch wheel is optional: This is to give you an indication of the space you need between each hole. It's specifically made for sewing. It comes in a variety of sizes so you can find the right distance between each hole that suits your design. You can also use a fork if you can't get your hands on an overstitch wheel.
Binding items: When stitching two pieces together, you can use either glue, nails or even binder clamps. You'll need to do this to make sure the pieces stay straight when sewing them together.
Ruler: A ruler or a stitching groover tool in order to create the straight line you'd need to follow. The stitching groover also removes a small amount of leather to create a dent that'll be easy to follow.
Sewing awl: A sewing awl will help you create the holes you'll need. You can use an ice pick but instead of making clear holes it may tear the leather.
Pen: Use this to make any marks throughout the project.
Stitching pony: this is a very popular item that allows sewists to use both hands while working. These are clamps that hold the leather piece for you. Here's a video that can help you make one on your own:
As you can see with the list given above, there is not that much that you'll need to get this craft underway. Of course, a sewing machine can also be used but it can be fun to start off with a more hands-on version of the skill first?
It is important that you use the right tools no matter which technique you go with. Don't risk getting frustrated with the wrong results and then give up. Anything can be fun and easy when knowing exactly what to do and using quality tools. Simply make sure you follow the best methods from the start.
How to sew leather by hand
You don't have to own a sewing machine in order to get sewing as you can learn how to sew thin leather by hand. Although, a sewing machine such as the JUKI TL-2010Q could be a staple item in some people's houses because you can use it for all types of sewing projects. It's also portable and light enough to easily carry around. This makes it easy to take out from the cupboard whenever you want to enjoy your hobby. Don't have a sewing machine yet? Don't feel discouraged though as hand sewing can give you beautiful results too.
If the effort of sewing by hands puts you off, think again. It really isn't as hard as you'd think. You can have fun with it and explore different techniques and different leathers while learning a new hobby.
To get the best result when it comes to sewing leather by hand though there are a few things you can do to ensure that your masterpiece comes out exactly how you want it.
First, start off by securing your leather and making sure it's lined up correctly. This can be done by either gluing the two pieces together or using binder clamps. Once you have done that, you can then use a ruler and a pen or a stitching groover to create a line for you to follow while trimming the edge of any excess leather. If you are using a ruler and want to clean up the edges the X-Acto No 1 Precision Knife could do the trick as it's sharp enough to cut through any material, including thin pieces of metal!
The next thing for you to do would be to use your folk or overstitch tool to create the spacing you'll need to follow for your threading. You can make the spaces as wide as you'd like to really customize your piece.
The next step would be actually puncturing the holes. This can be done by using a sewing awl. When using the sewing awl you must make sure you keep it completely straight to ensure that the holes align with the spacing you created with the overstitch tool.
With everything set up and ready to go, the next thing you'll need to do is cut the thread and then draw it through the needle. To get the right amount of thread, you can measure the length of the leather you're about to sew and multiple it by 2.5. Once this is done, you can move on to drawing the thread through the eyelet.
Note: If your leather is longer than 3ft, you may need to sew in sections.
There is a technique called 'lock the needle' you can try. This is where you draw the thread through and once it's a few inches through, you turn the needle back into the thread, piercing it through the twists. A knot is not needed as your holes will be big enough for the knots to slip through. However, a backstitch can be done to stop the thread from coming loose.
These steps are the first steps needed when sewing leather. The next step would be to choose a stitching technique that you'd like to follow which will be listed down below for you to look at. These different techniques are there to help you learn and experiment while making beautiful leather creations. Don't feel overwhelmed by it all and if you do, just step away for a moment before coming back to it because it'll be worth it in the end!
How to sew leather with an awl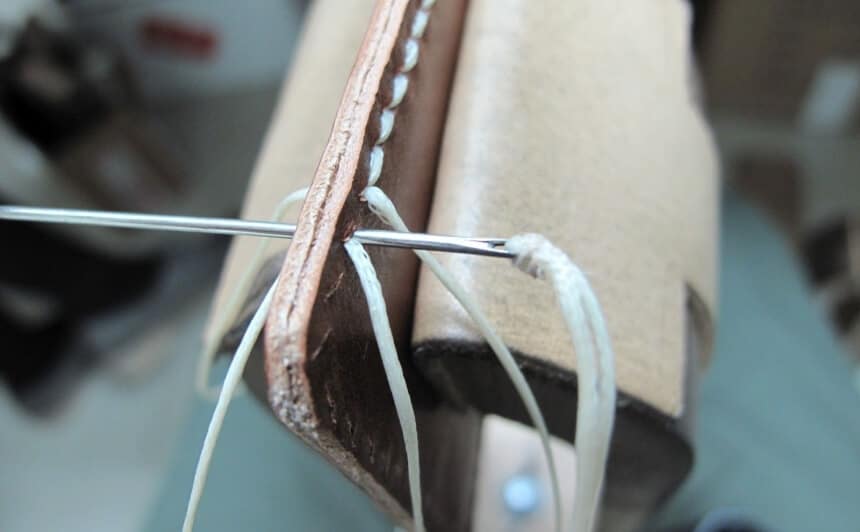 You can sew leather with a needle while using an awl to create your holes, however, you can also use it to sew. It has two jobs in helping you get the best out of your leather as well as making your life a little easier. How? It takes care of the thread for you.
If you don't know what's a sewing awl Trusted Source Stitching awl - Wikipedia A stitching awl is a tool with which holes can be punctured in a variety of materials, or existing holes can be enlarged. It is also used for sewing heavy materials, such as leather or canvas. It is a thin, tapered metal shaft, coming to a sharp point, either straight or slightly bent. en.wikipedia.org is, here are some facts:
It can puncture holes as stated above but it is also a needle.
It is a piece of metal that is thin and tapered at the end into a point, which is similar to a needle but not as pointed but rather rounded.
At the end of the point, there is an eye-piercing so you can draw thread through the hole.
Sewing awls are used to create a manual lockstitch.
The needle is pushed through the material where the thread is, then pulled through the eye to extend it. The extra thread from the first stitch is then threaded through the loops of successive stitches, thus creating the lockstitch.
Leather stitching techniques
When it comes to hand stitching leather, there are a few different ways for you to work. Methods include:
Single stitch
The 'z' stitch
The box stitch
Butt stitch
Cross-stitch
French seam stitch
American stitch
These are only a few options among many other leather stitching techniques.
The reason why you'd want to look into stitching techniques is not only to broaden your skill level but to also give your leather a different finish. This is because the stitch will add its own bit of detail to your end product. It can be a way for you to be creative with a piece of leather while keeping the general design basic at the same time. You don't have to go over the top in order to make something look good. Sometimes it's all in the detail.
It would be a good idea for you to follow a step-by-step instruction video or diagram to fully understand how to do each stitch. A picture reference helps you see exactly what you're aiming for. Some of the techniques can be a little harder than others but it can be fun to learn new stitches that you could use with leather and any other material.
Sewing of any kind can be a way for you to bring in a bit of extra income, especially when your pieces truly show off your craftsmanship. Don't just stick to what you know. Learning more can set your work apart from the rest and give you more options of what to create next.
How to sew leather with a sewing machine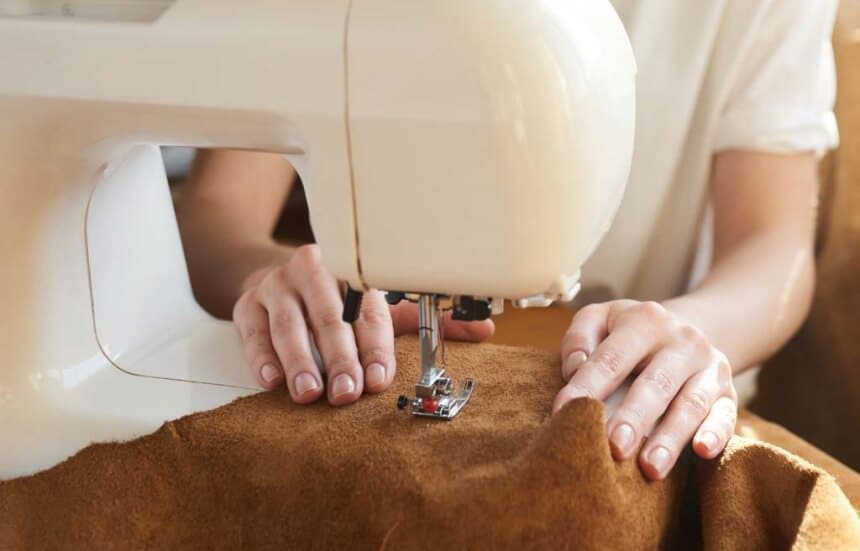 It may sound impossible to sew leather with a home sewing machine but don't be fooled. It can be done! Luckily, when it comes to leather it comes in different levels of thickness and this is key to using your sewing machine with leather.
Keep in mind that thick layers of leather can be too much for your sewing machine to handle, so I suggest you only focus on how to sew with thin leather. If the leather is too thick it can not only damage your machine but also damage the leather itself. Remember, on leather unwanted marks can't be easily removed or covered up. However, if you're looking for a sewing machine that can stitch through thicker layers of leather you can consider an industrial sewing machine as they are built for thicker material.
Also, there are a few things you can do to ensure that your machine is ready to be used with leather. Here's a checklist to use:
Step one, change the foot. A normal foot can stick to the leather making it impossible to work smoothly. Switching from a regular presser foot to a Teflon foot will do the trick. A roller foot will also suit the job.
Secondly, you'll need to change the needle. Leather needs a different needle compared to other materials as it needs to be a little thicker. Some will still break due to the leather and especially if you're still learning new techniques, so make sure you have backups!
Use the right thread because a thin thread can snap and break very easily. A waxed thread is recommended or you can try polyester.
To avoid unwanted holes, don't use a pin when keeping your two pieces of leather together. Instead, use glue or double-sided tape.
Unlike other materials, leather can leave marks when you try to fix a sewing mistake, such as removing thread. It would be a good idea to start off with a scrap piece of leather before going in with your intended leather just to get more control and understanding of this process.
If you are in need of a sewing machine and don't know where to start, the JUKI DDL-8700-Servo comes highly recommended. This model can work with thin to medium materials, making it the perfect machine for thin leather projects.
Once you've followed all the steps above, the best thing to do is to just go for it. Firmly hold on to the leather though as it might need some extra guidance. Leather can slip and slide a little unlike other fabrics, so it's important that you efficiently guide it to get that perfect straight line you're looking for.
Final thoughts
Yes, there are tailors you can ask to do your sewing for you, but what's the fun in that? Also, sewing could be an activity you can do with fabrics you may have at home already. For repairs or making fashion items, this can save you money. Even if you don't need to repair something, you could use sewing as a way to customize an item you already have. And with leather it becomes even more fun!
Knowing how to sew leather or faux leather is a skill that can be used to create just about anything. You may even have items of clothing already laying around your house that could do with a makeover. So, why not change up your wardrobe and make it exactly the way you want it to be?
Sewing can be creative and a life skill. So, what is stopping you from going out there, getting some leather, and creating something you can use and be proud of?