If you love crafts, chances are you have lots of fabric scraps lying around in shopping bags or tucked away in boxes all over the place. Keeping your fabric scraps organized makes it easy to find exactly the piece you need when you're in the middle of creating something awesome. There's nothing worse than having to spend minutes looking for the perfect fabric scrap while interrupting your creative flow. So if you're wondering how to organize fabric scraps, this guide will show you all the best ways to do it.
There are multiple reasons for which you should keep your fabric scraps organized, including the fact that fabric is expensive and smaller pieces can be reused for numerous projects. When you have all your scraps organized, it is easy to see exactly what you have available and stop buying fabric in the same color or pattern. Now let's have a look at how to organize fabric scraps and get started on a highly organized sewing space.
How to use fabric scraps?
Anyone who's a keen crafter is often amazed at how many waste pieces of fabric scraps producing. If you're one of these people, you might really resent the thought of throwing all the species away. This is especially true for fabrics that you really love or ones that were quite expensive.
But the good news is that there are lots of ways to use fabric scraps so you can be sure they don't end up in a landfill.
Quilting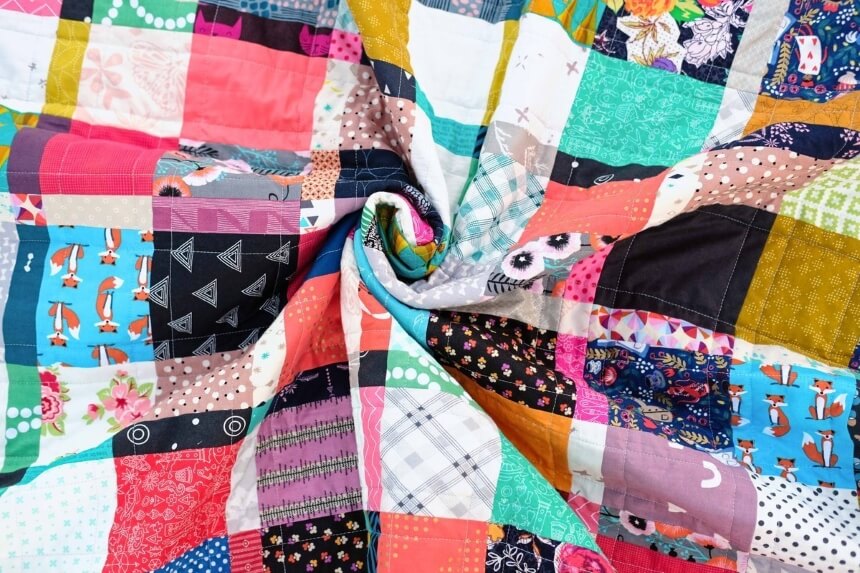 The basis of quilting is basically using fabric scraps to create blankets, clothes, and other items that are useful in a home. There are several types of quilting, and you can do it either by hand or using a quality sewing machine for quilting.
Most reviews mention that the Brother Quilting Machine PQ1500SL is the best choice on the market for beginner and professional quilters alike. This quilting machine is ideal to use with scraps and has a maximum speed of 1,500 stitches per minute, so you can do more quilting in less time.
Quilting Trusted Source Quilting - Wikipedia Quilting is the term given to the process of joining a minimum of three layers of fabric together either through stitching manually by hand using a needle and thread, or mechanically with a sewing machine or specialised longarm quilting system. en.wikipedia.org is in fact one of the best ways to use all of your fabric scraps and you're likely to be amazed at the eclectic mix you're going to end up with. If you're in need of some inspiration, you can find it in some of these popular quilting books.
Dolls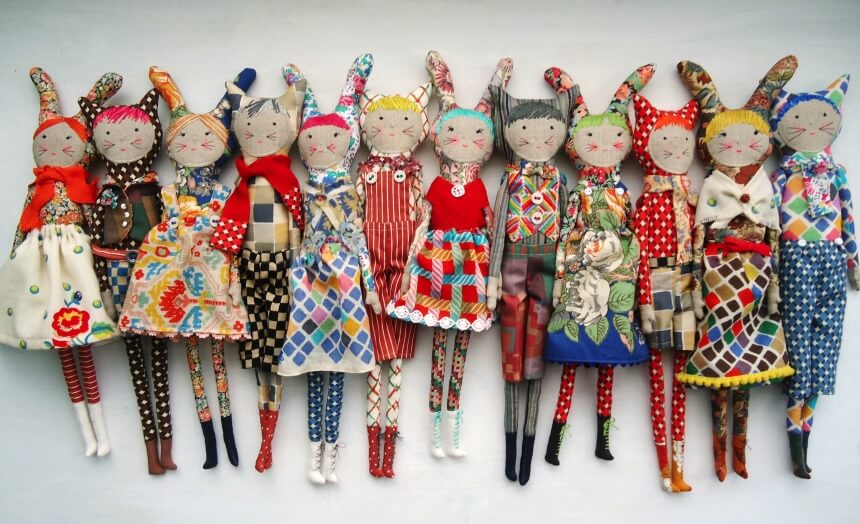 Another great way to use your fabric scraps is to make dolls. You can either choose to make an entire doll using scrap fabric and polyfoil stuffing, or you can use the fabric remnants used for other projects to make clothes for your favorite dolls.
Home decor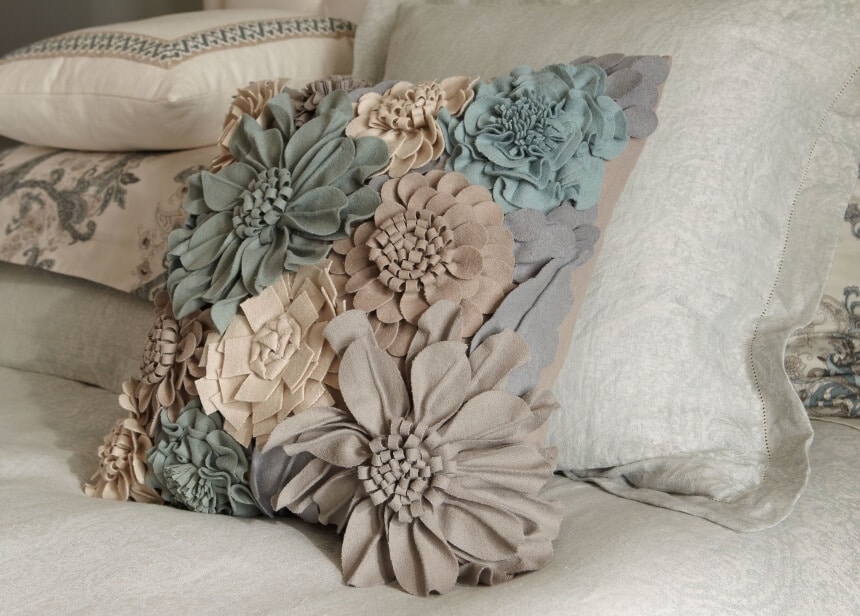 Fabric scraps provide unlimited ideas for home decor, and there are hundreds of suing projects you can try if you want to epicycle your leftover fabric. From making coasters from fabric and ribbon scraps to creating tissue holders, small tote bags or baby headbands, the possibilities are truly unlimited.
Sometimes the fabric scraps you have may not be cut exactly in the dimension you need for a new project. If that is the case, you might want to check out a fabric cutting machine that allows you to cut fabrics quickly and precisely.
Besides the uses listed above, you can also employ scraps in super creative ways such as making phone cases, monogram pouches, fabric flowers for accent pillows, kids belts, and bookmarks. The sky is truly the limit with fabric scraps, so there's no wonder keen crafters don't want to waste them. After all, who knows what you're going to create?
Now let's have a look at how to prepare your scraps for storing them in the ways that makes most sense for you.
Here's an inspiring video on how to make cushion using smaller fabric scraps:
Preparation
There are multiple ways to go about organizing fabric scraps, but the easiest method is to gather around the supplies you need and then decide on a process that will help you finish the job quickly.
If you have a lot of scraps, it might take some time to trim and organize them, which is why it's important to have an efficient process for your work.
In order to be able to organize fabric scraps efficiently, it's important to cut the pieces in sizes that are a good fit for other projects.
Begin by gathering your instruments, which typically include:
Quality pair of scissors
Cutting mat
Ruler
Ironing board
Iron
How to cut and fold scraps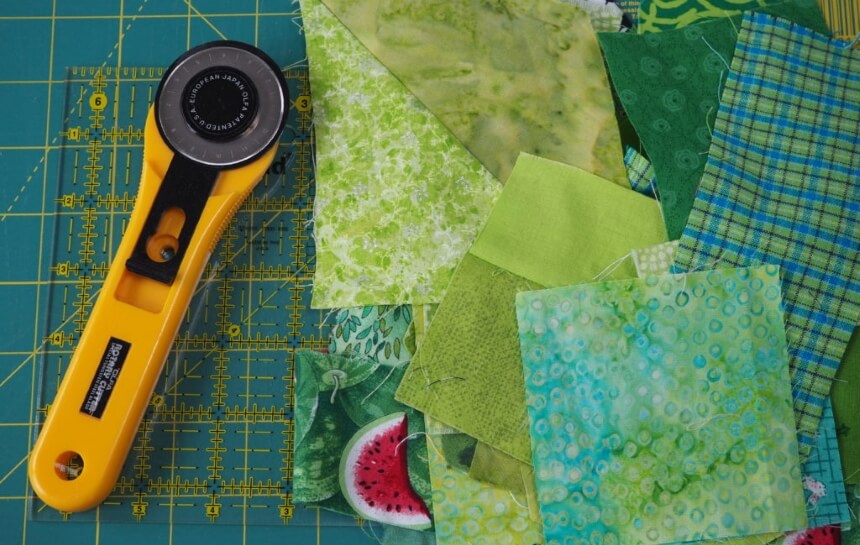 Before you start to organize your scraps, it's a good idea to cut them into pieces that you can then use for other projects. Having the fabric scraps cut to size means that you can also organize them better.
Start by pressing the scraps and them cut them into strips that have a uniform width. You can do them all in a single size, say 3-inch, or decide on multiple sizes. This all depends on the type of projects you intend to reuse the fabric scraps for. You should then fold each scrap to have it ready to place in your organizer.
Having a method makes it easy to go through large amounts of fabric scrap. If you have accumulated quite a lot of fabric remnants, you want a process that makes it easy to cut and fold as quickly as possible.
Labeling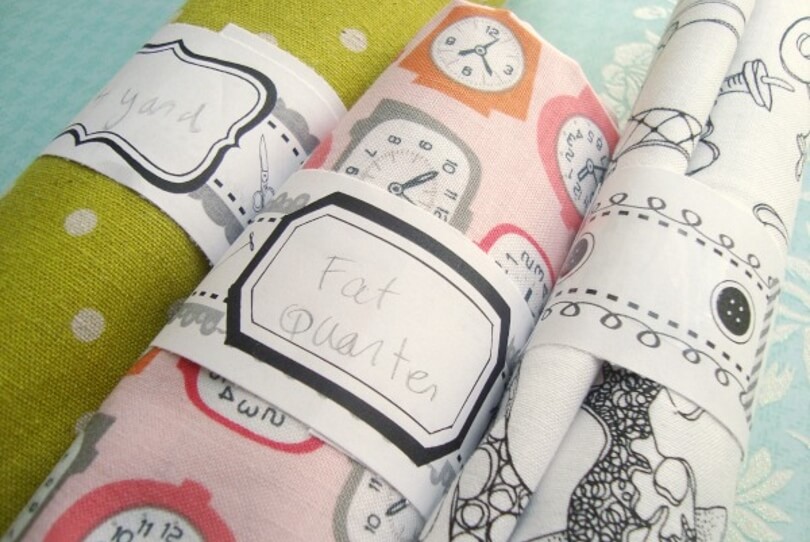 The next step is to label your scraps. This is particularly important if you have large amounts of scraps and you want to store them in boxes or other containers that you can't see into. You can easily make your own labels or use ready-made ones.
Sorting
Now for the fun part — the actual sorting of the fabric scraps. There are multiple ways you can go about it, and it's all about your personal preference. You can sort your scraps by color and pattern, by project, size, or type.
It can be difficult sometimes to decide how to sort your scraps. Depending on the size of your collection, you can do it by following a single or more criteria. Always do what makes more sense for you so you don't have any trouble finding what you need when you're the mood to create something awesome.
Sort by color and pattern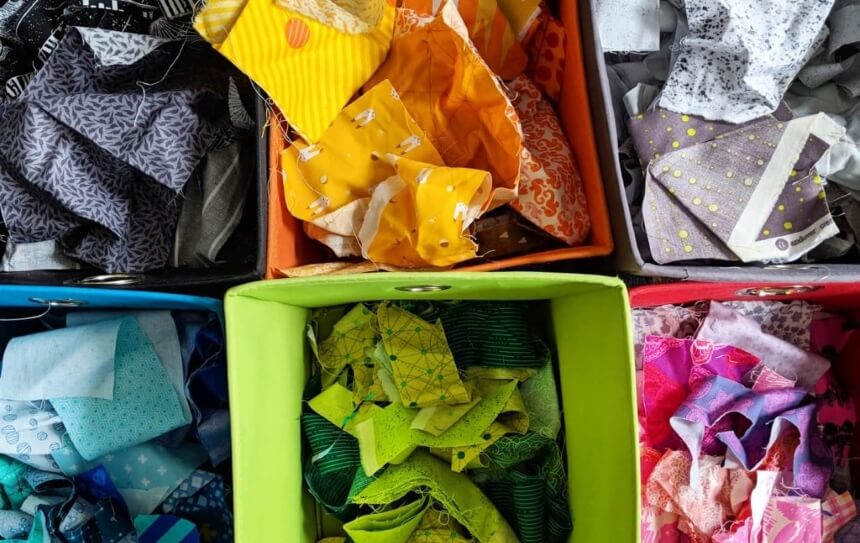 This is one of the most popular ways to sort fabric scraps. Keeping scraps separated into color groups makes it super easy to find the exact one you need when you're looking for a particular shade for a project.
Besides organizing by color, you can also subcategorize the scraps by pattern — stripes, solids, dots, novelty, holidays and focal prints are all options that you can try.
Sort by project
Sorting the fabric scraps by project is ideal for those who already have a project in mind and want to have the scraps organized for that particular project. For example, if you intend to make a quilt, you may want to sort the fabric scraps in piles that will eventually go into that project.
Sort by size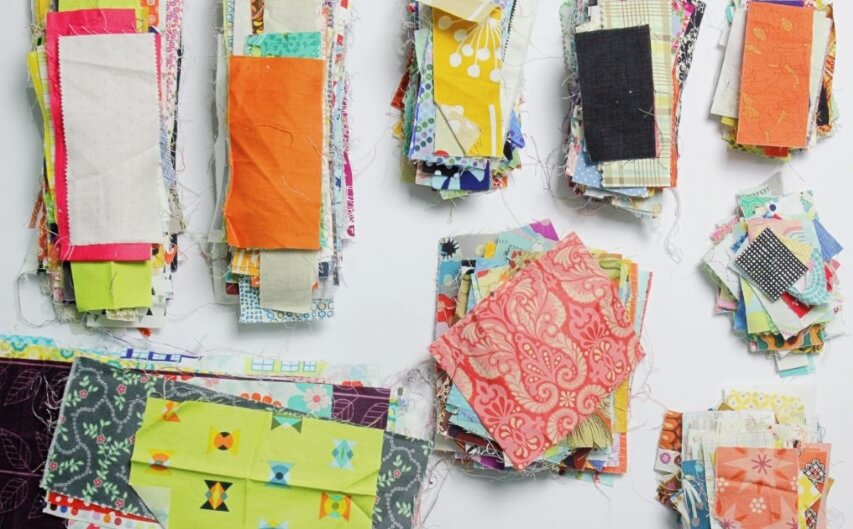 You can also decide to organize your patterns by size. This comes in handy when you're making a project like a quilt, for example, because you'll be able to have pieces in the same size all in one place, without having to go through all your scraps just to find the ones in the right size. You can organize scraps into strips, large squares, small squares, irregular size and so on.
Sort by type
Another idea is to organize fabric scraps by type of fabric. For example, you can make separate piles for cotton, canvas, linen, garment fabric and so on. The type of fabric can sometimes overlap, but it's still a helpful way to organize scraps, especially if you have multiple projects rolling.
The leftovers
Leftovers are scraps that don't fit in any category. You can simply make a separate pile for all of these, which would come in handy when you're looking for something that you don't have available in your main piles.
Where to store fabric scraps
You should always try an organize your fabric scraps in a way that will actually help you use them for your future projects.
Whether you're a bit of a fabric hoarder or you only have a couple of boxes full of scraps, keeping your stash organized makes it easy to see what you have and pick the best scraps for your next project.
Some of the most popular ways to store fabric scraps include cabinets, jars, clear boxes and bins, and plastic bags. You can also choose to hang your scraps or use chests or baskets to store them.
Let's have a look at the best ways to organize your fabric scraps.
Cabinets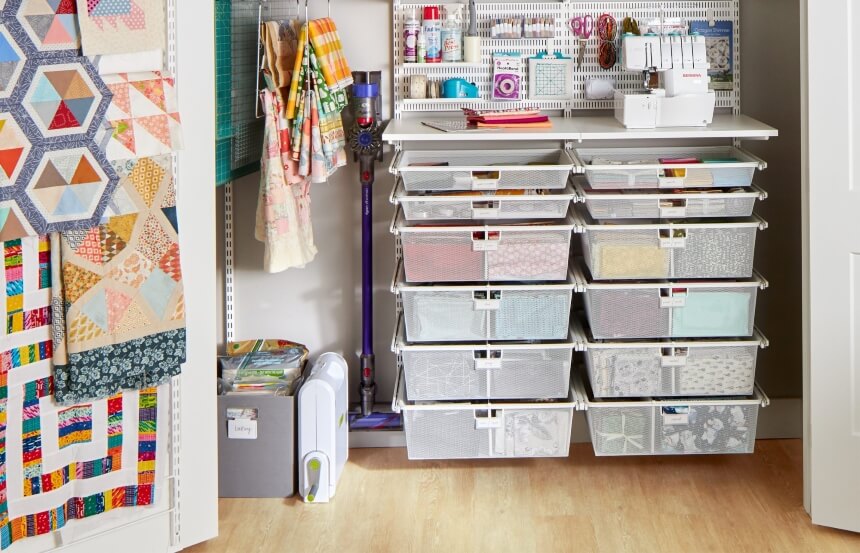 Storing your fabric scraps in cabinets and drawers is an excellent idea because you can take advantage of separate compartments for the various groups of scraps you work with. Choose a filing cabinet in a size that's suitable for the number of scraps you want to store and repurpose it into a fabric storage caddy.
By folding the fabric scraps correctly, you'll be able to flip easily through them when you open the drawer. Even though this method of storing scraps can be a bit time-consuming, its functionality totally makes up for it.
You can also opt for a drawer storage rolling cart, like the IRIS 10-Drawer Storage Rolling Cart with Organizer Top, for example. These types of carts have easy glide casters for extra mobility, which makes them ideal for those situations you want to move your fabric scraps closer to you, for example. There are also drawer stops to keep the drawers safe and secure, which is perfect for homes with small kids.
Jars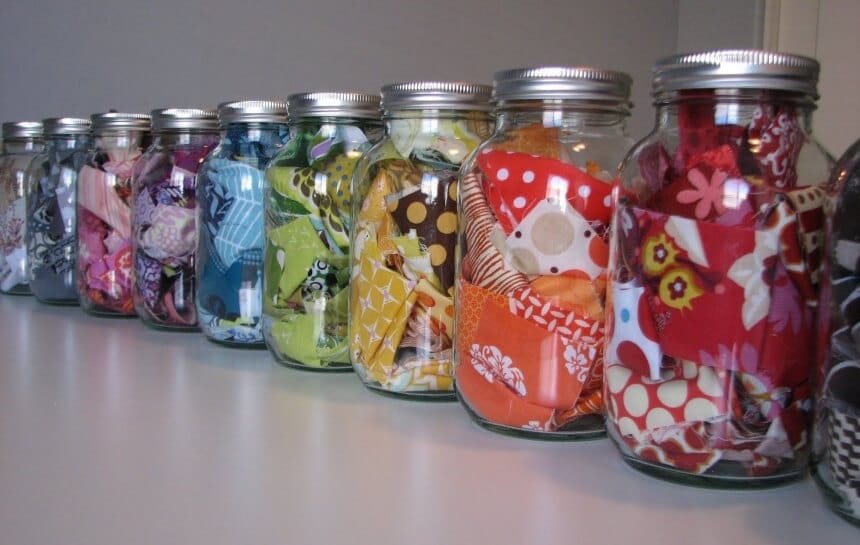 Jars might not be your first choice when it comes to storing your fabric scraps, but they are in fact a fabulous idea. Models such as the OXO Good Grips are stackable, so you can store as many as you on shelves or in cabinets.
You can choose jars in various dimensions, depending on the types and sizes of scraps you have. Storing scraps in jars is also a very good idea if you have lots and lots of little bits of fabric and you're having a hard time folding them neatly.
Glass jars are better than plastic ones for storing scraps because they are clear and won't leave any residue on your scraps. However, keep in mind that you shouldn't place your jars with scraps in direct sunlight or near a window because this might cause discoloration.
Clear boxes and bins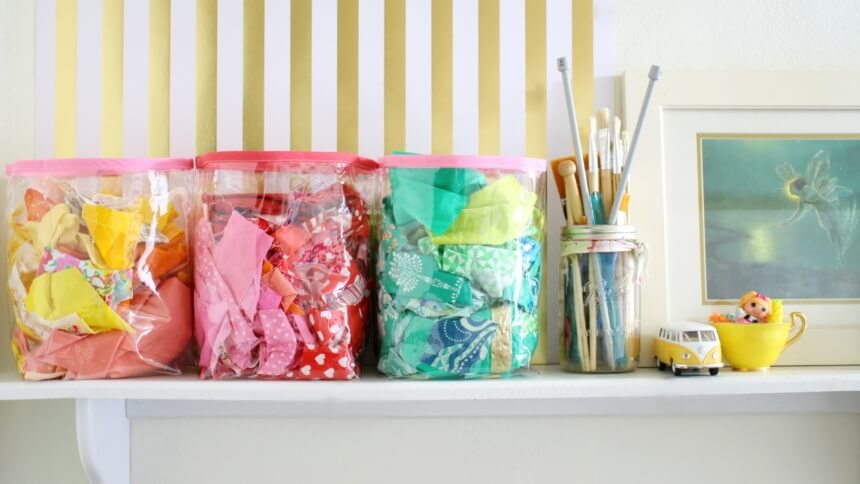 Clear boxes come with multiple advantages when it comes to storing fabric scraps. You can easily see what's in them immediately, and you can use whatever size you want to suit your existing pieces of fabric.
Small models such as the ArtBin 6990ZZ Super Satchel  are ideal for smaller pieces of fabric, but you can also buy very large clear boxes and bins to store large scraps. This is an excellent solution if you want to store your scraps in a place such as a garage or basement, because they will be protected against humidity, mold and other issues.
Hanging
You can hang larger pieces of fabric with kitchen hooks and place them under the sewing table or another place where you can easily browse through them to pick what you need.
Another option is to use some of those hanging storage options that are made for shoes. They are large enough to hold just about any size of scraps and you can use the multiple compartments to organize your scraps by color, season, or any other criteria you want.
The good thing about using hanging storage for scraps is that you can store them in a dressing so they're not out in plain view all the time.
Over the door shoe organizers are another idea for organizing scraps because they come with clear pockets so you can identify what's in them at a glance.
Plastic bags and zip locks
Plastic bags and zip locks are the perfect choice for those who don't need a sophisticated sorting system for their scraps but still need to keep them organized so they're not all over the place. Instead of just keeping all your small pieces of fabric in a big old plastic box that makes it difficult to find what you need, you can sort all of them by color or size and place them in plastic bags and zip locks.
That way, all you have to do is seal the bag once you're done getting what you need from it without making a mess. You can purchase plastic bags and zip locks in various sizes and even put some small ones inside a larger bag as a sort of two-level sorting system.
Shelves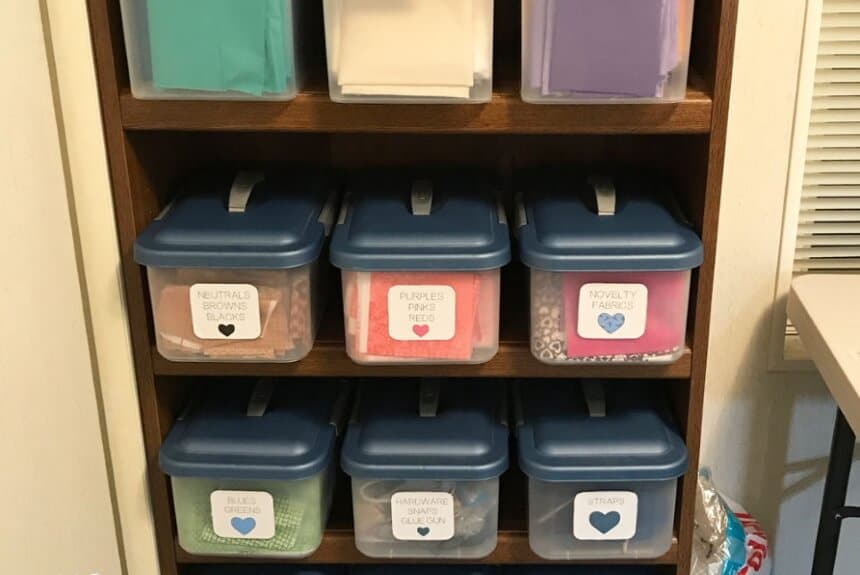 Shelves are a good option for those who have lots of fabric scraps and need a system that allows them to keep everything organized while also making it easy to find exactly what they want.
One of the best ways to use shelves for scraps is to place the scraps into plastic bins and stack those on the shelves. The clear plastic bins will make it easy to see exactly what's inside while also being super easy to maneuver.
You can also use shelves to store your baskets and chests, or even the folded pieces of fabric without putting them in anything (this is only a good idea for large scraps.)
Chests and baskets
If you have larger scraps that you can fold neatly in squares, baskets and chests are another great option for storage
Pieces that are too small might be difficult to store in a hanging way or in a filing cabinet, but chests and baskets make it easy to store all these pieces together. This is especially great for keeping coordinating fabrics together. For example, if you tend to buy lots of pre-packed fabrics, you'll want to keep them together for when you start another project with the scraps.
To avoid having to rummage through the basket in search of the ideal piece that goes well with the ones you already have for a project, you can use sewing clips to keep them together. If you have lots of chests and baskets, you can label them with the name of the designer, color, season, or whatever criteria you used to sort them.
Final thoughts
Quality fabric is expensive, so you don't want the remnants you have from your projects to go to waste. Organizing your fabric scraps gives them a new lease of life, not to mention that the entire process of organizing them is a really satisfying one. By keeping all your fabric scraps well organized and visible, you can improve your workflow and also get inspiration for new ideas.
Clutter is the enemy of creativity for most crafters and artists, but the good news is that there are lots of ideas and methods for people who are wondering how to organize fabric scraps. From hanging storage to plastic bins and cabinet files, the possibilities are truly endless, so get started on the organization process to de-clutter your home and improve your creativity.