The Brother XR3774 is one of the best cheap sewing machines on the market right now. It is a fantastic beginner option as it covers all the basics. You can also use it for quilting and it comes with plenty of accessories that make it ideal for a wide array of everyday sewing projects. The best thing about the machine is that it's built to grow with you into the expert phase. You won't need to get an upgrade once you become a seasoned sewist.
The Brother XR3774 is an outstanding all-around machine that comes second to none in terms of usability and versatility. At just 12.3 pounds, you can easily carry it to class if you need to. It is one of the best portable among its peers. It is easy to use because it is not packed with multiple confusing features. Why spend those extra zeros for extra features that you might never use? Although it doesn't have all the bells and whistles of many other entry-level sewing machines, the machine compares favorably with them as it offers excellent value for money. Read on for more details about the Brother XR3774 and see why it is a worthy buy.
This product's also been included into these rankings:
Specifications
Type
Sewing and quilting machine
Needle threader
automatic
Dimensions
12.0 x 5.8 x 15.3 in
Warranty
25-year limited (body), 1-year (parts, labor, accessories), 2-year (electric components)
Review
The Brother XR3774 is an exceptional portable, versatile and easy to use sewing machine. It has all the basic features any sewist of any skill level would ever need. As it is from Brother, you can count on it to last you a good one. Here are some of the main features that distinguish the Brother XR3774 as one of the best entry-level machines in the market currently.
Design
The Brother XR3774 is a cute little machine. At least it is not an eyesore like most cheap sewing machines. It is tastefully decorated with vine-like designs that look like feathers around its stitch selection wheel. The pop of color on the machine makes it aesthetically appealing. Moreover, it has a compact build that can easily sit in any craft room or space.
Although it has a compact design, the machine has a large working space and it comes with an extra quilting table that you can easily attach to it whenever you have a quilting project.
Do note that although the machine comes with a quilting table and a quilting foot, it is not the best quilting machine you can get. If you intend to do plenty of quilting projects, you should invest in a machine with special quilting features. The Brother XR3774's lack of throat space, and inability to drop feed dogs will frustrate you when working on big quilting projects.
Overall Performance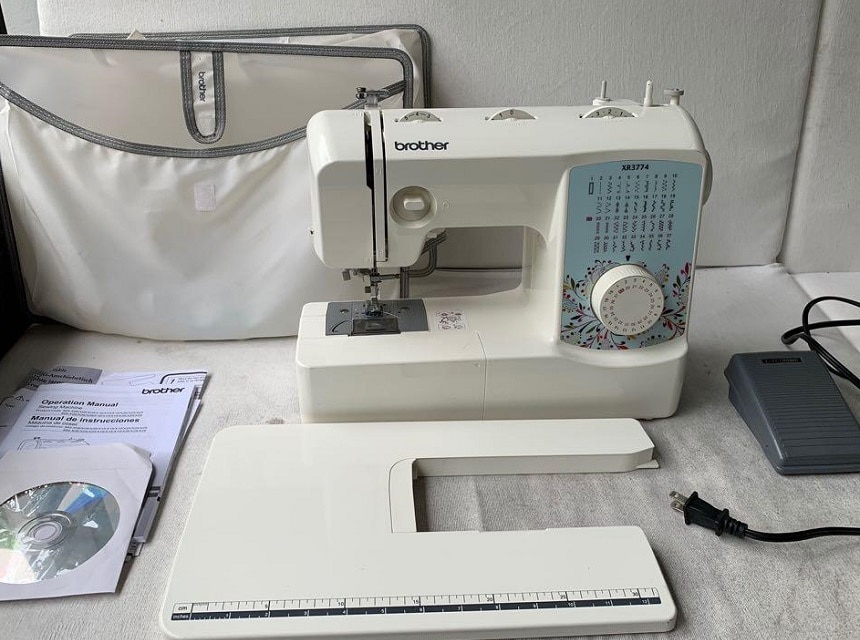 When it comes to performance, the Brother XR3774 is like the star of low-budget machines. It has numerous features that will help you achieve positive results on each of your projects. The features are not too many to overwhelm or confuse you, especially if you are a beginner. The features are incredibly easy to use. Even a complete novice can wrap their head around its operation in no time.
The impressive and expansive machine can sew at a flash speed of 800 SPM thanks to its strong motor. It is built to control the sewing speed for you to avoid ruining your fabrics until you get used to the full speed. Most entry-level machines pose the challenge of getting the right tension for different projects. The Brother XR3774 is an exception. It has the right tension for each of your projects.
Ease of Use
What good are all the features if you can't wrap your head around their functionality? As a beginner, you only need a few features that can help you achieve positive results with your projects. The Brother XR3774 is easy to use straight out of the box. What's more, it comes with tons of helpful instructions in case you are completely new to using sewing machines. The user manual comes in English and Spanish.
The quick start guide included in the package will help you get started in no time. Some of the features that make the machine user-friendly include; the clear bobbin cover that allows you to see if you need a refill, and the automatic needle threader. The needle threader saves you time and energy.
Further, the machine comes with a top drop-in bobbin that is jam-resistant. This kind of bobbin is usually time consuming and frustrating to wind, but the Brother XR3774 comes with a bobbin winding system that is automatic and easy-to-use. All you have to do is stop the sewing machine, pop off the old spool then slip on a fresh one before threading the needle. If you find strife in replacing bobbins or you are just a sucker for easy life, this should be your go-to machine.
Sewing Speed
The Brother XR3774 sews at an impressive 800 SPM speed. Most machines within its range sew at about 850 SPM but you won't notice the difference, especially if you are a complete beginner.
Moreover, the machine has the sewing speed control in case you find the speed to fast at the beginning. It is also able to sew in reverse if that's a must-have feature for you.
Built-In Stitches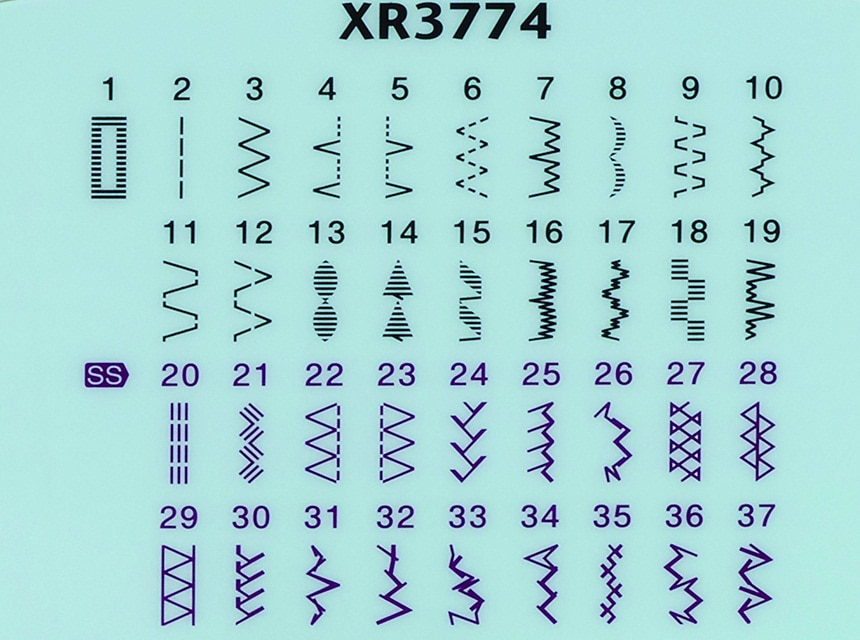 The Brother XR3774 is a highly versatile entry-level sewing machine because of the number of stitches it comes with. 37 stitches come as a surprise considering the low price point of the sewing machine. The 37 stitches give you creative freedom, whether you are just getting started as a sewist or you are an old hat in the sewing and quilting world.
You can easily select the perfect stitch for your project with a manual dial. The dial fits comfortably in the hand, and the text on it is clear enough to read easily.
The stitches include a variety of decorative stitches, quilting stitches, and blind hem. Also featured is a one-step auto-sized buttonhole that you can use to experiment on clothes making.
Stitch Length and Width
On top of all the numerous stitch options this machine offers, there's the option of adjusting your stitch length and width to suit different types of projects and fabrics you are working on. You can adjust the length up to 5mm and the width up to 7mm.
Needle Threader
A sewing machine without an automatic needle threader will have you spending countless hours trying to re-thread the needle. Every time you cut off a piece of fabric, the thread will slide right back out and nothing can be more frustrating. Luckily, unlike most machines the Brother XR3774 has a needle threader that works perfectly.
The needle threader gives the machine a lot of points in the easy to use stakes. All you have to do to thread the needle on this machine is touch the lever on the side of the machine then let the threader do its magic. No more spending your precious time squinting at the needle eye.
Working Area and Free Arm
Any seasoned sewist will tell you that most times you will need some extra room to move around. This full-featured sewing machine has a compact design but has ample working area. It comes with an extra quilting table that allows you unlimited flexibility when working on large projects. This is a feature most people forget when choosing a beginner sewing machine until they have to make something large.
Nothing is as difficult as working on a cramped sewing machine. Besides the quilting table, the machine features a free arm that makes sewing the hard to reach parts of clothes like pant legs, sleeves, collars and cuffs easy. The free arm also adds solid points to the easy to use stake of the sewing machine. It does come in handy whether you are a beginner or seasoned sewist.
Lighting
The Brother XR3774 comes with bright LED lights. The lights make it ideal for those who have night owl tendencies. You will not only be able to work at night when the kids are asleep but also see the nooks and crannies of your projects during the day.
The LED lights are bright enough to be the only light in the room at night or in a room with poor natural lighting during the day.
Another feature that makes this machine ideal for night time working is its remarkable low-noise level. This is a feature often overlooked by most beginners.
With time, you will be happy it was a factor you considered. It is not the quietest machine out there but it is a lot better than most machines. Some machines sound like a helicopter is landing on your rooftop. You wouldn't bother your housemates or neighbors in the dead of night.
Dimensions and weight
The Brother XR3774 comes in a convenient compact build. It is also very lightweight, coming in at a mere 12.3 pounds. You can easily fit it into you backpack and carry it to class if you need to. Its compact build will sit neatly in your space. You wouldn't need to create space for it in your craft room. Plus, in case you are re-decorating or re-arranging, you will never need an extra pair of hands to move it from one corner of the room to another. The bottom line is, the Brother XR3774 is one of the best portable sewing machines that money can buy.
Warranty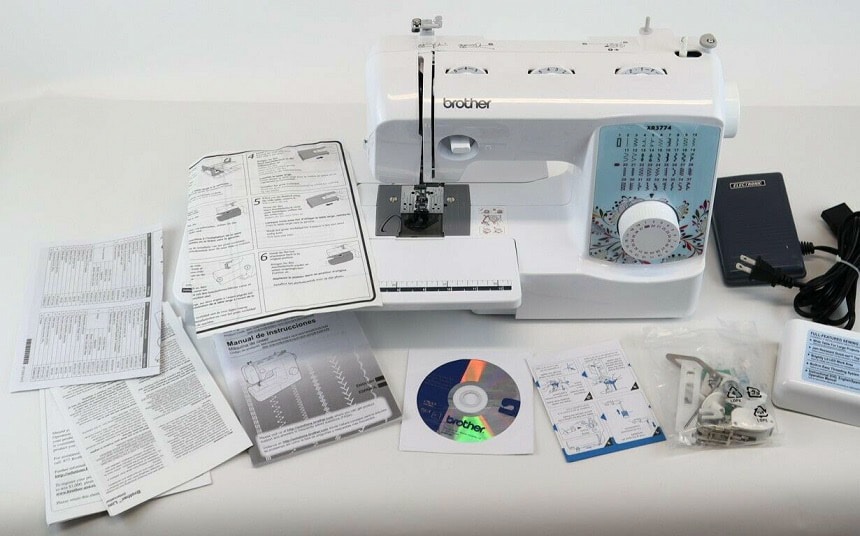 Brother offers a 25-year limited warranty for this machine. You get a full year's cover for the parts, labor and accessory items, 2 years for the electrical components and printed circuit boards and 25 years for the chassis casting. Labor is not guaranteed for the replacement of the electronic components and printed circuit boards. Brother insists on checking the original purchase date, therefore, keep your receipt safely in case you encounter any mishaps.
Accessories
The Brother XR3774 owes its versatility to the ton of accessories it comes with. It is not just a mere 37-stitch sewing machine. It comes with 8 different sewing feet. Most sewing machines, especially entry-level models, offer you the chance to buy extra sewing feet after the original purchase but the Brother XR3774 comes loaded with 8. The feet include;
Buttonhole foot
Button sewing foot
Blind stitch foot
Narrow hemmer foot
Zipper foot
Walking foot
Quilting foot
Zigzag foot
All these feet, together with the 37 stitch patterns make the machine incredibly versatile. Other accessories that improve the machine's usability include; 4 bobbins, a darning plate, screwdriver, extra spool pin, power cord, instructional DVD, twin needle, and an English/Spanish user manual. If you happen to lose your manual and you still need it, you can find one here Trusted Source Brother Operation Manual sewing-machine-ratings.com .  The machine also has a built-in accessory storage where you can place your tiny sewing essentials like thread, needles and bobbins among others.
Price tag
The Brother XR3774 is one of the best cheap entry-level sewing machines out there. Currently (July 2021) it goes for a mere 149.99 dollars. This is pretty decent given the multiple features and accessories the machine comes with together with a generous 25-year warranty backing.
PROS

CONS

Easy to operate and setup
Comes with instructional DVD
Excellent stitch quality
Great lighting of sewing area
Convenient oversize quilting table
Affordable price point
Elegant design
Multiple accessories

Doesn't have the foot pressure adjustment feature
Some users struggle with the needle threader at first
Small throat
Conclusion
The Brother XR3774 is the best portable and versatile entry-level sewing machine that you can get your hands on as a beginner. It covers all the basics with its numerous features that are not so overwhelming or confusing. The impressive and expansive features will allow you to grow into expertise without needing an upgrade machine.
The machine's elegant design and multiple accessories also set it apart from others within its range. Apart from its small throat and lack of a foot pressure adjustment feature, the Brother XR3774 is the ultimate beginner sewing machine.