Sewing machines are handy tools for making clothing, pillows, decorative blankets, and so much more. There are several types available, from simple, compact models to high-end computerized machines. For those looking for something portable, the Brother XM1010 is a great little machine to consider. It is versatile, with easy-to-use controls and several fantastic features for all of the projects you have in mind. For more information on what this machine has to offer, check out our detailed Brother XM1010 review.
This product's also been included into these rankings:
Specifications
Dimensions
12.1 x 15.4 x 5.8 in
Brother Trusted Source The History of Brother: Over 100 Years in 44 Countries The origin of Brother can be traced back over 100 years, back to 1908, when Kanekichi Yasui started Yasui Sewing Machine Co. at his home in Nagoya, Japan. Here, he repaired industrial sewing machines and manufactured sewing machine parts for his local community. www.brother-usa.com has been in business since 1908, starting with the development of the shuttle hook before adding full sewing machines to their lines in 1932. Over the next 90 years, Brother has perfected its machines, including adding new and exciting features. As well as the professional sewing machines this company manufactures, there are also more simplistic machines, like the Brother XM1010. This model is compact, portable, and easy to use, making it a favorite of beginners and hobbyists alike. Let's take a look at what this little sewing machine has to offer.
Construction
The construction of a sewing machine determines how durable it will be, how long it will last, and how easy it is to move or fit where you need it. The following sections cover all of these areas of the Brother XM1010 sewing machine.
Exterior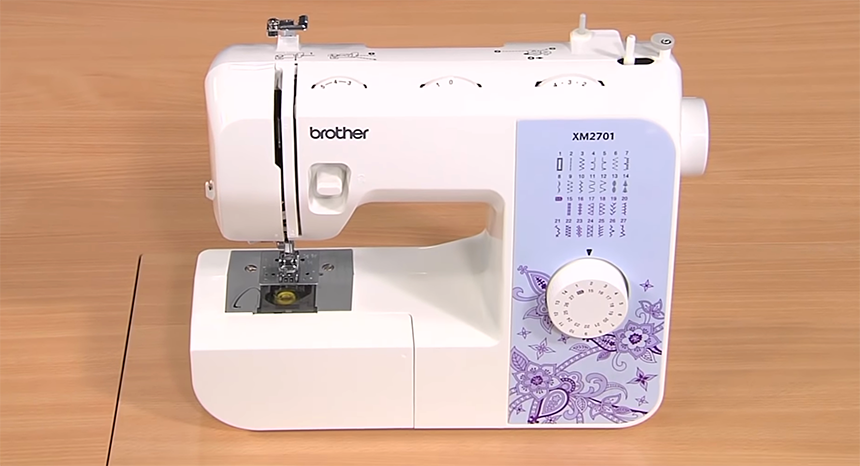 Brother is known for its high-quality sewing machines, so you should expect that they are made well using long-lasting materials. The exterior of this model is made of plastic, though it is heavy-duty plastic that should be able to handle regular use, as well as traveling to sewing classes or any other activity that requires a sewing machine.
The dials and control pedal are also plastic, and though they may break if treated too roughly, they shouldn't fall apart when used correctly. On the outside of the sewing room case is a decorative flowery design, which adds to the attractiveness of the XM1010 sewing machine.
Dimensions and weight
The Brother XM1010 sewing machine is compact, with dimensions of 12.1 x 15.4 x 5.8 inches. With these dimensions, this machine is easy to fit almost anywhere. You can use it on a table, desk, or counter if needed, so even apartment dwellers can make use of this model. It is also easy to store in a cupboard or on a shelf when the sewing machine isn't in use.
The weight is also quite manageable at 10.8 pounds, so even those with minimal arm strength should have no trouble moving it around wherever needed. The lightness of this machine also makes it easy to take with you anywhere you need it, making it one of the best portable sewing machines around.
Controls
The controls for the XM1010 are simple to use since there is only a single dial on the front of the machine. This can be turned to select the stitch you plan to use for whatever project you have lined up. There is also a switch on the front that activates the reverse stitch function, which is also simple to activate. There is another dial near the needle that adjusts the tension of the thread. This ensures smooth, even stitches, with no bunched fabric, for a more consistent finished product.
Buttonholes and bobbins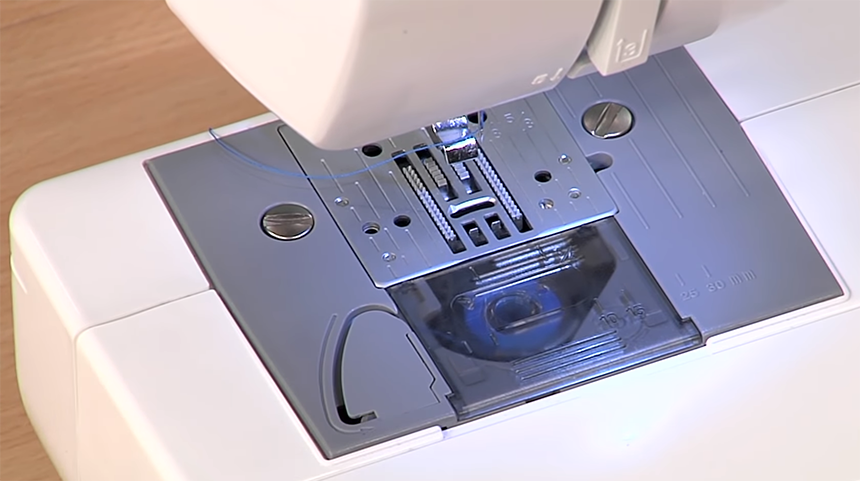 Button-up shirts, cuffs, or even pants need buttonholes, so your sewing machine needs to be able to handle this task with ease. The XM1010 uses a four-step process to automatically size the buttonholes to perfectly match the buttons you're using for the clothing you're sewing.
For the bobbins, this sewing machine includes a Quick-set drop-in top bobbin, which is easy to load, even for beginners. There are also transparent bobbins and a clear bobbin cover, so you can always see how much thread you have left without opening the bobbin area. There is even an automatic bobbin winding system, so you can refill the thread on your bobbin whenever needed.
Durability and warranty
As we discussed above, the body of the machine is made of plastic, though it is heavy-duty plastic for the exterior and dials. Due to the strength of the plastic cover, the XM1010 should be durable enough to last through even the most frequent use. The internal mechanisms are metal, so you shouldn't have to worry about them breaking down unless you're not using the machine properly.
If the Brother XM1010 does fail due to defects in the parts or manufacturing, it includes a 25-year limited warranty. The fact that Brother offers such a long-term warranty shows just how much faith they have in their products and how little they believe that their sewing machine won't live up to your expectations.
Performance
The performance of any sewing machine is as important as the construction since this determines how easy the machine is to use and how well it works for specific projects. Let's take a look at how the Brother XM1010 stacks up in this area.
Sewing speed and stitches selection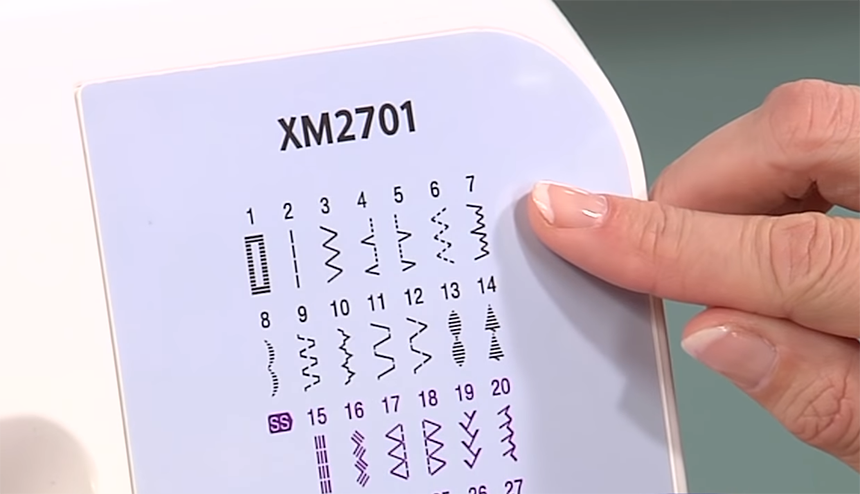 The speed of a sewing machine is displayed using the number of stitches it can make in a minute. Though there is a way to determine the sewing speed Trusted Source A Guide to Determining Sewing Speed Without Specialized Tools You can determine sewing speed without using any type of specialized tools. We've outlined simple steps to follow for your convenience. www.servicethread.com of any machine, most manufacturers include this in their description of their products to ensure you know exactly what you're getting.
The Brother XM1010 is one of these, with a maximum sewing speed of 750 SPM. This isn't the fastest speed out there but it is a good speed for those who are new to sewing or who prefer to take things slow. When using the pedal, you can also slow down this speed as needed by pressing less firmly on it and then harder when you're ready for faster stitching.
There aren't a ton of stitches included with the XM1010 model, though the 10 built-in options are the most used utility stitches, as well as a few decorative ones. These include a straight stitch for quilting, a darning stitch for mending, blind hems for a more professional look, and a satin stitch for appliques. There are also zigzag, reinforcement, and stretch stitches, so you can complete a variety of projects with this machine.
Ease of use
The functions and design of the XM1010 make it one of the easiest sewing machines to use, even if you're a beginner sitting down to sew for the first time.
The dials and controls are simple, as is the foot pedal for controlling the speed. The drop-in top-loading bobbin is also handy. There are even diagrams on the machine itself to help with threading, bobbin placement, and bobbin winding. There is also an instruction manual and DVD included to help you get started with the machine, plus Brother offers free technical support to help you troubleshoot any issues.
Threading
Threading is one of the areas that the Brother XM1010 doesn't excel at. This function is manual, rather than automatic. Though threading the needles of a sewing machine is simple for some, those with poor eyesight or limited dexterity may struggle with this task. An automatic threader would be a good addition to this model.
Cleaning and maintenance
Many sewing machines allow you to open them up to remove any thread, fabric fibers, dirt, or dust that has collected inside them. The Brother XM1010 isn't one of these machines, so cleaning it isn't an easy task. It even says in the instruction manual that the user isn't to oil the machine to keep those internal functions working smoothly.
For proper cleaning and maintenance, you are required to take it to a Brother Service Center to make an appointment, which also comes with a fee. If you don't follow the instructions in the manual, you could void the warranty, so any charges for repairs or replacement from improper cleaning or oiling will come out of your pocket.
Accessories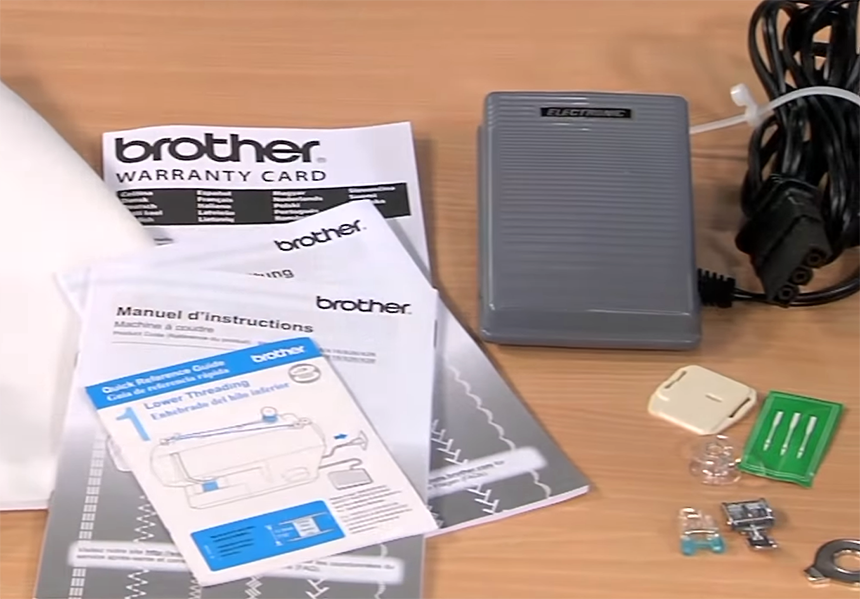 Along with the XM1010 sewing machine, Brother has included several accessories to help get you started with your new model. These include 3 needles, 4 bobbins, a darning plate, a foot controller, a power cord, an instruction manual, and an instructional DVD. There are also 4 presser feet included, each with its own purpose.
The zigzag foot is the most commonly used for general purpose sewing and the zigzag stitch. The zipper foot is designed for easily attaching zippers on the left and ride sides of any piece and can even be placed on the edge of the zipper for a clean finish. The buttonhole foot is used during the four-step buttonhole function that lets you make buttonholes with ease. The button sewing foot lets you attach those buttons to the piece.
There are also a variety of accessories available from Brother if you need some extras. These include a walking foot, as well as various needles and bobbins. You can also get a case for the sewing machine to keep it protected and clean between uses or during travel. Keep in mind that these extra accessories must be purchased separately.
Alternatives
Though the Brother XM1010 is a fine machine for beginners or occasional sewers, some may want a machine with a bit more to offer, like the model we'll discuss below.
Brother XM2701
The Brother XM2701 has many of the same features included with the XM1010, such as the Quick-Set top drop-in bobbin, the automatic bobbin winding system, simple dial controls, and the removable free arm for cuffs and hems. It is also almost the exact same size and weighs just under 2 pounds more, so it still compact and portable.
What helps this machine stands out are the extras it has to offer. The XM2701 includes functions like an automatic threader and a one-step auto-size buttonhole. It also includes 27 built-in stitches for more options to choose from, as well as 63 stitch functions. It even has more accessories, including a narrow hemmer foot and a blind stitch foot, plus it has a faster sewing speed of 800 SPM.
PROS
CONS

Budget-friendly price
Lightweight
Portable size
Handy accessories

Not for thicker fabrics
Somewhat noisy
Conclusion
Beginners or infrequent sewers that need a compact machine with simple controls and functions will love the Brother XM1010. This machine is portable as well, with all the accessories you need to get started with a new hobby.
References
1.
The History of Brother: Over 100 Years in 44 Countries
The origin of Brother can be traced back over 100 years, back to 1908, when Kanekichi Yasui started Yasui Sewing Machine Co. at his home in Nagoya, Japan. Here, he repaired industrial sewing machines and manufactured sewing machine parts for his local community.
2.
A Guide to Determining Sewing Speed Without Specialized Tools
You can determine sewing speed without using any type of specialized tools. We've outlined simple steps to follow for your convenience.