JustToSew is reader-supported. We may earn a commission through products purchased using links on this page. Learn more about our process
here
The Brother vs Juki debate is one that goes on in most shoppers' minds when they're trying to decide on a sewing machine brand for them. Of course, these two are among a select few brands that most people feel produce high-quality sewing machines. Additionally, as you compare the two companies and most of their offerings side by side, you'll notice a lot of similarities and some differences.
Ultimately the differences will probably make up the reasons why you pick one brand over the other. Remember that both companies have multiple sewing machine offerings in their manufacturing lineups. As such, if you're comparing any two, you should use offerings that are of the same caliber in terms of pricing, popularity, and some features to make the comparison fair. This may help bring to a conclusion the Brother vs Juki debate and allow you to be more confident with whatever sewing machine you purchase.
Brands comparison
You may not know this, but a lot of sewing machine manufacturers originate from and are based in Japan. This is also true for the Juki and Brother companies on review here today. Juki, on the one hand, is a brand that was started in 1945. By this time, it was only making home sewing machines and didn't even have their first market offering until two years later.
The first Juki machines may have had their market in Japan, but the company quickly graduated to selling to the rest of the world. Also, by 1953 Juki had added industrial sewing machines to their lineup of offerings. The company is responsible for some early innovations in the sewing industry, such as the first automatic thread trimmers, the first auto thread tension system, and more.
Noticeably, the manufacturer has over the years decided to branch into other technologies as well. One example of this is the SMT-related systems they make whose job is to fabricate electric circuit boards.

Brother is older than Juki by about 38 years since it was first founded in 1908. Back then, it went by a different identity, namely the Yasui Sewing Machine Co. It wasn't until 1962 that the manufacturer decided to change its name to the current Brother Industries Limited.
As its first name suggests, the company initially started by making sewing machines. However, as the years have gone by, Brother has diversified into all manner of electronics and electric equipment. The company is still revered in sewing circles as one of the best manufacturers of sewing machines in the market.
If you're comparing any two sewing machines from these two manufacturers, almost all their features will matter. The construction, speed, stitch numbers and stitch length, presser feet included, weight, warranty, and more will influence which machine you end up seeing as better.
Brother vs Juki: Comparing popular models
Some rather popular sewing machine models from both these manufacturers are the Brother PQ1500SL and Juki TL-2010Q. Consequently, it makes sense to pit them against each other to see which one is better. This may also help you conclude your Juki vs Brother debate much quicker.
Brother PQ1500SL vs Juki TL-2010Q
Brother PQ1500SL
Juki TL-2010Q
Speed
1500 SPM
1500 SPM
Number of stitches
straight stitch only
straight stitch only
Max. stitch length
7 mm
6 mm
Thread tension
manual
manual
Extension table
yes
yes
Automatic threader
yes
yes
Knee lift
yes
yes
Presser feet
7
3
Dimensions
7.9" x 12.6" x 19.3"
17.75" x 9" x 8.5"
Weight
24.2 lbs.
25.4 lbs.
Warranty
25-year limited
5-year limited
We already have a table set up above showcasing the various areas and sewing machine features that make up all the difference between these two offerings. As such, we will follow the order of the table as we look in-depth into these features and how they affect the desirability of the machine.
Since the fastest sewing machines have a speed of about 1600 SPM, this positions the two models being compared here as quite fast. However, they are both rated at 1500 SPM, which means that none of them can be termed as better where stitching speed is a concern.
The next comparison point is the number of stitches available. Unfortunately, there is still no difference between the two options in this area, either. As mentioned above, the Brother PQ1500SL and the Juki TL-2010Q can only offer a single stitch type, which is the straight stitch. As such, the flexibility of both machines may be a bit limited, but most people still work around this quite easily.
Also, seeing as though you only get straight stitches, you will not need to look at stitch width. That said, the stitch length is still significant. The Brother option has a 7 mm maximum stitch length, while the Juki has a maximum of 6 mm. Some might say that the Brother is thus better, but we feel stitch length should be a matter of preference. If you like working with longer stitches, you might find the Juki TL-2010Q less appealing.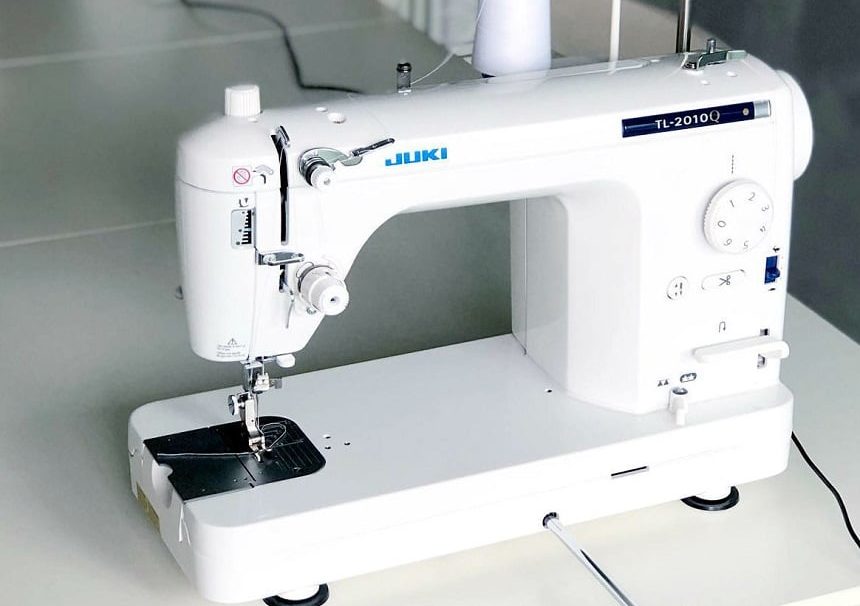 Following the maximum stitch length, you should also look into the thread tension. If you're not a novice in sewing, you should know that if thread tension isn't right, you'll end up with unattractive stitching. However, this is something that you'll have to deal with without the help of the machines as both feature manual thread tension.
With both these machines, you also get an extension table, which is ideal for controlling your larger projects. You get total control over how your fabrics lay as well as how they move. Other similarities include the automatic threader and the knee lift. Thanks to the former, threading needles will be a walk in the park each time you set up any of these two machines to work on a project.
The knee lift also makes your work easier by allowing you to lift and lower the presser foot you're using without using your hands. The fact that you won't be releasing your workpiece means that you are more likely to get consistent sewing results.
Some other differences come in where the presser feet included in the package are concerned. The Brother PQ1500SL has seven including the all-purpose presser foot and a few extra ones for unique purposes. In comparison to the Juki's three included presser feet, the PQ1500SL is superior. However, this is not a very big difference between the two since extra presser feet are available in the market and inexpensive.
A quick look at the dimensions and weight of these two sewing machines also reveals that they feature almost the same weight and size. Next, we have what appears to be the most significant difference between the two, which is the warranty terms. The Juki TL-2010Q has a five-year warranty while the Brother's warranty covers you for five times as long.
Furthermore, the price is another difference that puts the Brother PQ1500SL further ahead of the Juki competition as it is more affordable.
Final Thoughts
Just by paying attention, you will realize that the Brother PQ1500SL and the Juki TL-2010Q are almost identical in terms of features. You can see that in the stitch speed, number of stitches, thread tension, and in a few other areas.
There are, however, some features which make all the difference with regard to which sewing machine we would pick if we narrowed down our options to these last two. They include the number of presser feet included, the warranty, maximum stitch length and the pricing. Notably, all of these are in favor of the Brother PQ1500SL, and thus we like this offering more.