The Brother brand is one of the most popular brands in the sewing machine industry. The company is known for the high quality of its sewing and embroidery machines. This article considers one of our favorite models from the brand – the Brother SE625.
This Brother SE625 review considers why we think this is a perfect machine for sewers and embroiders. It comes with the best of both embroidery and sewing machines. The machine sports a modern look, is lightweight, and will sit pretty wherever you place it. When it comes to embroidery, this machine has loads of options, offering you more than two hundred different designs. It is easy to use and has a USB port among its nice features.
These are just some of the advantages that it offers. This review will consider these and the other features that make it stand out from the rest on the market.
This product's also been included into these rankings:
Specifications
Functions
Sewing, embroidery
Workspace area
6.4 x 4.1 inches
Screen
Yes, LCD (3.7 inches)
Dimensions
21.06 x 16.42 x 15.28 inches
Overall Sewing Performance
The Brother SE625 is a reliable, feature-rich addition to your sewing room. We loved using it, and several reviews that we considered also have many people singing its praises.
First of all, this is a combination machine. To that end, it works like a computerized sewing machine and a machine that can help you with embroidering. Whether for everyday sewing or embroidery, you can rest assured that this is just right for you.
This model comes with up to seven presser feet and more than 100 stitches available for daily sewing. Therefore, you have plenty of options for sewing.
It is a relatively lightweight machine as it weighs just 25.3 pounds. Therefore, you should find it relatively easy to set up and move around if the need ever arises.
Overall, the sewing performance is impressive. We believe that you will have a great time with it. Further down in this article, we will consider even more features that concern sewing.
Overall Embroidery Performance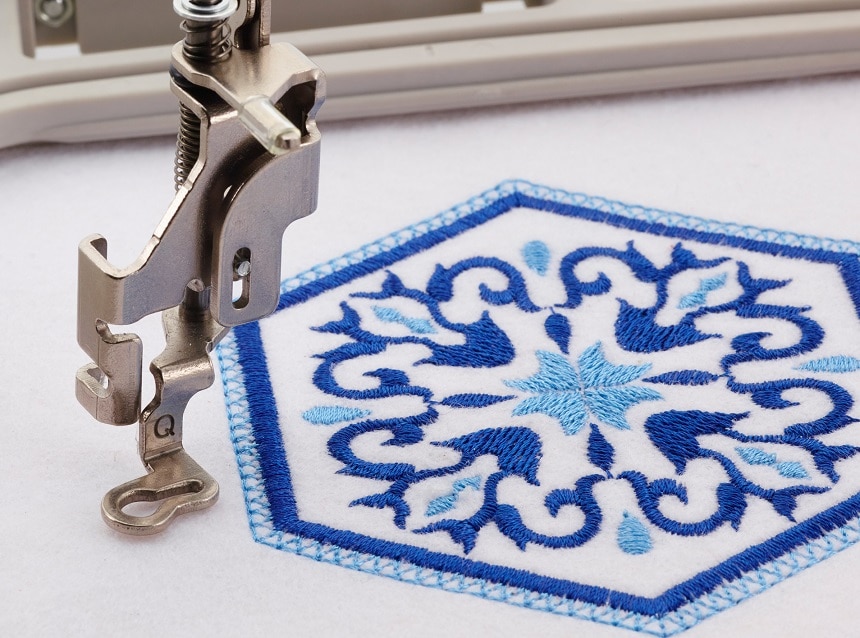 If you are here for embroidery, then we bet that you'll be pleased with the 280 embroidery designs at your disposal. Not only do you have these designs available to you, but you also get several monogramming fonts that are built with the machine. Therefore, you can begin your projects with as little hassle as possible.
Interestingly, there is a USB port that allows you to get even more designs. All you need to do is to upload the designs you have bought or created into the computer with a USB drive.
It comes with a 4×4″ embroidery area. When many see this area, they feel that it is too small. However, do not be dismayed by the relatively smaller size. This size might not be ideal for ideal enthusiasts, and the stitching speeds might be a tad too slow for them, but most people still find it excellent.
We tested our model, and all we can do is to be happy with what we have gotten.
Overall, this is as excellent at embroidery as it is at sewing. We will consider some of these embroidery features later in this post.
Quilting Performance
Perhaps the most surprising thing about this machine is that it can also work as a quilting machine. Therefore, while most refer to it as a two-combo machine, it is actually able to carry out up to three functions.
Quilting is straightforward on this machine. For quilting, you'll need a bigger space to work. Well, this model comes with a big throat space that will comfortably fit larger projects and will help you handle many quilting projects.
The presser feet come in handy during quilting. For example, the zigzag foot and the feed dogs ensure that your fabric is smoothly fed into the machine.
Quilting admittedly might require some other type of feet. The good thing is that this machine is compatible with several accessories like the piecing foot and spring action quilting foot. You can add more presser feet to the machine and get down to work.
Ease of Use
One of the biggest and most important features that we found on the Brother SE625 is the computerized controls. These controls are simply excellent whether you are looking to sew or embroider your designs on your material.
It should be noted that the Brother SE625 allows you to manually control sewing via the foot pedal. However, if you are looking to get the highest level of ease from the unit, we recommend that you take advantage of the computerized controls. This machine allows you to sew using the buttons that lie on the front panel of the machine.
There is a trio of buttons here. These include the Start-Stop, Needle UP-Down, and the Reverse buttons. Even if this is your first time using the machine, you certainly will have an easy time using these buttons.
Apart from the buttons, another reason why this is so easy to use is that you can program the machine to cut the threads for you. Although you can do this manually, we found that it is just so easy to do with the computerized controls.
Sewing Speed
The machine might not be the fastest option on the market, but it is certainly fast enough for most beginners. It is capable of sewing 710 stitches every minute.
Interestingly, there is a sliding speed controller that allows you to determine the specific speed of the machine. This helps you to achieve even more precise sewing.
Built-in Stitches
One of the features that make this model better than many of the alternatives on the market is that it comes with a good number of decorative stitches that will help you to create some really beautiful designs.
There are up to 103 built-in sewing stitches available to you here.
Buttonhole Styles
The Brother SE625 offers you up to eight buttonhole stitches. The advantage of this is that you can make a relatively wide variety of buttonholes when sewing.
One of the best things about this is that the whole process is done automatically. In just one step, you can automatically do all of that. It is simple to do.
One issue that many have with machines is that they sometimes don't create good-sized buttonholes. However, you don't have to worry about that when it comes to the Brother SE625. When you place the button in the back of the buttonhole presser foot, the result is buttonholes that are just the right size that you need.
Embroidery Area and Patterns
The Brother SE625 comes with a 4×4″ embroidery area and a similarly-sized hoop. The hoop comes with the machine and is slightly larger than the dimensions of the embroidery area. This size might seem small on paper, but in actual use, we found it to be sufficient for monogramming and creating designs on materials. However, if you want to embroider on a larger material, then you might run into some issues with this machine.
When it comes to embroidering, there is very little to complain about in this machine. For example, there are eighty embroidery designs on this machine. That's not all, as there is an included CD that contains two hundred more designs.
Thus, you are bound to find a pattern that you will enjoy.
However, we must admit to being surprised that the manufacturer has made such an advanced machine and included a CD. Who uses CDs nowadays anyway? Most machines have jettisoned the CD drive.
Away from that, though, you are certain to enjoy the several embroidery features available.
Another important consideration when it comes to embroidery is the fonts. We discovered that this machine also has fonts. There are up to six English embroidery fonts. Therefore, you have plenty of versatility when making designs.
Now, we realize that you might not be enamored by the designs provided on the machine. To that end, you can use the USB port to get even more designs. With the USB port, you don't have to connect your machine to a computer. This design is better than what you'd typically get from the older models from this machine.
Display
The LCD screen of this machine is yet another thing that makes it one of the best of its kind on the market. The 3.2″ LCD screen found here might be small compared to most screens, but you will find that it increases the overall versatility of the machine. It is a colored screen, which is important because it allows you to see the color of the threads that you want to use. This model comes with a rich display that we found to be well-detailed, comfortable to use, and highly responsive.
If you are concerned with embroidery, then this screen is a must-use for you. Why? Because the screen is where the embroidery design selection takes place.
If you want to embroider your material, you will select the type of stitch that you want. To that end, it is great that the machine will show you a preview of what the stitch will look like when done. Apart from showing you what the final product will look like, the Brother SE625 also will suggest the best presser foot for your stitching so that you can get the best results.
Are you stuck thinking about how you can apply certain functions of the machine? Then do not fret because the Brother SE625 is built to help you. It can display up to eight tutorials on how to use certain functions of the machine. These tutorials can be viewed by pressing the HELP key that lies under the LCD screen. It is clear to see and easy to follow.
The screen also makes it easy for you to change settings like sounds, thread cutting, reverse stitching, and more.
When it comes to embroidery, this screen comes in very useful. With the screen, you can choose the pattern that you want. There are several patterns already built into the machine, and you can also import your designs via the USB port.
After you have selected the pattern you want, the screen allows you to change the pattern style with just the touch of a finger. Some of the things that you can adjust here include the size, thread colors, the shape, and more.
With this excellent screen, you will find it easier to complete your tasks and make great designs.
Presser Foot
As we have said earlier, the Brother SE625 comes with up to seven presser feet. These presser feet come in very handy when you need to sew. With these options, you will find it quite easy and straightforward to make zippers, stitches, hems, buttons, and fabric edges. Therefore, you will have a pretty good time with the machine.
The following are the presser feet included in the machine:
Button sewing foot
Zipper foot
Spring action zigzag foot
Monogramming
Overcasting
Blind stitch
Buttonhole
When you have these mastered, you'll find it really easy to get the machine sewing your material.
Set-up
How easy is it to set up the machine? Well, if you are looking to sew, it is pretty easy to set up the machine. However, you will need to do a might more work if you are thinking about monogramming or embroidery.
Nevertheless, with the right instructions, you can get it done in a short time. To install the embroidery area, you must attach the foot and the unit of embroidery to the machine. The fabric is then passed through the hoop, which in turn is attached to the unit.
You should already know the type of thread to use as well as the size of your needle.
USB Connectivity
In select points in this article, we have pointed out the USB connectivity of this machine. This connectivity is one of the reasons why it is so easy to use. Because of the USB connectivity, you can import embroidery files into the machine in a short time. With this feature, you can include your favorite designs.
When importing files through the port, it is recommended to use a file format that is compatible with the machine. Using an incompatible file format can cause the machine to malfunction.
Durability and Warranty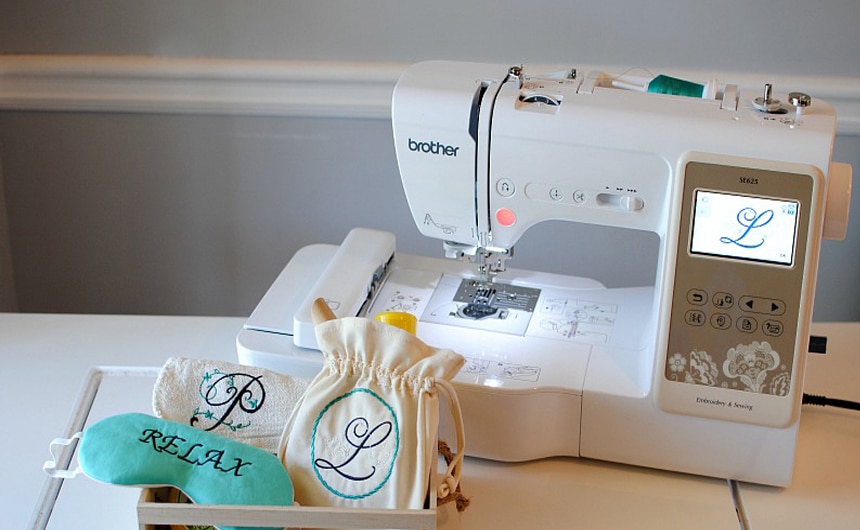 It certainly wouldn't be ideal to buy a machine and have to replace it after a few months. That is why it is important to buy a durable machine. Well, this model is quite durable and is billed to last for a relatively long time.
You get a warranty period of 25 years. Therefore, you can rest assured that you can replace parts or repair at no additional cost during this period.
Key features
LED Light – One of the best features is the LED light. This works to lighten where you are working and will ensure that you can see the stitches with ease. Although it isn't super-bright, you will find it handy in almost all situations.
File Format – It is important to keep the file format in mind. This machine is compatible with select embroidery files like PHC, DST, and PES. If you use other formats, you might affect how the machine works.
2″ Colored Display – machines that come with colored displays are very useful when it comes to using an embroidery machine. It allows you to see the colors of the thread and makes it easier to use.
Editing Capabilities – A key feature of this model is the ability to edit the designs even without using a computer. With the screen, you can simply drag and drop whatever you want and make edits comfortably.
Price tag
This is a relatively affordable sewing machine. It costs just $319 or thereabouts. Therefore, if you are a beginner, you can still afford it and enjoy all the excellent features that it provides.
Brother SE625 VS Brother SE600
The SE600 is one similar machine to the SE625. Are there any differences between the two machines? Well, from our consideration, there aren't a lot of differences between both products. They both come as embroidery and sewing machines and are from the same manufacturer. When it comes to base performance, these two products are identical. Nevertheless, there are certain things that set both of them apart.
For one, the design on both of them is different. The colors are markedly different. Where the SE600 comes with a silver and grey combination, the SE625 comes with a gold and tan combination.
Apart from the difference in color, another difference is that the SE625 comes with a CD that contains embroidery images. While the images add more to the overall experience, not many people are comfortable with the images being on a CD. If you lack a CD reader, then you will be stumped. You will have to use the USB port to transfer the images to the machine.
Apart from these, there are no differences between both products.
FAQs about the Brother SE625
There are several questions raised about this product. In this section, we answer some of the questions frequently asked by users and would-be users.
Can the Brother SE62 be used for free-arm sewing?
The Brother SE625 is capable of doing free-arm sewing. To do this, all you need is to remove the bottom of the machine. This removal lets you sew small items at the bottom of the machine easily. Free-arm sewing comes in very handy when you are hemming pants or finishing collars. With this feature, you will find it easier to make smaller clothing like those for dolls or kids.
Can embroidery images be added to the Brother SE625?
Yes, you can add embroidery images to the machine. However, if you want to add any images, you must ensure that it is in a compatible file format. These include PES, PHC, DST file formats. Using the wrong format can damage the machine.
The machine's USB port also allows you to import images into the machine. For embroidery, the files must be in the PMU, PMU, or PMX format. If not, it will not be visible on the machine, and you'll be unable to make modifications to the designs.
Is the Brother SE625 Great for Beginners?
Yes, it is. The Brother SE625 comes with several features that will be appealing to beginners. For example, it is designed with one of the best displays, and the instructions are easy to follow.
Additionally, there are features like needle threading and bobbin winding that make it more convenient to use the machine. It is a highly functional and versatile machine.
Can you sew denim on the Brother SE625?
Denim is one of the toughest materials that there is, and the Brother SE625 will embroider it with no stress. It can handle this and other thick materials easily. However, don't use this all day on these tough materials so that you don't damage the machine.
How do I get started on the Brother SE62?
To make embroideries on this machine, you will require the thread, bobbin, needles, small scissors, and spray. You will also require the pattern on the machine.
PROS
CONS

Rich display
Plenty of designs to select from
You can edit with ease
Affordable
Fast and quiet performance

Cannot be used as a serger
 No included software
Relatively poor installation instructions
Conclusion
The Brother SE62 is an excellent machine that helps you to sew and embroider in one go. It is also capable of working as a quilt. Part of the appeal lies in the number of good features that it has. You will have plenty of fun with the LCD display, instructional videos, and LED lights. This Brother SE62 review has considered many of the best features that it has.
Consider all the features, benefits, and drawbacks of this unit to determine whether it is the right sewing machine for you.