When searching for a feature-rich, fast, and relatively advanced sewing machine, you will invariably come across the Brother PQ1500SL. This is a high-end sewing machine designed for sewers looking for something more than the humble residential use machine can offer.
This Brother PQ1500SL sewing and quilting machine review will explain why this sewing machine is so highly rated despite some obvious weaknesses.
This product's also been included into these rankings:
Specifications
Type
Sewing and quilting machine
Needle threader
automatic
Dimensions
12.6 x 7.9 x 19.3 in.
Warranty
25-year limited (body), 1-year (parts, labor, accessories), 2-year (electric components)
Review
There are a few important points you should know about the Brother PQ1500SL sewing and quilting machine. For one, it is a heavy-duty, non-computerized, and very fast sewing machine. While it is a portable model, it is considered industrial-type and even comes with its own extension table. Everything about it is strong and fast to handle those large projects.
Design
The Brother PQ1500SL is a longarm sewing and quilting machine, which is meant to give it a lot of harp room for your special projects. It even comes with a large 11" x 21.5" table to give it extra space.
In terms of usability, Brother changed a few things on this machine. The threading mechanism is different, as well as the side bobbin system instead of a drop-in bobbin. As one user pointed out, this machine also feels like everything is oriented to the left. We'll cover more on these in a short while, but they do make the feel and operation of the PQ1500SL a bit different.
Apart from that, the Brother PQ1500SL is a big, tough, good old mechanical sewing machine sitting on the lower end of the spectrum. It is a dedicated straight-stitch machine – no fancy LCD screen or computerized stitching, but it does what it is meant to do really well.
Overall Performance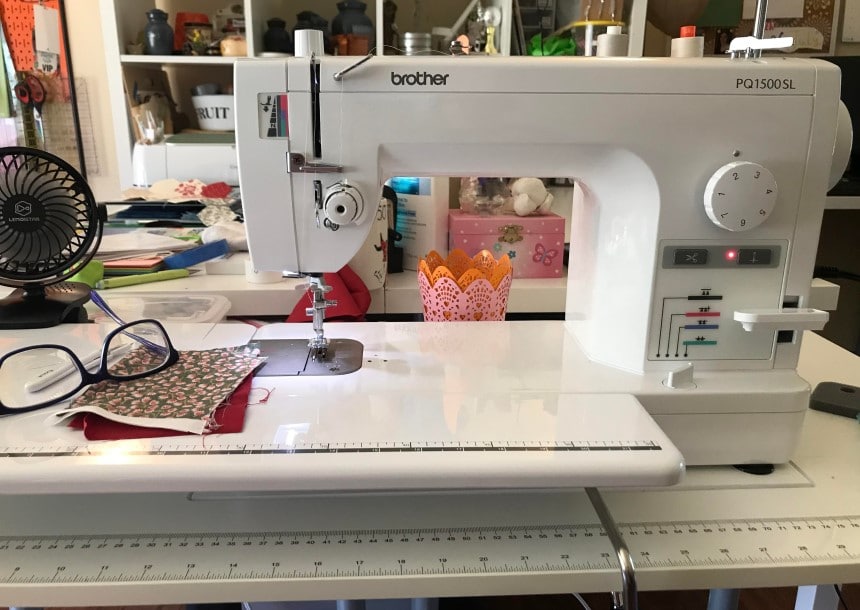 For a budget below $1,000, it's hard to beat the performance of the Brother PQ1500SL. This machine is perfect for quilting and straight stitching, a good old mechanical that will do the job and do it well. It has been said to have one of the most beautiful stitches, beaten perhaps by its more expensive arch-rival, the Juki-TL2010Q.
This is a big, powerful sewing and quilting machine that will blaze through all kinds of fabrics whether thick or thin without complaining. It is quiet, easy to operate, and will happily keep going for hours on end. It is the ultimate workhorse for home and even commercial sewing, no doubt about that.
Sewing Speed
The Brother PQ1500SL does up to 1,500 stitches a minute, which is lightning fast every for experienced sewists. It relies on a foot pedal to help control the speed, but this is one of the features that make most people go for it; typical sewing machines don't exceed 850 spm.
Built-in Stitches, Stitch Length, and Width
The Brother PQ1500SL is a dedicated straight stitch machine. Unlike the fancy computerized machines with hundreds of inbuilt stitches, the PQ1500SL does one stitch and does it beautifully.
As a dedicated straight-stitch, it has incredible accuracy, strength, durability, and speed. Given that a straight stitch is used 99% of the time in most projects, this marks a workhorse like this one a must-have for serious sewists.
The PQ1500SL is capable of fine needlework and machine basting, thanks to a stitch length of up to 5mm and stitch width of up to 7mm.  This gives it more versatility than common sewing machines.
Needle Threader
The Brother PQ1500SL has a slightly different automatic threading mechanism compared to other models. The video below explains all you need to know, but you need to slightly pull the thread so that the threading teeth hidden inside the claw can catch it.
Upper threading takes some time to get used to, but the slip-through thread guides are clearly marked and easy to follow. If your thread keeps getting stuck in the tension knob, make sure the foot lever is up to separate the tension discs and allow the thread to fall between them.

Working Area and Extension Table
Another big advantage of the Brother PQ1500SL is its large 5.7" x 8.6" workspace area. This roomy area can be extended further to 12" x 18", thanks to the extension table which comes in the box. The extra area makes it perfect for large projects and bulky quilts.
In addition, being a longarm sewing and quilting machine, the PQ1500SL boasts a large throat measuring 8 ¾" from the needle to the right side of the machine and 6 ½" high from base to top.
Lighting
Like most modern sewing machines, the Brother PQ1500SL has an inbuilt LED light to brighten up your workspace. It is bright enough even for dark fabrics while being easy on the eyes, so that's definitely a plus.
Ease of Use
The Brother PQ1500SL is not necessarily the perfect sewing and quilting machine for beginners or amateur sewists. It takes some time to get used to the threading, bobbin winding, tension adjustment, foot pedal speed control, variable feed dog speed settings, and presser foot pressure features.
Don't get this wrong – this machine is designed to be intuitive. It just has much more subtle adjustments and settings that require some level of experience. Even a complete beginner could use this machine, but they would have to be patient to learn its ins and outs through some practice.
Dimensions and Weight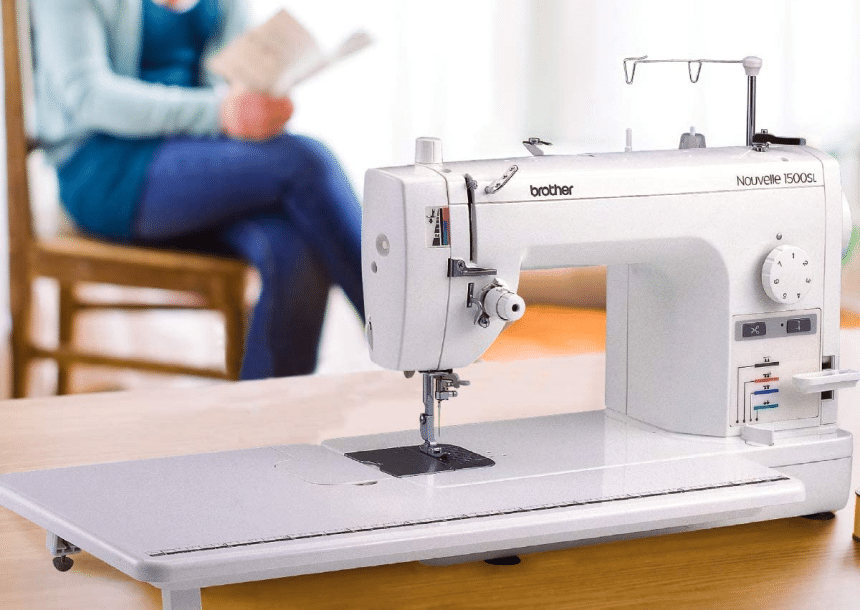 The Brother PQ1500SL is considered to be at least semi-industrial, which means it is designed to be strong and heavy. It measures 7.9" x 12.6" x 19.3" and weighs 29.8 pounds (13.5kg) and can be easily detached from its table when you need to move it. You can think of it as a blend of portability and commercial-quality construction.
Warranty
Brother gives you a 25-year limited warranty on the PQSL1500SL, and it also comes with a 2 or 3-year protection plan if you buy it from Amazon for an additional low sum (less than $15). The plan covers parts and labor, including electronics. The 25-year warranty covers the machine, parts, and accessories (needles, bobbins, knives, tools, etc) from defects and problems in workmanship. It is only valid for original purchasers based in the US and doesn't cover normal wear and tear.
Accessories
The Brother PQ1500SL comes with several accessories right in the box.
7 presser feet, including the zipper foot, invisible zipper foot, general purpose foot, rolled hem foot, walking foot, ¼" piercing foot, spring-action quilting foot, and a seam guide.
Feed pin
Fabric separator
Needles
Bobbins
Foot pedal
Knee lift
Cover
Price
The Brother PQ1500SL is not an entry-level sewing machine, so you're not likely to get it for anything less than $650 unless you find it on sale. That being said, it easily outperforms anything in the sub-$1,000 range, which makes it a worthwhile investment.
Key Features
Sewing speed up to 1,500 spm
Automatic needle threader
Adjustable feed dogs
Automatic needle up/down position
Automatic thread cutter
Adjustable presser foot pressure
A pin feed mechanism for feeding multiple layers of fabric
A removable knee lifter to lift the presser foot without using your hands
Extension table
PROS
CONS

The Brother PQ1500SL is a powerful sewing and quilting machine capable of continuous heavy work
This is a very fast sewing machine, reaching 1,500 stitches per minute
The pin feed mechanism is an innovative solution that replaces the feed dogs when working with extra thick or layered fabrics
Tension adjustment is easy using the dial
It comes with an automatic bobbin winding system
The PQ1500SL runs very quietly even at top speed and has minimal vibration
The heavy-duty construction of the Brother PQ1500SL allows it to work with heavy fabrics such as denim and suede
Brother gives you a fantastic warranty with this machine if you're based in the US

This machine is best used by experienced seamstresses. Even the slightest wrong setting such as tension can cause a lot of problems
The thread cutters trim the thread too close to the needle, which often requires rethreading
It comes with a side bobbin mechanism instead of a drop-in bobbin system, which might feel unnatural for many sewists, but it allows you to change the bobbin without removing your fabric
Conclusion
By now, you have a clear idea of what the Brother PQ1500SL is and isn't. If it is the kind of mechanical straight-stitch sewing machine that you are looking for, then we recommend it unreservedly.